Last Updated on June 29, 2023 by Jeremy
Disclaimers: This review uses WSET Diploma terminology and our own rating scale. Read more here. We use demographic data, email opt-ins, display advertising, and affiliate links to operate this site. Please review our Terms and Conditions for more information. This website is intended for those of legal drinking age in your jurisdiction.
When studying for WSET Diploma, I leaned heavily on rose wine to fully understand how this wine style is made. One method, rose de saignee, was always rather interesting to me as a portion of red grape juice is bled off the skins during soaking. The bled off portion is made into rose wine, and the remaining wine continues maceration on the skins to extract more color and become a red wine.
Compared to other rose winemaking styles (blending and direct press, for example), rose de saignee is often darker style as a result. The intensity of the color is a dead giveaway in most cases, and one region in particular, Tavel in the Southern Rhone (one of our favorite regions), is historically known as a top producer of rose de saignee wine.
So when I stumbled upon a bottle of Chateau de Trinquevedel Tavel in the store, I knew I had to grab it to give a rose de saignee wine a try.
Rose de Saignee from Tavel is a Beauty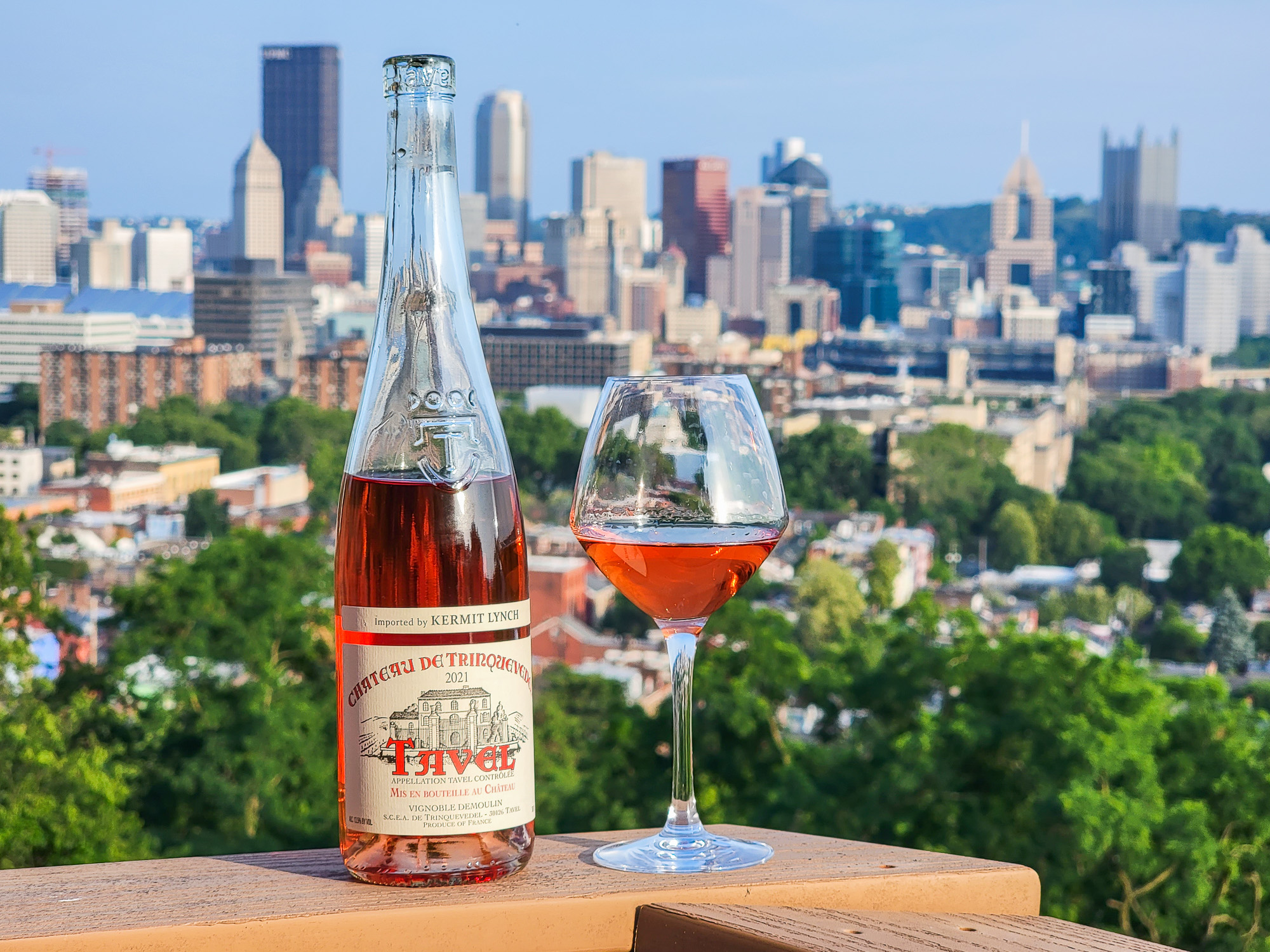 Chateau de Trinquevedel's Tavel was deep pink orange in color with medium aromas of red cherry, grapefruit, strawberry, raspberry, honeysuckle, wet stone, saline, and dried cranberry.
On the palate it was dry with medium(+) acidity and finish, medium alcohol, body, and flavor intensity. We had notes very similar to the nose with red cherry, strawberry, raspberry, watermelon rind, saline, and wet stone- only a drop-off in floral characteristics were noted.
Overall, this one hit a number of marks that we look for in a rose- namely moderate fruit flavor and a nice minerality to round things out. Although this one could have been a bit more powerful, it came together for an easy drinking bottle all the same.
Tavel Rose Food Pairing – Salmon Salad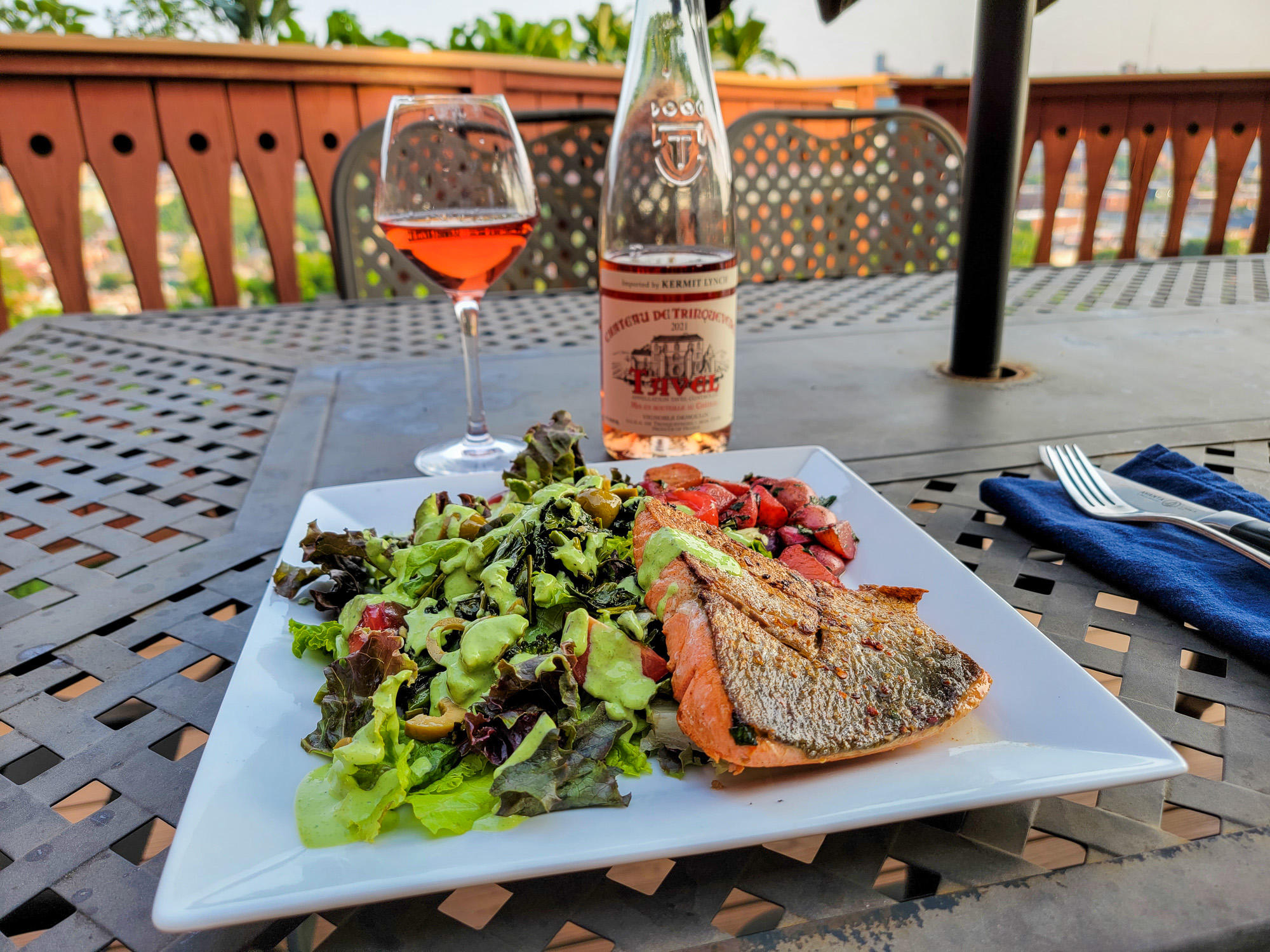 We paired this deep rose with a salad topped with grilled salmon. The acidity in the wine held up nicely with the salmon itself and perhaps did not alter any flavors to a notable degree, but the bitterness of the greens in the salad helped highlight more saline and rind-like components in the wine, which, for this dish in particular, was quite refreshing.
This pairing highlights why the saying "rose goes with everything" holds true time and time again- the flavors simply hold nicely regardless of the dish. This pairing was no different.
Score: 3 / 5
We'd buy a glass of this one.
Overall, we quite liked this Tavel and really enjoyed its moderate intensity and beautiful color. This one had all the hallmarks of an easy-drinking rose that goes away quickly; however, we also would have preferred a bit more of a punch in the flavor department all the same. That being said, we'd never say no to a glass of this one.
Chateau de Trinquevedel is located at Chem. des Prés, 30126 in Tavel. We purchased this bottle locally and enjoyed it in 2023. Different vintages of this wine were available on Wine.com at the time of publication.