Published Jeremy. Last Updated on August 5, 2023.
Disclaimers: We use demographic data, email opt-ins, display advertising, and affiliate links to operate this site. Please review our Terms and Conditions for more information. This website is intended for those of legal drinking age in your jurisdiction.
Out of all of the modules in WSET Diploma, I dreaded none more than D3- Wines of the World.
This was partly because the module was massive (the book was about the size of all other modules combined- just under 600 pages) and partly because the test is known to stretch test takers to their very limit over the two-day exam.
Still, after this one I walked away with an incredible appreciation for all things still wine and may even go as far as saying I learned more in this one than any other module, too!
Note: I took the WSET Diploma D3 exam in May 2023 and passed. Test material and structure can and does change over time.
What Material is Covered in WSET D3?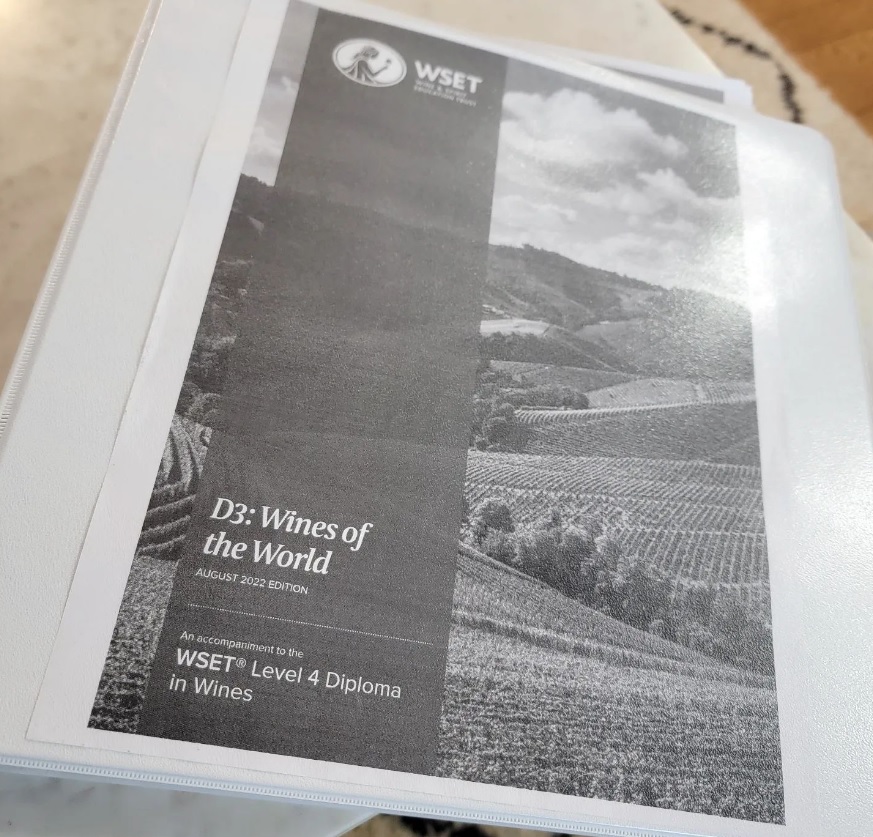 To introduce this section, my gut keeps telling me to answer "what is covered in WSET D3?" with one word- everything.
This is, obviously, not entirely true. The module focuses only on still wines of the world as other wine styles, like sparkling and fortified, are featured in modules D4 and D5 specifically.
But within the realm of still wines of the world, WSET D3 is a monumental undertaking featuring hundreds upon hundreds of grapes, an equally high number of PDOs, and dozens of countries worldwide.
Just off a quick recap from the top of my head, the module included the following:
France, Germany, Austria, Hungary (Tokaj only), Italy, Greece, Spain, Portugal, USA, Canada, Chile, Argentina, South Africa, Australia, New Zealand, and China.
Regions varied from well-known places like Burgundy (France), Napa (California), and Stellenbosch (South Africa) to more obscure spots like Jura (France), Nemea (Greece), Shaanxi (China), and so, so many more.
The book looks at all manner of grape growing and wine production within any given region. This ranged from how weather and soil in a specific level of the hillside of Montepulciano influence grape growing to how high-volume producers make bulk wine to highly regulated and restrained production techniques in grand cru sites and everything in between.
No style of wine was left uncovered insofar as it was still and not fortified with a higher-proof spirit. Dry red wine? Yep. Sweet white wine made from stopping fermentation early? Yep. Sweet red wine made from drying the grapes? Yep. Sweet white wines made from botrytis contact? You know it. Rose wine made from rose de saignee? Direct press? Blending? You know all of these are true.
In fact, the book takes an almost formulaic approach to cover the hundreds of wine regions by introducing the region, its climate, soil, primary grapes, unique growing concerns, and production laws before moving on to common winemaking choices, the resulting styles, commercial considerations, and, for good measure, notable producers- none of which I can remember in the slightest.
In some chapters, this is done quite well with robust analysis of regions that heightened my understanding significantly. In other chapters, particularly on California, it felt a bit more like a Madlib formulaic situation where every region had almost the same sentence structure and descriptors used with one or two minor (but key) differences. If there was any module where you could tell that many authors worked on the book, it was most obviously D3- the style was all over the place.
Since the source material for D3 is a 600-age tome, I want to go back to my original statement that the book covers everything and be done with it. It is really that robust.
That said, even at 600 pages, WSET D3 still overlooks many notable wine regions worldwide. Some up-and-coming regions (say, the Finger Lakes) felt like they were treated almost as a footnote compared to more famous regions that took a good deal of the attention (France and Italy as a whole accounted for roughly 33% of the book- or about 200 pages). Others, like China, also felt like the odd man out for how unconventional their winemaking approach has been. Why they were included over other more productive regions, I haven't the foggiest.
Still, you have your work cut out for you in this module as the WSET D3 exam requires you to provide robust analysis on just five questions (you are given seven and can skip two). Since everything is fair game within these specific questions, mastery of the material is the only acceptable option.
How Does D3 Compare to Level 3?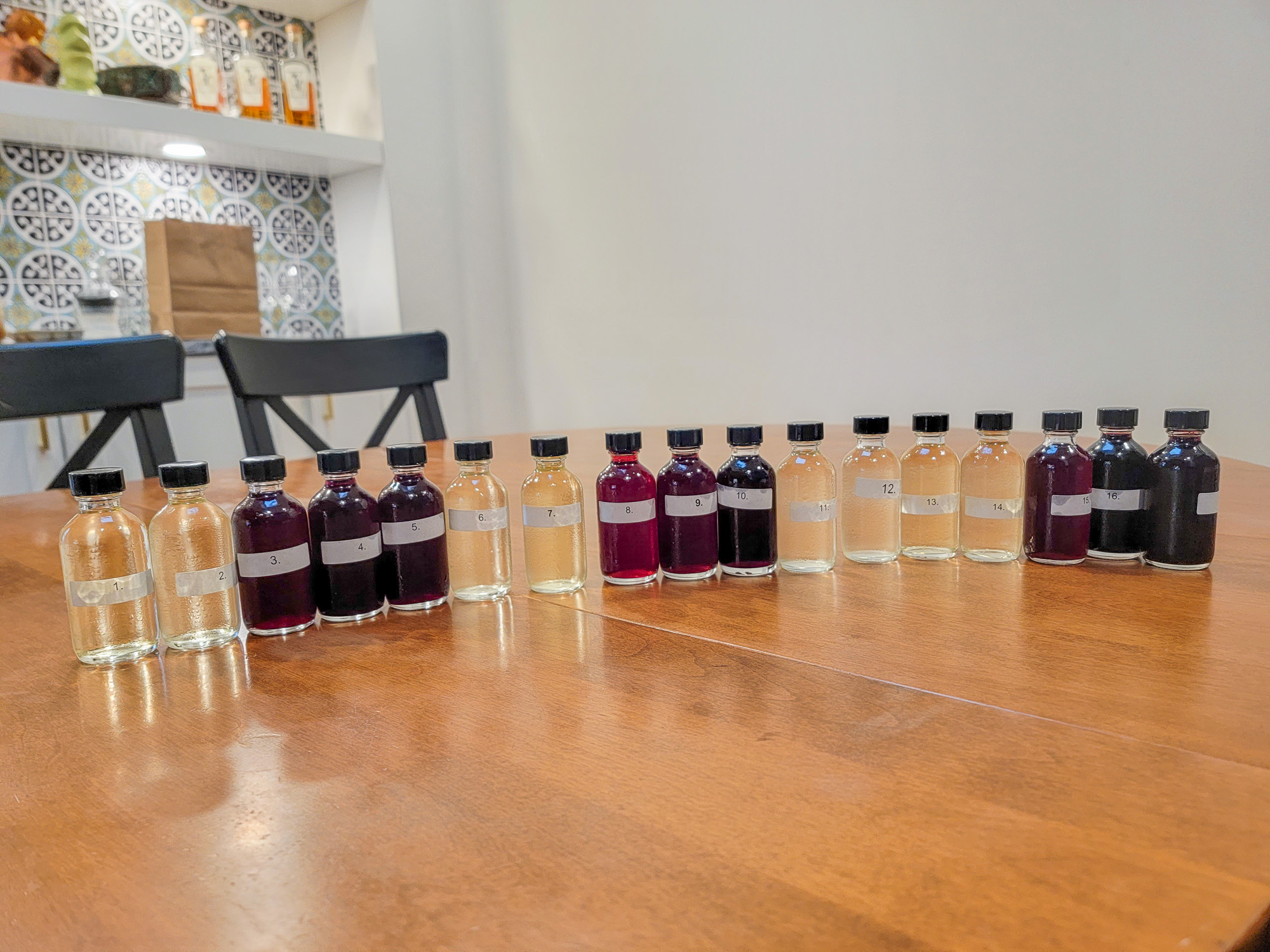 Out of all of the modules in WSET Diploma, I have to admit that I think D3 is not too much different than what you get in WSET Level 3– you get a whole lot more of it.
This is genuinely a depth vs. breadth situation.
When it comes to learning about wine, from a topical perspective, at least, there are only so many categories that exist in the world. Grapes grow in select conditions. Wine is made in certain styles. Most laws follow a similar structure with minor nuances. Many are based on the French model outright so common themes repeat. A good number of these topics are talked about, to some degree, in both Level 3 and D3.
The depth you get into is inherently limited, so D3 only expands on the type of material shared to a modest degree.
In D3, you get about 5x more source material– increasing the breadth considerably. There are more countries, more regions within any given country, and more grapes discussed within any given region. The book may have a more robust discussion of climactic elements, winemaking preferences, and/or laws, but these all follow the same rough pattern you have expected from Level 3- just more of it.
That being said, I also feel like I got more out of D3 than I did in Level 3. This has less to do with the structure of the book and material taught and more with the setup of the exam outright. As mentioned above, you really have to master the material to have any chance of passing the exam (less so in Level 3), and it required me to look at the material from every angle imaginable to really breakdown, dissect, absorb, and, ultimately, learn.
I had a similar feeling of accomplishment after sitting for Level 3, but admittedly the D3 exam was on a new level- from the stress all the way to the relief oh, was it on a new level.
As I do not have a photographic memory nor am that good at absorbing material simply by reading a book, this required approaching the topics through the development of maps, spreadsheets, shorthand notes, searching the document for common links (Ctrl + F search is your friend), and so much more. Since I got through Level 3 simply from reading the book, making notes, and reading flashcards, the more robust dive that is required in D3 simply helped me learn the information in greater detail, recognizing connections and relationships I may have overlooked in Level 3, along with its greater volume.
Overall, D3 is simply a more insane version of Level 3, minus sparkling and fortified components (as those are in other modules), and for anyone who has worked their way through that level, you should have an appreciation and solid sense of dread for what that means.
The volume is the killer in this one!
Have you taken WSET Diploma D3? What did you think of it? Comment below to share!