Last Updated on March 2, 2023 by Jeremy
Disclaimers: We use demographic data, email opt-ins, display advertising, and affiliate links to operate this site. Please review our Terms and Conditions for more information. This website is intended for those of legal drinking age in your jurisdiction.
The Douro Valley in Portugal is one of the most awe-inspiring places we've been to. Not only is it the oldest demarcated wine region in the world, we'd take it one step further and also call it the prettiest wine region in the world too. Douro Valley vineyards are really something else!
While getting around the Douro Valley is so challenging that a Douro Valley day tour may be a better option for most (as driving there is, in a word, terrifying), we put our fears aside and hit six great Douro Valley wineries during our two-and-a-half-day visit.
So in this one, we thought we'd share more about the wineries we were able to see!
Quinta do Tedo
By Douro Valley standards, Quinta do Tedo is a young winery. The owners purchased the land that now makes up the vineyard (which has been growing grapes for centuries but selling to other wineries) in just 1992. Since then, they have experienced rapid growth in the production of both their still and port wines which are made and aged on-site- the latter in a gorgeous tunnel under the hillside we were fortunate enough to see.
But due to its young age, their port offerings are a bit more limited than others- the oldest wines they had available were 20-year Tawnies as, by our 2021 visit at least, and 30 years were not quite ready. That being said, you can tell how this one is producing better and better wines with each passing vintage, and if their older tawny and colheitas are any indication, the future is bright for this young winery!
Quinta do Tedo is located at  N-222, EM512, 5110-204. 
Quinta do Seixo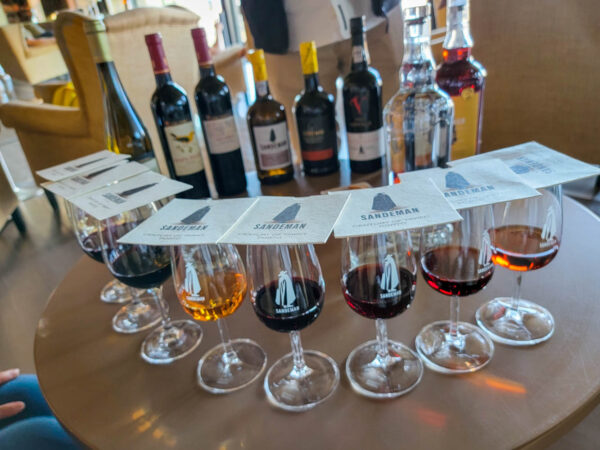 Quinta do Seixo is not an independent producer like several of the other wineries here. They are, in fact, part of the Sandeman brand (along with many other wineries in the Douro Valley).
We selected this one purely to go see a Quinta that is a part of a mega port producing brand (we always hit one in every wine region we visit), and honestly while we left this one without buying any bottles, it was truly fascinating to see how an arm of a volume producer operates- especially in their lagare room which was significantly larger than any we saw in the region.
That being said, the tasting here was somewhat of a letdown as they offered no quinta-exclusive bottles to try. All of the wines we were able to sample were large named bottles from the Sandeman brand that could or could not have been grown on the Seixo property. As such, while we liked the tour, we could consider alternative quintas if they were to promote unique offerings in addition to the larger, branded ones.
Quinta do Seixo is located at Valença do Douro.
Quinta do Vallado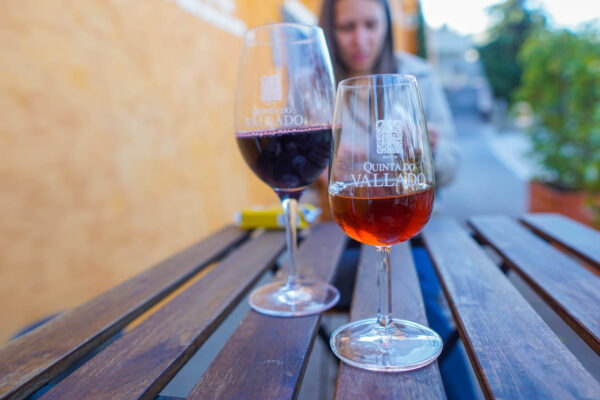 During our Douro visit, we were unable to snag a tour and formal tasting at Quinta do Vallado due to the last-minute nature of our trip. However, we were told that the winery does sell wines by the glass to walk-ins (no flights, sadly) and we were more than eager to check this one out as we were heading out of the Douro on our way to Porto.
In a way, we kind of wished we would've had a full tour here, as the tasting room experience amounted to just a couple of tables outside in the parking lot of their location more in Baixa Corgo (known for being a bit lower in altitude and far less dramatic views).
We opted to try the 20-year Tawny and a red field blend and really enjoyed both, making us happy to have made the stop all the same despite hoping for a bit more. That being said, we also had a bottle of their Sousão at a dinner at DOC and thought it was one of the best still reds we had in the region, so we had to leave with one of those, too.
Quinta do Vallado is located at Vilarinho dos Freires, 5050-364 Peso da Régua.
Quinta do Nova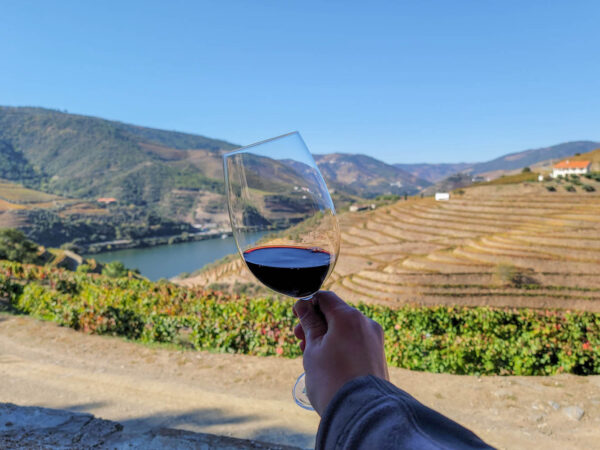 While we could talk about the general tour and wine tasting at Quinta do Nova, which was quite nice, we honestly would rather first discuss the rather impressive museum set up to showcase the history of port production in the region. The exhibits here include the evolution from traditional methods to modern production as well as a pretty impressive video to go along with it. This all came together for a holistic view at port making we simply did not get anywhere else.
This was the only winery we visited that really hammered it in just how grueling the work was to harvest grapes pre-modern technology, and then to make matters worse they demonstrated how after an intense day in the heat everyone would then go stomp grapes for four hours! I was exhausted just hearing about it, and I have no shame in admitting it.
As such, Quinta do Nova was one of our favorite all-around tours purely because it felt like a rather robust view into all things port. Our only regret was that we couldn't see more of their production facility due to "COVID restrictions" (which felt a bit like a cop-out considering production had ended months prior). That being said, we still loved this one and left with a few 20+ year aged Vintage Ports for good measure.
Quinta do Nova is located at 5085-222 Covas do Douro, Sabrosa.
Quinta das Carvalhas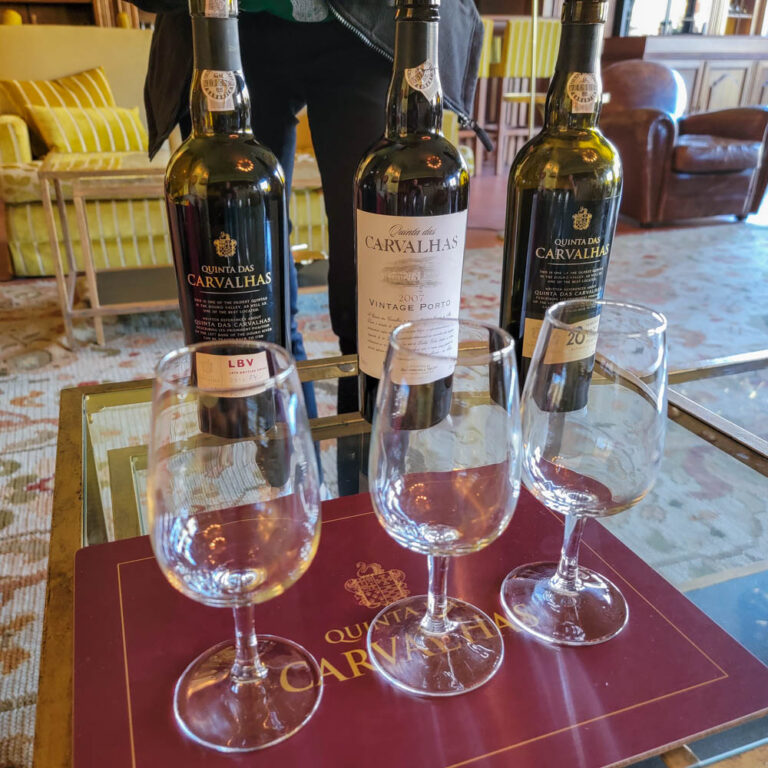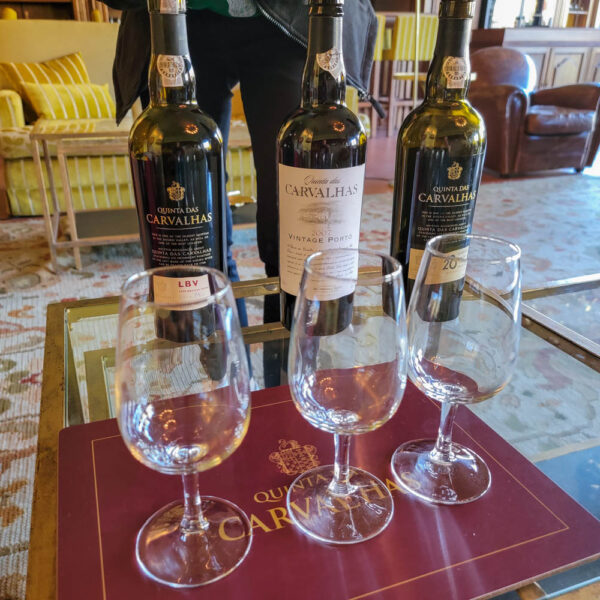 Quinta das Carvalhas was another winery we visited by walking in, and their location next to Pinhao made it an easy stop to visit for a quick flight after lunch.
Unlike other wineries, Quinta das Carvalhas does not appear to offer any tours of the production space but rather simply sells glasses and flights to those who walk in (which for us was extremely hard to find in the Douro and a welcomed relief). We ended up with a premium tasting flight of an LBV, 2007 Vintage, and 20 Year Tawny and really enjoyed being able to sip in such a relaxing space.
So while we didn't leave with any bottles from this one, we simply were happy to have an option to visit a spot without reservation. They are truly hard to come by, and the prime location of this one made it all the easier to work into our schedule!
Quinta das Carvalhas is located just outside of Pinhao on N323.
Quinta do Portal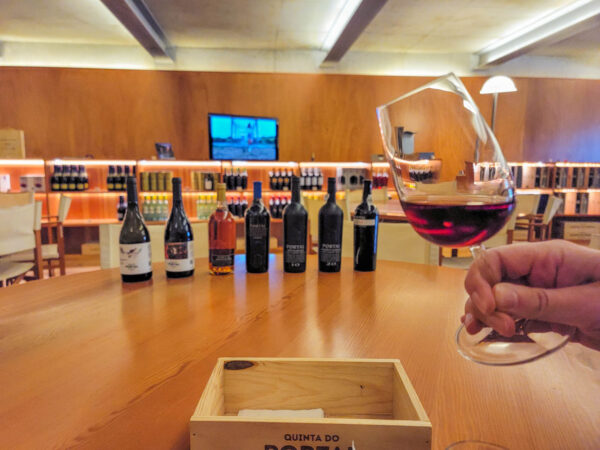 Quinta do Portal is one of the more interesting wineries in the Douro Valley because their production facility is not on the side of the cliff (like most of the others), but instead on top and further away from the valley outright.
But just because the winery is located a bit away from the valley does not mean their wines are of any reduced quality. On the contrary, this one owns plots all over the region and makes some of the finest ports we had during our stay (including some fairly exceptional still wine, a delightful Moscatel, and more- we bought more bottles here than just about all others on this list).
The building here is just as fascinating as their wine, as an award-winning architect built a structure deep into the Earth, wrapped it with cork, and covered the roof with grass (to name a few). As such, you have a facility where temperatures are controlled (mostly) naturally and allow the winery to age all of their wines on-site as opposed to shipping them off to Vila Nova de Gaia (as the larger port producers do).
As such, this was one of the more fascinating tours of all of the wineries in the Douro Valley purely because you get to see a novel way to age wine in an area that is otherwise fairly inhospitable. The fact that their wines are also stellar is an added bonus (and, honestly, to be expected anyway).
Quinta do Portal is located at EN323 5060-909 Celeirós. 
A Final Note About Planning Visits to Douro Valley Wineries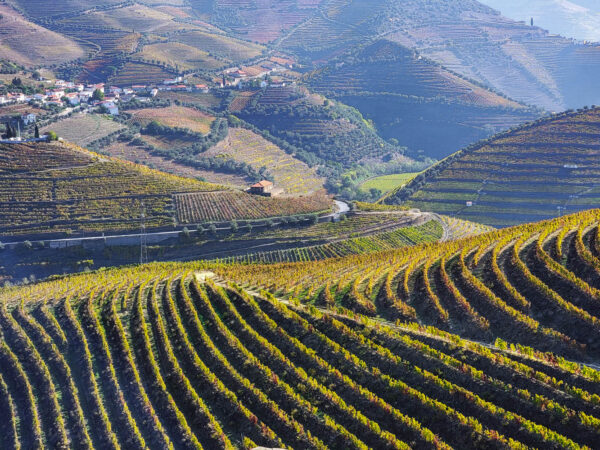 When it came to planning our trip to enjoy Douro Valley wineries, we hit a few snags that we wanted to discuss in order to better help you plan.
During our visit in 2021, only a few of the wineries we contacted offered walk-in tastings and the rest required advanced reservations for a tour and tasting combo (many of which were already full by the time we booked our last-minute trip). Some of the walk-in-friendly options could serve flights, but for a number of them, we were told we could only buy port by the glass outright or, even worse, only allow walk-ins if they weren't busy. Ouch.
To make matters worse, those that required reservations only had a couple of timeslots available each day that made the logistics difficult. Many, many wineries offered us the same exact time each day we were there, and when you account for the fact that wineries can be as much as 60+ minutes apart from each other (as the Douro Valley is indeed huge), it was incredibly tricky to get more than two reservations per day. We wanted to, but the logistics made it almost impossible.
As such, we tried to book the first and last reservation at the respective quintas each day. Then we would use our free time in the middle of the day to try and hit a winery that accepted walk-ins and do other activities closer to Pinhao (like a river cruise, have lunch, etc). This is how we ended up at Quinta das Carvalhas, as their tasting room was walk-in only and located quite literally across the river from Pinhao. That being said, we still had to miss several wineries on our wish list purely because we couldn't commit to driving an hour each way for walk-in tastings.
So when planning your trip to the Douro Valley wineries, keep some of the above points in mind when planning your itinerary. You'll be happy you did!
Read More Portuguese Wine Reviews
Looking to read our wine reviews from Portugal? Check out a random selection of articles on this site below!
Do you have a favorite winery in the Douro Valley? Comment below to share!
If you are looking to plan a wine tour in the Douro Valley for a future trip, be sure to read our complete guide at the previous link!