Published Jeremy. Last Updated on August 31, 2021.
Disclaimers: This review uses WSET Level 3 terminology and our own rating scale. Read more here. We use demographic data, email opt-ins, display advertising, and affiliate links to operate this site. Please review our Terms and Conditions for more information. This website is intended for those of legal drinking age in your jurisdiction.
Normally on this site, we always try and have a food pairing with our wines, and this is true even with sweet dessert wines.
But sometimes we find a bottle of wine that is so good on its own we forgo a pairing outright and drink it straight. Graham's Six Grapes Reserve NV Port was one such bottle, and with its intense blackberry pie flavor, you can imagine why we enjoyed it solo!
Graham's Six Grapes Reserve Port is Pie in a Glass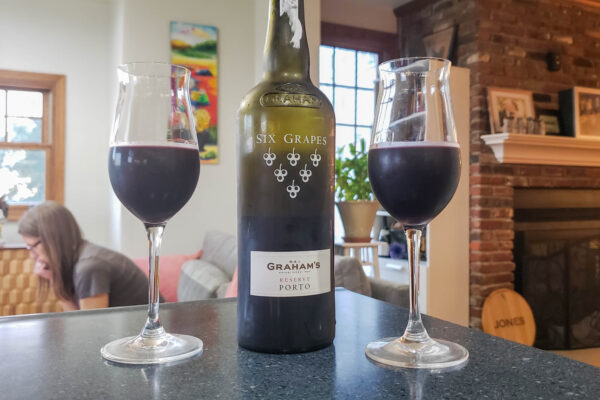 Graham's Six Grapes Reserve Port was deep purple in color with medium aromas of bramble, baked blackberry, cassis, blueberry, raisin, and prune that was developing.
On the palate, the port was dry with medium acidity, medium tannin, high alcohol, full-body, pronounced flavors with notes of blackberry pie, graham cracker, vanilla, black cherry, plum, chocolate, and a long finish. To call this blackberry pie in a glass may be an understatement because it truly was one of the strongest flavors we could pick out.
To be honest, we enjoyed this one on its own so much that we drank it straight without a pairing. That being said, some rich dark chocolate or a fruit pie of contrasting flavors could be quite intriguing with this one- but we're not quite sure we'll ever get there. This one is perfect on its own.
Score: 4 / 5
We'd always like a bottle of this on hand.
Overall, this one checks a lot of boxes for us for an affordable port, namely a decent complexity of flavors, focused baked fruit notes, and a long finish. Can you get more robust port wines out there? Sure. But for its price we are perfectly happy sipping on this one all the same.
Graham's has a tasting room Vila Nova de Gaia, Portugal. We purchased this bottle locally and enjoyed it in 2021.