Published Jeremy. Last Updated on March 3, 2023.
Disclaimers: We use demographic data, email opt-ins, display advertising, and affiliate links to operate this site. Please review our Terms and Conditions for more information. This website is intended for those of legal drinking age in your jurisdiction.
When we decided to visit friends in Seattle, we knew we wanted to get out to experience several Washington wineries.
At first, we had our hearts set on hitting a proper wine region like those found in the Columbia Valley towards the eastern side of the state. But we quickly scrapped that plan when we found out that many wineries in Washington are not estate operated- that is to say, wine producers typically do not grow their own grapes.
While this is not always the case, we found that tasting rooms in proper wine regions are few and far between- so much so that planning a visit seemed a bit too daunting. There are fields upon fields of grapes, naturally, but when it comes to trying the final products at proper tasting rooms, we weren't quite sure if it made sense for us given how far of a drive the region is from Seattle.
As it turns out, many of the most well-known wineries in the state are actually based in the greater Seattle metro area! These wineries typically buy their grapes directly from vineyards all over the state but ferment, package, bottle, sell, and pour samples at their tasting rooms much closer to the city.
So we decided to stick close to Seattle and hit up a dozen wineries in nearby Woodinville, Bainbridge Island, and even within the city limits of Seattle proper and we quickly found out how much the region loves Rhone and Bordeaux varietals outright!
Wineries in Woodinville
Woodinville is what we think of as a classic wine-tasting city and is located just about 45 minutes from Seattle! There are well over 100 wineries in Woodinville, and most of them are accessible within a five to ten-minute drive of each other. Some are even located in the same building complex, meaning you could taste your way around a few simply by foot!
The only difference between here and other major wine regions? There are no grapes to be found (well, outside of some decorative vines).
Still, with such a large concentration of highly rated wineries, we knew we had to make a trip to find the best tasting rooms in Woodinville, and were able to check out eight great spots in two day trips from Seattle!
DeLille Cellars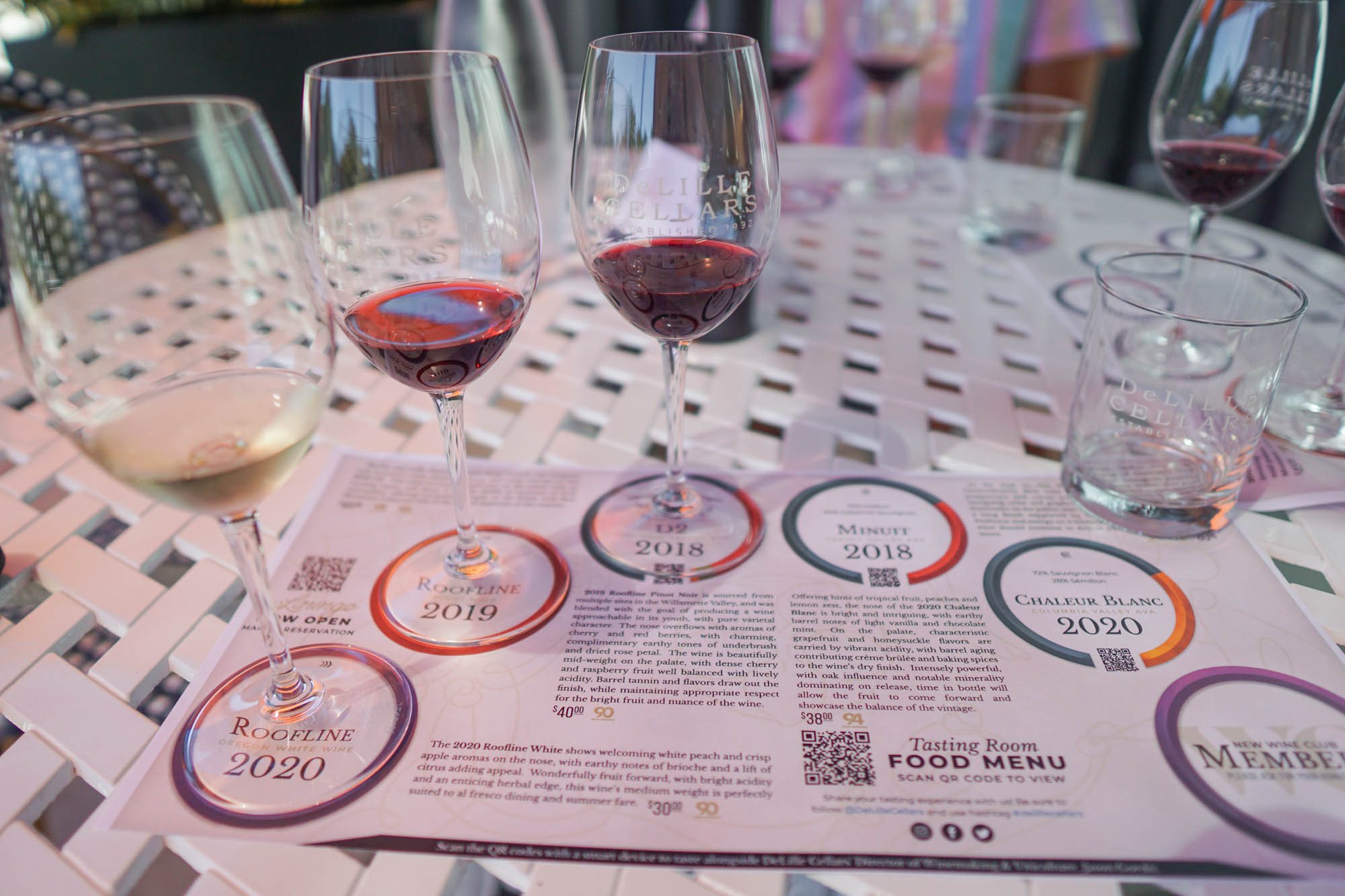 DeLille Cellars was our first winery in Woodinville, and really set the stage for the experiences to come. This modern and elegant tasting room came with a wine flight of five wines that were inspired by the French regions of Bordeaux and the Rhone. But where other wineries may focus on just one or two grapes that come out of these regions (Cabernet Sauvignon, Merlot, and Syrah specifically), DeLille had a more robust and varied offering of whites and reds that went just a bit beyond others we visited.
Wines like the Chaleur Blanc (Sauvignon Blanc and Semillon) and Roofline (Pinot Noir) offered great counterpoints to the more traditional D2 (right bank Bordeaux that was primarily Merlot-based) and Minuit (an interesting Malbec and Cabernet Sauvignon blend). Our only regret here is that some of our favorite grapes, like Syrah, were sold out so we were unable to try them entirely. So, naturally, we left with a bottle of the delightful Chaleur Blanc and was one of the only Sauvignon Blancs we picked up during our entire trip. Don't miss it!
DeLille Cellars is located at 14300 NE 145th St Suite 101 in Woodinville.
Efeste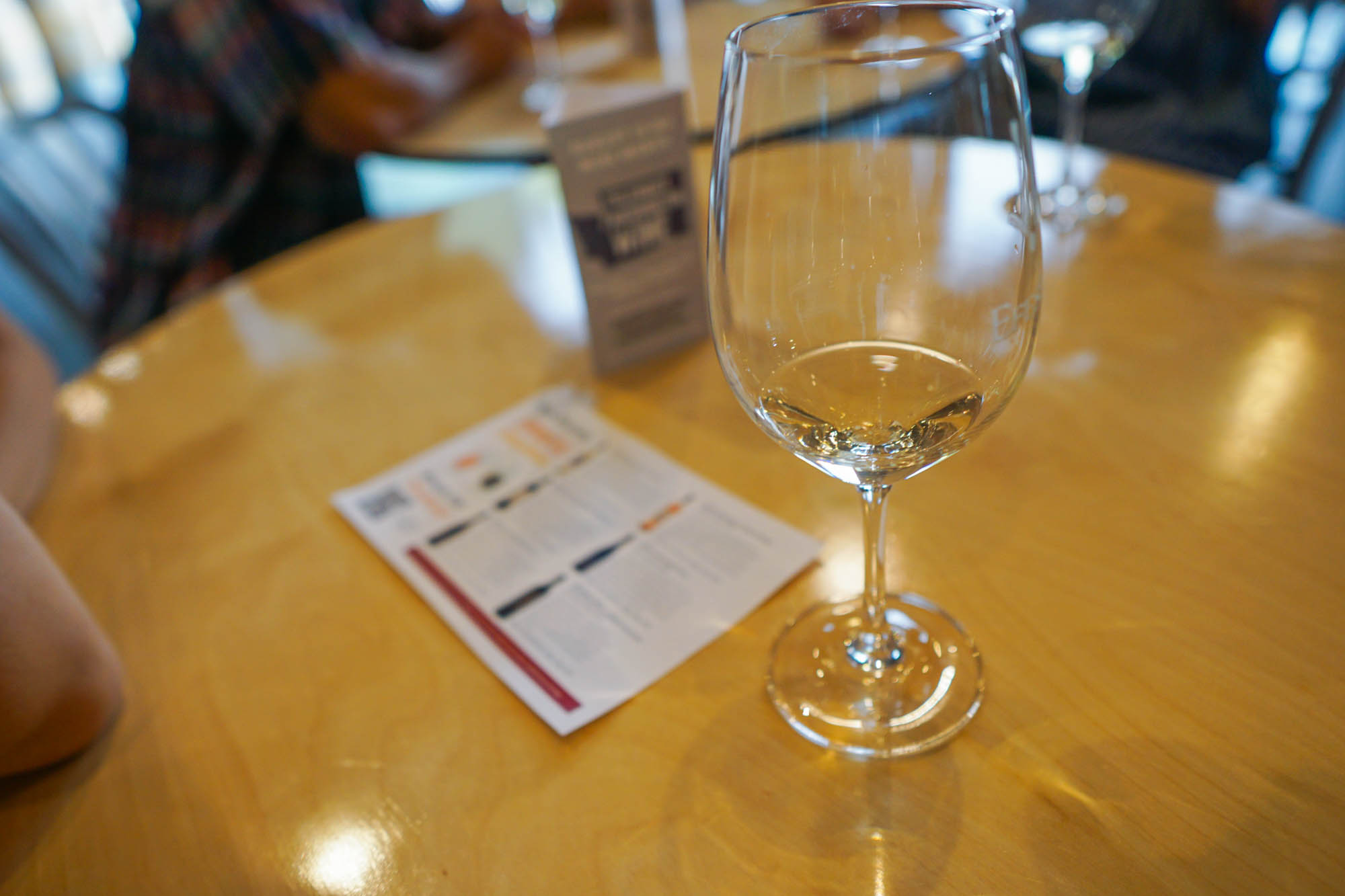 Out of all of the wineries in Seattle that we visited, Efeste had perhaps the widest selection of varietals overall. Think whites like Chardonnay, Roussane, Riesling, Chenin Blanc, and more; a rose; and reds running the spectrum from blends to pure varietal Syrah, Cabernet Sauvignon, Petit Verdot, Grenache, Cabernet Franc, Merlot, and more.
As such, while they may make their wine in similar styles to those from other wineries, you'll truly have a lot to take in here. Thankfully, their tasting flight contains six pours of wine which during our visit included the Sauvignon Blanc, Merlot, right bank Bordeaux blend (Merlot heavy with Cab), Roussane, Syrah, and Cabernet Sauvignon- a varied menu that we certainly appreciated as a cross-section of the winery's portfolio (naturally, we left with a Syrah).
Beyond this, they also have food available including small plates, charcuterie, and even an on-site pizza oven. Truly this is the kind of place you can go with a group, stay a bit for the food, and enjoy all without knowing anything else going into it. They have something to please everyone!
Efeste is located at 19730 144th Avenue NE in Woodinville. They also have a tasting room at 1730 1st Ave S in Seattle proper. 
Avennia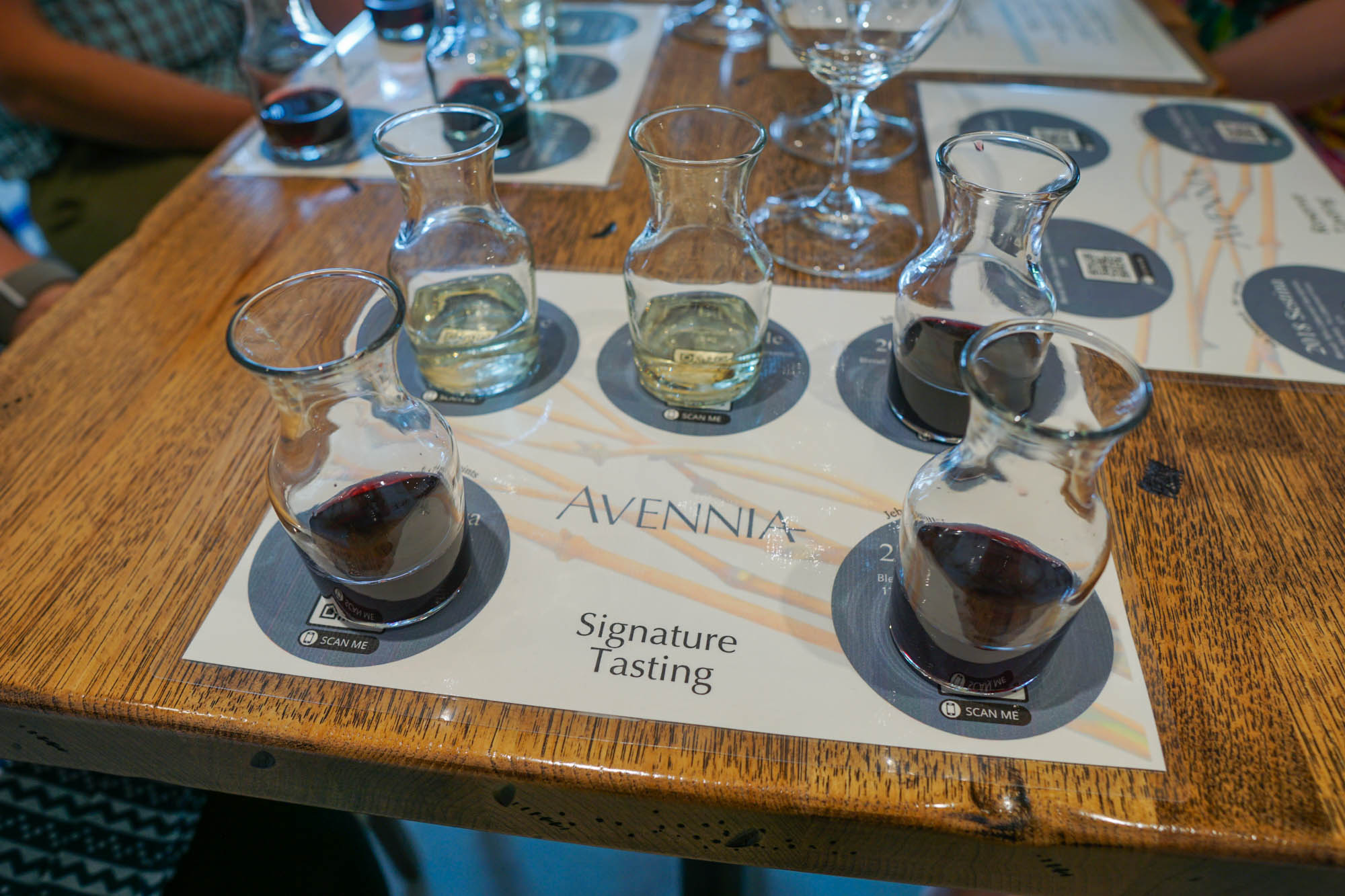 One of the things we liked the best about our tasting experience at Avennia, apart from the ambiance at large, is that they have a wide portfolio that gives nods to traditional grapes grown both in Bordeaux and the Rhone regions of France. As others tend to focus on primarily Bordeaux styles or primarily Rhone styles in their portfolio, having a healthy mix of both here gave us much more to appreciate.
Furthermore, the offering of signature and reserve tasting flights here ensured we could get a nice broad view of their offering as well, including their Syrah, GSM, white Rhone blends, Sauvignon Blanc, Cab, Bordeaux blends, and more. So whether you favor Bordeaux, Rhone, or enjoy everything equally, you really can get a nice appreciation for this winery's delightful spread here. Although, naturally, we walked away with a Syrah and Grenache as we quickly realized how well Washington does in mimicking the style of this famous region!
Avennia is located at 19255 Woodinville Snohomish Rd #1 in Woodinville.
Matthews (Tenor and Jaine)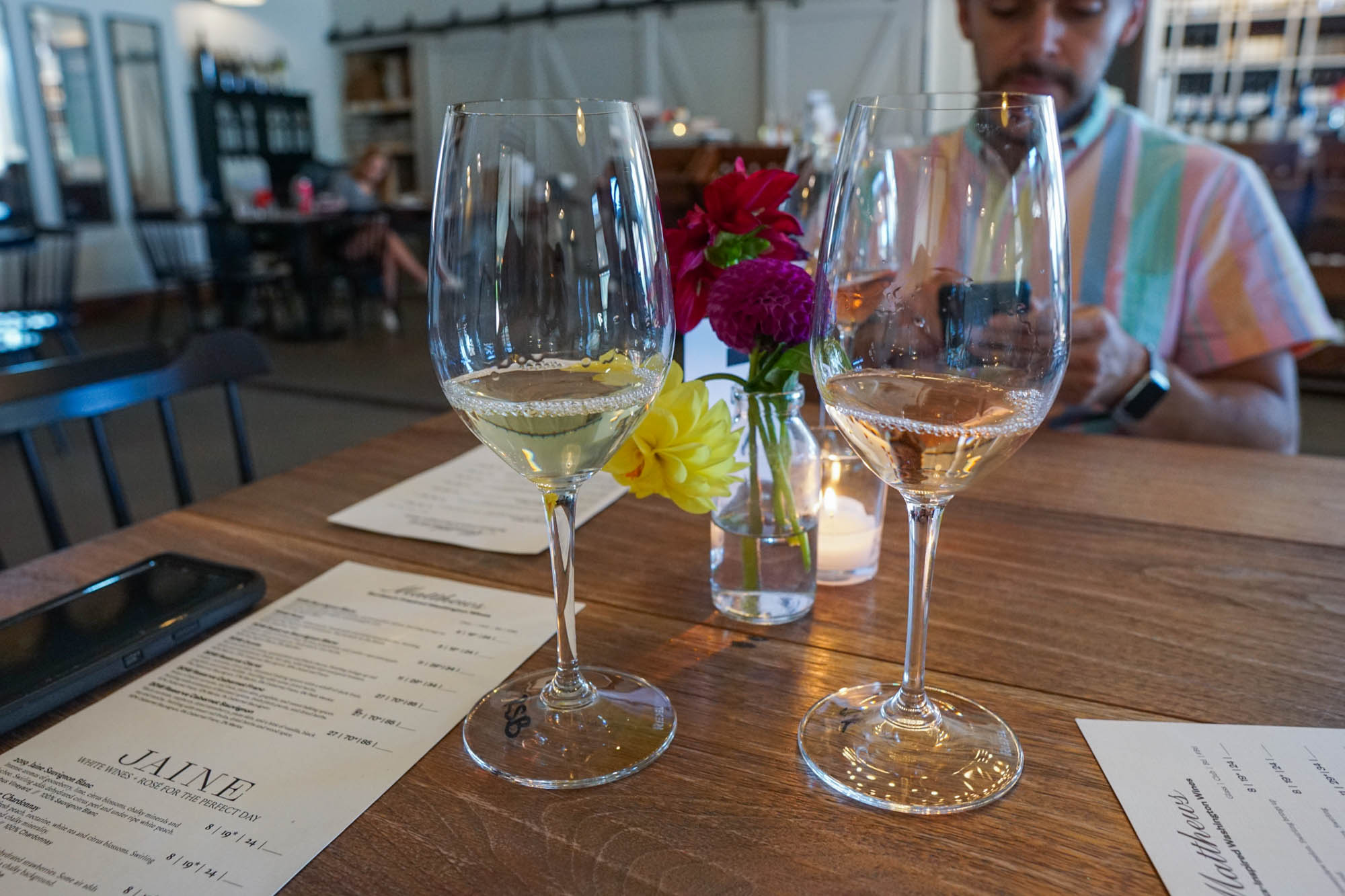 Matthews Winery is located in a combined space with the wineries Tenor and Jaine respectively and was arguably our favorite tasting room experience in Washington.
The reason for this is that the tasting experience lets you have any four wines from the three producers, which, when visiting with friends, allowed us to seriously taste our way through the menu. Matthews shined for their Bordeaux-inspired blends (try one of the Clarets), Tenor focuses purely on single varietal bottles (try the Syrah), and Jaine fills in the gaps with a strong white and rose program as well (the rose here was among the finest we've ever had).
As other wineries we visited only offered a single producer in concepts similar to these, having three available in a single tasting experience really helped us open things up a bit without locking our entire flight into one style of wine. A real gem- if you can stomach some of the bottle prices at least!
Matthews Winery (plus Tenor and Jaine) is located at 16116 140th Pl NE in Woodinville.
Amavi Cellars (Pepper Bridge)
Amavi is a smaller tasting room in Woodinville that shares its space with Pepper Bridge. Amavi's limited wine portfolio has a near-even split between pure varietal and blended Cabernet Sauvignon and Merlots (ala Bordeaux) as well as a few Syrahs (ala the Rhone).  We, naturally, gravitated to the Syrah offerings at this one but appreciated how approachable and perhaps even a bit informal the wine tasting experience here was- even if we did need reservations outright.
Amavi Cellars (plus Pepper Bridge) is located at 14810 NE 145th St A3 in Woodinville.
Chateau St Michelle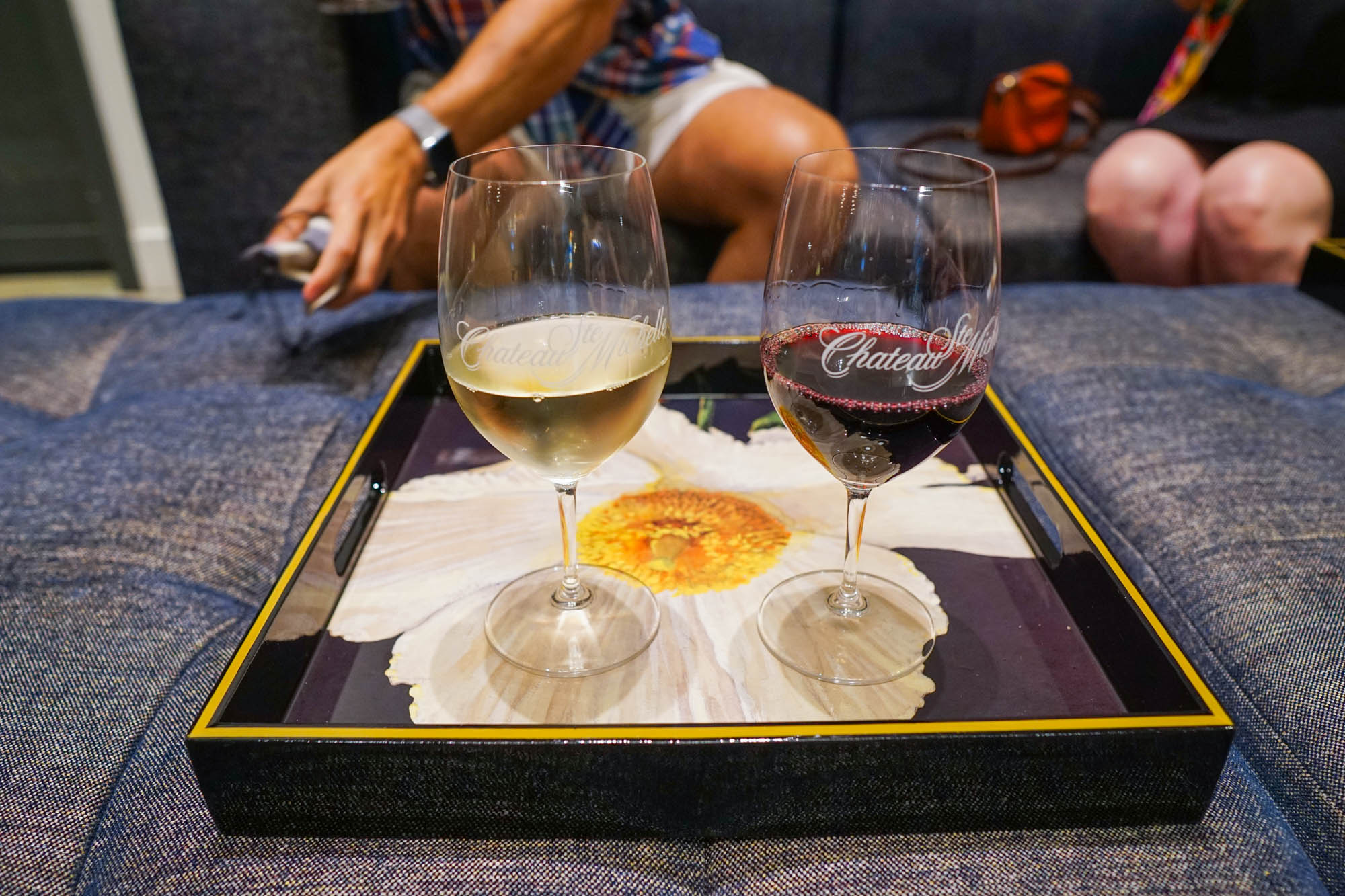 If there is one Washington winery you likely are well aware of, it is probably Chateau St. Michelle. It is the largest wine producer in the state, and its tasting room in Woodinville is among the most ornate and elaborate we went to. The ambiance here was truly second to none and the main tasting room included several bar areas, an on-site kitchen, and more.
We, admittedly, did not do Chateau St. Michelle justice as this was one of the wineries we visited without an appointment. Those who reserve in advance have an array of tasting experiences at their disposal from the winery's vast catalog, but walk-ins are limited to sampling just a few bottles that are pouring that day outright.
As such, I have to admit that the experience here was more or less a letdown (of our own doing mind you), but is still an obligatory stop all the same thanks to this one's size and popularity. Next time, we'll reserve and do a more robust tasting of the higher-end wines available!
Chateau St. Michelle is located at 14111 NE 145th St in Woodinville.
Gorman Cellars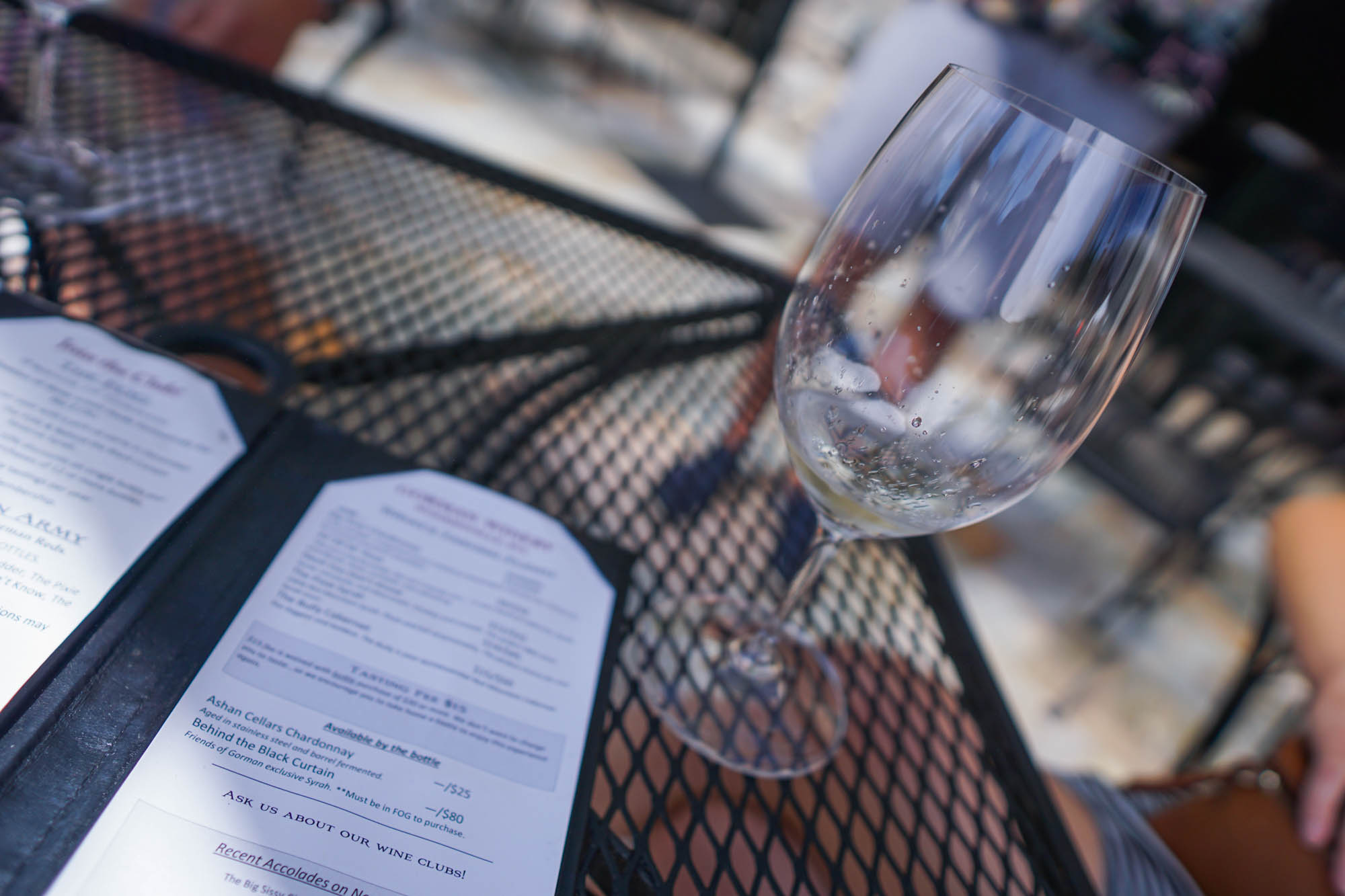 Gorman Cellars was one of just a few wineries in this guide we were able to visit without a reservation, and quickly after arriving at their Woodinville tasting room we recognized that this one was different. First, there was the ambiance as the interior of Gorman Cellars is covered with guitars and rock memorabilia (the owner is a big fan, clearly) and the outside was set up with tables under a misting station to cool off on a hot day!
Much like other Washington vineyards, Gorman has ample selections of Bordeaux and Northern Rhone-style wines but also rounded out their portfolio with some GSM blends like those from the Southern Rhone, Chardonnay, and more. In fact, it was The Big Sissy Chardonnay that left the biggest impression on us at it had a perfect balance of oak and malolactic fermentation- both prominent but not too overdone that it masked all the fruit flavors outright (like is done aggressively in some Napa vineyards). In fact, it reminded us of one of our favorite Chardonnays from Hamilton Russell (South Africa) and naturally, we had to leave with one!
Gorman Cellars is located at 14505 148th Ave NE in Woodinville. 
Novelty Hill (Januik)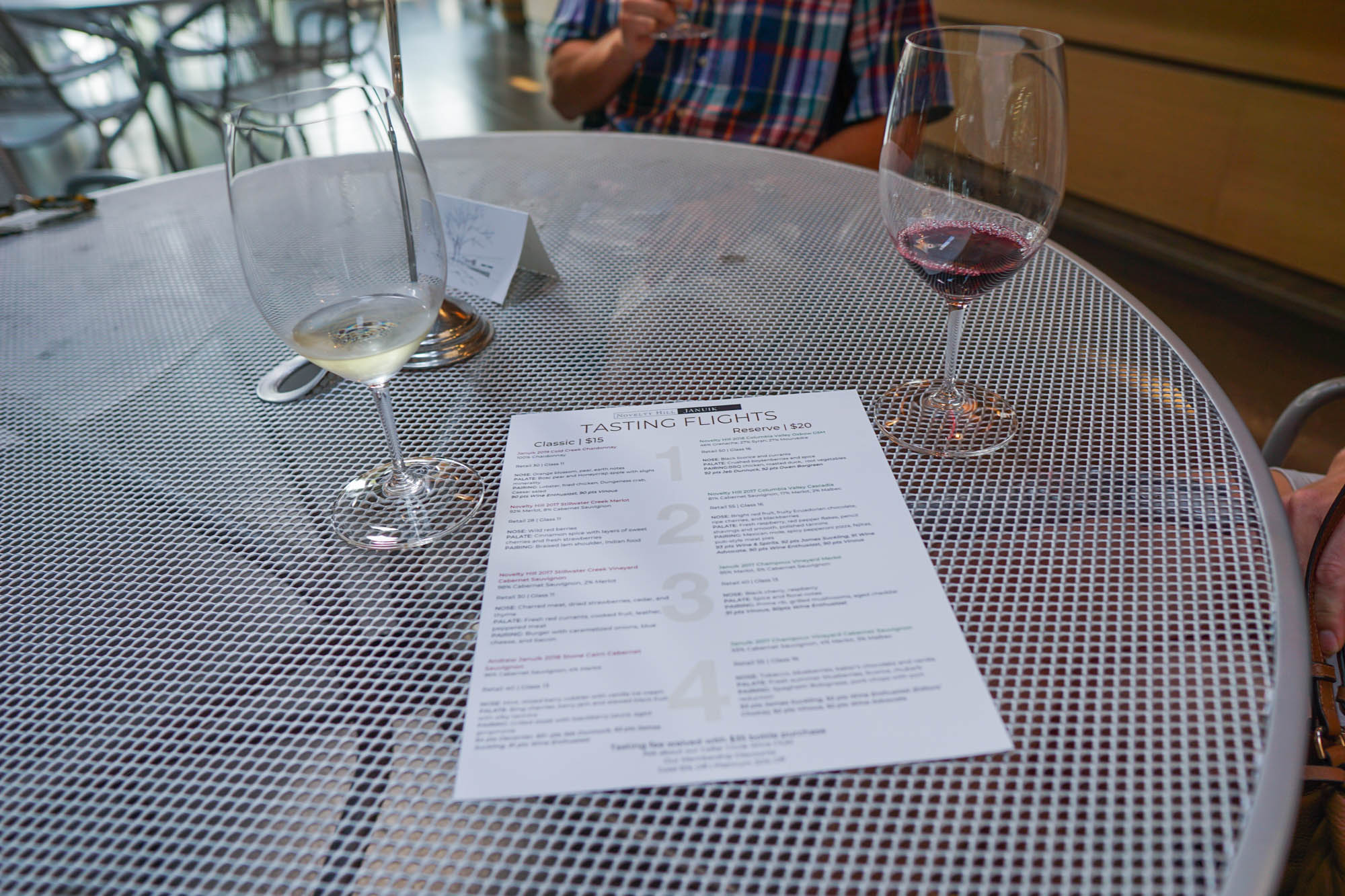 During our visit to Novelty Hill, we were offered pours from a set tasting flight which changes regularly. As such, while we didn't get to pick the grapes we were able to try, our server did offer us a splash of a few others after the fact to help us try more of their portfolio.
If there was any tasting experience in Washington that I would say I was let down by, it would honestly be this one. Not because the wines were bad, far from it actually (they really know their stuff here), but rather that our tasting flight was almost entirely Cabernet Sauvignon-based. Yes, almost every single wine poured on the two tasting flights on the day of our visit were Bordeaux-inspired and Cab heavy. A good problem for those who like it, but it honestly felt like it wasn't a great representation of the winery's portfolio at large (they're indeed Cab heavy, but not that Cab heavy).
What ended up happening here for us was that we found ourselves enjoying the wines we had in quick splashes at the end just a bit more as Cabernet Sauvignon, by in large, has never been a favorite grape for us. So we picked up a few non-Cabernet bottles to take home and hope for the best all the same.
We have to admit that this one was entirely the luck of the draw. From talking to our servers we were told the tasting menu changes often, and ours was so new they were still getting used to the wines on the list. So your mileage may vary here completely depending on how frequent the wines are changed. As such, we'd still recommend a visit to this one whether you are a Cab fan or not, but those who love this grape more so will get the most out of the experience if their flight is anything like ours.
Novelty Hill (plus Januik) is located at 14710 Woodinville – Redmond Rd NE in Woodinville.
Wineries in Bainbridge Island
Bainbridge Island is a great day trip spot from Seattle as it is located a short ferry ride across Elliott Bay and the Puget Sound from the city. All you have to do is get in line early, drive your car on the ferry, enjoy the scenery from the ~30-minute crossing, and then head out for a day of exploring.
Naturally, as this is popular for both locals and tourists alike, it shouldn't be surprising that a few wineries can be found on the island as well- many just around the corner from the ferry terminal outright!
We will admit that we did not head to the island with the intention of checking out wineries outright, but we ended up hitting two all the same.
Eagle Harbor Winery
We stopped at Eagle Harbor Winery after exploring Bainbridge Island and immediately felt like we were part of the family. The staff here were quite friendly and open to pouring wines based on whatever we selected from the menu (as opposed to set flight lists which were common virtually everywhere else) plus a few bonus splashes at the end for good measure.
Out of all of the wineries we visited, we got the most explanation of the wines here first hand from our server as opposed to only really reading about them on the tasting sheet or brief introductions as the flights came out in total. This allowed for a much more robust conversation where we learned more about how they acquire grapes from all over the state. While this one is decidedly a Bordeaux-inspired vineyard (expect numerous Cab and Merlot wines), we appreciated that they had Super Tuscan blends and Sangiovese on the menu as well.
Our only regret was that some of the super-premium options here were pushing $50-$80, and were a bit outside of the price we were willing to spend to take more bottles home with us. Alas, we enjoyed the experience here in a holistic sense all the same as the team truly made the experience a unique one!
Eagle Harbor Winery is located at 8897 Three Tree Ln NE as well as 278 Winslow Way E #106 on Bainbridge Island. We visited the former. 
Eleven Winery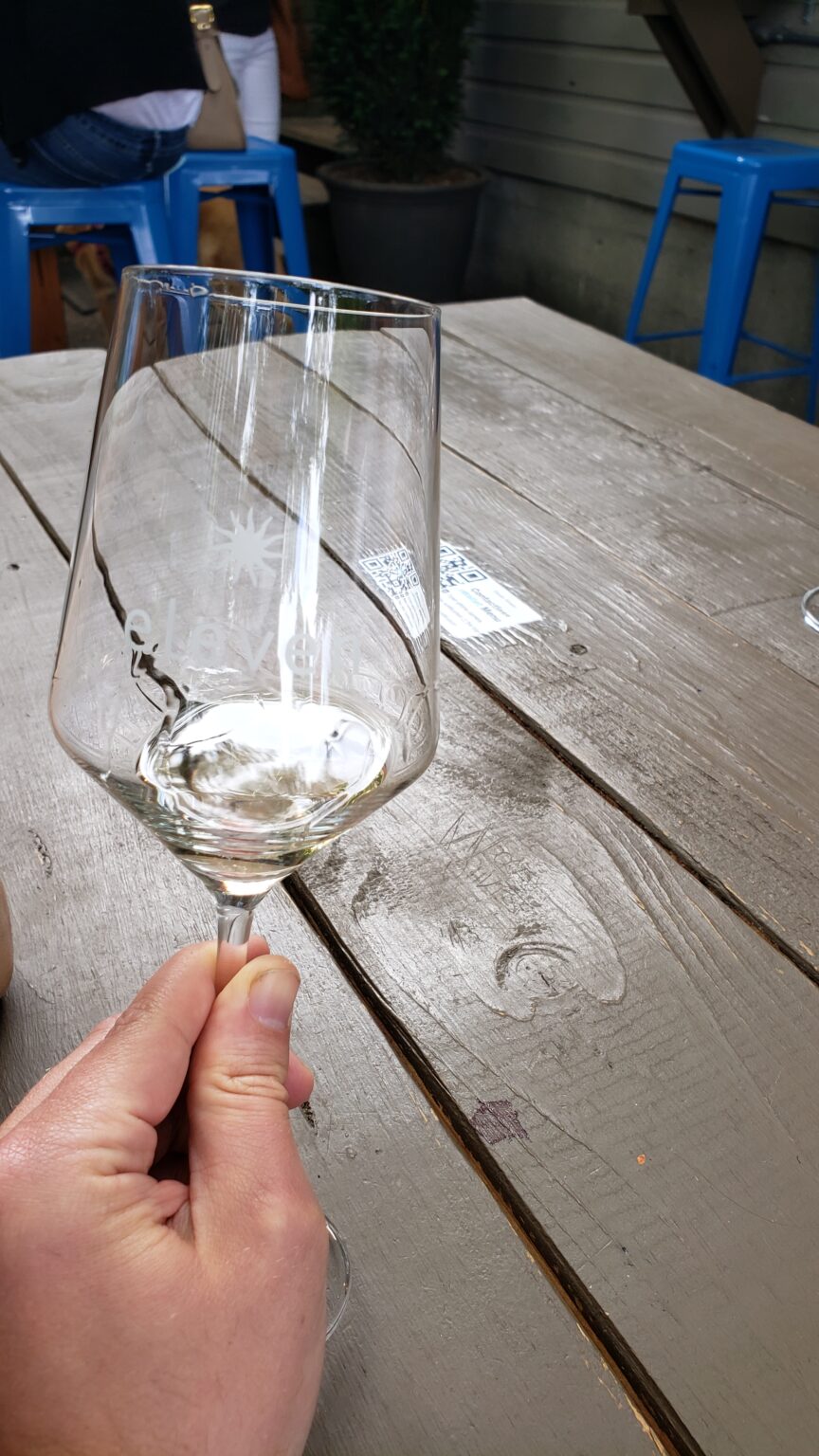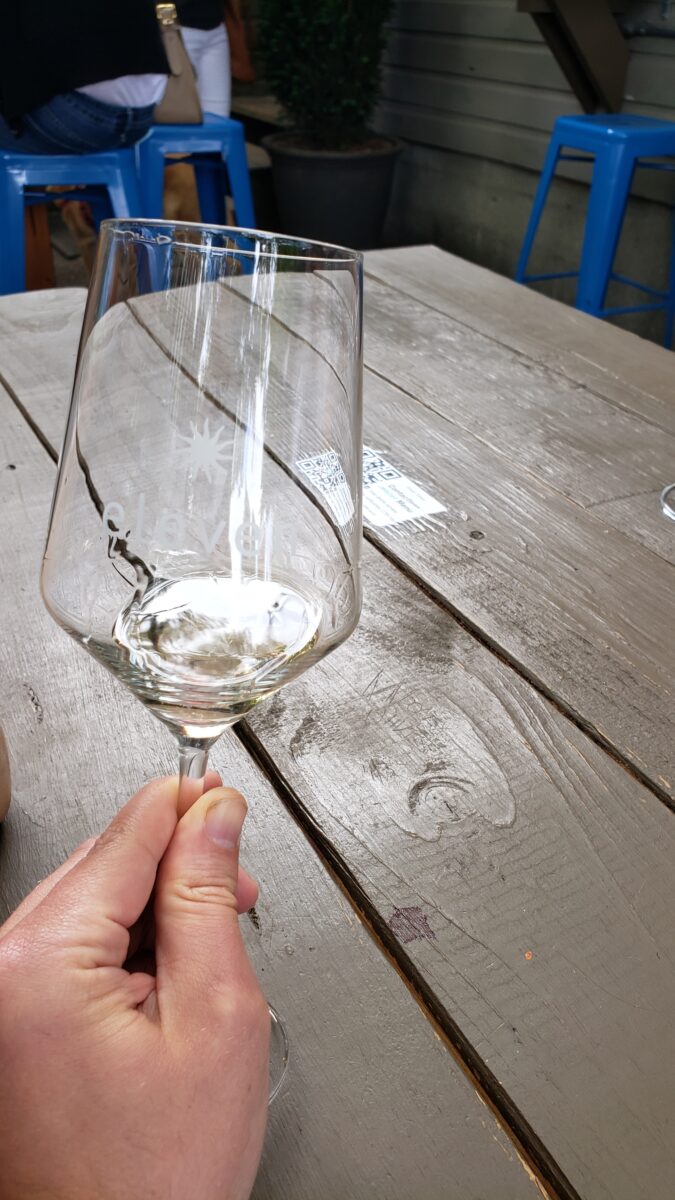 We visited Eleven Winery a bit on a whim as we killed time before the return ferry to Seattle (a bit like Eagle Harbor, above). During our visit to the winery's city tasting room, we were presented with options of basic flights or reserve flights- naturally, we went with the latter.
The wines in the Reserve menu ran the spectrum including Cabernet Sauvignon, Tempranillo, and Viognier as well as Mourvedre two ways- one as a white (unconventional) and one as red (traditional). While we generally enjoyed all of the wines in the flight, the white Mourvedre is what jumped out at us the most. It is described almost as a rose in nature, but the bottle we enjoyed was devoid of any pink tints whatsoever but with rose characteristics like apricot, grapefruit, and lighter red fruits. A simply delightful find that we had to buy a bottle of to take home!
Eleven Winery is located at 7671 NE Day Rd W and 287 Winslow Way E in Bainbridge. We visited the latter.
Wineries in Seattle Proper
Finally, we come to the wineries in Seattle itself. Prior to visiting, we didn't actually realize the city had wineries within it outright, and it was only until after having a stellar bottle from Latta Wines that we found out it was produced within the city limits!
In fact, the complex where this particular winery can be found is home to a half dozen or so producers so while we visited for one, we ended up checking out two!
Latta Wines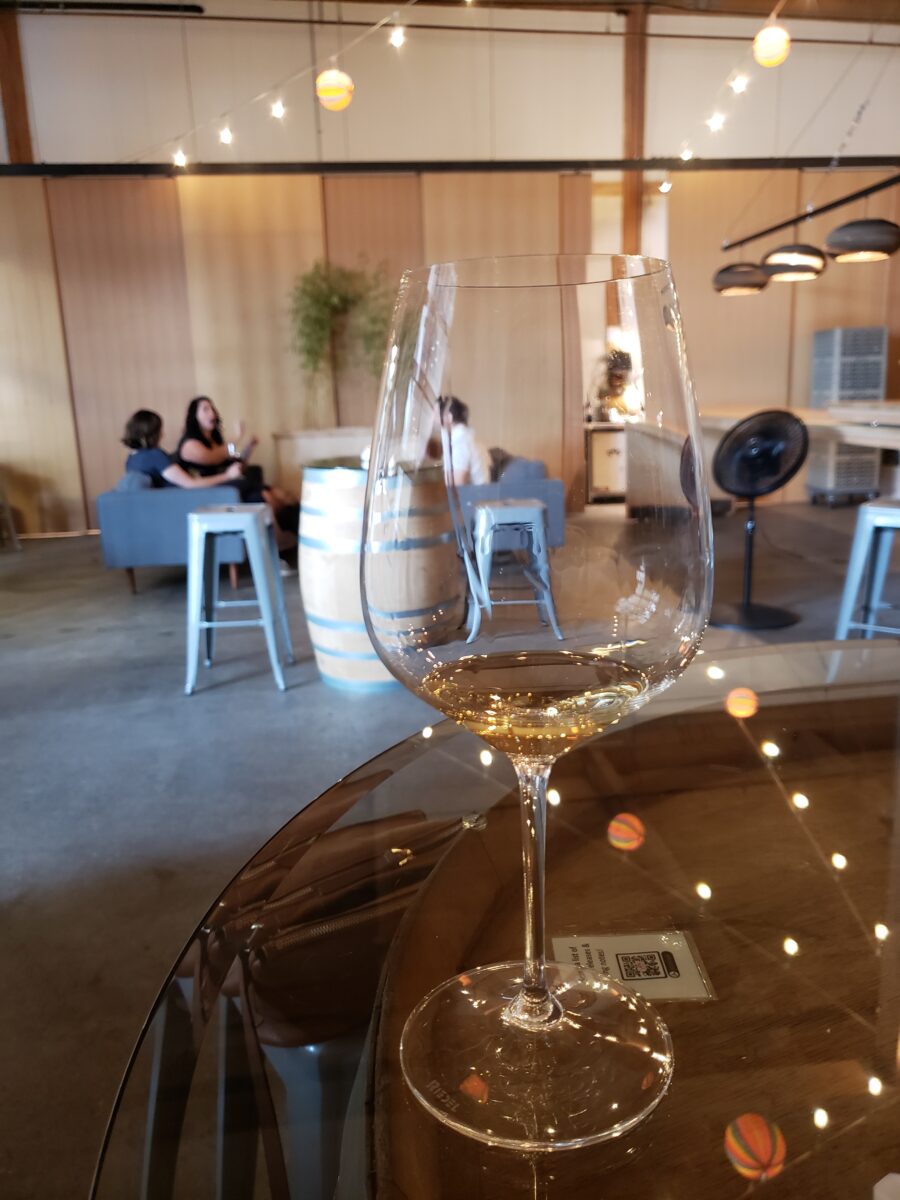 We stumbled upon Latta Wines purely by chance. It came about when we were heading out to a nice dinner with friends and we went to a local wine shop to buy a bottle for dinner as the corkage fee at said restaurant was much cheaper than the wine markup they had on their bottles. We wanted a Grenache from Washington, found Latta Wines Upland Vineyard, saw it had great reviews, and off we went.
It was incredible. In fact, we later found out that Snipes Mountain, where Upland Vineyard is located, is one of the most sought-after producing regions in the state and is known to make some of the best Grenache anywhere. We truly believed it and knew we had to find the tasting room for this one right away.
As it turns out, Latta Wines is located in Seattle proper on the south side of the city. During our visit, we learned that they are primarily a Rhone producer and have an impressive spread of red and white wines from North and Southern Rhone plus other grapes like Malbec, Roussanne, Mourvedre, and more. True to form, we left this one with more bottles of Upland Vineyard's Grenache as well as their Syrah, because why mess with perfection when it is in reach? If you like these grapes, don't miss this one.
Latta Wines is located at 3933 1st Ave S in Seattle proper.
Rotie Cellars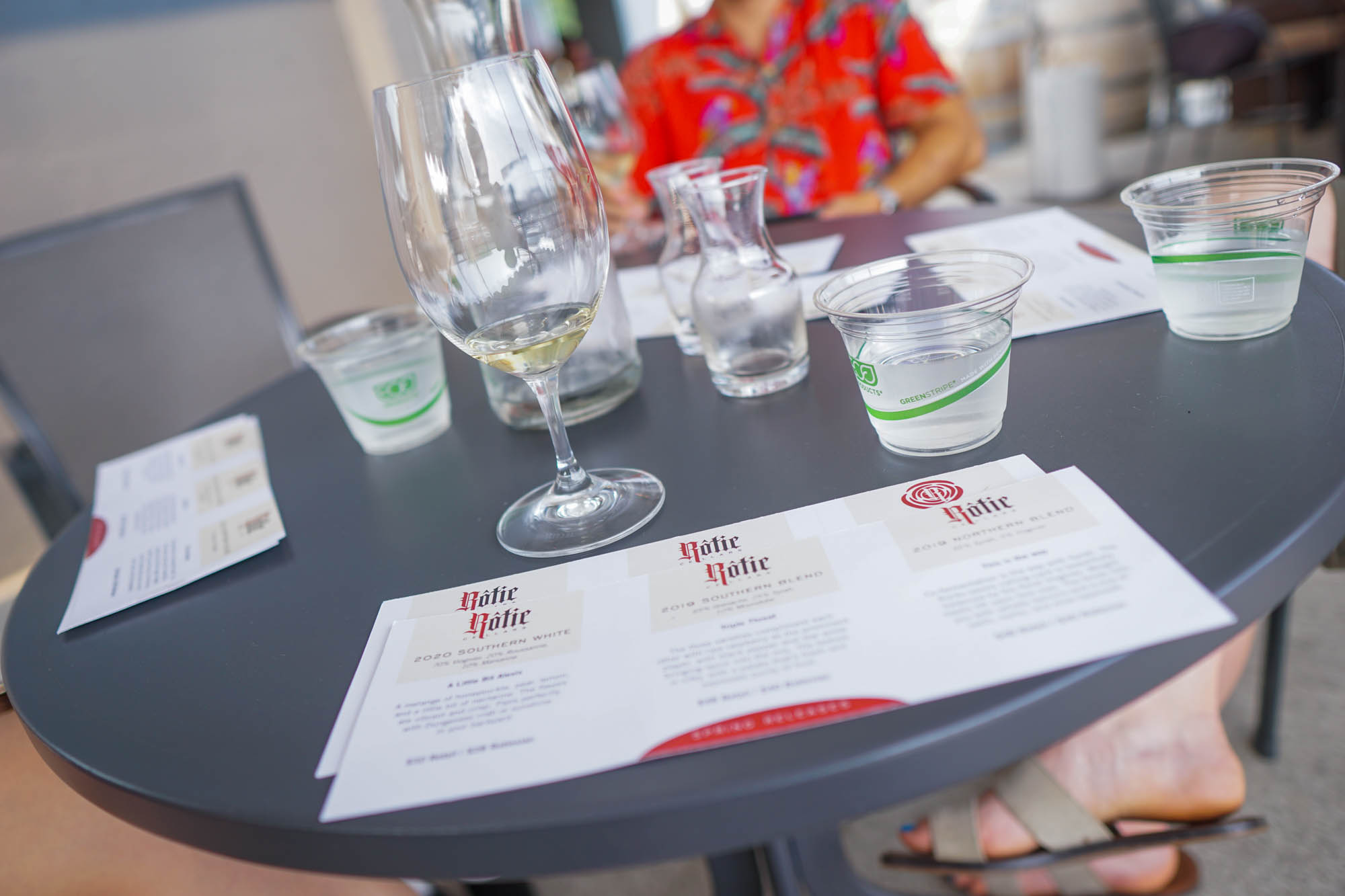 Rotie Cellars was another winery we went to purely on a whim and was added to our hit list purely because it was located just 30 seconds away from Latta Wines on foot. We asked our host at Latta what winery in the complex she recommended best (as there were several) and Rotie Cellars came up on the list.
If you haven't guessed that we love Rhone wines by now, you should not be shocked that a winery named after one of the most renowned Syrah producing regions in the Northern Rhone got our attention, and after learning they also only specialize in Rhone wines, off we went.
As you should expect, the Syrah here was the star of the day with the single varietal bottle and rose of Syrah being two of the favorites that we left with bottles of. The GSM-inspired blends were smooth and enjoyable, and our only regret was that they were out of the Grenache Blanc and we could not try it. All things being equal, for a winery that we stumbled upon simply by being next door, we'd add this one on our hit-list again as it was quite delicious.
Rotie Cellars is located at 3861 1st Ave S Suite F in Seattle proper. 
Read More from Washington Wineries
Looking for wine reviews from Washington wineries? Check out the following we've featured on our site to date (articles load at random):
Do you have a favorite Seattle winery? We will be back soon and hope to visit more, so we'd love to hear recommendations!