Published Jeremy. Last Updated on January 27, 2023.
Disclaimers: This review uses WSET Diploma terminology and our own rating scale. Read more here. We use demographic data, email opt-ins, display advertising, and affiliate links to operate this site. Please review our Terms and Conditions for more information. This website is intended for those of legal drinking age in your jurisdiction.
Out of all of the wineries near Tri-Cities, Washington, I visited during my trip to eastern Washington, none was more surprising than Bartholomew.
This unassuming winemaker is located in a small complex with several other wineries (not in the heart of the vineyards of Red Mountain AVA nearby), makes a large spread of wines well beyond the typical Bordeaux and Rhone styles you normally see in the state, are all rather delicious, and clock in at a respectable price point, too!
Naturally, during my visit I had to sample my way through every bottle that was available and enjoyed all of them.
One bottle I was not able to sample was the Graciano as they were running low on inventory. I went on faith that it would be just as good as the others I tried (also thanks to a recommendation from a friend, Valerie & Valise, who sampled the last of it before I arrived, too), and bought a bottle to take home.
It was simply delicious.
Bartholomew's Graciano is a Gem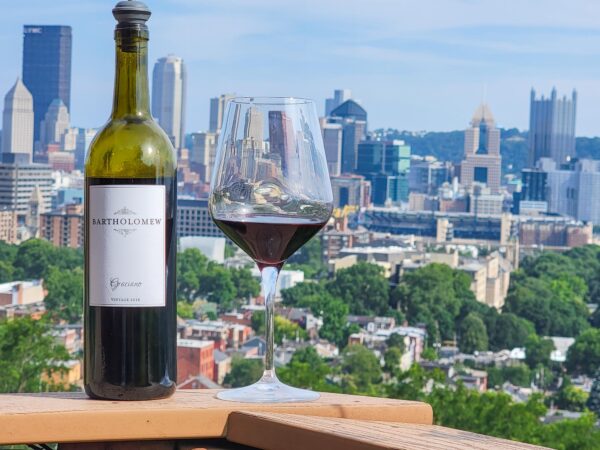 Prior to enjoying Bartholomew's Graciano, I only ever had this one as a minor blending grape in other wines. Having it as a single varietal bottle was a treat that you just don't see every day.
This one was medium ruby in color with medium aromas of black cherry, clove, cardamom, licorice, blackberry, cola, vanilla, and leather that was developing.
On the palate, it was dry with high acidity, medium tannin, high alcohol, and medium(+) body, flavor intensity, and finish. We found notes of black cherry, cranberry, clove, cedar, black raspberry, blackberry, strong black pepper, licorice, and sandalwood. My friend described this as being reminiscent of a Syrah, and you know what? I can see that wholeheartedly.
Graciano Food Pairing – Sous Vide Steak
We paired this moderately intense red with sous vide steak with zucchini pancakes and kohlrabi slaw.
The richness of the steak helped offset the tannin and acidity in this one as expected, and we denoted a stronger presence of dark fruit flavors, namely blueberry, and lesser barrel notes with each bite. The tzatziki on top of the zucchini pancake was also an interesting combination of this wine as it actually highlighted more barrel notes as well.
Overall, a nice pairing for the dish all around.
Score: 4 / 5
We'd buy another bottle of this one.
Bartholomew's Graciano lived up to all of the other wines I sampled at the winery and really highlights to me why this one is a stellar player in eastern Washington. I would more than gladly pick up another bottle of this one plus several other from the producer's portfolio on my next visit.
Bartholomew Winery is located at 421 E Columbia Dr in Kennewick, WA. I picked this bottle up at the winery and enjoyed it in 2022.