Published Jeremy. Last Updated on March 9, 2023.
Disclaimers: We use demographic data, email opt-ins, display advertising, and affiliate links to operate this site. Please review our Terms and Conditions for more information. This website is intended for those of legal drinking age in your jurisdiction.
While the Finger Lakes has a reputation for an abundance of overly sweet wines, as you sift through the options you really start to see that this is in fact a world-class wine region.
During our many visits, we have been fortunate enough to try many of the best Finger Lakes wineries, and in this one we wanted to share a few of our very favorites that we think are must-visits on any trip.
Dr. Konstantin Frank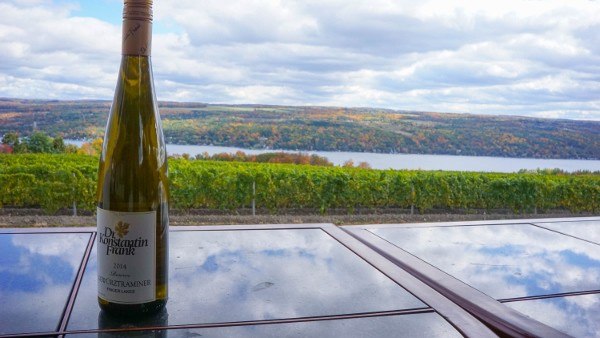 I'm often leery of the hype train when it comes to famous alcohol producers, as more often than not their products rely on the brand name to sell more bottles than on the quality of their product. The most famous Finger Lakes winery is, without a doubt, Dr. Konstantin Frank- one of the originators of high-class wine in the region and one of the most award-winning vineyards in the state.
Our visit to this particular Keuka Lake winery almost didn't happen as we arrived to find a line out the door (thanks to many tour groups stopping here) and an uncertainty on how long we would have to wait to get in.  We decided to endure, and after about 10-15 minutes were pulled in to one of their many tasting rooms where groups of 15-20 people are poured free samples in an almost assembly line setup to pack us all in.
It sounds like the stage would be set for disaster here, as many sub-par vineyards follow this model, but Dr. Konstantin Frank is a notable exception with professionalism and order being present above all else in this tasting model.  As far as the wine is concerned, nearly all of the ten or so we tried were delicious- a rarity for Finger Lakes vineyards, and their Gewurztraminer (one of my favorite varietals) was hands down our favorite of this type in the Finger Lakes thanks to its powerful aroma and flavor profile to match- something many other vineyards failed to deliver on.
Dr Konstantin Frank is located at 9749 Middle Road on the west side of Keuka Lake near Hammondsport.
Keuka Lake Vineyards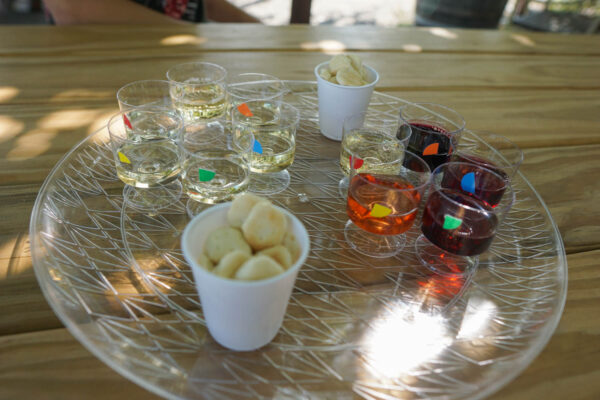 A friend of ours told us that a stop at Keuka Lake Vineyards is obligatory on the lake, and it didn't take long after arriving at this small tasting room that we understood why that is.
First off is that this one feels like a bit of an under-the-radar kind of spot. There is no large, fancy tasting room. It is simply a comfortable tasting experience with a stellar view.
Then, there is the wine, which trends heavily in the white territory with an emphasis on Vignoles and Riesling in particular (as well as a fairly killer Sauvignon Blanc).
But finally, there is the owner who came out and talked with us at length- even more so when he found out we are from the same city. In all the discussions, more wine came out, including their solid Evergreen Lek Riesling (a must-try) and made for a lovely visit all around.
Keuka Lake Vineyards is located at 8882 County Route 76 in Hammondsport.
McGregor Winery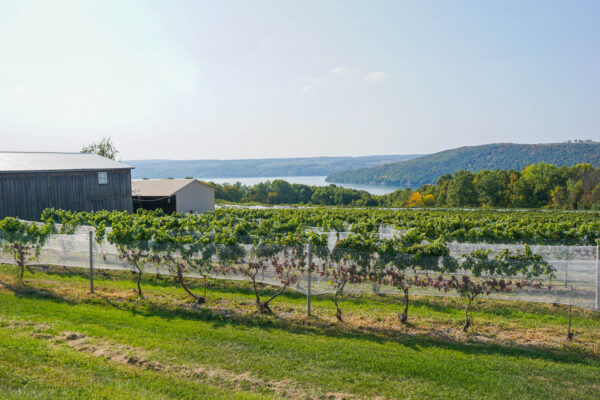 While it may be impossible to pick one winery that has the absolute best view in the Finger Lakes, we have to admit that McGregor is most certainly in contention.
The reason for this is because this one is located pretty far northeast compared to most Keuka Lake wineries, and has a prime viewing angle of where the lake splits (a unique character of this particular lake). In addition to the view, this one makes some damn fine Riesling as well as some exceptional reserve red blends using Saperavi and other eastern European grape varietals you may not be familiar with.
So while you may have to do a bit of a detour to get to this one, it is worth it.
McGregor Vineyard is located at 5503 Dutch Street on the east side of Keuka Lake in Dundee.
For individual reviews of McGregor wines, check out Saperavi 2018 and Cabernet Franc 2018!
Heron Hill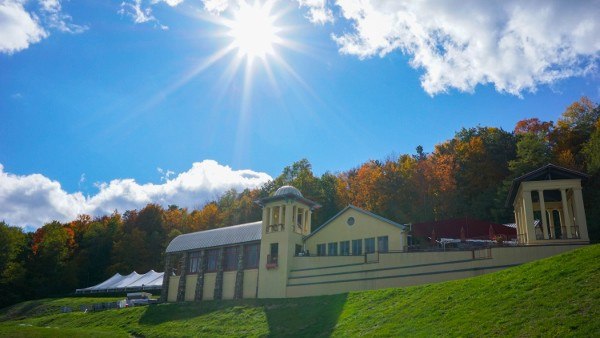 Travel and Leisure magazine picked Heron Hill winery on Keuka Lake as one of the most beautiful tasting rooms in the country, and it deserves this distinction completely. Situated at the top of the estate, Heron Hill's tasting room features vaulted ceilings, large vertical windows, an alpine feel, and a gorgeous view of their grapes and Keuka Lake.
Of course, the beauty of the tasting room is not what won us over, it was the wine!
Heron Hill won a unique distinction from us in that it was one of the few wineries in the Finger Lakes that had a red wine that was worth buying (and we don't mean Concord or red fruit wines, either). This one was a Cabernet Franc and had all of the characters that we look for in a good red, notably moderate tannins and a lingering flavor- something the Finger Lakes wineries have trouble achieving with any wine, let alone reds.
A second highlight from our visit to Heron Hill was our server during the tasting. This particular server asked us which wines we enjoyed, why we liked them, and instead of doing so because it was his job and he had to, did it to give us even more samples of other wines he thought we'd like. This is a rare skill in the region and is one we didn't come to realize until after our visit as he directed us to wines we didn't elect to try in the first place and were ones we ultimately left with bottles of. A win for everyone!
Heron Hill is located at 9301 Co Rd 76 on the west side of Keuka Lake near Hammondsport.
For reviews of Heron Hill wines we've tried, check out Reserve Riesling 2017!
Hermann J. Wiemer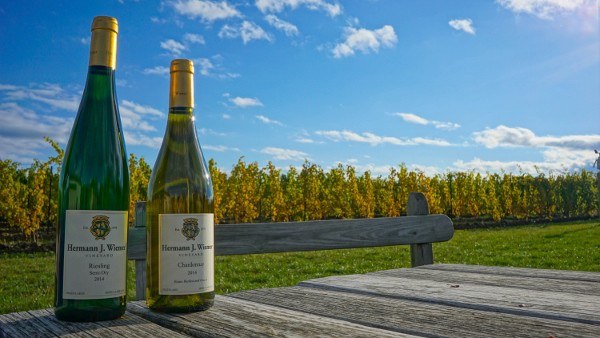 When we first heard about Hermann J. Wiemer winery, the stories were always about the Riesling. If you are looking for getting top-shelf Rieslings in the Finger Lakes, Hermann J. Wiemer has a long history of delivering.
Naturally, we had to go.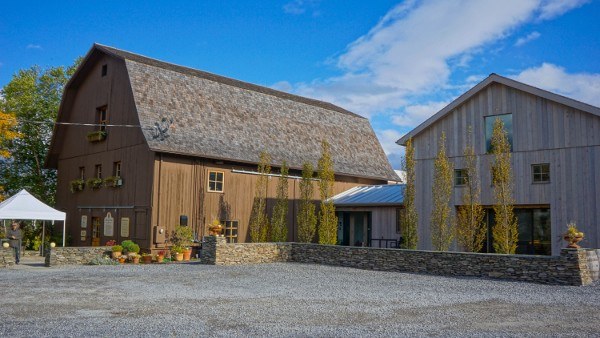 The tasting at Hermman J. Wiemer takes place in a gorgeous converted barn with stainless steel tanks in the center of the room. A selection of five wines costs about $5 and between the two of us we were able to sample all of the wines on their menu (excluding the premium wine flights, which ranged from $8-$10 for four samples).
The reputation for this one lives up to the hype as the Rieslings were indeed the star of the show, so much so that we left with two bottles, one of Semi-Dry Riesling and one of Chardonnay. I was thoroughly prepared to extend classifications of this one being the best Riesling that we tried during our entire visit, but there was one vineyard we visited at the end of our trip that outclassed even this regional favorite.
Hermann J Wiemer is located at 3962 NY-14 on the west side of Seneca Lake in Dundee.
Anthony Road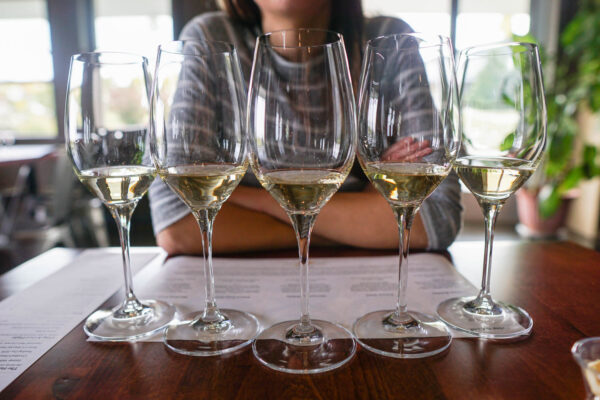 If you are looking for a winery that has a spread of dry red and whites that will please nearly any palate, Anthony Road on the western slopes of Seneca Lake should be on your radar.
While we may highlight one or two wines that some vineyards do well, this one is fairly solid at just about everything they produce be it a Riesling, Chardonnay, Lemberger, and more (their base red and white blends are stellar as well).
One of the more interesting wines here is Tierce- a Riesling collaboration wine between them, Fox Run, and Red Newt. We tried one of the oldest vintages available of this one (five years old) and thought it had a wonderfully complex flavor profile and was our first time being able to get a distinct petrol aroma out of an aged Riesling- very interesting!
When visiting this one, make sure you spend some time exploring their visitor's garden which has an array of herbs and spices, grapevines (that you can taste from- great at harvest!), and a whole lot more. This really was a fun space to explore with a glass of wine in hand.
Anthony Road is located at 1020 Anthony Road in Penn Yan.
Boundary Breaks
For all travel writers, there comes a time when you hit a place so incredible and so relatively unheard of that you are not sure if you should reveal it to the world. This is not because the destination or attraction isn't deserving of the attention, but is more because you want to keep that hidden gem all to yourself. When it comes to wine in the Finger Lakes, Boundary Breaks would be just that.
The reason that Boundary Breaks is so special to us comes from the fact that this vineyard is one of the newest in the region. They just started selling wine a few years ago and don't even have a tasting room yet (although recently broke ground for the new addition coming soon). Our tasting was arranged by appointment only in the owner's house, and during our visit we were able to sample five of the wines they produce- all Rieslings.
Since then Boundary Breaks has expanded with a gorgeous tasting room, more wines beyond Riesling (including reds) and is still a staple in all of our visits. We just have the fondest memories of our first time due to the above!
It didn't take long after the first sip to realize these wines were special, and through our hour-long conversation with the owner we realized how true this is.
The grapes are single clones that are allowed to fully ripen before being picked, quality is always desired over quantity (with over-producing vines being trimmed down mid-season), and the overall working motto of the vineyard appears to be that it takes a good grape to make a good wine above all others. This shows in the final product as their Rieslings taste more like something you'd expect from a world-famous German estate rather than a vineyard in New York- a distinction that we aren't giving out lightly.  It is that good.
It is only a matter of time before Boundary Breaks surpasses every other winery featured on this list (and the many others that were not), and we are looking forward to returning many times in the future to take it all in as it happens.
Boundary Breaks is located at 1568 Porter Cove Road in Lodi on the east side of Seneca Lake.
Damiani Wine Cellars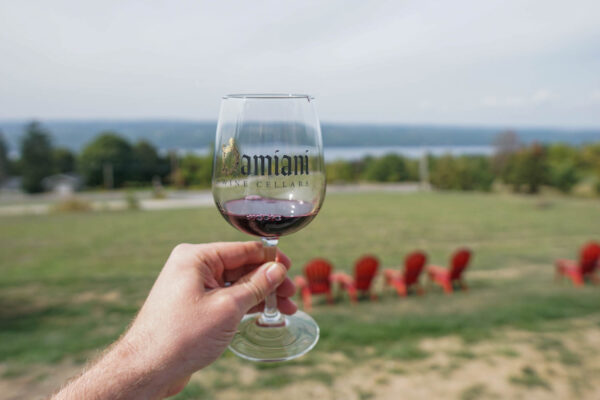 If you want new world wines with an old-world influence, a trip to Damiani Wine Cellars in the Finger Lakes is a must.
While you can find some more conventional wine spreads at this one, you'll do well into looking into the winery's blends like their Sole e Terra (comprised of Pinot Noir, Lemberger, and Saperavi) and Meritage (Cab Sauv, Cab Franc, and Merlot) as they come with an intense flavor profile that is rather unexpected for wineries in the Finger Lakes.
But perhaps our favorite glass we had when visiting this one was the winery's Bollicine. This sparkling wine is made primarily with Cayuga grapes (and a bit of Pinot Noir and Chardonnay) and is fermented in similar fashion to Champagne and has a lovely mouthfeel and flavor profile like you'd expect from a refreshing Prosseco.
Delightful!
Damiani Wine Cellars is located at 4704 NY-414 on the east side of Seneca Lake in Burdett.
Lamoreaux Landing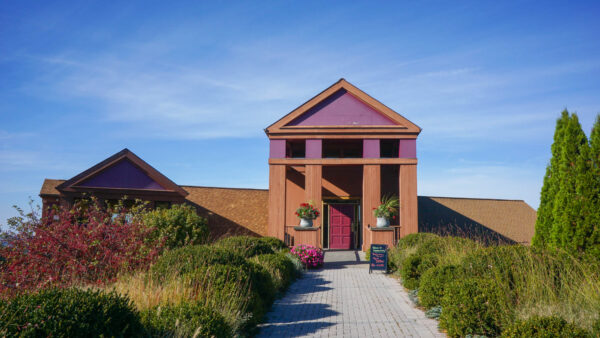 If a large bottle variety is what you seek, a stop at Lamoreaux Landing should be on your radar. We've visited this one several times over the years and are only just now making a dent into trying all the wines that this one has available.
From Riesling to Cabernet Franc, Blanc de Blanc, and an array of aged wines in their Library series, odds are good you're going to be walking away with a few bottles after visiting this one. We always do!
Lamoreaux Landing is located at 9224 NY-414 in Lodi.
Standing Stone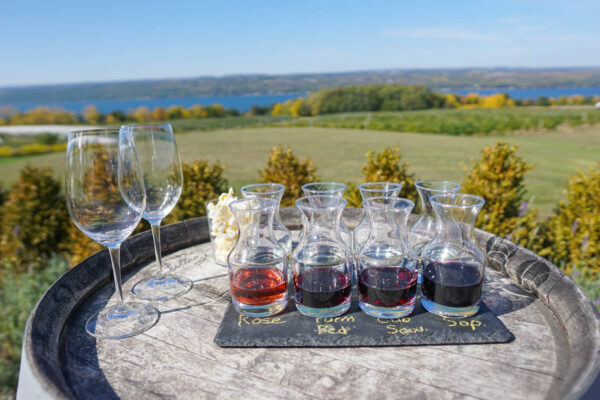 Standing Stone Winery is one of our favorite all-around wineries for a number of reasons. First, there is the view of Seneca Lake as you are perched high above the water with a great glimpse of rolling hills of vines (one of the best of any of the Seneca Lake wineries, if we do say). Second, there is the wide spectrum of wine where seemingly every taste knocks it out of the park. Third, there is the Saperavi.
If you're not familiar with Saperavi, you're not alone. This grape comes from the country of Georgia and gaining in popularity in the Finger Lakes as an ideal place for growing. Standing Stone was one (if not the) first and also has some of the region's largest stock.
But perhaps what is most intriguing with this red grape is that it is simply far more intense in flavor (and tannin) than just about any red wine you'll try in the wine region. Couple that with a delicious rose made from the same grape, and you have a reason enough alone to visit this winery. The rest will just be a bonus.
Standing Stone Vineyards is located at 9934 NY-414 on the east side of Senecat Lake in Hector.
Overall, We Have Still Missed Quite a Few Finger Lakes Wineries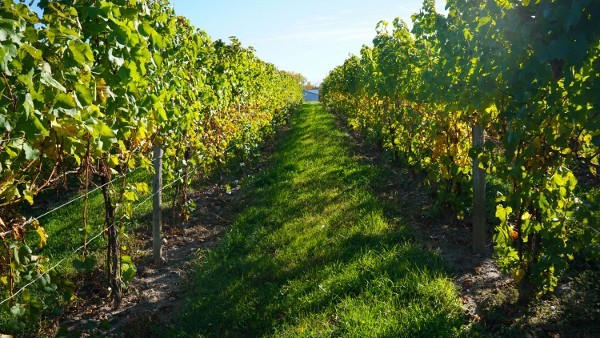 When it comes to Finger Lakes wine and wineries, all visitors will end up leaving saying they missed a lot, and even though we've now visited several times over the years, that is still the case for us. You simply can't get to them all.
A few we've been recommended to try, but have not personally visited, are the following:
Bloomer Creek
Shaw Vineyard
Shalestone Vineyards
Silver Thread Vineyard
Heart & Hands
Ravines Wine Cellar
Forge Cellars
Red Tail Ridge Winery
Hector Wine Company
Ryan William Vineyard
Hickory Hollow Wine Cellars
We look forward to checking them out the next time we get to the Finger Lakes!
Read More from the Finger Lakes
Looking to read wine reviews from the best wineries in the Finger Lakes? Check out some of the following we've hosted on our site to-date (reviews load at random):
Thinking of booking a wine tour in the Finger Lakes? Click the previous link to read our full planning guide!