Last Updated on January 7, 2021 by Jeremy
Disclaimers: This review uses WSET Level 2 terminology and our own rating scale. Read more here. We use demographic data, email opt-ins, display advertising, and affiliate links to operate this site. Please review our Terms and Conditions for more information. This website is intended for those of legal drinking age in your jurisdiction.
Keuka Lake Vineyard is a great spot to hang out for a while, sample some easy-drinking wines, and take in the beauty that is the Finger Lakes.
In fact, when we visited this one in 2020 we had such a great time talking with the owner (who we found out was also from Pittsburgh) that we got another reminder of an aspect of wine that we often do not discuss a lot on this site- the people behind it. Hearing stories of growing up in Pittsburgh, working in Nepal, and more reminded us of how much we love this part of wine tasting.
Naturally, we left with several bottles, and Keuka Lake Vineyard's Sauvignon Blanc Young Block was one such wine. It didn't take long after returning home for us to open this easy-drinking white!
Citrus Fruit with a Hint of Grass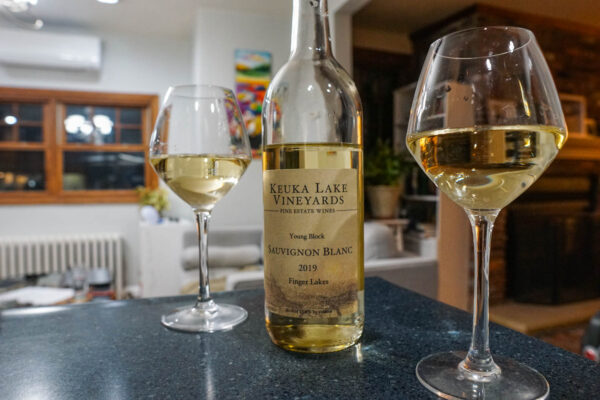 Keuka Lakes' Sauvignon Blanc is a pale lemon wine had medium aromas of stone and tropical fruit like pear, guava, grapefruit, and white flower.
The wine was dry on the palate with high acidity, medium alcohol, body, and flavor intensity, and notes of lime, candied lemon, grapefruit, guava, and a grassy finish. While this wine had a bit more citrus flavors, we did appreciate a slight push into the tropical territory all the same- although admittedly we got this one more on the nose than we did in taste.
Keuka Lake Vineyard Sauginon Blanc Food Pairing – Polenta Casserole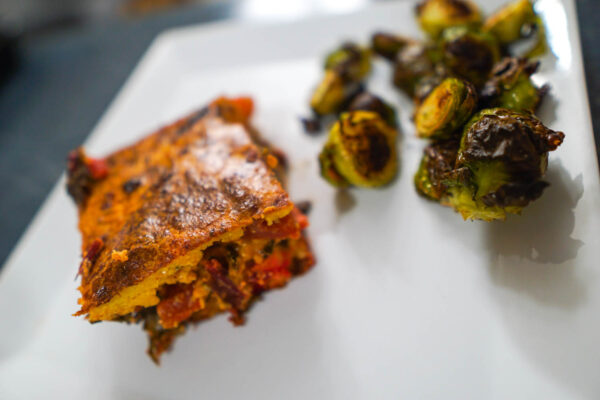 We paired this wine with a tomato and polenta casserole as we thought the acidity of the wine would hold up to the acidity in the tomatoes. Unfortunately, the polenta flavor was a bit too intense and the pairing wasn't the best of matches (it was too rich and not as acidic).
As such, we may recommend trying to pair this one with another meal or possibly even just enjoy it on its own!
Score: 2 / 5
We're ok on this one.
Overall, Keuka Lakes made a fairly solid Sauvignon Blanc for the Finger Lakes. We typically like a bit more tropical notes to come out with this varietal and are ok on this bottle, but if you are in the area and are looking for an easy-drinking Sauvignon Blanc, this one is sure to please.
Keuka Lake Vineyard is located at 8882 Co Rd 76 in Hammondsport, NY. We purchased this bottle directly from the winery and enjoyed it in 2020. Wine.com has an assortment of Keuka Lake Vineyard wine on their site but most were out of stock at the time of publishing.