Published Jeremy. Last Updated on March 14, 2021.
Disclaimers: This review uses WSET Level 2 terminology and our own rating scale. Read more here. We use demographic data, email opt-ins, display advertising, and affiliate links to operate this site. Please review our Terms and Conditions for more information. This website is intended for those of legal drinking age in your jurisdiction.
While we've visited Finger Lakes wineries many times over the years, we only visited Standing Stone for the first time in 2020 on the recommendation of a friend to try out their Saperavi.
But after arriving, we found that we enjoyed just about everything the winery offered on our flight. In talking to our server about the wines, we also learned that one of our favorite wineries in the region, Hermann J Wiemer, bought Standing Stone in 2017. This was really all we needed to know about why we liked our entire flight so much- quality producers make quality wines.
Naturally, we purchased many bottles to enjoy at home and one was the Standing Stone Chardonnay 2018 that we opened up in late 2020.
Cool Climate Chardonnay with Creaminess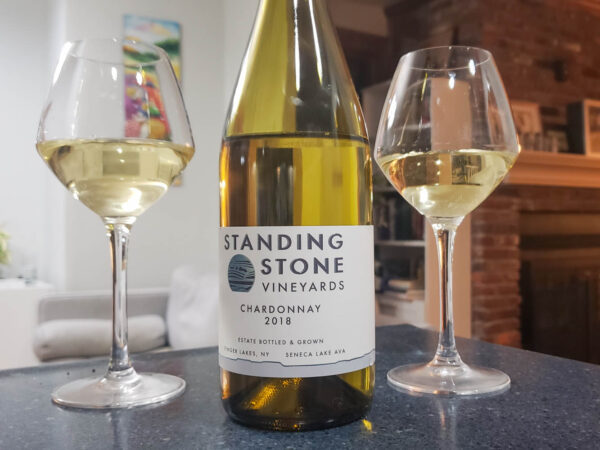 Standing Stone's Chardonnay was pale lemon and had a medium+ aroma with notes of green apple, lime, white peach, and a cream and vanilla pairing reminiscent of what you'd detect in a custard.
On the palate, we noted the wine was dry with high acid, medium alcohol, body, and flavor intensity, and a long finish. Flavors noted include lime, yellow apple, butter, vanilla, cream, and a slight minerality that stuck around. These were in line with what we'd expect from a cooler climate Chardonnay that had some malolactic conversion and was balanced quite well.
We do have to admit that the malolactic and oak notes were bigger on the nose than on the palate, but also had a lingering minerality on the tongue that really balanced the wine out quite nicely. As such, this one may be a good option for those who like some creamy notes without being overwhelming.
Food Pairing – Shrimp Scampi Pasta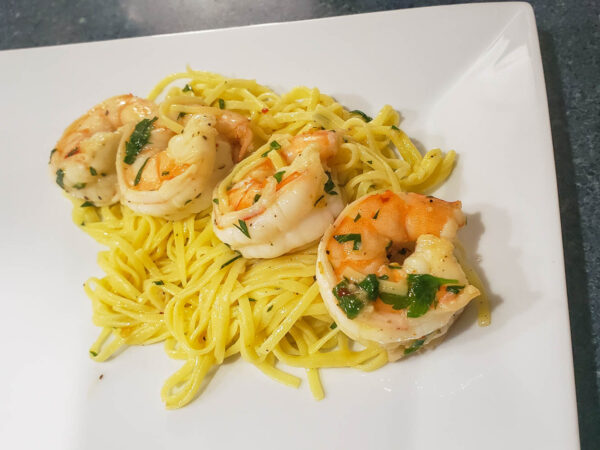 We paired this wine with a shrimp scampi pasta as the lemon-forward scampi helped pair with the acidity of the wine quite nicely. In fact, we probably could've held it up to an even more acidic dish to really help some of the fruit flavors pop!
Score: 3 /5
We'd buy a glass of this one. 
Overall, Standing Stone has a rather nice Chardonnay and we'd be more than happy to enjoy a glass of this one if we saw it on a menu somewhere- especially in the right context.
Standing Stone is located at 9934 NY-414 in Hector, NY. We purchased this bottle directly from the winery and enjoyed it in 2020. Wine.com has bottles of other Standing Stone wines listed but were unavailable at the time of publishing this review.
Looking for more wine reviews from Standing Stone? Check out our review of their Blanc de Blanc 2017 or the Saperavi Rose 2019!