Published Jeremy. Last Updated on January 1, 2021.
Disclaimers: This review uses WSET Level 2 terminology and our own rating scale. Read more here. We use demographic data, email opt-ins, display advertising, and affiliate links to operate this site. Please review our Terms and Conditions for more information. This website is intended for those of legal drinking age in your jurisdiction.
When we visited Napa, one of the first vineyards we made it to was Cakebread Cellars. Not only did we have a wonderful time at our tasting, we walked away with several bottles to enjoy at home. (You can read more about how we checked wine on a plane here.)
One such bottle was Cakebread's Pinot Noir Annahala Ranch 2015 and when we opened it in 2020 at five years old we knew we had found a gem- both for its flavor profile and its price point!
The Hallmarks of a Delicious Pinot Noir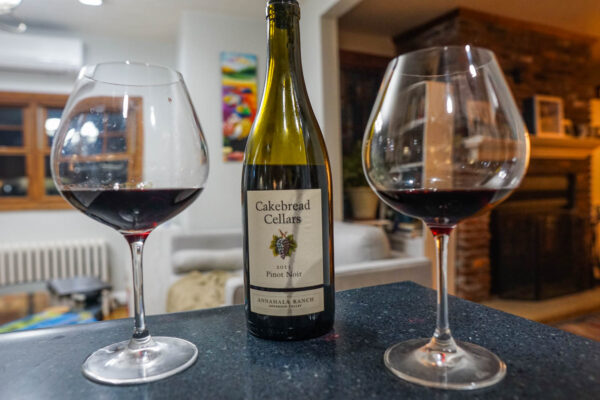 Cakebread's Pinot Noir from Annahala Ranch was medium ruby and had a medium aroma of cherry, underripe (tart) raspberries, a melange of cooking herbs, and vanilla on the finish.
On the palate, the wine was dry with medium acidity, low tannins, high alcohol, and medium flavor intensity. We detected notes of jammy cherry, cranberry sauce, raspberry, vanilla, cola, and a finish of a mossy forest floor- a classic Pinot combination if there ever was one.
Cakebread Pinot Noir Food Pairing – Mushroom Polenta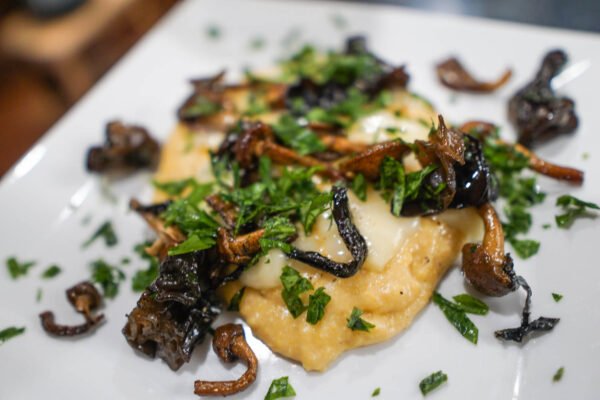 We've been on a mushroom kick thanks to a local forager/producer having an awesome stock available, and we have been trying some classic pairings with wine- and you can't get much better than Pinot and Mushrooms!
The mushroom medley here worked really well with the earthy finish of this wine and allowed some of the fruit flavors to come out while also pairing down some of the jammy/saucy characteristics as well. To say that the umami of the mushroom really mellowed out the wine is an understatement because this combo worked spectacularly.
Score: 4 / 5
We'd buy another bottle of this wine.
Overall, Cakebread Cellars Pinot Noir from Annahala Ranch is a classic Pinot in every sense. It is not the most affordable bottle of Pinot Noir you can find, but for its price point it holds its own against bottles priced twice as much. So you're getting a great deal on this one if you can find it around $50 like we did!
Cakebread Cellars is located at 8300 St Helena Hwy in Rutherford, CA. We purchased this bottle at the winery when visiting in 2019 and enjoyed it in 2020.