Published Jeremy. Last Updated on March 2, 2021.
Disclaimers: This review uses WSET Level 2 terminology and our own rating scale. Read more here. We use demographic data, email opt-ins, display advertising, and affiliate links to operate this site. Please review our Terms and Conditions for more information. This website is intended for those of legal drinking age in your jurisdiction.
Every so often we crack open a bottle of wine and instantly think it is a characteristic representation of the varietal as we know it. All wines are different of course, even with the same grape varietal, but every so often we crack open a bottle and go "yes, this is exactly what we expected!"
McGregor Cabernet Franc was one such bottle, and it had everything we enjoy from this particular grape.
A Nice Clove Bite on This One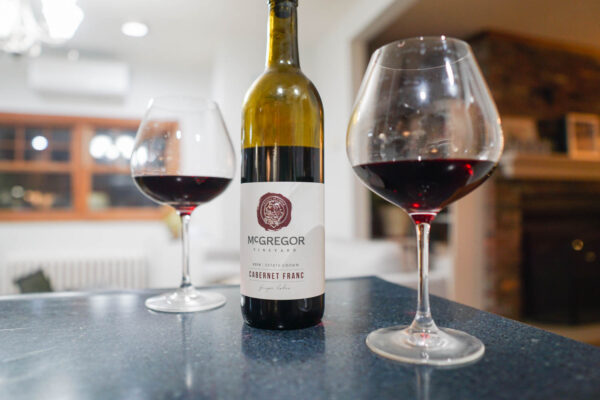 McGregor's Cabernet Franc is pale ruby in color and had a medium aroma of dark plum, black cherry, baking spices, licorice, and a hint of green bell pepper when we opened it.
On the palate, the wine was dry with medium flavor characteristics across the board (the body was perhaps medium-) and had notes of black cherry, red plum, and clove (the predominant baking spice we could detect) with a long finish. This was a pretty characteristic Cabernet Franc from the Finger Lakes, so expect this one to go down quickly if you enjoy this varietal!
McGregor Cabernet Franc Food Pairing – Eggplant with Cheese and Red Pepper Sauce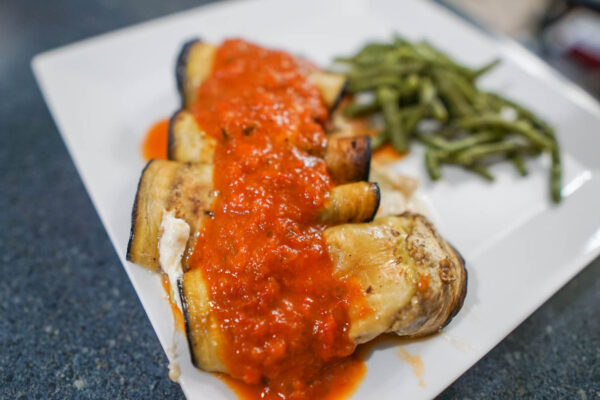 We paired this Cabernet Franc with a cheese-stuffed eggplant dish topped with a roasted red pepper and tomato sauce.
The medium acidity and tannins here worked well with the acidity of the sauce as well as the bitterness of the eggplant; however, the creaminess of the cheeses (mozzarella and goat cheese) definitely muted some of the flavors a bit. As such, we can see why books like What to Drink with What You Eat do not recommend overly strong red wines with creamy cheeses- and this one was pushing it.
Score: 4 / 5
We'd buy another bottle of this one.
McGregor showcases why the Finger Lakes is a great place to grow Cabernet Franc in this one. A lovely flavor profile and medium characteristics that simply work well together. That being said, we'd go for pairing this with something acidic but not overly cheesy like our dish above. You may find that mutes the characteristics of the wine just a bit more than needed here.
McGregor Vineyard is located at 5503 Dutch Street in Dundee, NY. We purchased this bottle directly from the winery when visiting and enjoyed it in 2020. Wine.com carries some wines from McGregor but did not appear to carry the Cabernet Franc at the time of publishing.