Last Updated on July 6, 2022 by Jeremy
Disclaimers: We use demographic data, email opt-ins, display advertising, and affiliate links to operate this site. Please review our Terms and Conditions for more information. This website is intended for those of legal drinking age in your jurisdiction.
Are you in the wine industry and looking for extra online promotion? The Grape Pursuit is for you!
This site follows our personal quest to try every grape varietal in the world. As part of our goal, we are looking to review wineries, bottles of wine (with emphasis on new varietals), and wine-related products on this site.
If you have a product you think would be a fit, we'd love to hear from you at the contact form below!
Note: We do not sell dofollow links. We do not offer guest posts. All advertising will be invoiced in USD.
Site Demographics
The Grape Pursuit was founded in May 2020 with the goal of trying every wine varietal in the world. As of June 2022, this blog receives approximately 10,000 page views per month, has 2,200 fans on Instagram (with an average update reach of 1,500 users inclusive of advertising), and just under 700 fans on Facebook.
While we are the first to admit that our site is young and growing, we view this site as more than just a passion project in wine. Blogging is our business- literally.
The Grape Pursuit is part of World of Discovery Media LLC, a media company founded by Jeremy which features several blogs including the global travel blog Living the Dream (founded 2008) and Pittsburgh blog Discover the Burgh (founded 2015). Jeremy has been running these websites as his full-time job since 2018 where he specializes in SEO, content and social media marketing, and more. He is also the co-founder of the weekly blogging newsletter, This Week in Blogging.
As such, you can rest assured that all content published will be written with longevity in mind as well as incorporating current best practices in content marketing, social media marketing, and more!
Jeremy is also a member of the North American Travel Journalists Association (NATJA), the Society of American Travel Writers (SATW), completed WSET Level 3 with Merit, and is currently enrolled in WSET Diploma coursework (D1, D2, D5, and D6 completed and/or passed). Angie has also been awarded WSET Level 2 with distinction.
Contact Us
Please get in touch via the contact form below with information about your brand and advertising interests and we'll get back to you as quickly as possible.
For general inquiries, please get in touch via our contact page.
Upgrade Your Home Wine Bar
Need more products for your home bar? Check out some of our favorites:
Order Bottles for Your Cellar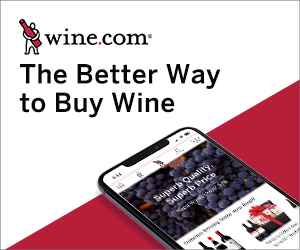 Need to pick up bottles for your cellar?
Check out options on
Wine.com
- home to one of the largest collections of wine available online (and one of our favorites)!