Last Updated on March 13, 2023 by Jeremy
Disclaimers: We use demographic data, email opt-ins, display advertising, and affiliate links to operate this site. Please review our Terms and Conditions for more information. This website is intended for those of legal drinking age in your jurisdiction.
The Douro Valley of Portugal is one of the most famous wine regions in the world for its stellar fortified wine, views, and proximity to the city of Porto in northern Portugal.
All of these elements come together to make the region a must-see destination for many travelers to the country. We personally have visited the Douro Valley and consider it to be one of, if not our very favorite, wine region we have ever been to (and we don't make that distinction lightly).
That being said, planning a visit to the Douro Valley can be tricky and there are many important things in mind. So in this Douro Valley wine tour guide we thought we'd share key details that will help you visit the Douro Valley and get the most out of your stay!
Douro Valley Location, Regions, and Styles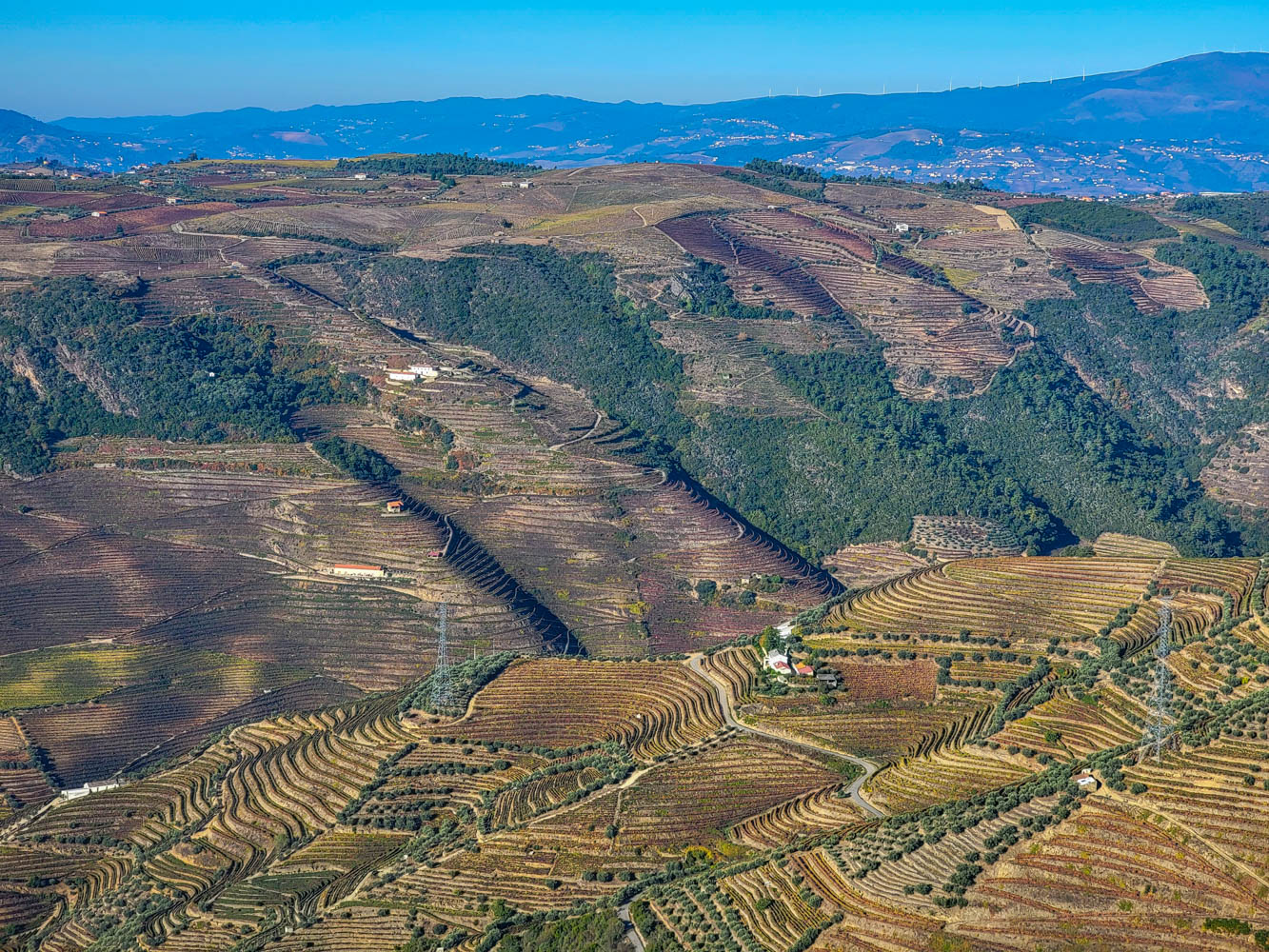 The Douro Valley is located approximately 90 minutes east of Porto in northern Portugal and approximately four hours northeast of Lisbon by car. A train also connects Porto to the central Douro town of Pinhao in approximately 2 1/2 hours (click here to book).
The region is, by many standards, one of the most beautiful wine regions in the world due to its steep cliffs, terraced and historic patamares, and vistas that go on as far as the eye can see (and then some). The winding and twisting Douro River is found at the base of the valley, and the river plus its many tributaries create several great microclimates for grapes to ripen.
The Douro Valley is split into three major sub-regions visitors should keep in mind- Baixa Corgo, Cima Corgo, and Douro Superior. These run west-to-east respectively and correspond, roughly, to increasing elevation, warmer temperatures, and decreasing influence of the ocean (i.e. less rain). Historically Baixa Corgo has been known for bulk wine production, Cima Corgo has been known as the prized region for port wine (and a developing still wine industry), and the Douro Superior is starting to have vineyards planted as well.
As such, most visitors to the Douro Valley will likely be spending the vast majority of time in the Cima Corgo region, home to Pinhao town, but you may stray into Baixa Corgo and Douro Superior for select wineries, too.
Flying into Portugal? Snag a deal on TAP Air Portugal to start your trip in Porto and be closer to the Douro Valley!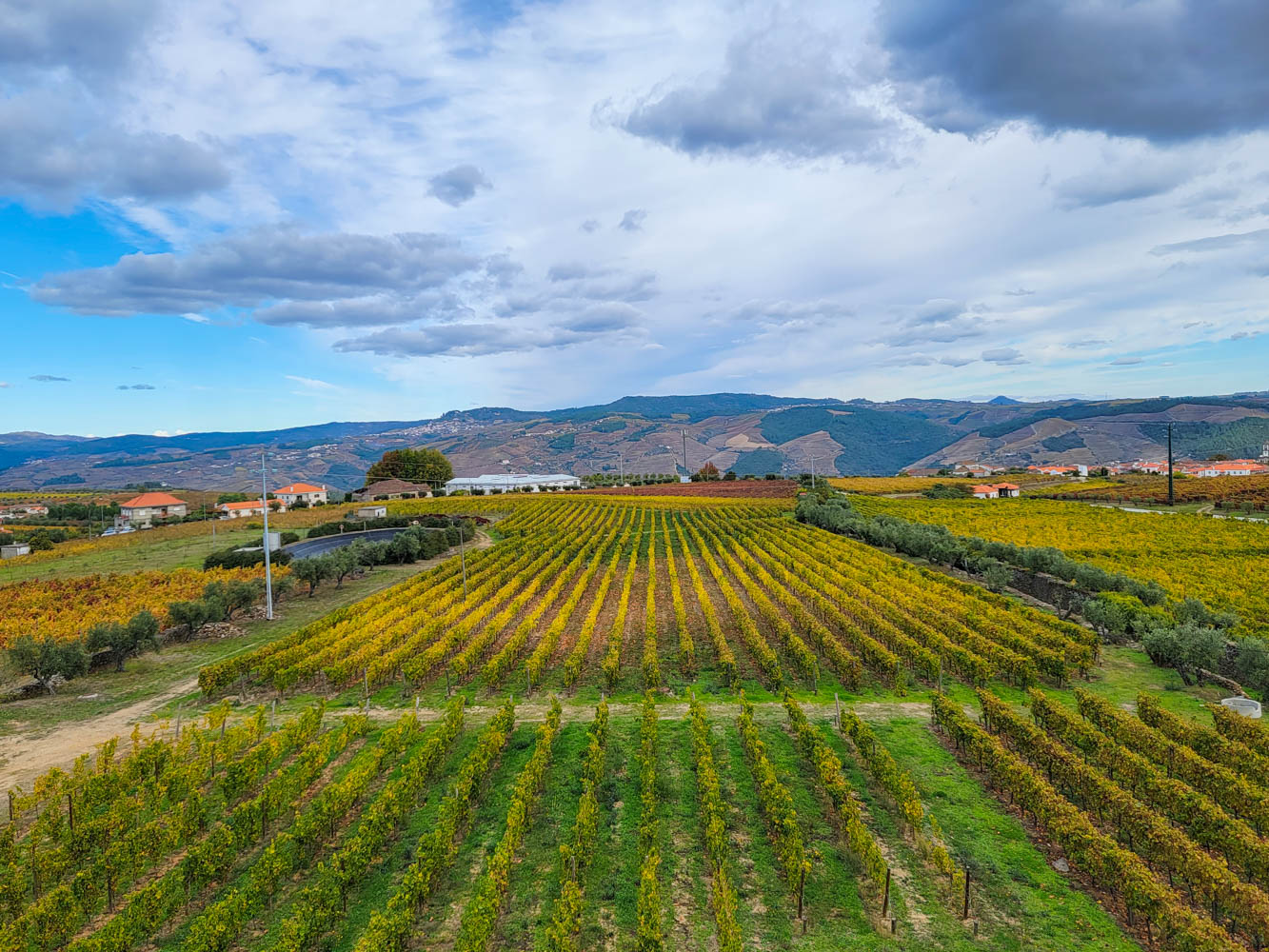 The Douro Valley is the producer of the fortified wine aptly named Port. This wine is produced from many local grapes (such as Touriga Nacional, Touriga Franca, and Sousao) and produced in several styles including ruby, tawny, vintage, white, rose, and a whole lot more- many of which have age indications of 20, 30, 40 years or more.
Many wineries ship the produced wine to the port houses of Vila Nova de Gaia, a short walk from Porto's old town, for maturation, bottling, and sale (visitors staying in Porto should plan a visit to a few- we love Graham's for the library tasting and Kopke Port House for the decade flight!); however, due to the development of modern temperature control systems in the last 100 years, newer producers also are aging port on-site in the Douro Valley especially.
While fortified wine is king in this wine region, producers are starting to promote a budding still wine industry using the same native grapes that go into Port production. While the reds can still be quite high in alcohol and incredibly tannic (and likely benefit from some age in the bottle), the wines here are growing in quality with each passing season and should not be overlooked when visiting- especially if you have ample time to explore several wineries.
When to Visit the Douro Valley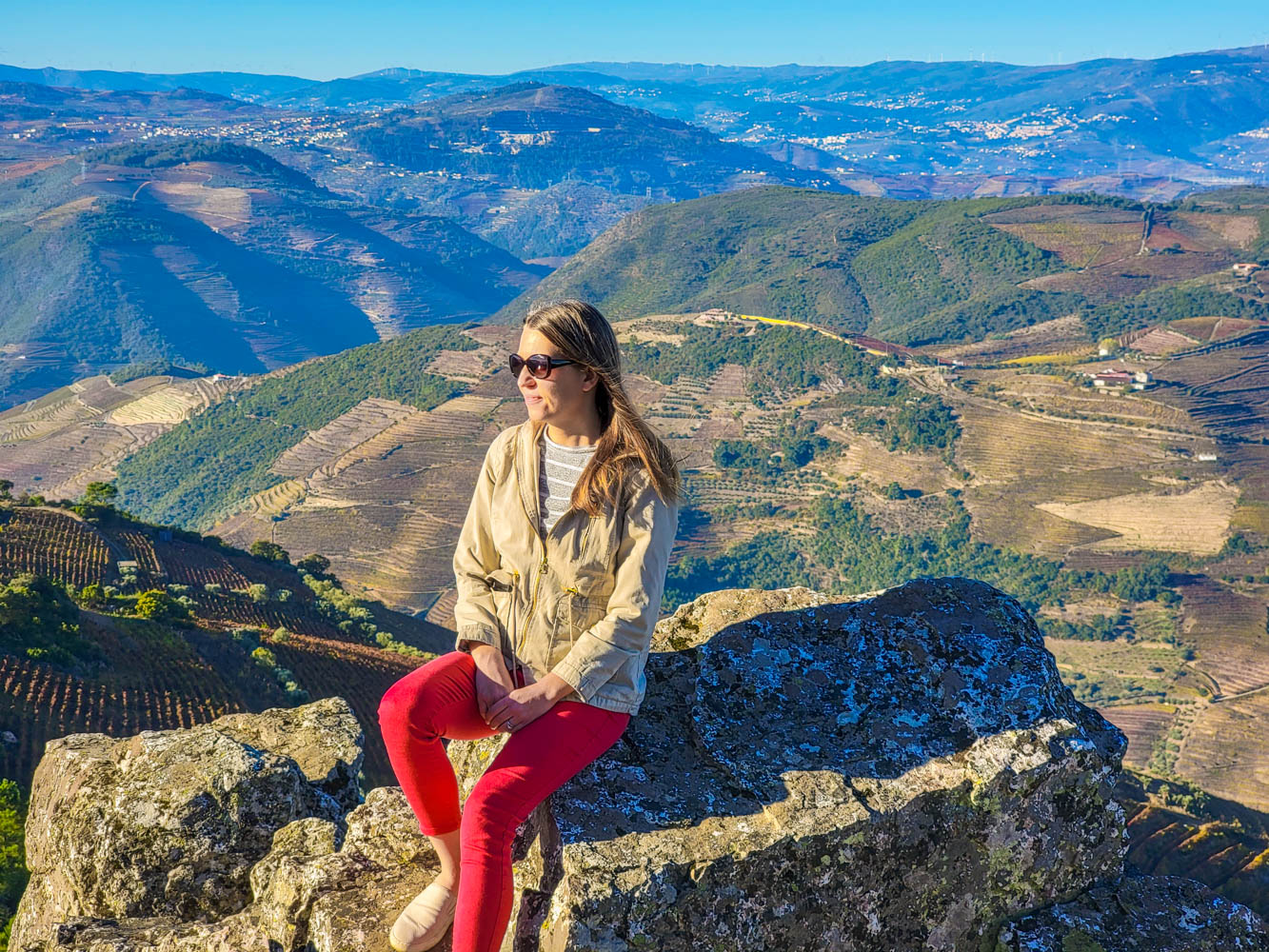 The Douro Valley is known to be incredibly hot in the summer, so much so that locals have adopted the phrase "nine months of winter, three months of hell." Average temperatures in July and August exceed 85 °F and 100 °F degree days are not unheard of. As such, one could argue the best times to visit the Douro Valley are April to June and late September to mid-November to avoid the hottest months of the year and the coldest days of winter.
Harvest in the Douro Valley tends to start in mid-September, and activity within the valley may continue until early October. This is worth noting as some wineries may offer special experiences for visitors during harvest, other wineries may be closed outright to focus on harvest, and, perhaps most importantly, there could be an increase of trucks driving on the narrow roads of the valley- increasing safety concerns for those who are not confident drivers on narrow mountain roads.
Likewise, as is the case in most remote wine regions worldwide, some wineries close for tours completely in the winter months if roads become difficult to drive on and tourism slumps. That being said, wineries do seem to be open throughout winter and some deals may be found for those willing to accept some tradeoffs. As such, no matter when you visit the Douro Valley, it is best to check winery tour dates well before booking any plane ticket.
Please note: Our rough date ranges are only guidelines. Whether or not wineries are open during the range of dates listed above may vary and should be confirmed.
Planning Where to Stay in the Douro Valley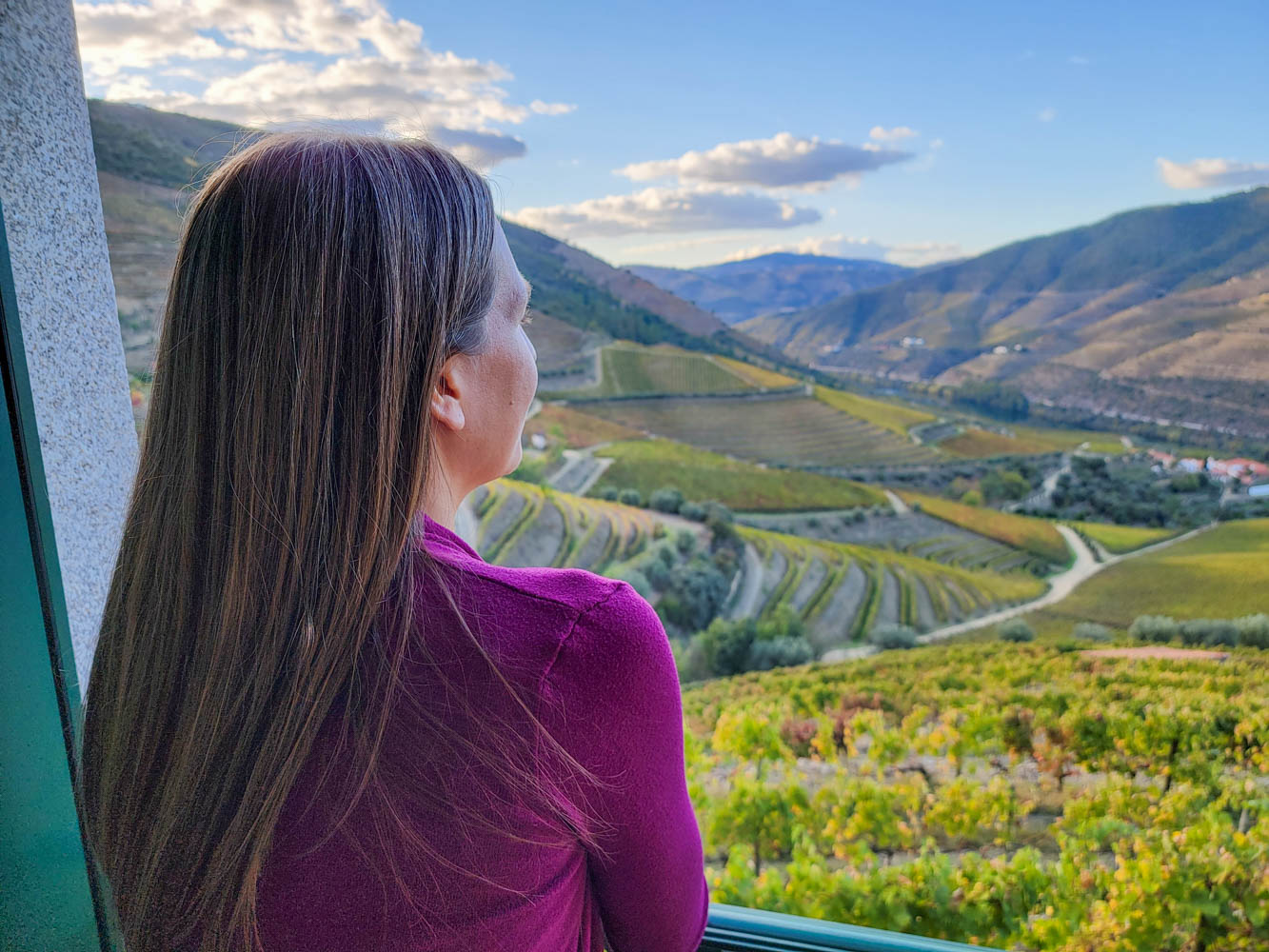 If you are planning a visit to Douro Valley wineries, there are three main accommodation types you may likely be looking at:
Staying in Pinhao Town – A small selection of hotels are located in the modest town of Pinhao in the heart of Cima Corgo.
Staying at a Quinta at a Wine Estate – Many vineyards maintain bed & breakfast style properties on-site.
Staying Elsewhere (Porto) and Visiting on a Day Trip – Stay outside the wine region and drive in/out on a day trip.
There is no easy answer in the Douro Valley, and each comes with its own respective trade-offs.
Staying in a Quinta at a vineyard or winery may be perhaps the most interesting of accommodation options in the Douro Valley as you will likely be surrounded by grapes on the property. These often have the best views, delicious meals, and, more than likely, wine samplings from whatever producer they're associated with.
It is important to note the distinction between vineyard and winery here as some Quintas are only associated with vineyard owners (i.e. grape growers) while some Quintas are associated with wineries proper (i.e. winemakers)- the term can be used interchangeably in the Douro.
As such, there may be a disparity in the level of experiences offered here- vineyard Quintas may only offer tastings at dinner by the glass/bottle. In contrast, winery Quintas may be able to give you a winery tour and a more robust tasting experience. If additional experiences are important to you beyond location and general hotel amenities/ratings, you'll do well to be selective in your research here.
The downside to staying at a Quinta is that they can be quite far from the main roads and bridges, adding complexity for drivers and additional driving time overall. As such, finding a Quinta with good accessibility may be a good idea over driving 15, 20, or 30 minutes further away to get a prized amenity or discount. A few hotels of note include: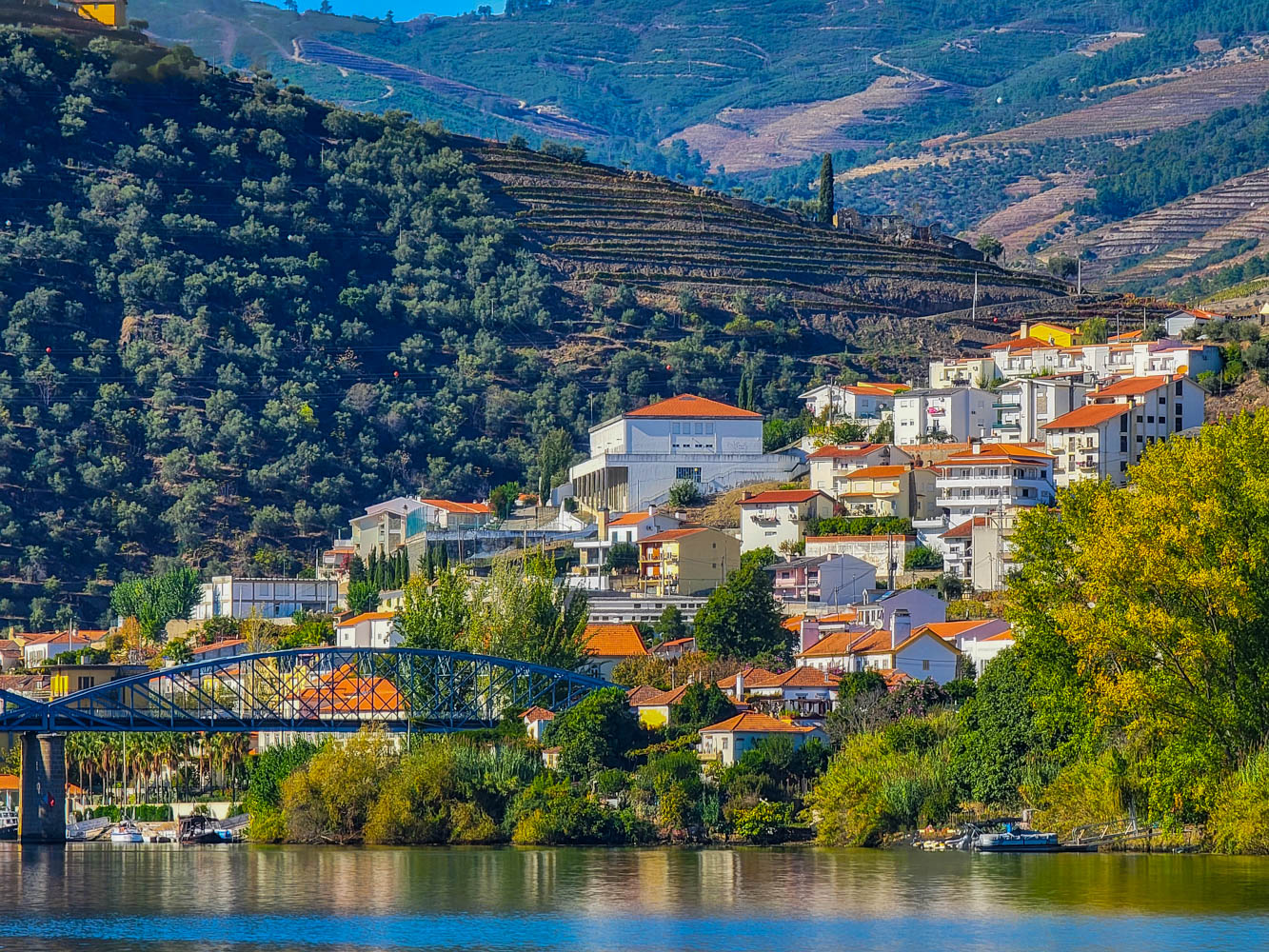 Pinhao town has reasonably priced hotels and could be an option for those who want to be within walking distance of select restaurants and a few wineries. Likewise, the train from Porto stops in Pinhao, so visitors hiring a driver or taking guided tours may find options particularly worthwhile to check out. Finally, one of the Douro Valleys' main bridges passes through Pinhao, so those who will be exploring with a rental car can access both sides of the river with ease (those who stay further away and need to cross a river likely will drive through Pinhao town often, thus adding on significant driving time).
The downside to Pinhao town is simply that it is small. While some options exist to eat and drink, they are inherently limited. The views out of town are also nice, but they are not the picturesque views you would get from a more remote Quinta. A few hotels of note include:
Those who want to visit the Douro Valley on a day trip may be able to expand their horizons and stay between Porto and Pinhao as the driving distance between the two is only 90 minutes without traffic (tolls). However, due to the extended drive times, tolls, winding hills within the Douro, and samplings of wines, staying closer has countless benefits.
Towns like Vila Real, Peso da Regua, and Lamego are all within 30-45 minutes of Pinhao town in Cima Corgo and could be options to consider. In Regua, the Original Douro Hotel is known to book private tours with drivers for guests.
Finally, the Douro Valley is also home to some private rental options on services like VRBO with a modest concentration in and around Pinhao.
Driving vs. Guided Douro Valley Wine Tours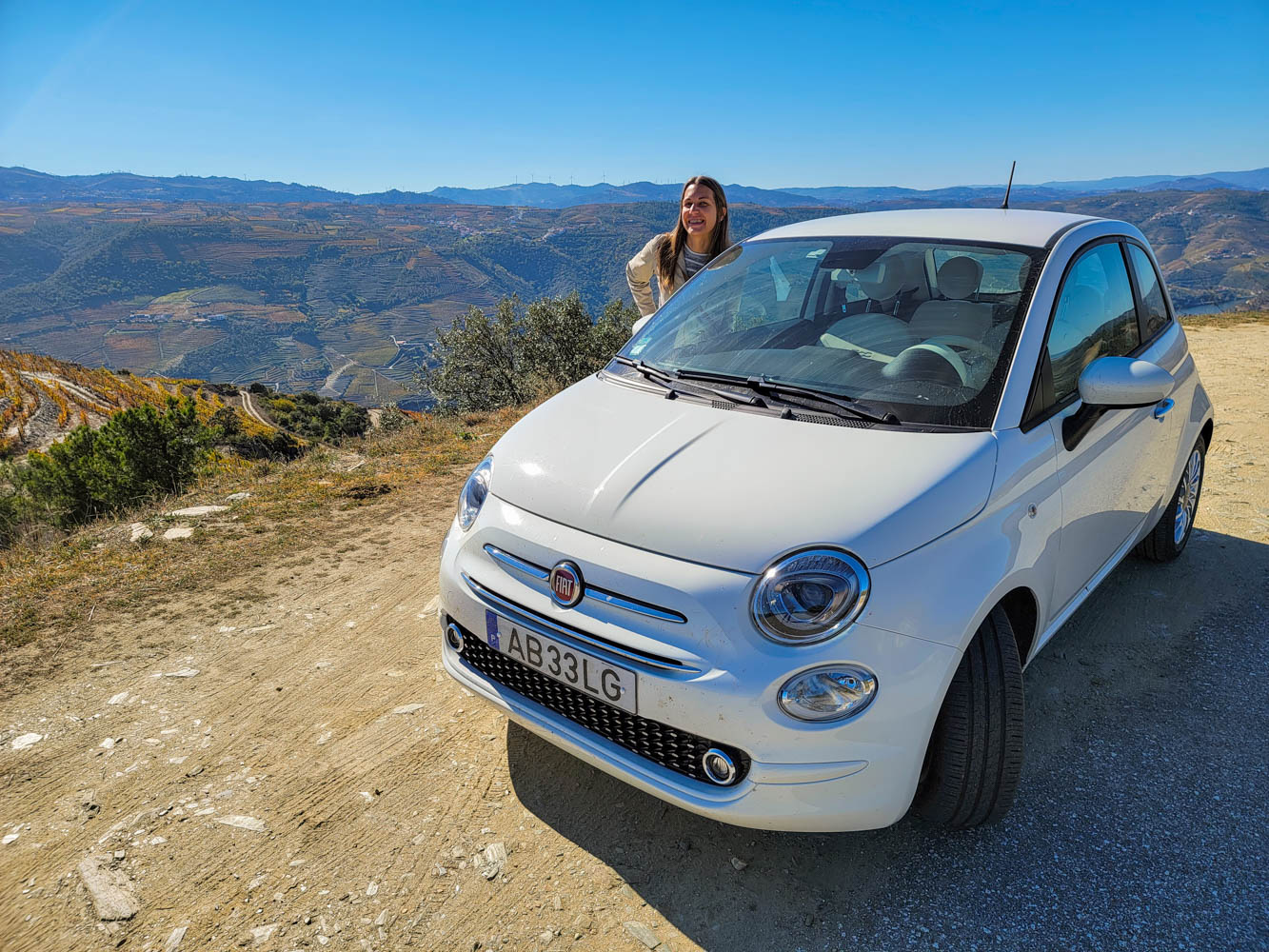 We could argue that driving in any wine region has inherent risks, particularly due to the rural nature of the industry and the fact that the driver needs to be responsible at tastings (Portugal's laws restrict to a max of 0.5 g/L BAC if not lower), but the Douro Valley may be one of the riskiest for all but the surest drivers.
The reason for this is that the Douro Valley is home to steep cliffs, narrow rows, and terraces that are much higher than you would anticipate from photos. While the roads are generally two-way almost everywhere, they are often not wide enough for cars to easily pass in both directions. As such, when a car approaches from the opposite direction, one driver likely has to pull close to a cliff edge (or terrace wall) in a careful dance that can only be described as nail-biting (especially after a day of wine tasting and/or at night as lighting on the road is minimal at best).
As such, while we have personally driven in the Douro Valley without issue, there is a compelling argument for those who aren't as sure about driving in conditions such as these for taking a guided tour when visiting.
Guided tours include options like the following:
When we were at a port tasting in Porto, we discussed with another traveler who was thinking about heading to the Douro Valley for a day tour and asked us about the options of driving vs taking a tour. Ultimately, we came to the recommendation that the best-case scenario would be to have a few days in the Douro Valley to get a full appreciation for it (again, it is huge- more time is always the answer), but if you were short on time and could only justify a day trip from Porto, we'd do it anyway- the Douro Valley truly is a spectacular place that all visitors should see independent of how.
We are presently researching private driver and custom tour operators to include more options in this guide. Many companies exist for day trips from Porto as noted above, but private pickups from within the Douro proper are less common online. For now, if you are thinking of hiring a driver over renting a car, we recommend reaching out to your tentative hotel first to discuss any offerings they may have. Ultimately, renting a car provides a convenience element that we cannot overstate despite the risks.
If you are a tour operator in the Douro Valley, please contact us to be featured.
So if your only option is a day tour from Porto, do it- no one ever regrets seeing the Douro Valley with their own eyes. But if you are weighing the options of driving vs. taking a tour, there may be some compelling reasons why a tour could be something to consider- driving here is difficult!
Wineries in the Douro Valley to Consider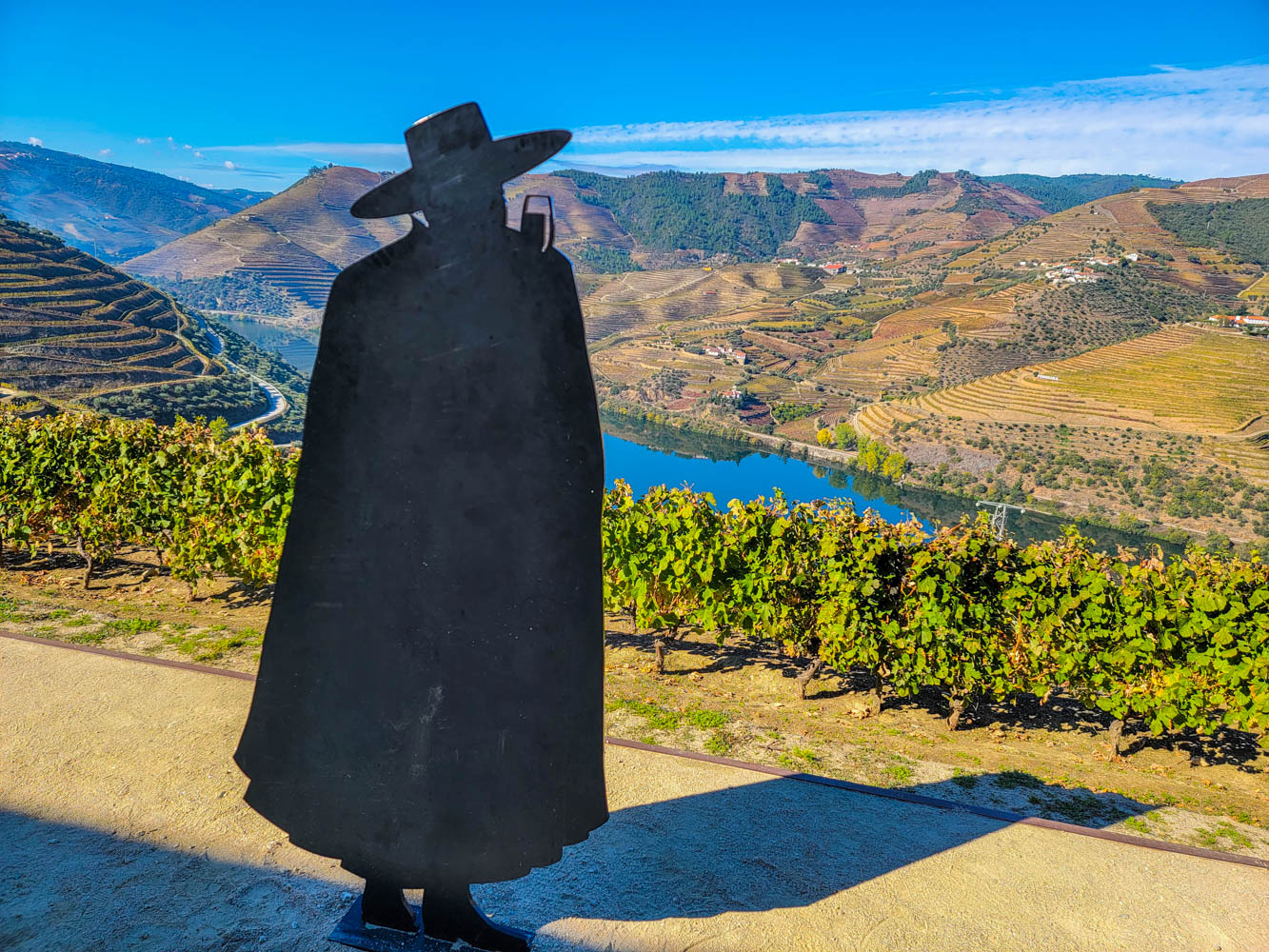 If you have decided to visit the Douro Valley by car and want to book wineries on publicly available tours, we have a selection of producers to consider. As you may already know, researching wineries and their tour offerings can be incredibly time-consuming, with many not offering tours for visitors at all. So in this section, we wanted to give you a shortlist of producers that historically offer tours/tastings outright.
The wineries featured below are ones we have personally researched and would consider when visiting the Douro Valley. These were found via a robust analysis of 3rd party reviews to identify high-quality producers and each winery's website to determine if they offer public tours. Other factors, such as price and range of styles, were not included. Sadly, of the 120+ wineries we researched for this section, the vast majority did not offer tours and were omitted.
Although we personally prefer boutique producers when we travel, we have included a few larger, volume-oriented producers within this list as well. Tours from these companies typically offer greater insight into how big producers operate within the region, and we always recommend visiting at least one or two in any given wine region to see the contrast between their methods and those of artisan/boutique producers (they're also quite gorgeous properties!).
A few examples on this list include Quinta do Seixo (which produces for Sandeman) and Quinta do Passadouro (which produces for Quinta do Noval)- their bottles are often broadly distributed and may be names you recognize; however, local tasting rooms may offer premium bottles you may be unfamiliar with, too.
Some of these may be open for walk-ins, many require advanced registration, and we recommend checking these offerings as specific details can change faster than we can keep up with. Remember that many wineries in the Douro Valley also offer tours in select languages throughout the day including Portuguese, English, and other European languages. If you have a language requirement, this could influence your schedule significantly. Wineries we have found through our research include:
While the above wineries are a selection we reviewed for places we'd consider visiting when exploring the region, we should note that we have traveled within the Douro Valley in 2021 and hit a small selection of wineries during our brief visit. Our reviews of these Douro Valley wineries can be found here for additional commentary.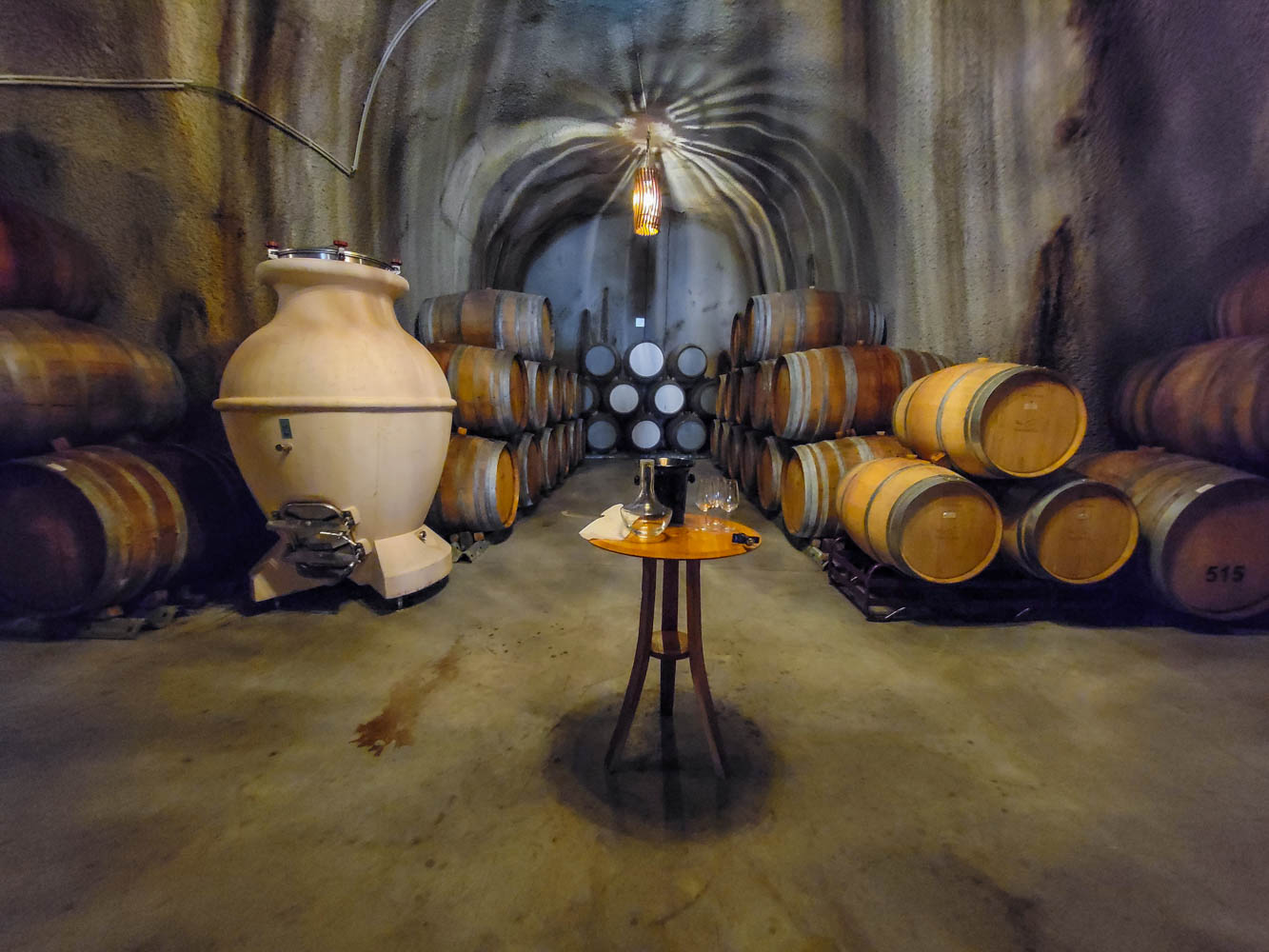 Finally, we would be remiss if we did not make recommendations for port houses to visit in Vila Nova de Gaia on the opposite side of the Douro River from Porto (~90 minutes from Pinhao town) as we know many travelers likely will stay a few days in Porto on any given trip.
These port houses are all within walking distance of old-town Porto and will complete your Douro Valley wine experience. These houses tend to be for the largest producers who historically aged their wines in Vila Nova de Gaia for centuries (newer producers, as mentioned above, likely age in the Douro proper due to utilizing modern air conditioning and refrigeration).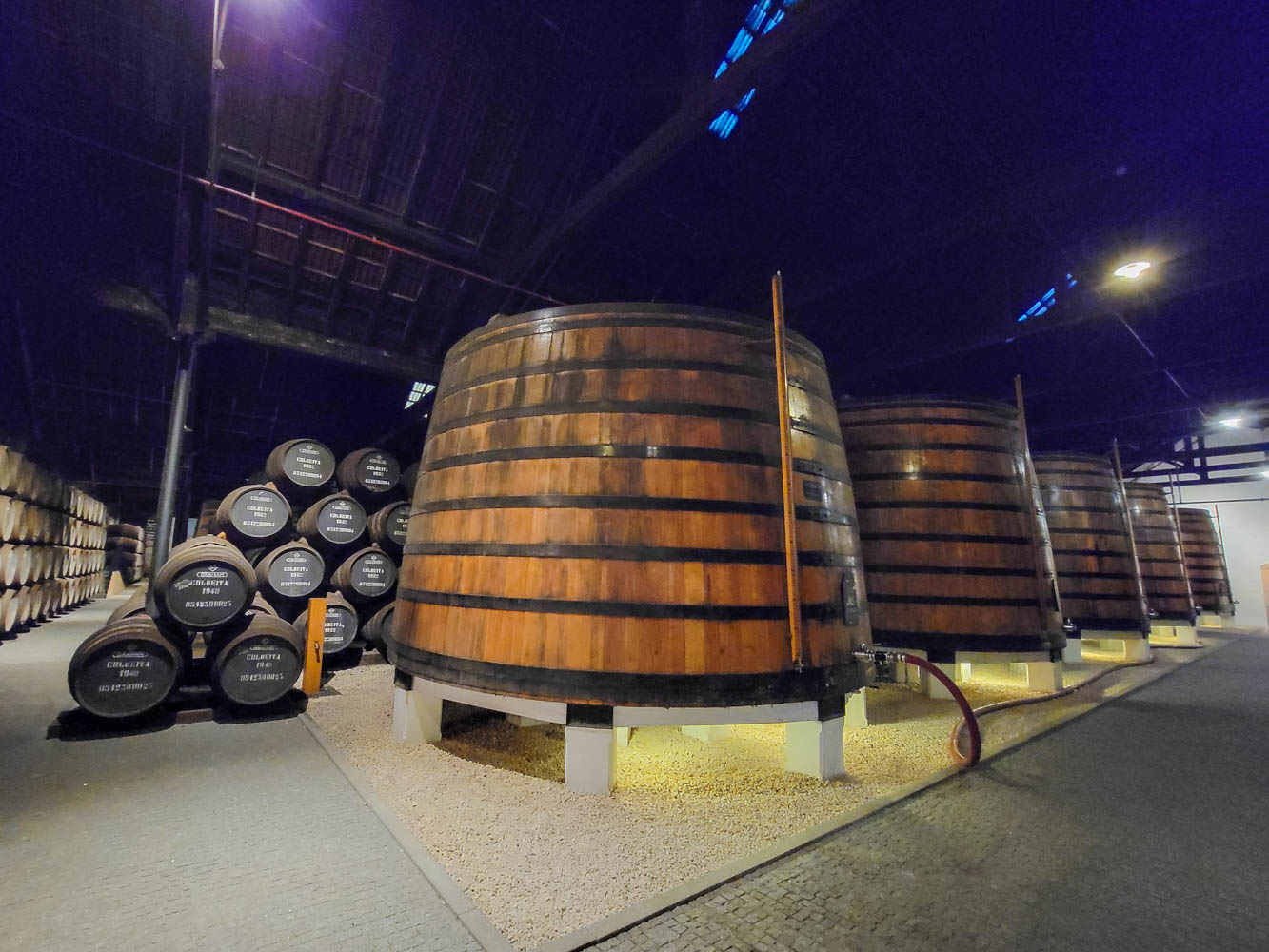 Wineries you may want to check out include the following (note that some may offer tours with advanced registration required and others may only offer tastings for walk-ins). This list is not comprehensive and is simply a quick selection:
Guided tours also exist that can take you on a small group tour of the Porto wine houses and can be a good option to hit a few cellars in a half day!
If you have visited a great winery in the Douro Valley and want to let us know, please contact us! Please note at this time we are only listing wineries that offer public tours and meet our quality guidelines at this time.
Buying and Shipping Wine in Portugal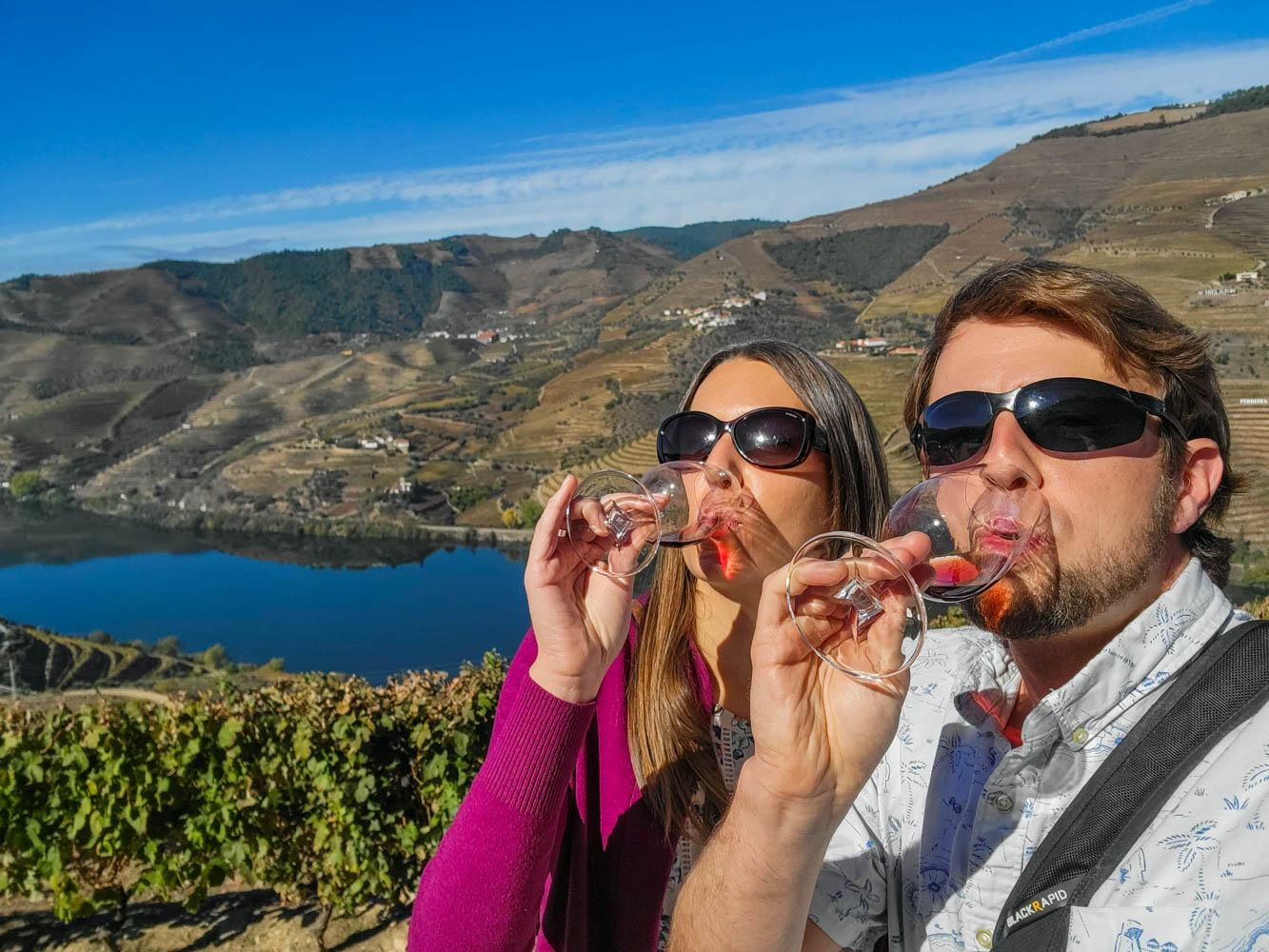 Most wineries in the Douro Valley offer cellar door sales of their products to visitors. Some even allow guests to walk in and buy bottles without taking a tour (this may vary and many wineries do not offer walk-in tastings- just sales).
As with most wine regions, buying at the winery itself offers reasonable prices and an assortment of bottles you may not be able to find anywhere else (more on that later). That being said, shipping options are often limited outside of the EU such that those who are visiting from abroad may need to find other solutions to taking wine home.
First, it is worth noting that some wineries in the Douro Valley may have distributors in your home country already (e.g. USA), and depending on where you live in they may be able to ship wine directly to your home (in the USA, state-by-state laws may limit where some distributors operate). In this scenario, you typically place an order through the distributor directly (via the winery), and bottle prices will be increased significantly from what the winery charges as international shipping and winery/importer/distributor profits are also factored in.
The savings here, on the other hand, is that shipping is likely far cheaper than if a winery in the Douro Valley could ship abroad for you. So if you want to buy many bottles from a single producer, this could be a good option if it is something they have available. Conversely, a distributor may only carry select bottles from a winery's portfolio, so you may be limited on availability in this case, too.
Instead, you will likely want to consider options to bring home wines yourself. While your home country may have import limits before paying a duty (both official and unofficial- the USA is one liter per person but unofficially most agents don't care as long as it is within personal consumption levels, i.e. a couple of cases). We have three methods that we generally recommend:
Wine Skins – Bubble-wrapped and sealable bottle skins that you can put into your suitcase for extra protection.
Wine Suitcases – Dedicated suitcases designed for wine bottles with 6 to 12-bottle capacity typically.
Wine Shipping Boxes – If you buy a sufficient number of bottles from a friendly winery, you may be able to ask for a shipping box to pack wines (generally up to 12 bottles per) and check on an airplane as you would a suitcase.
Inherently, these all come with pros and cons you have to consider. Wine Skins go into your existing checked bag, which is good for cutting down fees, but you need to be aware of total bag weight (bottles of wine tend to weigh about 2.6 lbs on average). Wine suitcases are rather expensive upfront costs for limited capacity (plus possibly checked bag fees both ways). Wine shipping cases are often free if you can find a friendly winery (we've always been able to source them in our travels), but may require a checked bag fee on the return trip, too.
As such, while there are several options for getting wine home from the Douro Valley, none are perfect- so weigh the options and risks for your own liking. Personally, we use a mix of Wine Skins and shipping boxes and have had great experiences all around.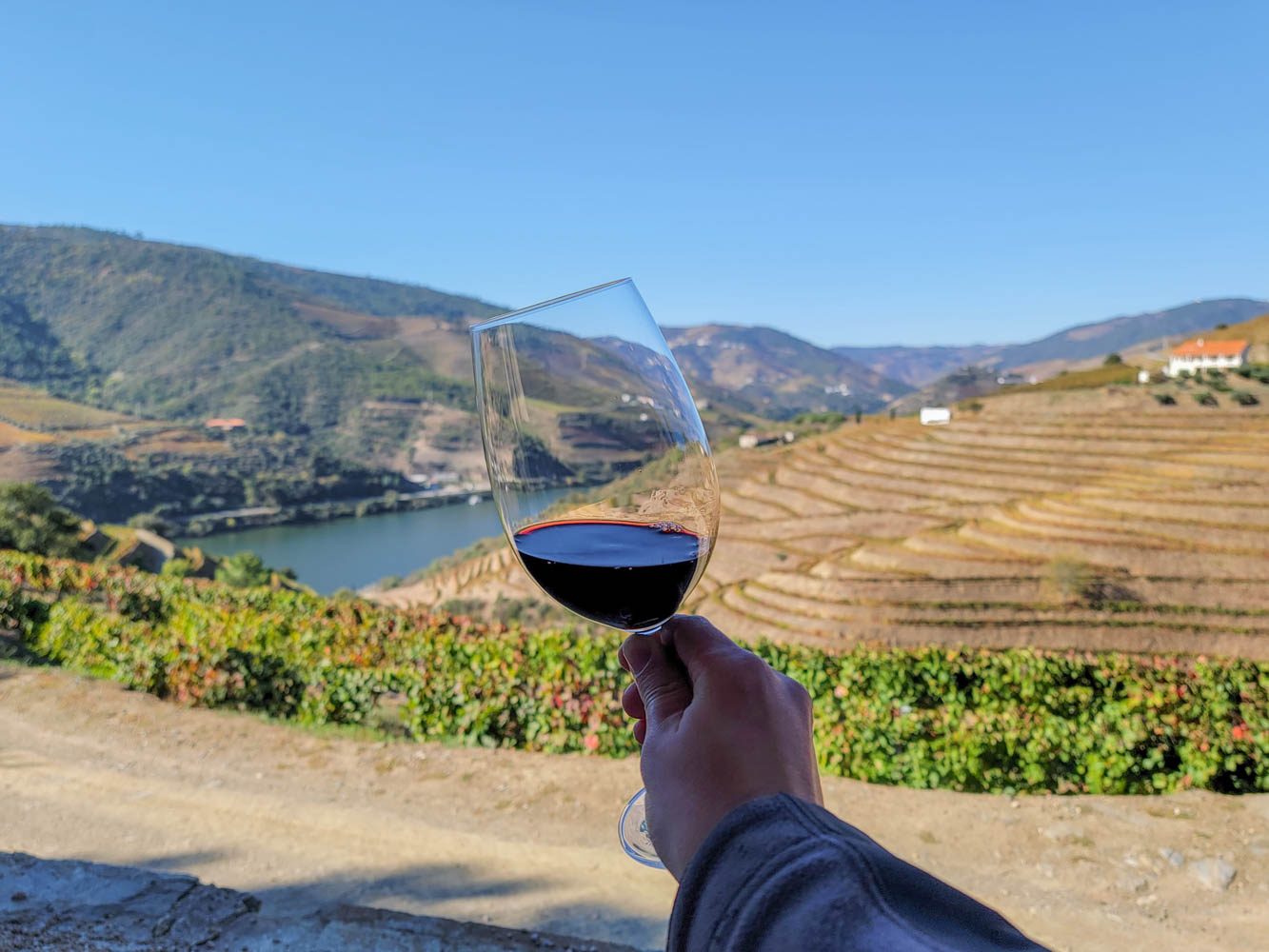 Finally, we should make a note about shopping for wine elsewhere in Portugal, as private wine stores are plenty. Our personal favorite store that we visited throughout the country is Garrafeira Nacional with several locations in the Lisbon area. These stores are temperature controlled (a rarity in Portugal it seems!), with respectable prices, and the best selection of wine we saw in the country. (Other stores we visited were not temperature controlled and had rather extreme markups.)
We ended up buying two dozen bottles from them and were going to pay for international shipping (which they could arrange for an appreciable fee plus duty), but at the last minute, we decided to take the wine with us via wine shipping boxes we already had from wineries we visited in the Douro. Ultimately, they even offered free local delivery of our wine to our Lisbon hotel that night, too!
Wine stores like Garrafeira Nacional are excellent for finding wines from producers of all sizes; however, you may have better luck finding old bottles from well-known producers (say, a Kopke 1975) over a high-end bottle from a boutique producer you may visit in the Douro. When in doubt, buy direct when you are at the winery. But if you visit Lisbon before and after going to the Douro (as we did to make our international flight), you may want to visit the store before heading north and take an inventory of what is available to comparison shop.
Non-Wine Activities in the Douro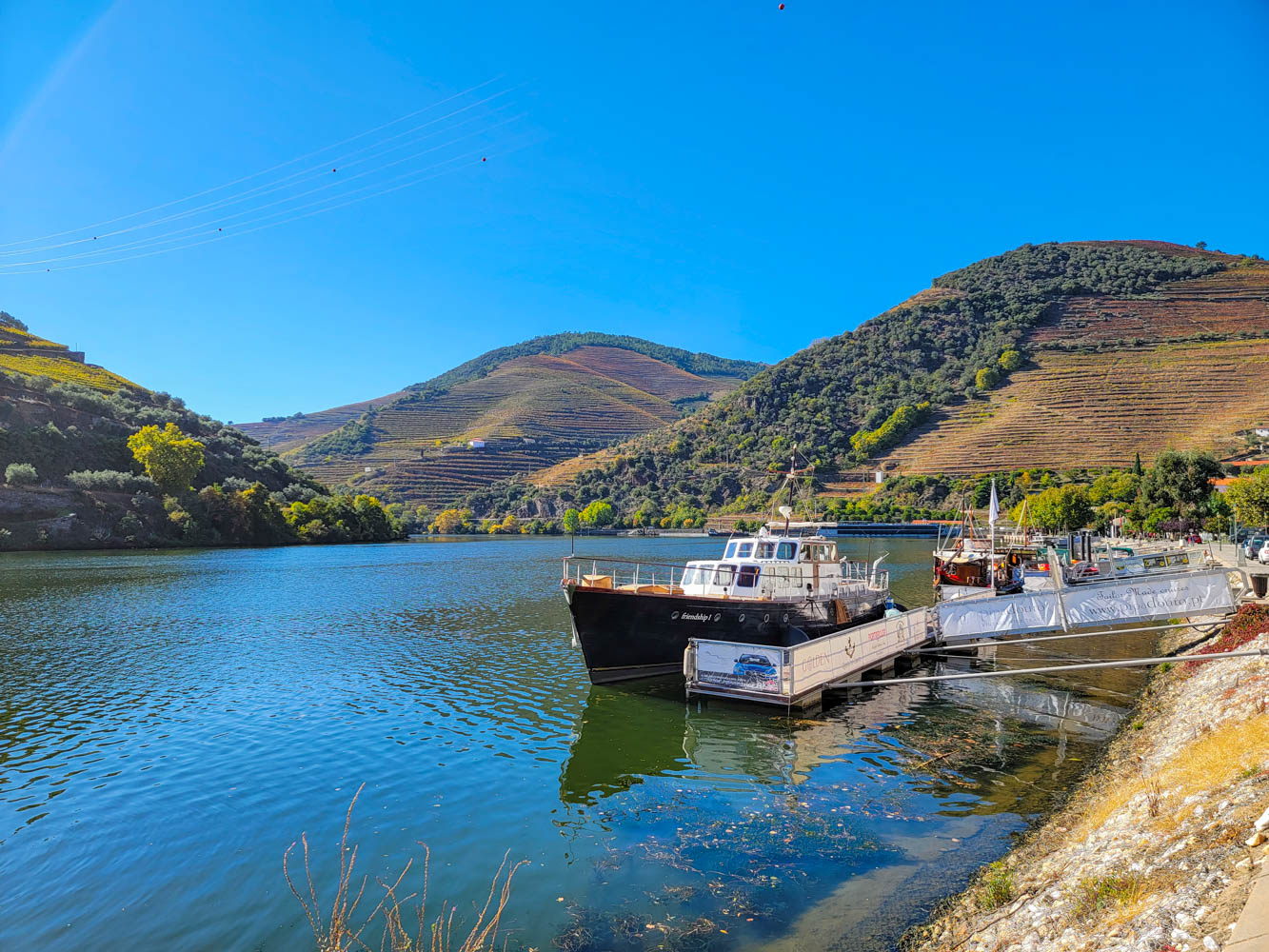 We are big proponents of always working in some non-wine related activities when traveling to wine regions. Despite being relatively rural, when you couple the gorgeous nature of wine regions with the tourism draw, there are almost always non-wine activities you should check out to take a break from the tasting (especially if you're traveling with someone who isn't as into wine as you are!).
The Douro Valley is no different.
A selection of activities that you may want to consider when staying in the region include:
For those who have a rental car, be sure to drive to some of the many lookout points found throughout the Douro, too!
Overall, the Douro Valley is truly one of the most stunning wine regions on Earth. Throw in some delicious Port wine, a growing still wine scene, and intimate Quinta stays, and you truly have a wine region worth spending several days in if you can. Just watch out for the driving conditions here and be strategic in your hotel location, snag reservations for wineries as early as possible, and take it all in to get the most out of this gorgeous region!
Do you have any tips for taking a Douro Valley wine tour? Comment below to share!