Last Updated on February 22, 2023 by Jeremy
Disclaimers: We use demographic data, email opt-ins, display advertising, and affiliate links to operate this site. Please review our Terms and Conditions for more information. This website is intended for those of legal drinking age in your jurisdiction.
The Douro Valley is, without a doubt, one of the most beautiful wine regions we've ever been to (you could also drop the wine qualifier entirely, it would be just as stunning without the grapes). We had a feeling this was going to be the case even before we arrived, and it only took a few minutes of driving around the area to really affirm that viewpoint.
As such, we consider this wine region a must-visit spot for anyone who is even remotely interested in wine- from a novice who simply likes to have a glass now and again to the most professional sommelier. That being said, when it comes to actually exploring the Douro Valley, well, you may run into issues.
To put it bluntly, driving in the Douro Valley is terrifying, and this is one place where taking a tour may make sense for many, many visitors.
What is Driving in the Douro Valley Like?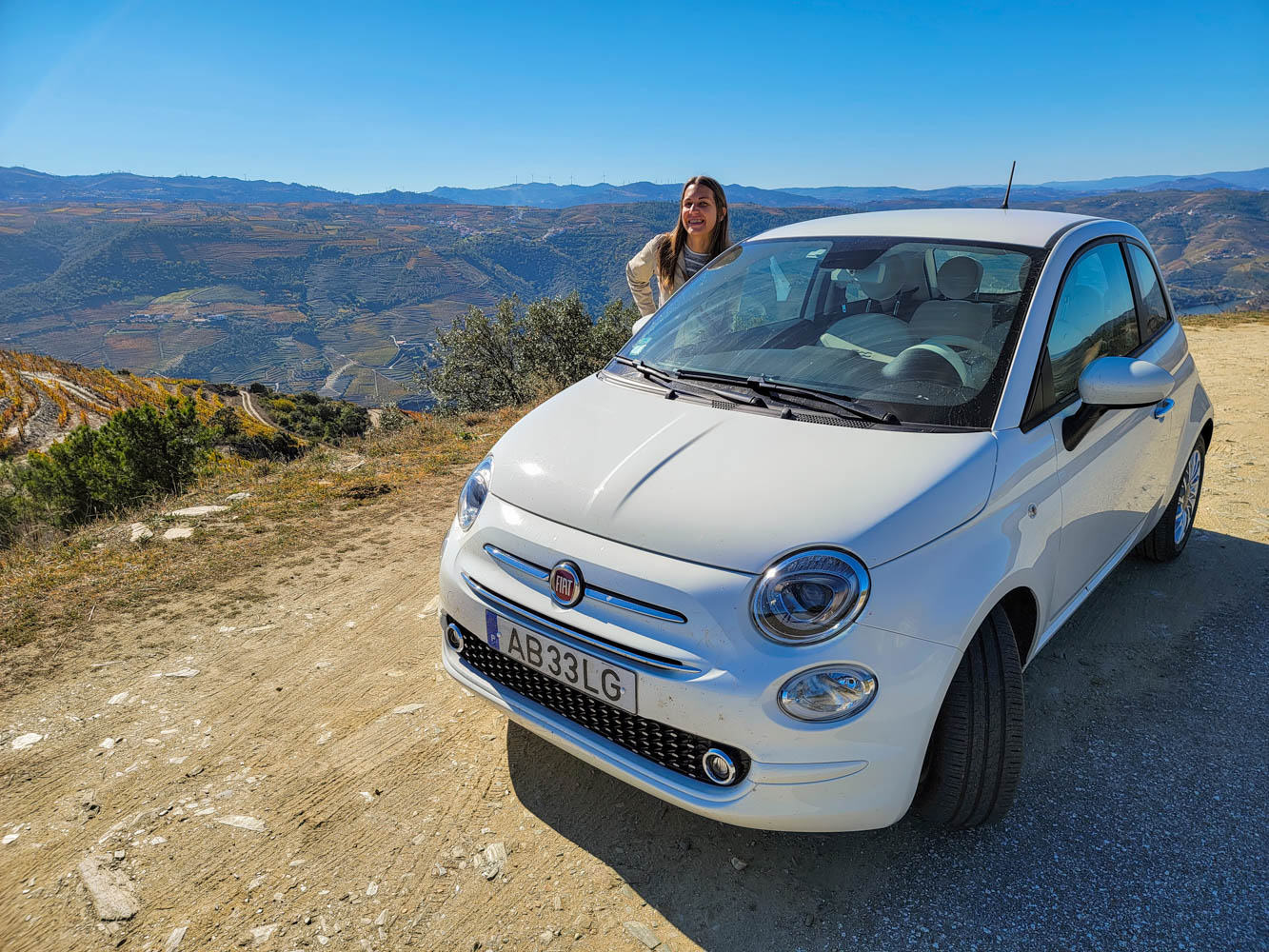 Driving in the Douro Valley is a bit unlike anything I've done anywhere in the world- and I've driven in many countries, on both sides of the road, and just about every road condition you can think of.
The simplest explanation I can give for the Douro is that it is an incomprehensibly huge valley. Photos do not do this region justice for its size, and we were simply blown away by the scale of it all (you really have to see it in person to understand). As the roads wind through the valley, often in between the terraces as you can see in some of our photos, you will spend several hours each day quite literally driving on the edge of a cliff.
It is worth highlighting that the drop-offs are not just a couple of feet, but 15-20 feet down to the next terrace, which then would be another 15-20 feet down to the next, and repeat twenty more times. This would be a reasonable hazard to deal with if the roads were big enough to accommodate all vehicles, but many of the roads within the Douro are one to one-and-a-half cars wide, setup for two-way traffic, with near-zero medians, virtually no guardrails, no lights at night, and some secondary roads can be quite rocky and gravely as well. Oh, you'll also likely do this after drinking 20% ABV port, too.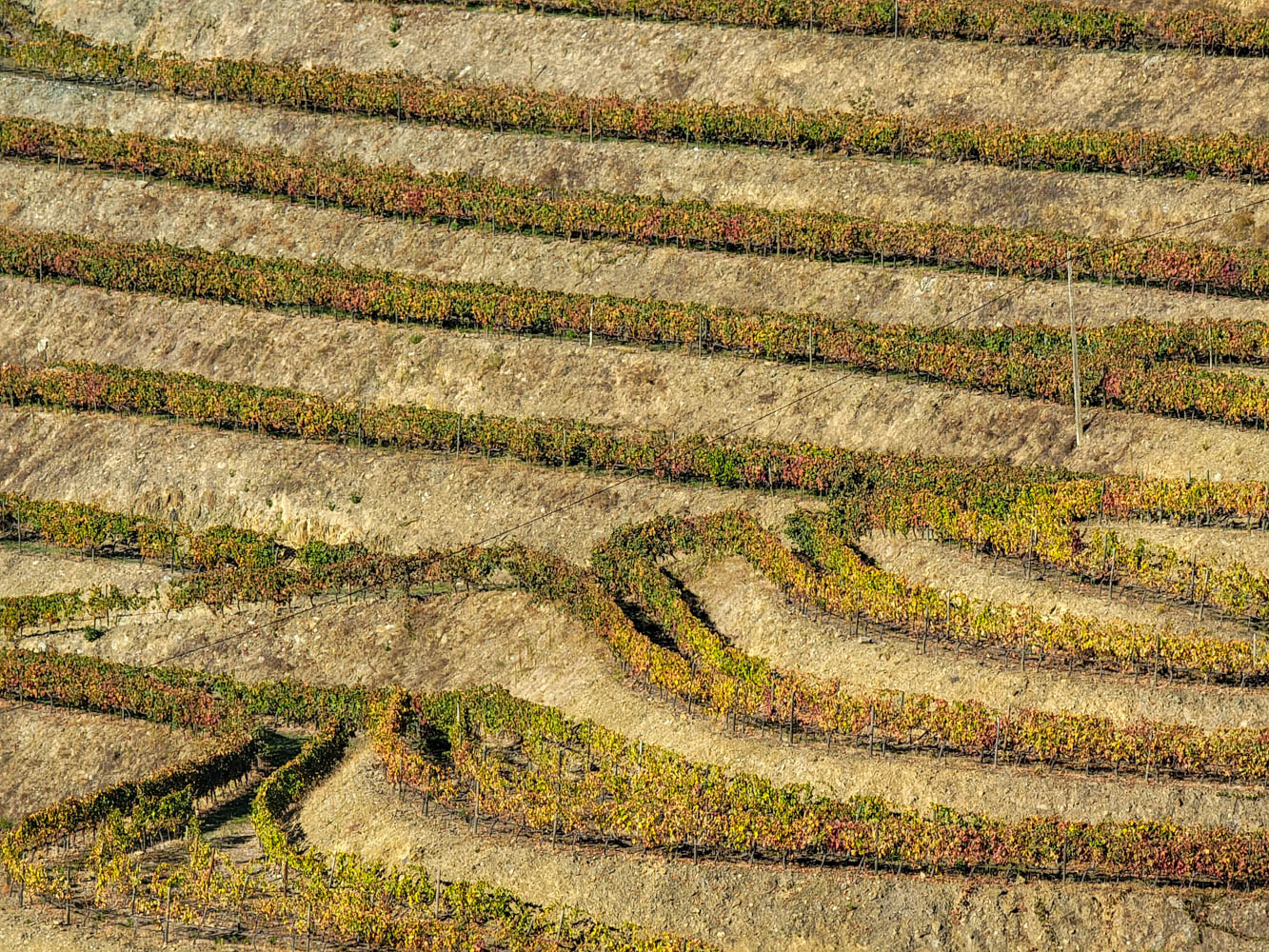 To give a quick example of why this is an issue, we had several instances where we had to squeeze by a car coming in the opposing direction, and either I or the other driver had to pull within inches of the drop-off to make enough room for the other car to pass (thankfully, it was disproportionately the other car and never at night). When we saw trucks with workers heading to or from the wineries, they got even closer to the edge and we had mild heart attacks on their behalf.
This was in shoulder season a couple of months after the harvest, and we're told that if you visit during harvest or when the wine is transported to Vila Nova di Gaia later on, even bigger tanker trucks will be on the roads as well. You know when your host tells you it can get even crazier that driving on these roads is only for those with nerves of steel, and even though I feel like I fall into this category, it was still pushing me to my limit at times.
If any of the above is of concern to you, thankfully you have an alternative- take a guided tour of the Douro Valley.
The Easy Alternative? Take a Douro Valley Wine Tour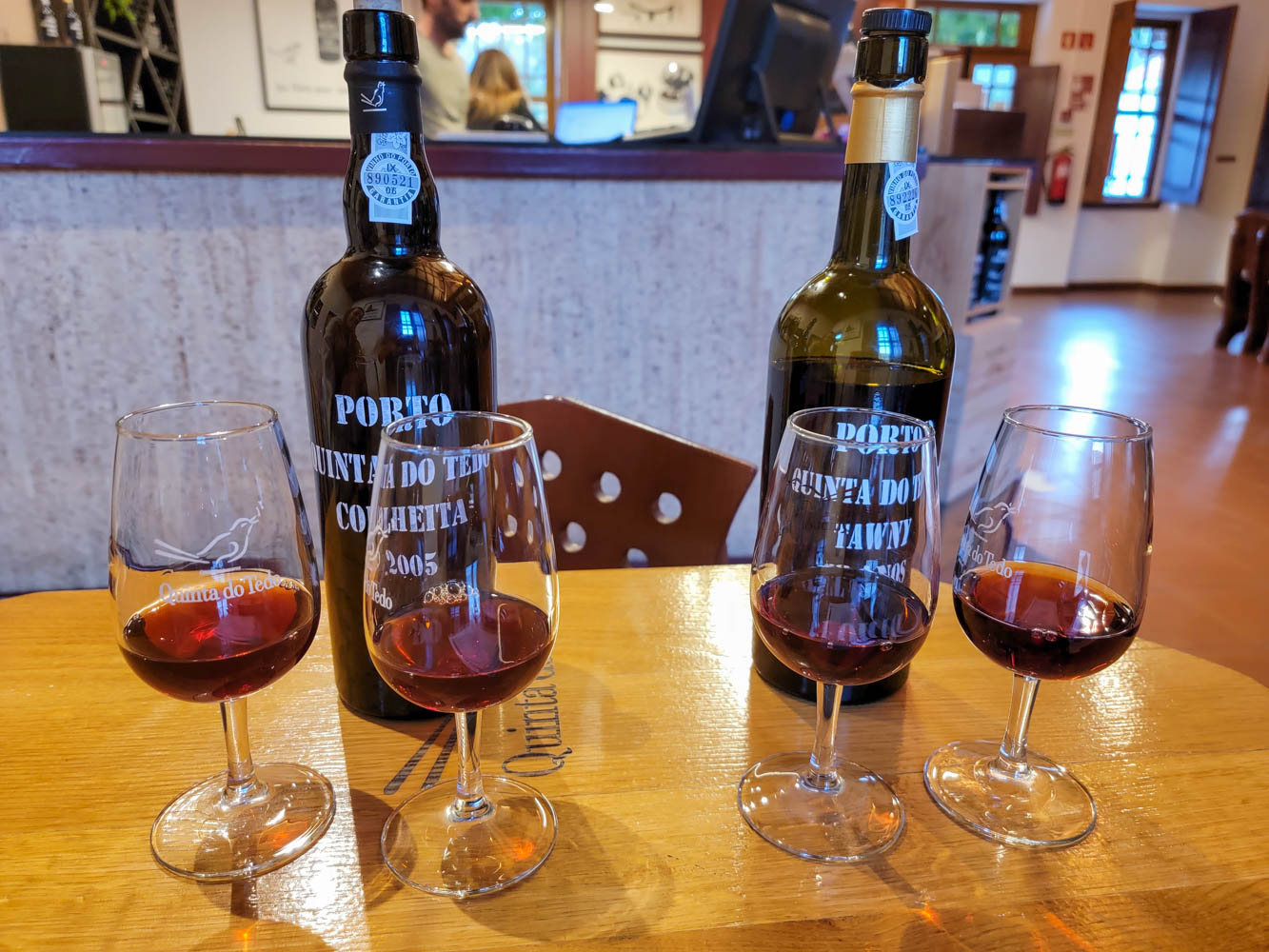 When it comes to exploring Douro Valley wineries, we often felt like we were the odd people out driving to our appointments. A great number of visitors we met along the way simply explored via one of three tour options:
The first two options are day-tour in nature and would visit set wineries on a pre-determined itinerary typically visiting two or three wineries. The first requires you to be in the Douro Valley to start the tour whereas the second can include transit to/from Porto (often for about double the price).
Personally, we would recommend traveling to the Douro and staying overnight, even if that means you have to drive on the crazy roads just a bit to get to your hotel (more on that later). At two-and-a-half days there, we simply wanted more time to soak in the beauty of it all. A day tour from Porto just wouldn't cut it for us, but we'd do it in a heartbeat if the alternative meant not going at all.
The region also has a train that can bring in visitors who don't have a car, and if you go this route then you'll especially need to organize tours and other associated transit to reach your hotel.
The trade-off here is that when you take a guided tour, you can't really control what wineries you visit. So this one may be great for those who have a fleeting interest in wine and simply want to try any kind of port and see the Douro Valley outright, but less so for those who are as into wine as we are and want to hit the best of the best producers. (You may hit those spots on a tour, it just is harder to guarantee it.)
The third option would be to organize a private driver to visit wineries of your own choosing. We met several people doing this in the Douro who organized via their hotels either in Porto or the Douro proper. While we can't guarantee that every hotel may offer this service, we'd recommend checking there first before heading to other 3rd party services you have less control over.
For some guided tours in the Douro Valley, check out Viator. Reconfirm tour starting location prior to booking as many tours originate either from Porto or Pinhao.
Tips for Those Who Still Want to Drive in the Douro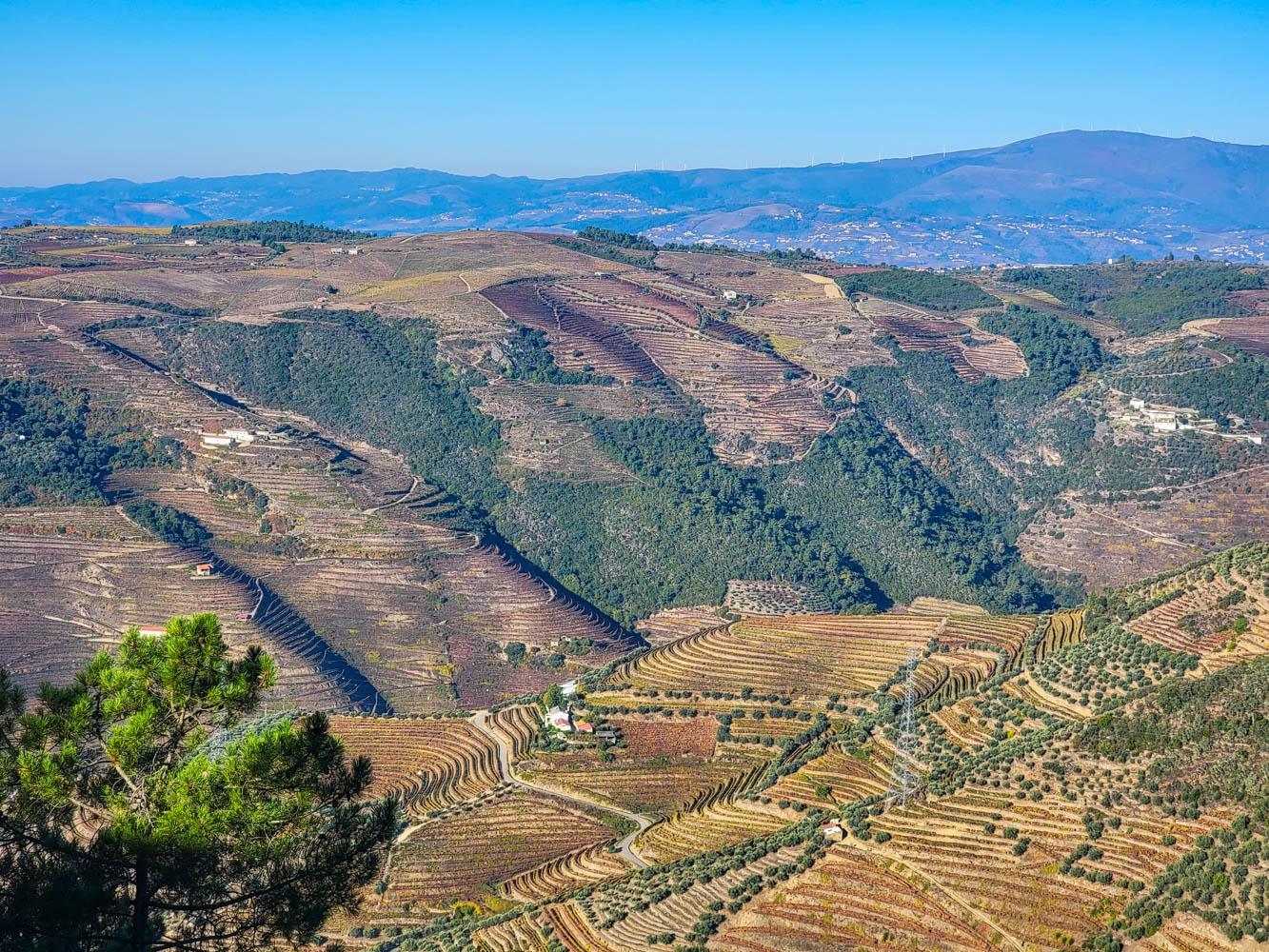 While this post is designed to encourage any less-than-sure drivers to skip the car and take a tour, we also want to be complete and take a step back to answer a very obvious question you may have at the moment- could you drive anyway?
The answer to this is simply yes, but you really need to be prepared for what you're getting yourself into. Simply being mentally prepared for this area can go a long way, so hopefully our upfront warning has highlighted just how crazy driving in the region can be. To be quite honest, I did no research before this trip and went in blind- it was a mistake.
Beyond that, if we could make recommendations for driving in the Douro Valley, it would simply be to book a hotel that is not too far away from the main roads (N222 specifically) as well as the bridges (the two we used regularly were quite far apart, so whenever we wanted to cross a river it added on an excessive amount of time in the car).
The main roads are still fairly crazy, there is no sugar coating it, but the secondary roads that diverge from them are even worse. We stayed at a Quinta 20 minutes off N222 and the drive-in and out each day (sometimes twice a day) was the worst part of our entire visit. Had we stayed just a couple of minutes off of N222 instead of 20, our lives would've been much, much better.
You'll still likely drive on secondary roads quite a bit when in the Douro, but for the most part, it will be likely to reach a winery that is only just 2-3 minutes away. The short segments of these roads before a major winery were also much better maintained despite their small widths. You may even detour a fair bit to simply go explore and checkout lookouts in the area too, but this will only be a small portion of your stay outright. Booking a room well off the main road to save money may inadvertently hurt you with some extremely poor driving conditions as we encountered.
I loved the Quinta we stayed at dearly, but I never want to drive there ever again.
As such, while the most fearless of drivers can likely explore the Douro Valley via car without issue, a little planning really goes a long way here. If you are in doubt over anything that we wrote about above, even in the slightest, then you may want to consider a guided tour or private driver instead. The peace of mind will ensure you have an enjoyable time, which really is the point of it all anyway!
Have you driven in the Douro Valley? We'd love to know what you thought of the experience by commenting below!
Looking for more tips on driving in Portugal beyond the Douro? Check out our complete post on our travel blog. Don't worry, it is far easier everywhere else! Or check out our complete guide to planning a Douro Valley tour yourself- this one has everything you need to know and then some!