Published Jeremy. Last Updated on March 2, 2023.
Disclaimers: We use demographic data, email opt-ins, display advertising, and affiliate links to operate this site. Please review our Terms and Conditions for more information. This website is intended for those of legal drinking age in your jurisdiction.
When we booked a vacation to Portugal, we knew we were going to be bringing a number of bottles of still wine and port home with us.
What we didn't know prior to departing was where we would be buying our bottles specifically. Purchases at wineries were a given, of course, but we had allocated enough room in our suitcases to do some last-minute shopping at a wine store in Lisbon before flying home as well.
As it turns out, our friends 2 Food Trippers (who live in Lisbon) came through in recommending an incredible store with a great selection and some of the best prices we saw in the entire country. This was Garrafeira Nacional, a store that has been in business for almost 100 years, now with several locations in the heart of Lisbon proper including one in the Time Out Market and another just a few blocks from the Santa Justa lift.
If you're doing any sort of wine shopping in Lisbon, this really is the only place you need to visit.
Note: Photos and commentary in this article are primarily based on the Santa Justa location. However, the Time Out Market location, albeit a bit smaller, is also a stellar little outpost as well.
Garrafeira Nacional Wins on Prices, Selection, and More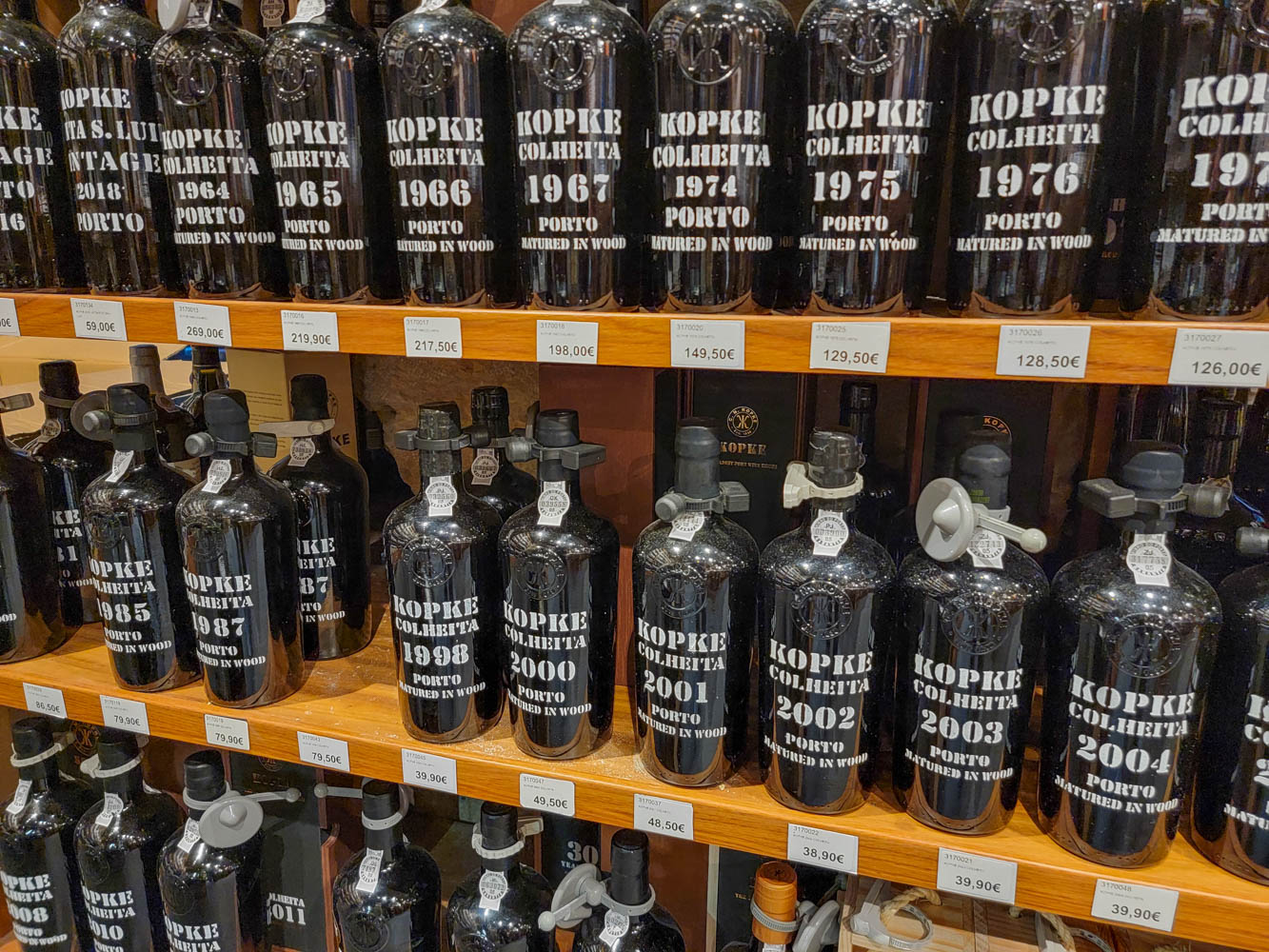 There are a few big problems we saw with buying wine, specifically at Portuguese wine shops. First, and perhaps most important, is that prices are quite literally all over the map. One store may offer a 20-year tawny from a quality producer (such as Kopke) for a reasonable price, and a store across the street may have that same bottle for two to three times the amount.
We visited Garrafeira Nacional at the start of our trip, snapped all the photos you see in this article, and used them as reference points in every store we stopped in while in the country. Only one store had better prices, and that was at most 0.5 to 1.0 Euro per bottle. Most, on the other hand, were 10%, 30%, 100%, or even 300% more expensive.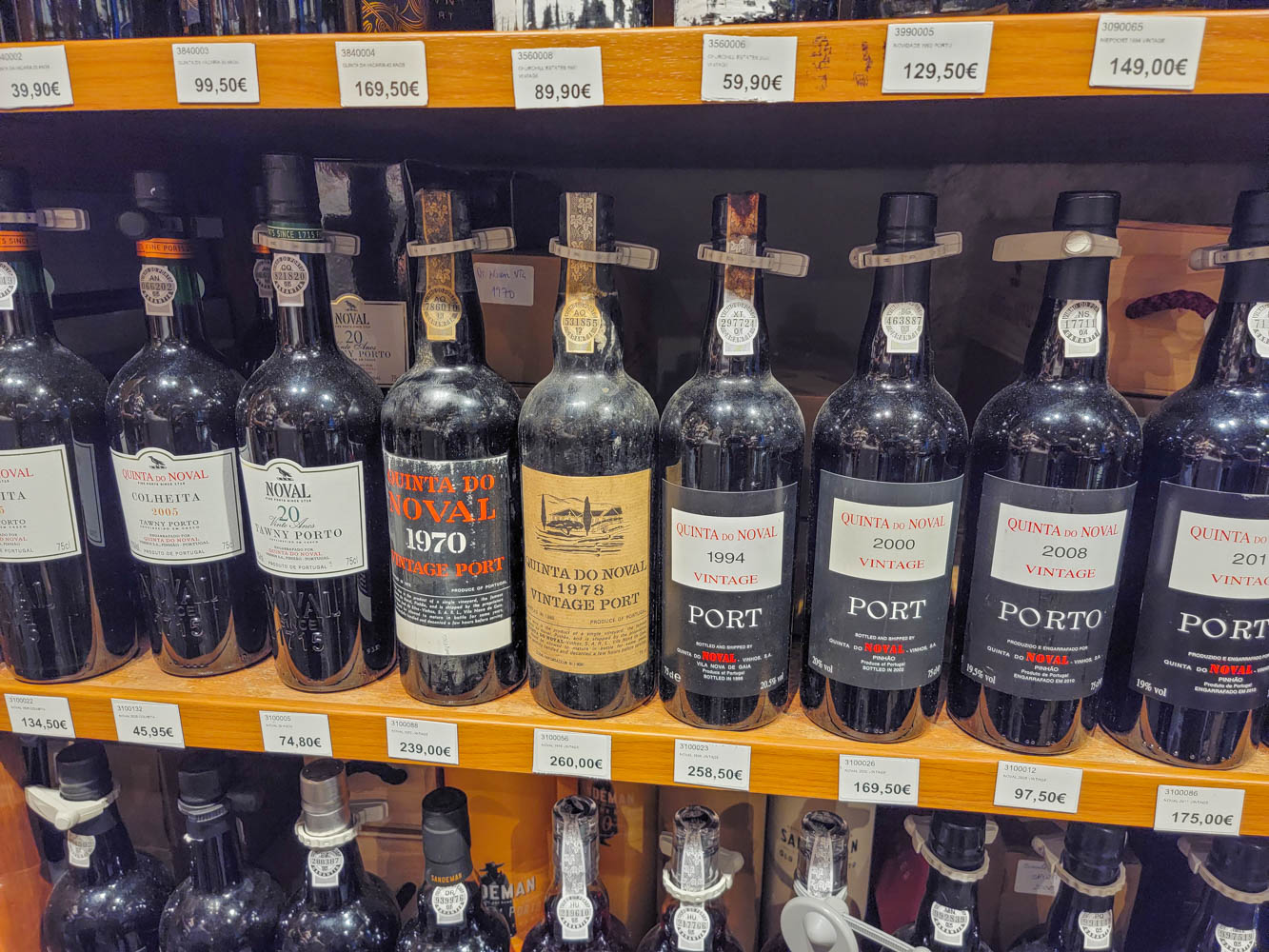 So when we say that two stores across the street from each other could have drastically different prices, we are not exaggerating. It really is true here. So we already were in love with this store purely on a price aspect alone.
From there, the store also had some of the best variety as well. This is admittedly quite subjective based on our interests, but we appreciated being able to find an incredible mix of ports, Portuguese still wines, and even wines and spirits from outside Portugal as well. They didn't have every high-end bottle that we had tried on our trip and hoped to buy, but they had an impressive amount of bottles we recognized all the same.
Keep in mind that bottling date on Colheita tawny ports is quite important. So be sure to look for that if you are buying, even at this store. Read the full article at the previous link for more on why we urge this due diligence.
Finally, the store was somewhat temperature controlled. I won't say perfectly temperature-controlled, but I will say better than nearly every other store we visited. This may sound like a somewhat simple feature, but we visited so many wine stores in Portugal that had no temperature control whatsoever, and even in late October the stores were hot, humid, and generally are not the kind of place that would inspire us to want to drop 100 Euro on a nice bottle of Vintage port to take home and age.
The Service Goes Above and Beyond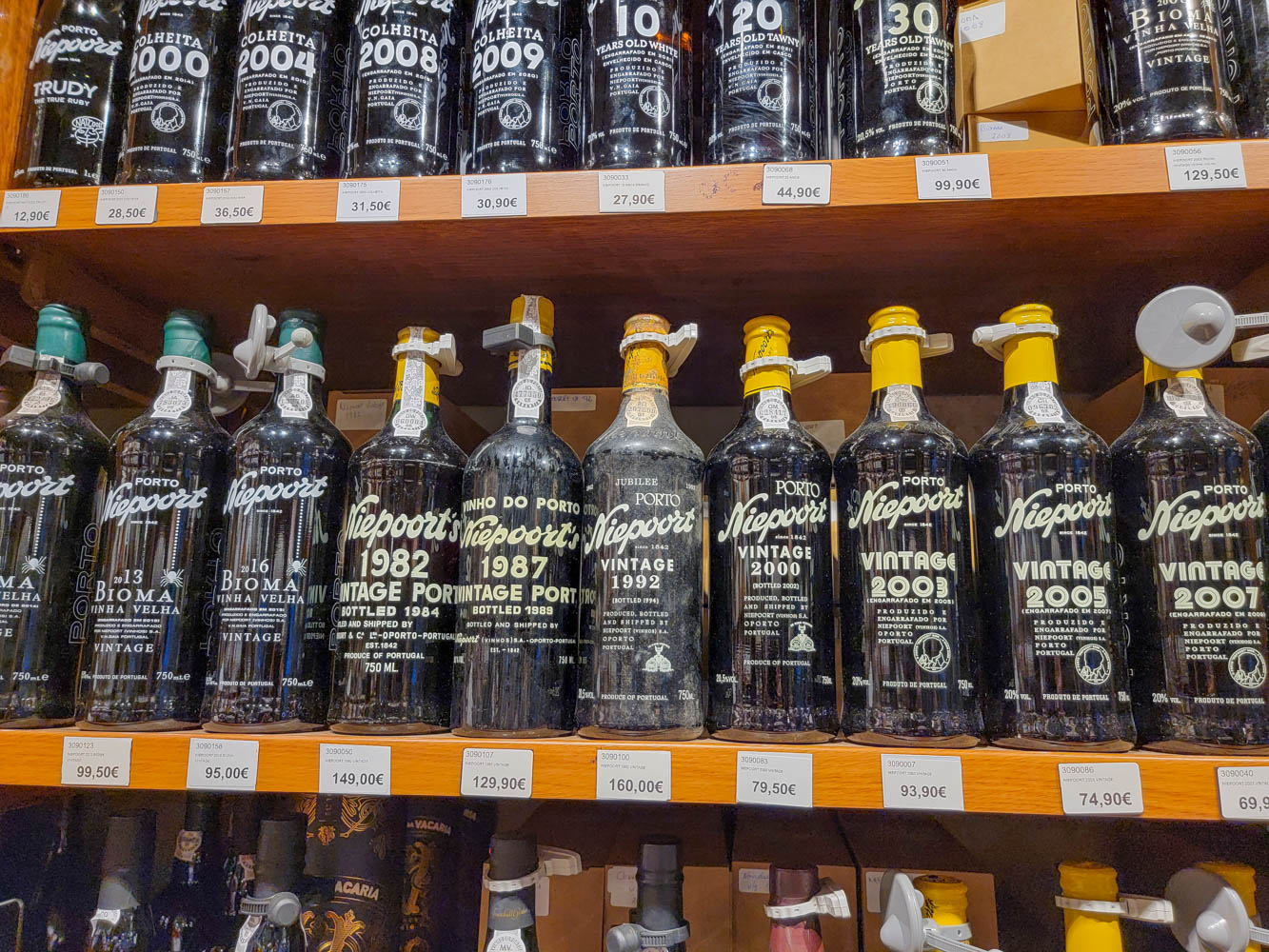 While we could be happy enough with the offering at Garrafeira Nacional, we'd really be remiss if we didn't talk about the service for a bit too.
Unlike other wine shops we visited in Portugal, which had one employee (if not max two), Garrafeira Nacional had an entire team present every time we visited. They would spend a great deal of time with guests explaining wine, helping people find bottles within their price range, and in our case help discuss shipping options to the USA and even arranging free delivery of our case of wine to our hotel where it was dropped off just about 30 minutes later!
Garrafeira Nacional uses a 3rd party courier to ship wines abroad. We received a quote and bailed on this at the last second as we realized we'd probably have to worry about paying duty once the bottles were delivered stateside. As such, they delivered to our hotel for us to take on the plane instead.
During the roughly two hours we were in the shop, we had an employee almost entirely to ourselves helping us find wines, make suggestions, and generally having some wonderful conversations about all things wine. (And considering we dropped $1,000, they were probably pretty happy with us not asking what the best-but-cheapest bottle of port is as we heard this question asked more than once.)
Perhaps the highlight of the entire experience was what happened at the end. We were asked if we would like to buy a few samples of port to taste, and the team member we were working with gestured over to one of their CO2/temperature-controlled cases that dispense 1-2 ounce pours of premium wines while preserving the bottle.
The ports ranged from 1958 Vintage to 1980s Vintages and had a big sticker over top the case that all pours were 50% off for a limited time sale. So instead of 30 Euro for a sample of the oldest vintage port we've ever had, we got it for the price of a dram of high-end whiskey at a bar in the USA. If there was a better way to end our trip than buying a case of premium port and trying some old vintages, well, I'm not sure what it'd be!
This store was seriously the best. Go check them out if you are looking to buy wine Lisbon or even get a sample by the glass (and hope for a 50% off promotion)!
Garrafeira Nacional has several locations in Lisbon. We visited the store at Rua de Santa Justa, 18 as well as inside the Time Out Market on Av. 24 de Julho. Photos and most commentary in this article is based on the Rua de Santa Justa store; however, the Time Out Market location is also quite nice as well.