Published Jeremy. Last Updated on March 9, 2023.
Disclaimers: We use demographic data, email opt-ins, display advertising, and affiliate links to operate this site. Please review our Terms and Conditions for more information. This website is intended for those of legal drinking age in your jurisdiction.
In a previous article, we broke down the differences between Napa and Sonoma to give broad views on these two rather unique winemaking regions.
In it, we loosely mentioned some of the vineyards we checked out during our first trip to the area, but spent most of the article speaking in generalities about the regions as a whole.
Today, we wanted to dive into the Napa Valley wineries and Sonoma wineries themselves, and highlight a few that stood out to us as being must visits!
Napa Valley Wineries to Visit
Napa Valley wineries run the spectrum from offering simple tasting rooms to a chateau experience where the sky is the limits. While the region offers exceptional Chardonnay and Cabernet Sauvignon wines, we found that some of the base level wine tasting experiences were also impersonal (on the order of here is a pour, sip, next pour, sip, next pour, goodbye variety).
As such, we left with mixed feelings about some of the wineries we visited here. Two stood out from our visit, and we want to highlight these below.
Cakebread Cellars
The base tasting at Cakebread Cellars is our ideal wine tasting experience. Small groups (about 6-8) are walked through the wines one-by-one, and our server spent a bit of time getting to know each of us, our tastes, and more all in order to make more detailed recommendations for bottle purchases later on.
A Current Release Tasting features four of their wines, with two white and two red, and a quick tour of the vineyard and barrel aging room during the latter pours (however, the vineyard was in the process of remodeling during our visit so in the future we cannot guarantee the latter).
In the process, an extra bottle magically showed up for an extra tasting (a Rose we ended up buying a bottle of), as well as additional pours of wines we liked that we were considering purchasing- overall a great wine tasting experience all around!
Cakebread Cellars is locaed at 8300 St Helena Hwy in Rutherford, CA. Advanced reservations required.
Anarchist Wine Co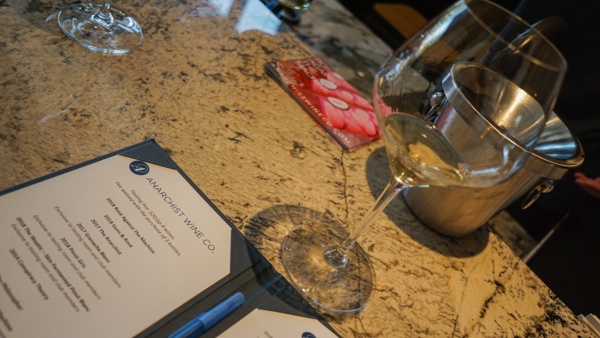 Anarchist Wine Co. is an interesting winery as they look at producing blends that break the conventional mold for Napa, and is something we can fully appreciate. Their namesake, The Anarchist, is a blend of six white grapes, and The Philosopher, is an intriguing Cabernet Sauvignon blend as well.
But the wine that stood out to us the most is also the most unconventional. The Skeptic is an "orange wine" blend of Pinot Blanc, Gewurztraminer, and Viognier that is skin-fermented (much like how red wine is produced, but with white grapes) to give it a rich, orange-ish hue and some rather complex flavors with a clean finish. Naturally, we left with a bottle to take home.
When visiting, be sure to ask them about the process for how they create their labels. The art has an interesting backstory just as fascinating as the wine!
What is also neat about Anarchist Wine Co is that it is not a vineyard, but rather a tasting room on the Vino Collina Resort property. Besides visiting this one for a tasting you can easily grab a glass to enjoy or even pop around to other vineyard tasting rooms, brewery, restaurants, and more all without getting in your car!
Anarchist Wine Co is located at 850 Bordeaux Way Suite 9 in Napa, CA. Advanced reservations not required.
Sonoma Wineries to Visit
In a way, Sonoma wineries are not much different from Napa; however, they offer a bit more of a laid back vibe and a more welcoming atmosphere even for those on the base wine tasting experiences. Wines produced here are quite similar, but where Napa is famous for Cabernets, Sonoma is famous for Pinot Noirs.
Since we gravitate to Pinots anyway, it should be no surprise we had an overall better experience here, and have three wineries that stood out as favorites here.
Arista Winery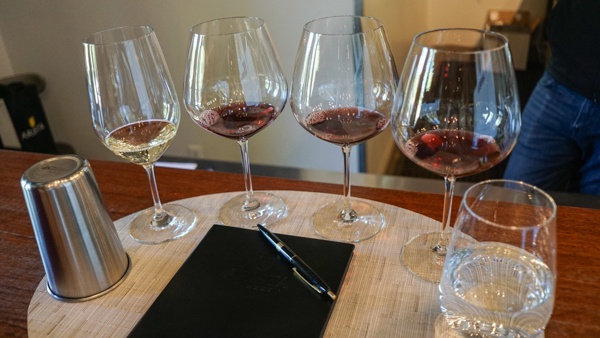 If small-batch wine from a family-owned estate is what you seek, Arista surely will not disappoint. This winery is the embodiment of all of the things we love about Sonoma in that they focus heavily on the styles popular in the region (Chardonnay and Pinot Noir), produce specific estate vintages, and the winemakers are at the top of their game.
Base tastings here are conducted bar style, with one bartender walking a small group of up to eight people through four different samples (one white and three red) all poured at once to be enjoyed at your leisure.
Our only regret on this one is that we were considering signing up for their mail-order club, but were told the waiting list was 12-18 months during our visit- ouch! So we left on the waitlist and one day hope our name will be drawn to buy more- it was that good.
Arista Winery is located at 7015 Westside Rd in Healdsburg, CA. Advanced reservations required.
MacRostie Winery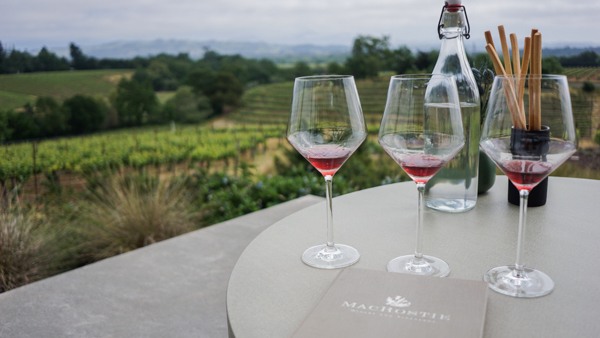 Ignoring some of the mega-estates that we visited, MacRostie Winery had what is perhaps our favorite tasting room out of all of the ones on this list.
We scheduled our appointment to be the first of the day and made sure to arrive right on time. Unbeknownst to us at the time, in being the first to arrive we got to sit on the limited outdoor patio with the finest view in the property- win!
Our seated wine tasting came with a selection of six wines (three white and three red), with a roaming waitress that covered two or three tables at a time. Every time she arrived she offered some of the most detailed insights of any tasting we've had (including a detailed explanation on how estate locations and terroir changes the flavors in the final wine), and a superbly focused recommendations list based on our tastes (plus extra splashes of favorites, naturally).
This one all came together for a wonderful experience due to the delicious wine, the views of the estate, and the knowledge of our server.
MacRostie Winery is located at 4605 Westside Road in Healdsburg, CA. Advanced reservations required.
Iron Horse Vineyards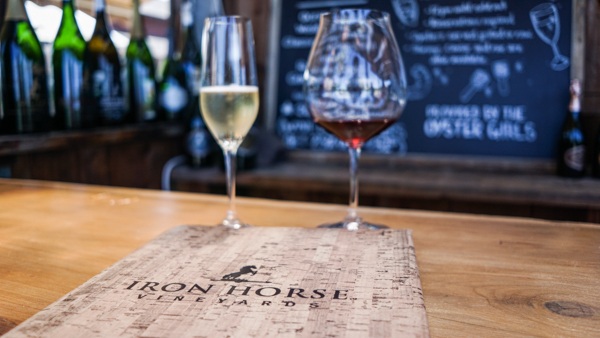 To round out this list, we come to Iron Horse Vineyard, the only spot in our explorations of Sonoma and Napa Valley wineries where we ended up purchasing two wine tastings in a single visit.
The reason for this is because while Iron Horse produces the whites and reds the area is famous for, they also produce an amazing assortment of sparkling wines that are known to be among the best in the area. So, naturally, we had to do a flight of red and a flight of bubbly.
We are frequent sparkling wine drinkers, but never appreciated the nuance you can get out of a bottle until having a flight here, and we really think it is one of the best flights you can try for a unique experience in Sonoma.
Side Note– We ended up doing our flights side-by-side, but recommend visitors to do them back-to-back instead. Bouncing between red and sparkling wines detracted a bit from the experience overall, but we fully put the blame for that on ourselves.
Read More From California Wineries
Looking for more wine reviews from California wineries? Check out all the reviews we've featured on our site to date (ordered at random):
Iron Horse Vineyards is located at 9786 Ross Station Rd in Sebastopol, CA. Advanced reservations required.