Published Jeremy. Last Updated on November 2, 2023.
Disclaimers: This review uses WSET Diploma terminology and our own rating scale. Read more here. We use demographic data, email opt-ins, display advertising, and affiliate links to operate this site. Please review our Terms and Conditions for more information. This website is intended for those of legal drinking age in your jurisdiction.
La Crema is one of those brands we see seemingly everywhere. From wine shop to wine shop, bar menu to bar menu, La Crema is one of those brands it is hard to get away from in the USA.
So, naturally, it sparked our interest, and we wanted to find out if their California Pinot Noir was worth our attention.
For its price, well, this certainly was an interesting one!
La Crema Offers a Reasonably Priced California Pinot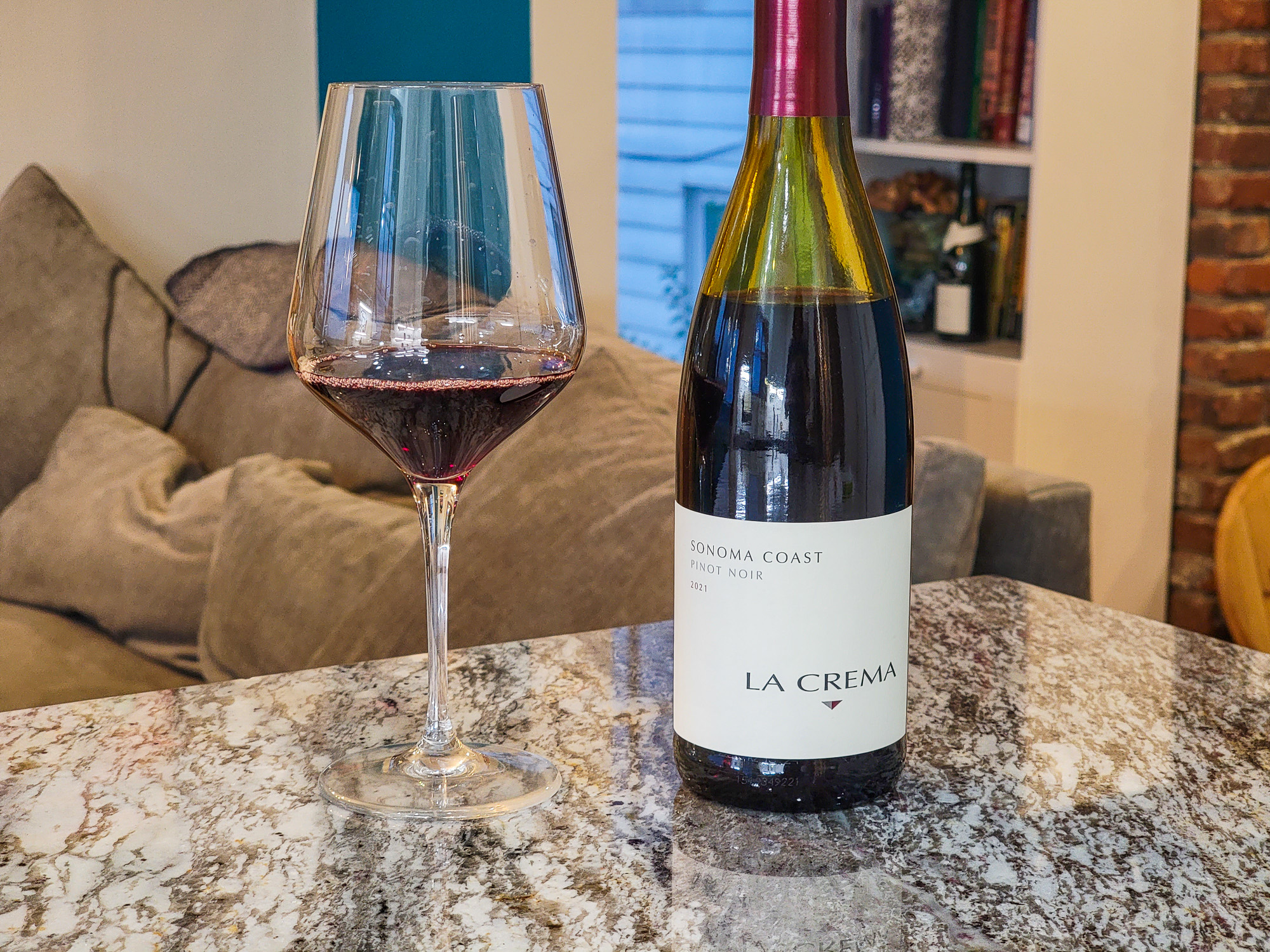 This Sonoma Coast Pinot Noir was pale ruby in color with medium aromas of red cherry, red plum, cranberry, vanilla, caramel, dried leaves, oregano, cedar, and tobacco. There were some notes of underripe fruit overall, but only very minor.
On the palate, this one was dry with high acidity, medium(-) chalky tannin, medium alcohol, body, and flavor intensity, and a medium(+) finish. We had flavors of red cherry, red plum, strawberry, raspberry, cedar, clove, vanilla, and wet stone.
Overall, this one was a pretty good Pinot Noir and hit a number of the flavor notes we enjoy for a well made wine. The aroma was a bit heavier in perceived barrel notes than we prefer, but was still balanced quite nicely.
Pinot Noir Food Pairing – Pasta with Spicy Tomato Sauce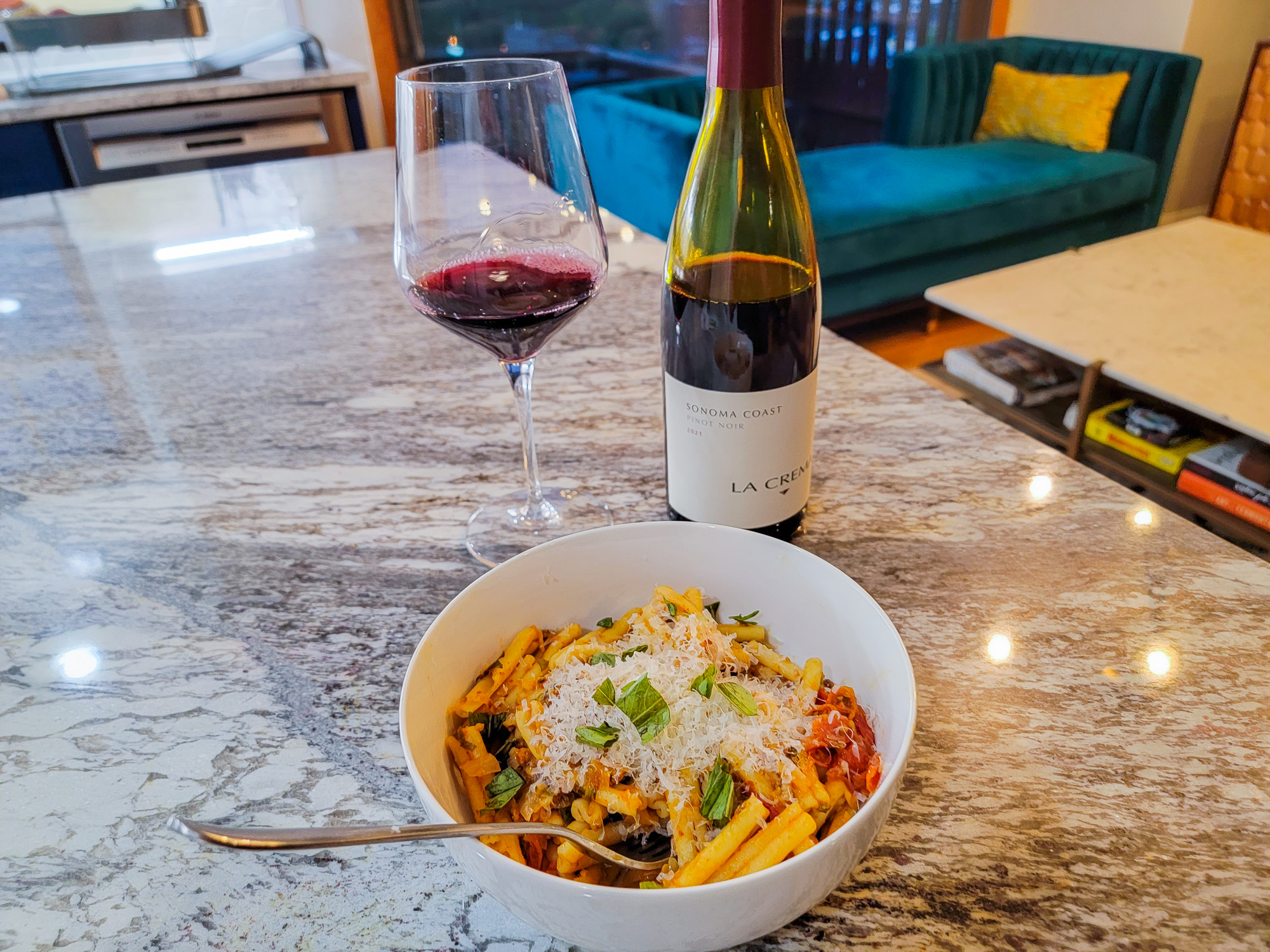 We paired this Pinot Noir with a simple pasta with a spicy tomato sauce as we thought the high acidity and red fruit flavors would be a nice compliment to each other. As we thought, the acidity was complimentary and held and a dominant plum note jumped out from the wine at large while reducing the barrel character.
So for our palate in not enjoying overtly oaky wines, this pairing was nice.
Score: 2.5 / 5
We are okay on this one, but would get a glass in the right context.
Overall, La Crema is one of those bottles we've seen virtually everywhere and always wondered what it was like. As it turns out, it is a well made Pinot Noir with relatively straightforward characters and restrained, albeit a bit heavier than we prefer, oak use.
This is one of those wines that we do not necessarily need to have again, but if we saw it on a wine list at a restaurant or bar and needed something reliable at a reasonable price point, we'd go for it without hesitation.
La Crema is located at 3575 Slusser Rd. in Windsor, CA. We purchased this bottle locally and enjoyed it in 2023. Wine.com also carried many bottles from La Crema at the time of publication.