Last Updated on August 5, 2023 by Jeremy
Disclaimers: We use demographic data, email opt-ins, display advertising, and affiliate links to operate this site. Please review our Terms and Conditions for more information. This website is intended for those of legal drinking age in your jurisdiction.
For many years, we would passively partake in the world of wine- be it for a day trip out to vineyards when traveling, infrequently ordering a glass of wine at a restaurant, or enjoying an occasional bottle at home with a meal. We liked wine, but we didn't know wine.
It wasn't until we took a trip out to California to explore Napa and Sonoma wineries that we traveled specifically for wine tasting, and our interest in diving deep into wine began to grow from there. As a result, we found ourselves going to more tasting events, enjoying wine bars in Pittsburgh, trying new varieties when we saw them on menus (which inspired this site), and taking more time to learn the why behind what makes a specific varietal or bottle a favorite.
Around this time we had heard about the international courses from the Wine & Spirit Education Trust (WSET) and decided to sign up for an in-person class. As we had already sampled many kinds of wine, traveled to several dozen vineyards, and knew a bit of the science behind winemaking, we opted to skip straight to the eight-week WSET Level 2 course- and very soon after starting, we realized it was the perfect course for us.
In this WSET Level 2 review, I want to share a bit more about why that is, and what you can expect if you sign up.
Note: We both took the WSET Level 2 exam in late 2020. Test material and structure can and does change over time. We both passed with distinction.
WSET Level 2 Connects the Dots About Wine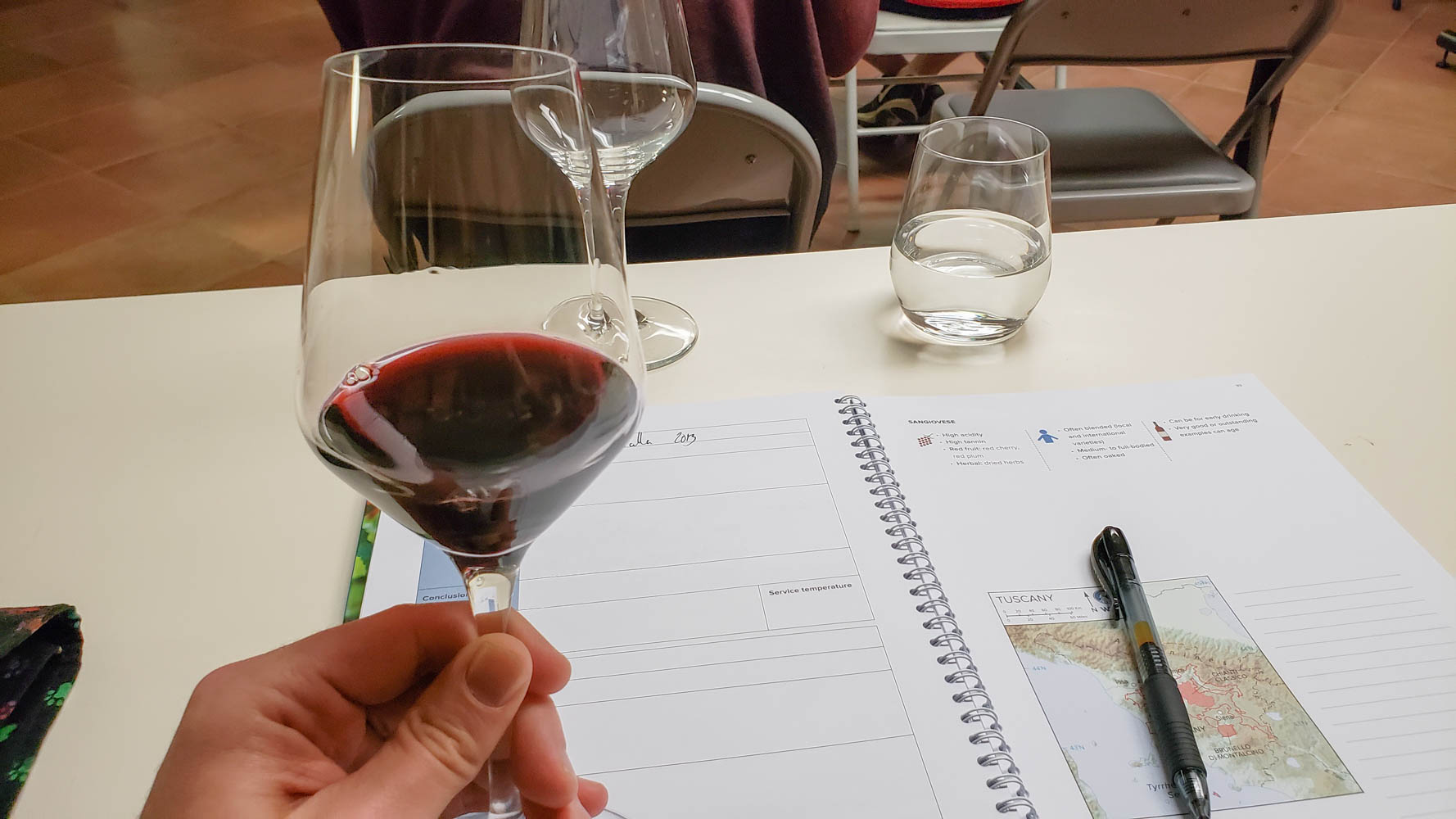 The eight-week WSET Level 2 course is designed for those who want to go deep into wine, but also already know a bit about wine at large.
If you have been to a few wine regions, have a rough understanding of how wine is made, can reasonably hold your own in a tasting (identifying dry vs sweet, describing tannins and acidity, being able to roughly identify flavor components you like, etc), have sampled several of the more popular varietals out there, and are willing to push yourself hard, then starting out at this level may be for you. Otherwise, you may want to start with Level 1 to cover a bit more of the basics.
Early on, our instructor made a statement that was the most accurate representation of this course we've ever heard. It amounted to the following: "Level 2 teaches you what you didn't know you didn't know about wine."
To break this down, you probably know some aspects of wine you do not understand very well (a known unknown if you will). My knowledge of the various styles of German Riesling was one of these. I knew of categories like Spatlese and Auslese, but I really didn't know what they meant. But there is also so much out there in the world of wine you simply didn't know existed at all (an unknown unknown). An example of this was my understanding of how the geography of Alsace, France, influences the growing of grapes and subsequently the flavor profiles that I enjoy in Riesling.
WSET Level 2 aimed to connect the dots here, and allowed us to go from regurgitating facts about wine and wine regions we didn't fully understand to being able to critically think about wine and get it.
As it turns out, it was much needed. It was also very, very intense.
What All is Included in WSET Level 2?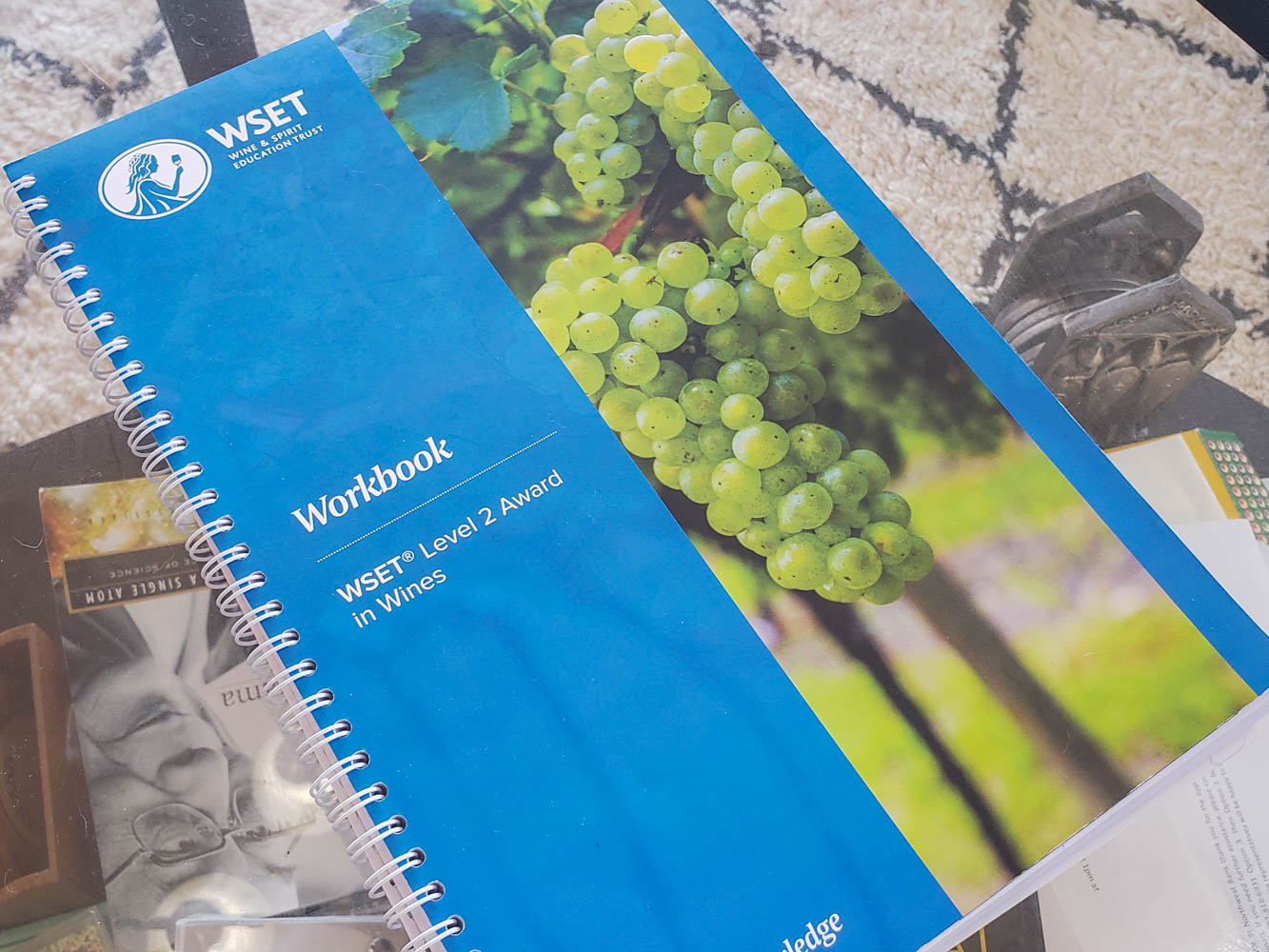 We opted to go through the eight-week WSET Level 2 in-person at Palate Partners in Pittsburgh. We had attended many informal wine tastings here in the past and absolutely loved the instructor so we knew that this was a great place for us to take this international course.
Part of the bonus of taking the class in-person, despite being slightly more expensive than its online counterpart, is that each week included a not-insignificant number of tastings that allow you to see how the lessons translate to the wines in front of you. Along with the personal instruction we received a rather robust textbook as well as a workbook for notes and tasting cards to help practice at home.
The reference book (and subsequently class structure) was broken up into four major sections:
Wine and the Consumer – All about tasting, pairing wine with food, plus storage and service.
Factors Affecting Wine Style and Quality – Grape growing and winemaking processes.
Grape Varieties and Still Varieties – Covering 30 unique grape varietals.
Other Styles of Wine – Focusing on sparkling (Champagne, Cava, etc) and fortified wines (port, sherry).
As mentioned at the beginning of this article, we joined WSET Level Two because we thought we had a relatively good understanding of some aspects of wine. This amounted to almost everything in the first two sections (in fact, we took a Level 2 practice test ahead of time and barely missed an answer in either of these sections). The third section, all about grape varietials, was our unknown unknown, and just so happened to be the bulk of the class and, by extension, the bulk of the WSET exam questions (naturally, we did horribly on this section in a practice test even when accounting for the multiple-choice nature of the exam).
In any given week, we'd take a deep, 2 1/2 hour dive into about four to six grape varietals and discuss things like the characteristics of the grape, regions in the world where it is grown, PDOs within those regions, the climate and terroir of said locations, flavor expressions and how they vary by ripeness or aging, and of course, tasting selected varietals as well.
This is where the course turns into information overload. Now we're not just talking about the flavors of Chardonnay in a general sense, but rather the flavors expressed in cool climates (green and citrus fruits) vs the flavors expressed in warm climates (more stone and tropical fruits), the flavors oak imparts, as well as the flavors imparted from malolactic fermentation.
Then there are the growing regions. You may know Chardonnay grows in California and France, but in WSET Level 2 you dive down into much much more. In Burgundy alone we learned about the grape being grown in Bourgogne AOC, Chablis AOC, Mersault AOT, Puligny-Montrachet AOC, Macon AOC, and Pouilly-Fuisse AOC to name a few. Then there was also California, Oregon, Australia, New Zealand, Chile, and South Africa plus many respective sub-regions as well.
Repeat this for 29 more grapes and you can understand our use of the unknown unknown phrase. I can assure you that there is so much to wine that you simply don't know what you don't know, and this class will hit you with it- hard.
The good news is that not all grapes are as in-depth as Chardonnay. Some, like Garganega, only get a paragraph about the grape, a highlight of one specific growing region in Italy (Soave), a brief write-up of flavor expressions, and more.
The bad news is that the course is designed such that you are supposed to understand the relationship of geography, terroir, climate, and more to make the leap into understanding aspects that are not overtly stated in these smaller sections. The book states Garganega has notes of green fruit, citrus fruit, and some stone fruit, and at this point in the class you should be able to make the leap to understand that Soave is in northern Italy, in a more moderate climate, and thus the grapes can only ripen so much (and therefore is likely why only these flavors are expressed).
I am being a bit general here in this review to highlight the fact that the course is teaching you how to think about wine as much as it is actually teaching you about wine varietals themselves. I can safely say that at the end of the course I have a more robust appreciation for how all these aspects work together and produce a flavor expression in any given glass, but I am also equally terrified about the volume I still yet to know (as WSET has even more robust Level 3 and Diploma courses that follow Level 2- of which I hope to take both in the coming years).
All this leadup is to prepare you for the end of the course- the exam.
You Have to Study for the WSET Level 2 Exam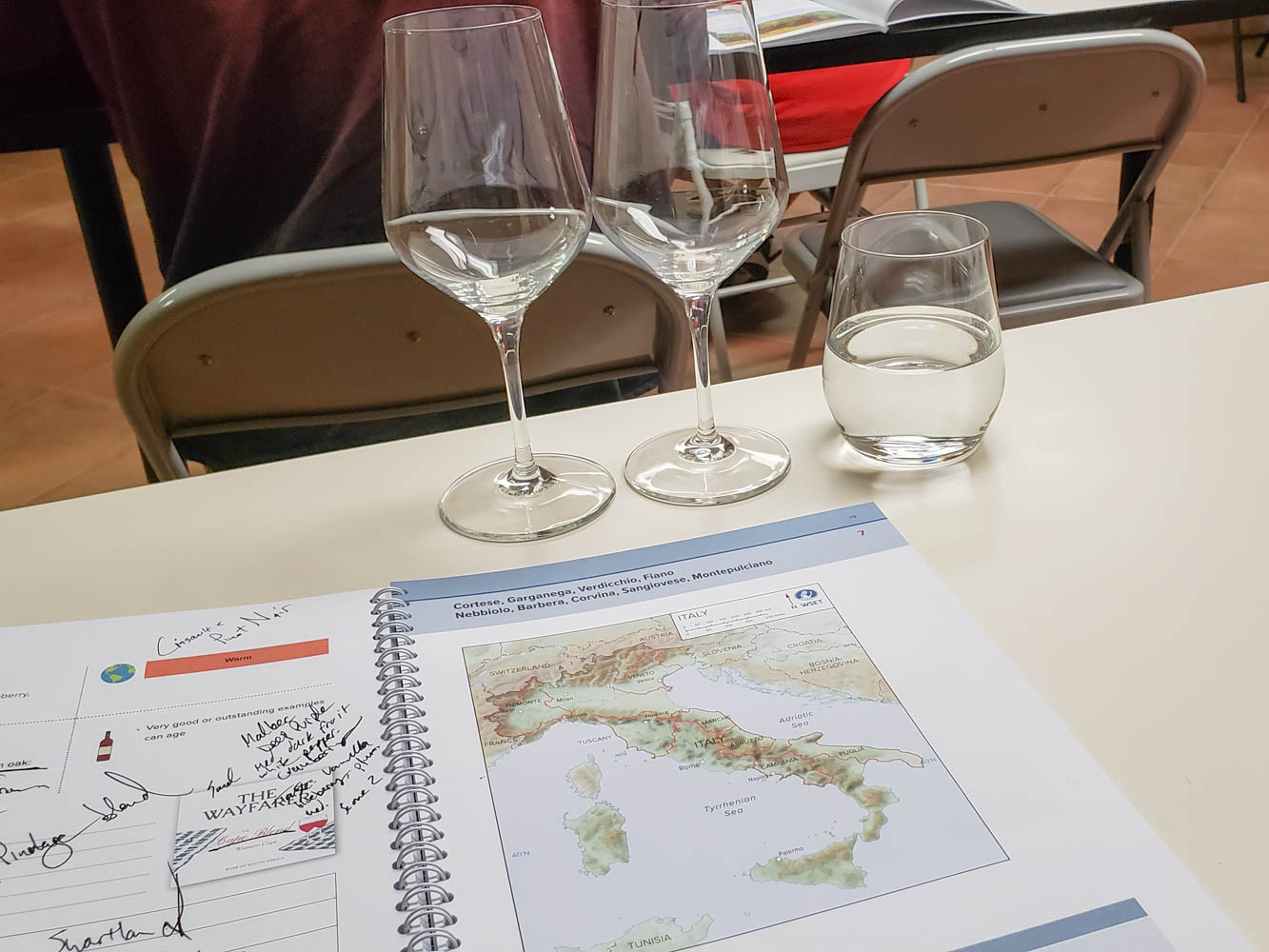 The final exam for WSET Level 2 occurs on the last week of the class and is a 50 question, multiple-choice test to challenge you on everything you learned before it.
The good news is that the test only asks questions about topics taught in the Level 2 book itself (our instructor very quickly told us to ignore non-WSET resources when taking this class), but the bad news is that you are expected to understand the leaps that are glossed over as highlighted above. As such, you have to study. A lot. Flashcards, workbooks, and practice exams reviewed weekly are a necessity for this class, especially if you want to pass with distinction (85%+ score- we are still waiting on our results to see if we hit this one).
Thankfully, WSET Level 2's test is not the most difficult style of exam out there. There is no tasting component (much to Angie's delight, that comes in Level 3) and many of the multiple-choice questions can be figured out through critical thinking if you can apply logic based on what you've learned in the course.
In a question about AOCs in Burgundy, they may give you an answer or two containing AOCs in the Loire Valley or Northern Rhone. Or they may throw in a white grape characteristic when they're asking about a red varietal. Or they may mention Garnacha (Spanish) but give an answer choice in France (where it is called Grenache). If you take a moment to reflect, odds are good you can cross out a couple of gotcha answers right away- although this is not always the case.
When we took the same practice test over again at the end of our program that we mentioned at the start of this review, the parts that we failed miserably seemed like a breeze. We learned what we didn't know we didn't know, and despite the journey being an intense one it was among the more rewarding classes we've ever taken.
So, How'd We Do on the Test?
As with most tests, we walked away discussing our answers and quickly found one that we differed on but both agreed was worded poorly and could have gone either way. We both had it down to two choices and more or less went with a gut feel for the best fit. After consulting the book we both came to the conclusion that I was probably right.
We took our test during the pandemic, so we knew our scores would be delayed and it took exactly eight weeks for us to get our results.
Well, it turns out, Angie scored 100% and I got a 98%- so even after consulting the book and our agreement that I was likely right on that one particular question, this was not the case. I could argue that the wording was still bad, but honestly this was the best-case scenario so we'll take it- pass with distinction for both of us!
Onward to Level 3 and more unknown unknowns!
The Wine & Spirit Education Trust (WSET) is an international program focusing on wines, spirits, and sake to name a few. Classes are taught both online and in-person all over the world.