Last Updated on June 8, 2022 by Jeremy
Disclaimers: We use demographic data, email opt-ins, display advertising, and affiliate links to operate this site. Please review our Terms and Conditions for more information. This website is intended for those of legal drinking age in your jurisdiction.
During our first visit to Washington, we wanted to head out to the eastern side of the state to go wine tasting. But we quickly found out that many wineries operate wine tasting rooms near Seattle as opposed to in the wine regions proper. So we stuck with wineries near Seattle and it ended up being a great trip.
When I had a chance to head to the eastern side of the state for a conference, I was ecstatic to be able to try out the wineries in Tri-Cities and its nearby surroundings (particularly Red Mountain AVA).
While I was only able to visit a handful during the visit, they ended up being quite lovely stops all around. So whether you are fans of Cabernet Sauvignon, Merlot, Syrah, and others, this region is for you and we've got a number of great wineries for you to consider!
Kiona Vineyards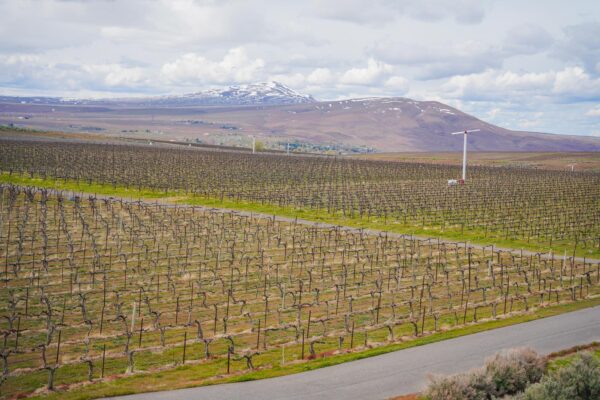 Kiona Vineyards is highly regarded in Red Mountain AVA for a number of reasons, with perhaps the biggest being that they were the first to plant grapes in the region (in 1975 no less).
Since then, the winery has expanded to become one of the premier destinations in the region with a stellar tasting room, one of the best views out of any winery in the area, and an impressive wine portfolio that includes Bordeaux style blends (Cab and Merlot), Rhone-style wines (Syrah), and other more unconventional options for the region like Malbec, late harvest and ice wine Chenin Blanc, and a whole lot more.
So while you may visit this one for its history and views, odds are good you'll definitely be leaving with a bottle (or three) while you're at it.
Kiona Vineyards is located at 44612 N Sunset Rd in Benton City, Washington.
Fidelitas Wines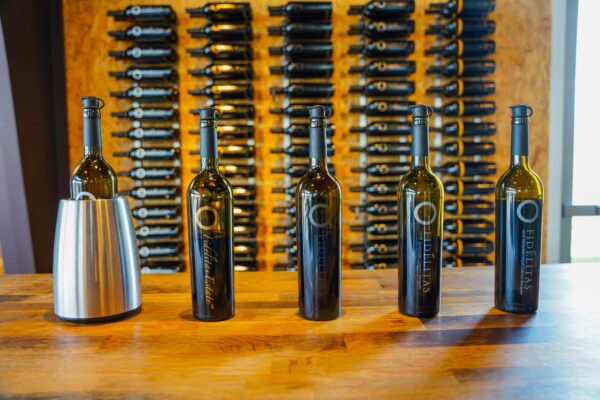 Fidelitas Wines (Latin for fidelity) is primarily a Bordeaux-inspired winery in Red Mountain with a strong product lineup of Cabernet Sauvignon, Merlot, blends of the two, as well as Malbec.
If intense, bold red wines with that characteristic Bordeaux flavor are what you seek, this one will certainly not let you down. The winery offered what is perhaps some of the most intense red wines of any winery I visited in Red Mountain, but also came at a price to match- this one you'll be hard-pressed to walk away with a bottle for under $50!
Still, between the flight and the stellar views, you can't go wrong with a stop here.
Fidelitas Wines is located at 51810 N Sunset Road in Benton City, Washington.
Bartholomew Winery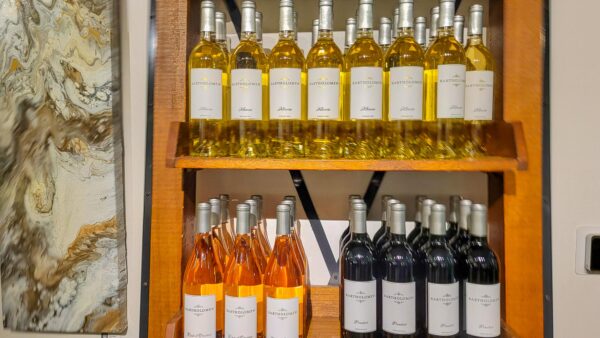 To visit Bartholomew Winery, you won't be making the trip out to Red Mountain, but instead will be staying inside the Tri-Cities in Kennewick!
This is because Bartholomew is an urban winery in the Columbia Gardens Wine & Artisan Village- a multi-vendor space in Kennewick that is home to several wineries (that I was, unfortunately, unable to sample) and more.
Bartholomew stood out to me in particular because their wine list is among the most unusual we've seen in Washington. Beyond popular Bordeaux and Rhone styles of Cabernet Sauvignon, Merlot, and Syrah, this one goes out there with more unique grapes like Carmenere, Graciano, and a fortified "port" made exclusively with Sousao.
Despite these being unconventional grapes for Washington, the flavors sang here and I found myself sitting at the bar and working my way through every single bottle offered from this one (and purchasing more here than I have from anywhere else!). As lovers of more unusual grape varieties with our project here at The Grape Pursuit, it should be no surprise that this one ended up being a winner despite having an ambiance that felt more like a brewery than a winery!
Bartholomew Winery is located at 421 E Columbia Dr in Kennewick, Washington.
Goose Ridge Estate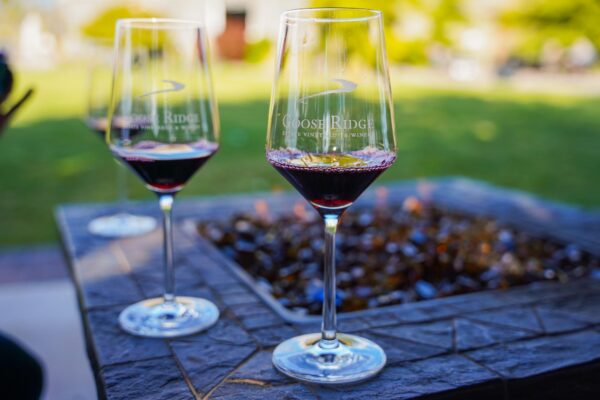 If there is any winery where we feel like we could hang out for a while, it would be Goose Ridge Estate. This one is so large that they encompass its own AVA (Goose Ridge AVA, shared with just a few small producers- don't miss a property tour if you can!) and its tasting room is as inviting as it is relaxing.
This one offers an impressive array of wines, including both Bordeaux and Rhone styles, and those who are into the high-end wines will do well to try a selection from their Reserve listing. The Syrah-based wines here offer up a wonderful complexity including GSM blends and Viognier co-ferment that would put some Rhone wines to shame.
Goose Ridge Estate is located at 16304 Dallas Rd in Richland, Washington.
Longship Cellars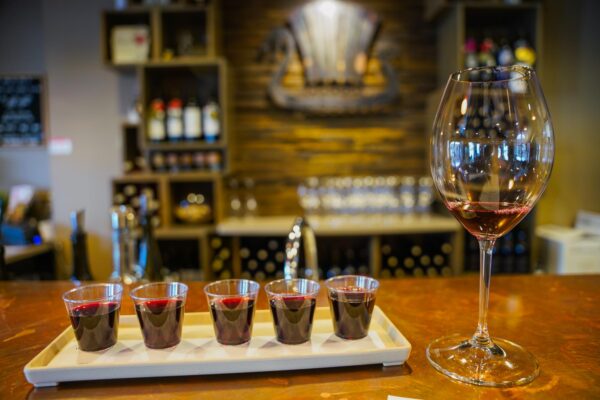 Interested in more wine in the Tri-Cities proper? You can walk to Longship Cellars if you are staying at Richland hotels like the Hampton Inn or The Lodge at Columbia Point.
This one is located in a small shopping complex right along the river trail and is an approachable wine bar made for a quick visit.
The winery has an interesting mix of wines including Bordeaux-based Cabernet Sauvignon and Merlot plus some less conventional options for the region like Riesling, Sauvignon Blanc, and even Tempranillo.
Flights here include set flights as well as pick-your-own as well; however, you'll do well to ask how many samples are included in each as the Reserve flight appeared to be fewer samples overall than the base flights during my visit. Still, this one makes for a perfect stop in Richland proper, especially if you are staying nearby as I was!
Longship Cellars is located at 404 Bradley Avenue Suite 100 in Richland, Washington.
Terra Blanca Winery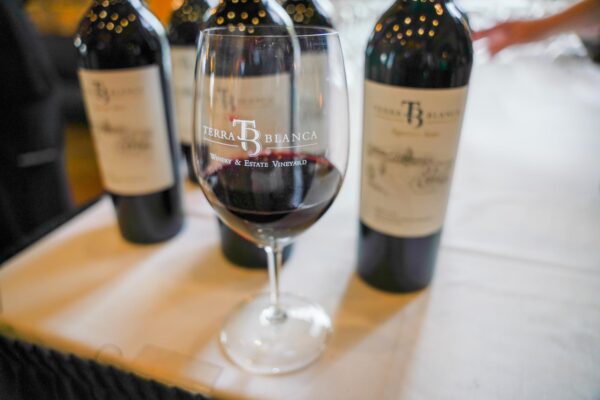 Terra Blanca Winery is one of those places that makes you feel like you're transported out of the country. The tasting room experience here feels more like you are at a villa in Tuscany over eastern Washington, and the wine matches the ambiance through and through.
Much like other wineries on this list, Terra Blanca focuses heavily on Bordeaux blends (Cabernet Sauvignon and Merlot) as well as Rhone styles (primarily Syrah) plus a few more unique options like Riesling Ice Wine and botrytized Chenin Blanc. Many of the wines here clock in at premium prices, but we also have to admit their Bordeaux styles were among my favorite found during this visit- they really got these to sing!
Terra Blanca Winery is located at 34715 Demoss Rd in Benton City, Washington.
Other Wineries in Tri-Cities to Check Out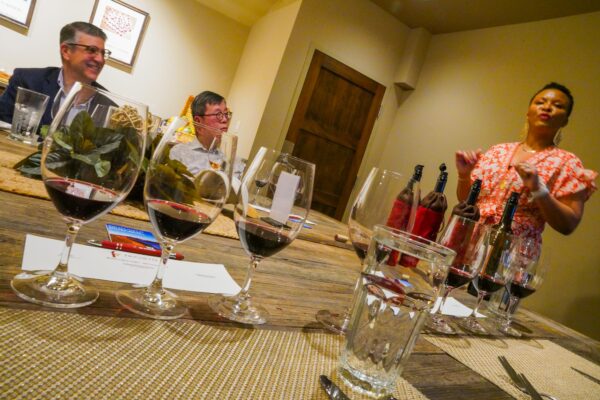 During my visit to Red Mountain, I was unfortunately only able to sample a few wineries as the bulk of my time was spent at a conference. On a future visit, I would love to check out some of the following which I was able to sample in passing or had rave reviews:
Kitzke Cellars
Frichette Winery
Hedges Family Winery
Hamilton Cellars
When it comes down to it, if you are fans of Cab, Merlot, Syrah, and other styles from the two iconic French regions, eastern Washington wineries should definitely be on your radar. So rent a car and go explore wineries near Tri-Cities next time you're in Washington!
Do you have a favorite winery in the Tri-Cities? Comment below to share!