Last Updated on July 20, 2022 by Jeremy
Disclaimers: This wine or experience was provided complementary for this review. We use demographic data, email opt-ins, display advertising, and affiliate links to operate this site. Please review our Terms and Conditions for more information. This website is intended for those of legal drinking age in your jurisdiction.
When visiting Tri-Cities, Washington, to go wine tasting, you may struggle with deciding where to stay in Richland, Pasco, or Kennewick.
Do you stay near the wineries themselves (with sparse infrastructure and amenities outside of the vineyards) or do you stay in the heart of one of the cities to be closer to the area restaurants and other non-wine based attractions?
If you want something that is a hybrid of both of the above, we have the answer for you- The Lodge at Columbia Point on the outskirts of Richland!
I was fortunate enough to stay at this one during a media trip during a conference in Tri-Cities and absolutely adored the property through and through.
The Lodge at Columbia Point is a Wine Lover's Dream Hotel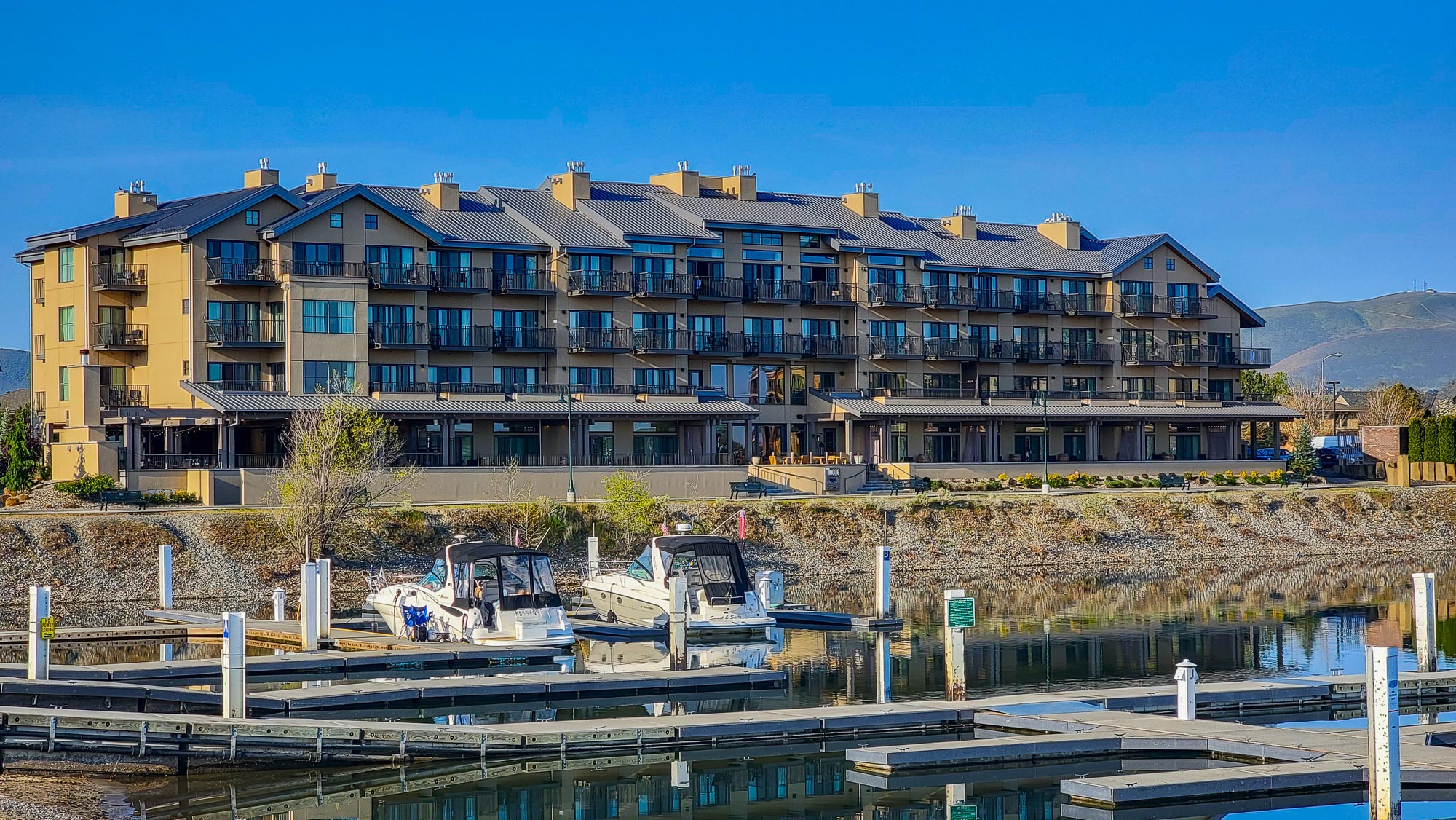 It doesn't take long after arriving at The Lodge in Richland to understand why this is the premier hotel for those visiting the nearby wineries. This one feels like a luxurious chateau in just about every respect except for the price point.
The entryway feels like a mountain retreat, complete with a fully stocked wine bar and fine dining restaurant, Drumheller's. The property is right on the water and steps from attractions like the Water2Wine cruise, Columbia Point Marina, and the Riverfront Trail. Most importantly, the rooms complete the ambiance by making you feel like you are transported to a mountain chalet all around with relaxing beds and some luxurious amenities (especially in the premium riverfront rooms).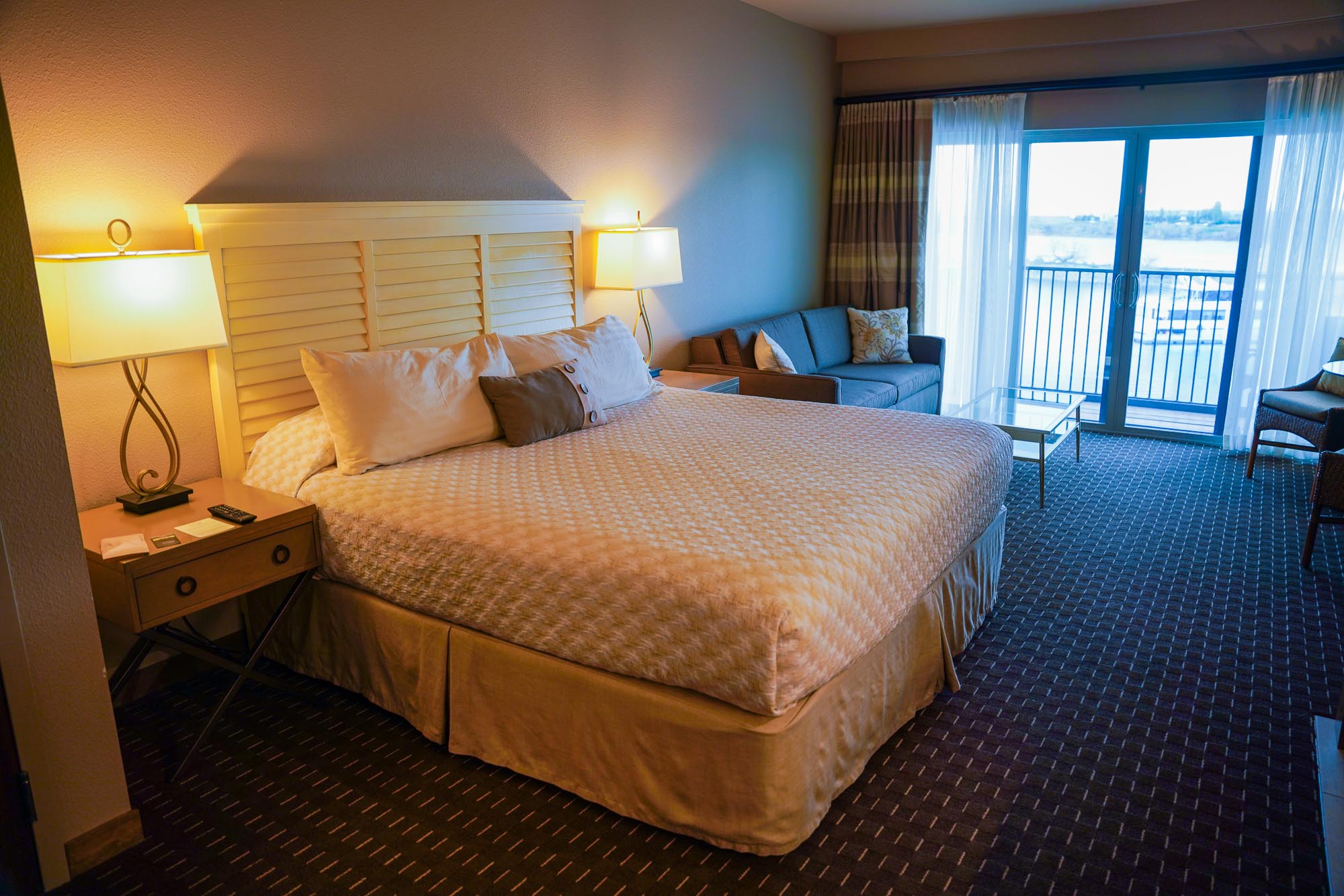 To put it bluntly, this is no conventional chain hotel like you'll find elsewhere in the Tri-Cities, and the ambiance here simply puts you in the right mood for getting out to explore Red Mountain vineyards.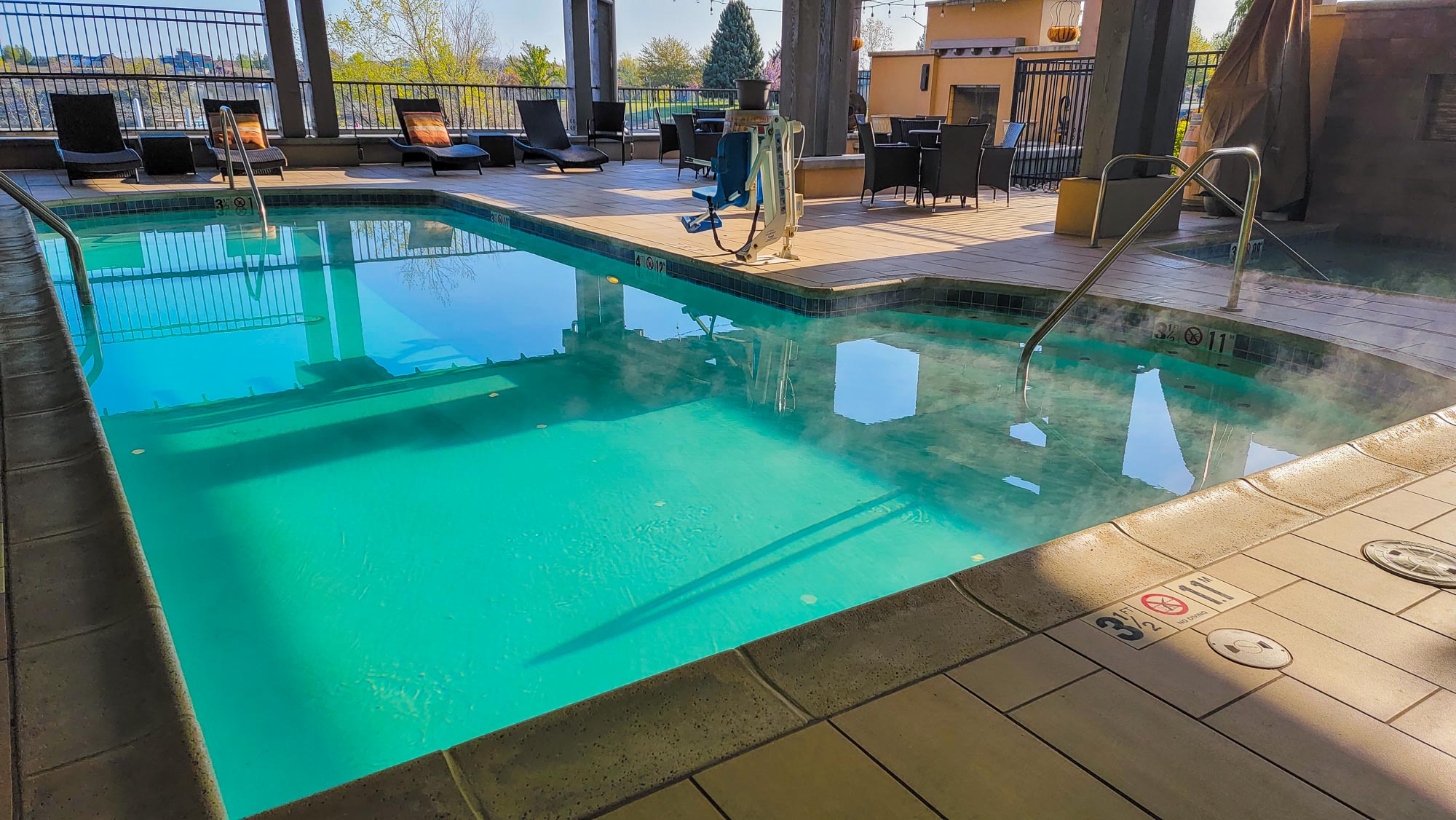 So what can you expect of the property beyond a comfortable room? Let's talk about that!
Hard to Beat The Lodge's Location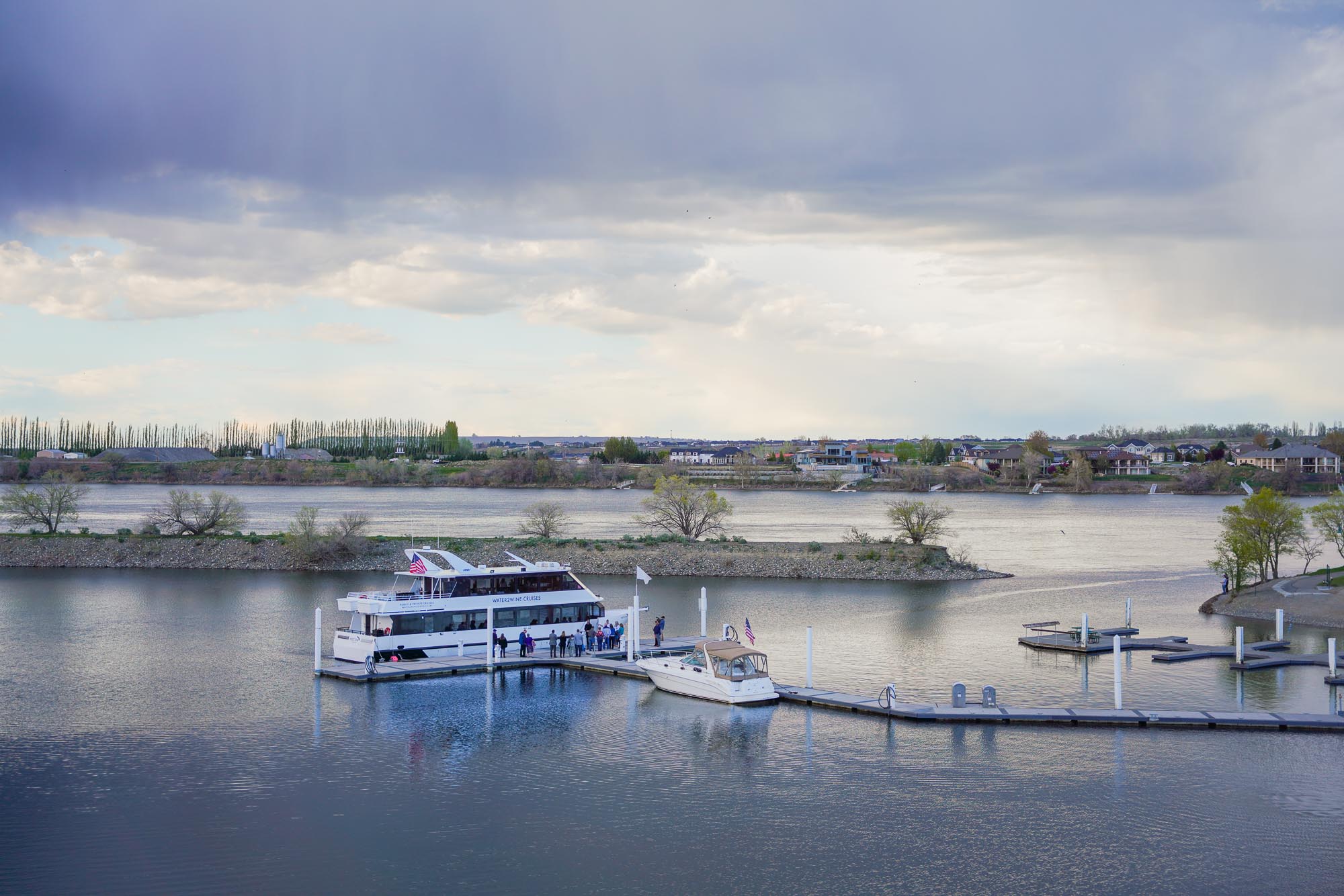 We briefly mentioned that The Lodge has a great location, but that is really just scratching the surface.
The hotel is located right on the Columbia River and has quick access to the Riverfront Trail that can lead you to several gorgeous parks, Longship Cellars, the boat tour as mentioned above all within an easy walk, and more area sights like the REACH Museum, Bateman Island, and more if you have access to bikes to explore a longer distance. Those who are fortunate enough to get a river view room will have a stellar view of the harbor as well.
But there is another perk to the location- being on the outskirts of Richland means you are one step closer to vineyards and wineries at large! Local favorites like Goose Ridge Vineyard, Terra Blanca, and Kiona Vineyards are all just about 15-17 minutes away by car.  (If you were staying in downtown Pasco or Kennewick, the other two of the three Tri-Cities, you'll want to add on 10-15 minutes depending on the property!)
So while The Lodge has a great location for the ambiance element alone, it is also a strategic one as the gateway to Red Mountain AVA proper (plus other wine regions further away).
Drumheller's Restaurant and Bar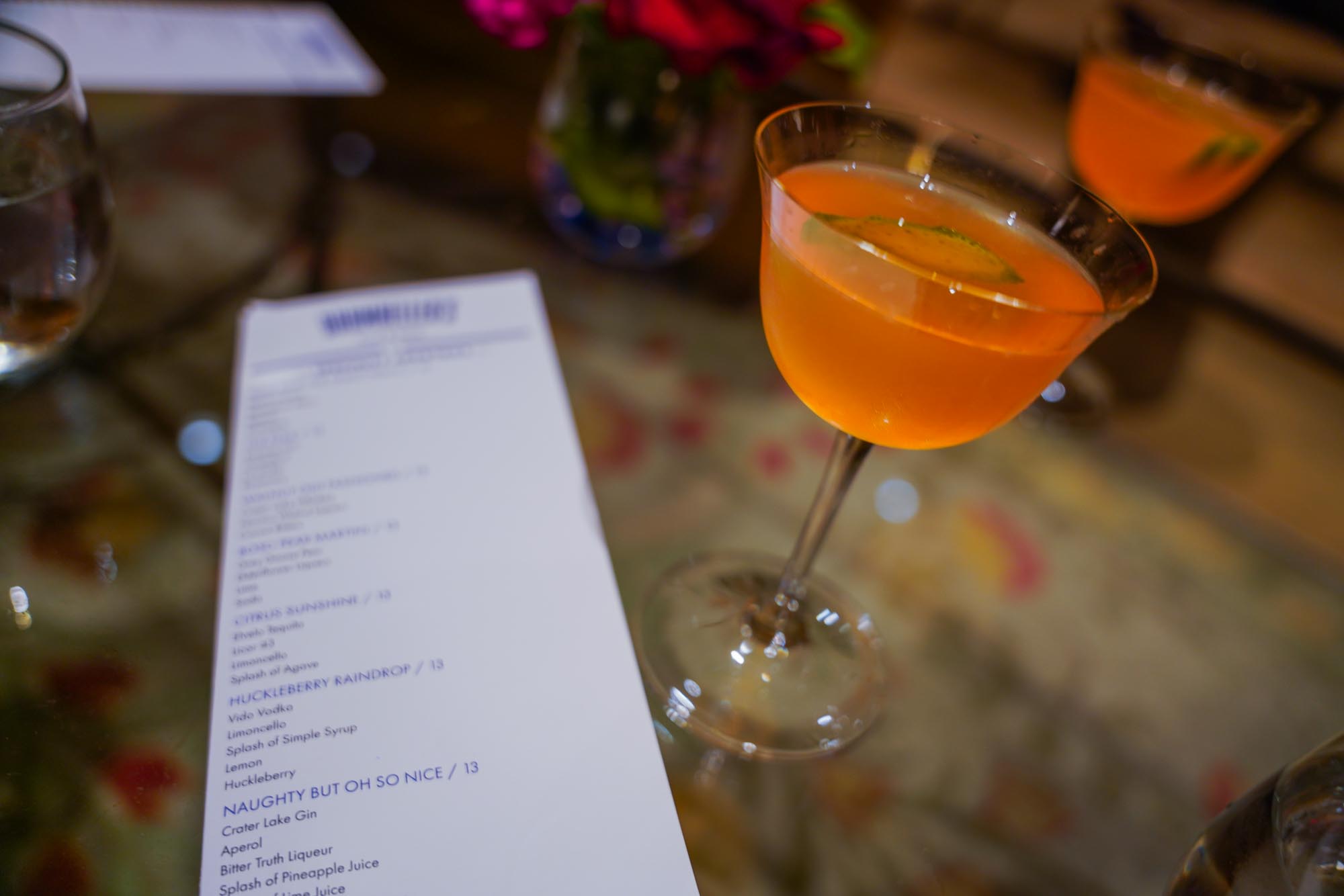 In some cases, we often sample the menu at hotel restaurants and bars and leave disappointed. At The Lodge, I was clamoring for another reservation.
This is because Drumheller's offers up a pretty exceptional meal with some rather delicious wines and cocktails available as well. Think appetizers like scallop crudo and fried yucca, entrees like ricotta gnocchi, steelhead trout, and rack of lamb (which was cooked to perfection during my dinner), and wine pairing recommendations from producers all across Washington State.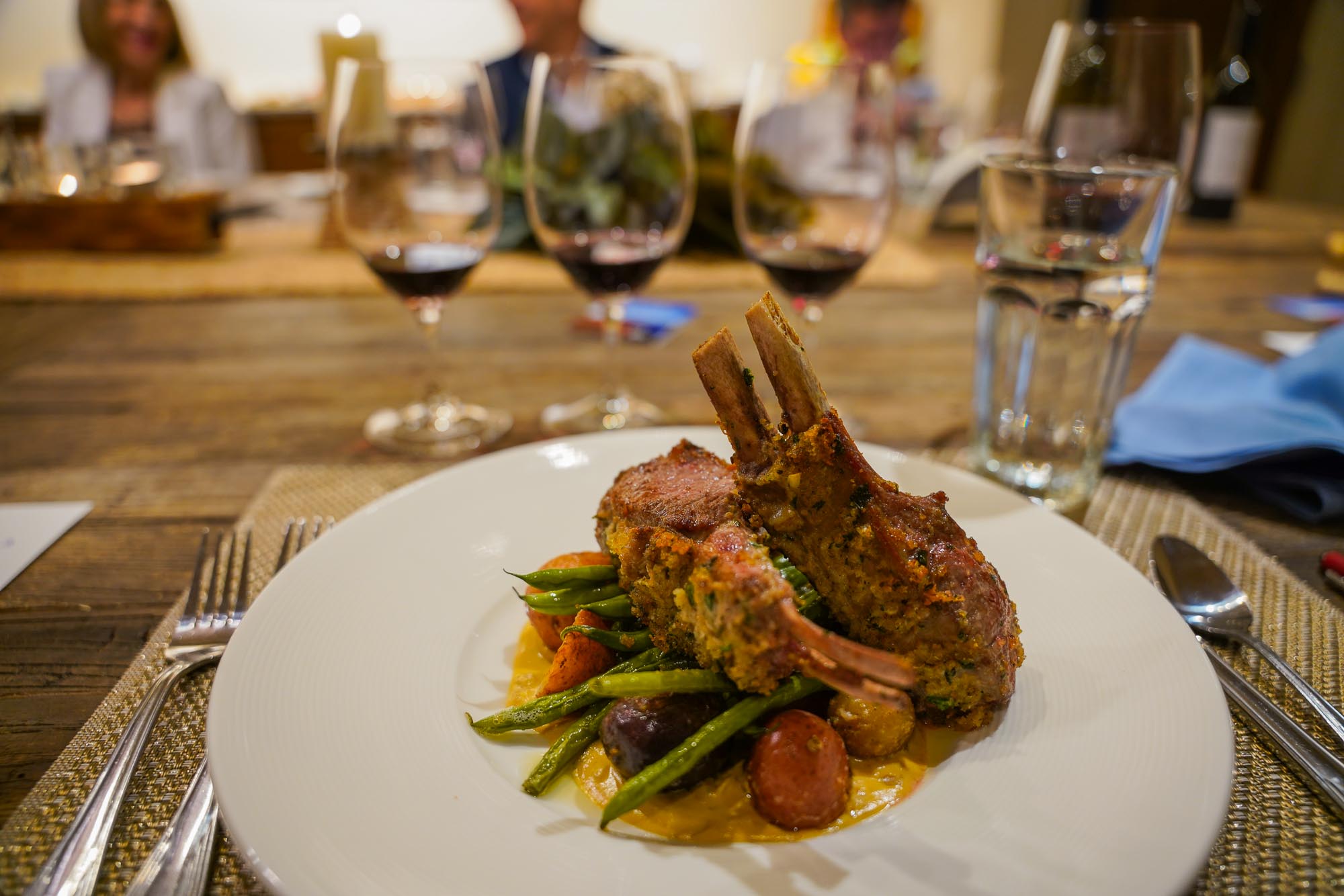 For those who would rather end their day with a non-wine cocktail, you're also in luck because the on-site cocktail bar makes some stellar house creations like the Citrus Sunshine (tequila, Licor 43, Limoncello, and agave), Huckleberry Raindrop (vodka, limoncello, simple, lemon, and huckleberry), and takes on classics like a walnut Old Fashioned to name a few.
As such, while I really expected to simply be staying at a nice hotel to get out into the wineries, I was pretty blown away at the amenities to enjoy on-site- wine-oriented and otherwise. So if you're looking for a relaxing hotel with lovely amenities all around during your time exploring wineries near Richland, you know where you have to stay- The Lodge at Columbia Point is a truly great option!
The Lodge at Columbia Point is located at 530 Columbia Point Drive in Richland, Washington. I was hosted as part of a press trip. As always, all opinions are my own.