Published Jeremy. Last Updated on March 3, 2023.
Disclaimers: We use demographic data, email opt-ins, display advertising, and affiliate links to operate this site. Please review our Terms and Conditions for more information. This website is intended for those of legal drinking age in your jurisdiction.
Shenandoah Valley has been making a name for itself as a prominent AVA for Virginia grapes, and during my travels around northern Virginia (exploring places like Skyline Drive and Shenandoah Caverns), I was fortunate enough to visit several wineries and vineyards near Shenandoah National Park.
If you find yourself nearby and are in the mood for a glass of wine, a flight or simply want to have a great view while picking up some bottles to go you'll do well to check out the following wineries in Shenandoah Valley!
Note: The wineries featured in this guide are geographically in what we'd consider northern Virginia, but not the Northern Virginia AVA (a separate wine region to the east). All of the wineries below are featured in Shenandoah Valley AVA but we hope to add more spots from nearby AVAs like Northern Virginia and Monticello in the future as they are all within close proximity!
Shenandoah Vineyards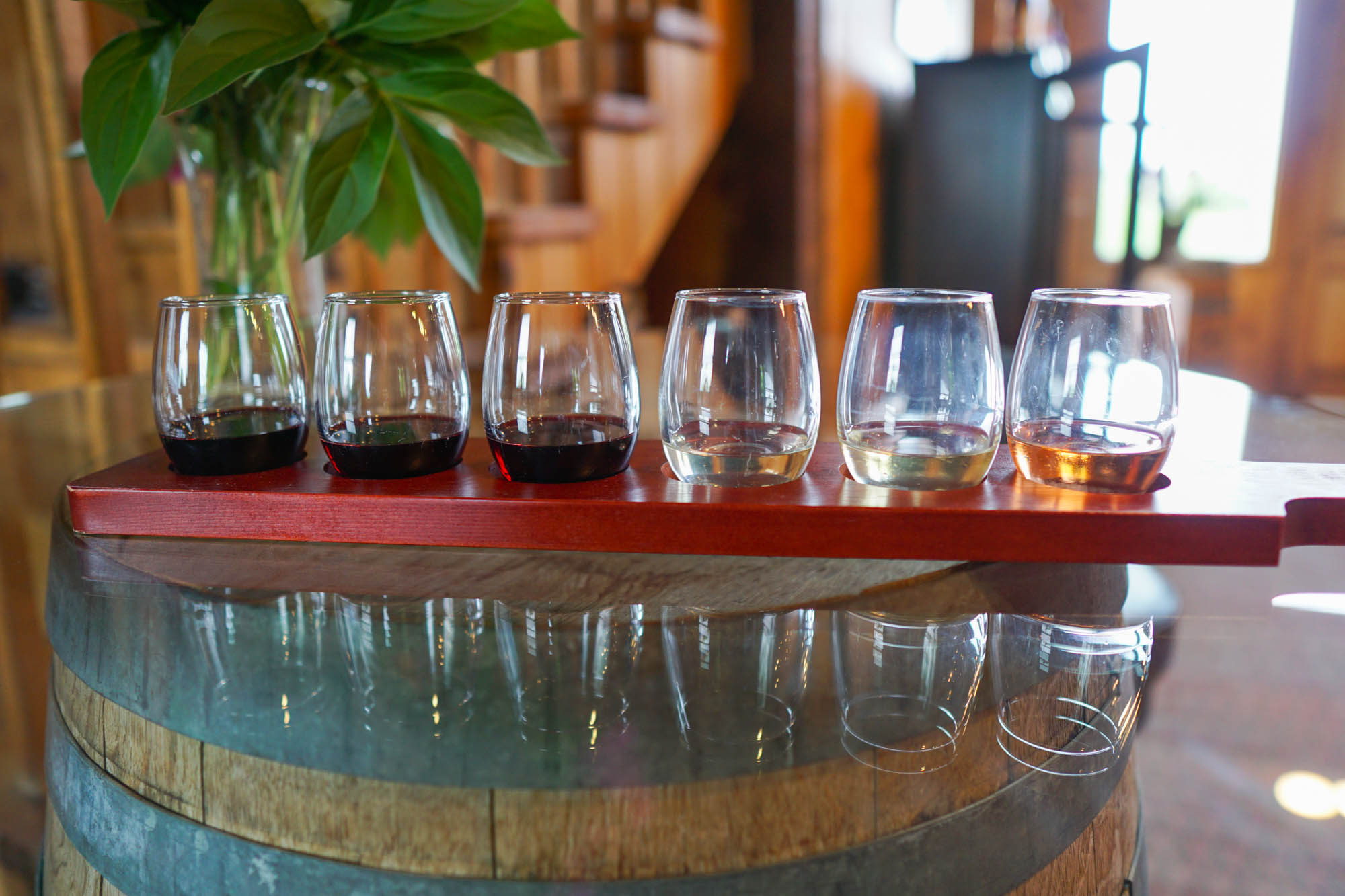 Shenandoah Vineyards is considered to be the 2nd oldest vineyard in Virginia and is home to many legacy vines. But while this one has a history tracing back to 1976, production at the winery slowed down a fair bit until it changed ownership in 2018. Since then the winery has ramped back up production and now has a wonderful portfolio of wines you need to try during a visit.
During my stop, I was able to try a six-wine flight including their house rose, white blend, reserve blend, single varietal Pinot Gris and Cabernet Franc, as well as a Cabernet Sauvignon that included 10% Merlot. It was here that I learned just how much I like the white and roses from northern Virginia as the flavor profiles were quite exceptional with the Blanc white blend having delightful tropical flavors with an off-dry sugar profile and the Rose featuring clean red fruit flavors as well as some citrus and tropical undertones (likely thanks to having some Petit Manseng in the mix).
I was able to round out my flight with a sampling of the vineyard's Chambourcin which to date has been my favorite iteration of this varietal for having some strong acidity, an off-dry sugar profile, and notes of dark fruit as well as minerals that were not overbearing. Delightful!
Shenandoah Vineyards is located at 3659 S Ox Rd in Edinburg.
For our individual reviews of Shenandoah Vineyards wines, check out their Blanc 2018!
Muse Vineyards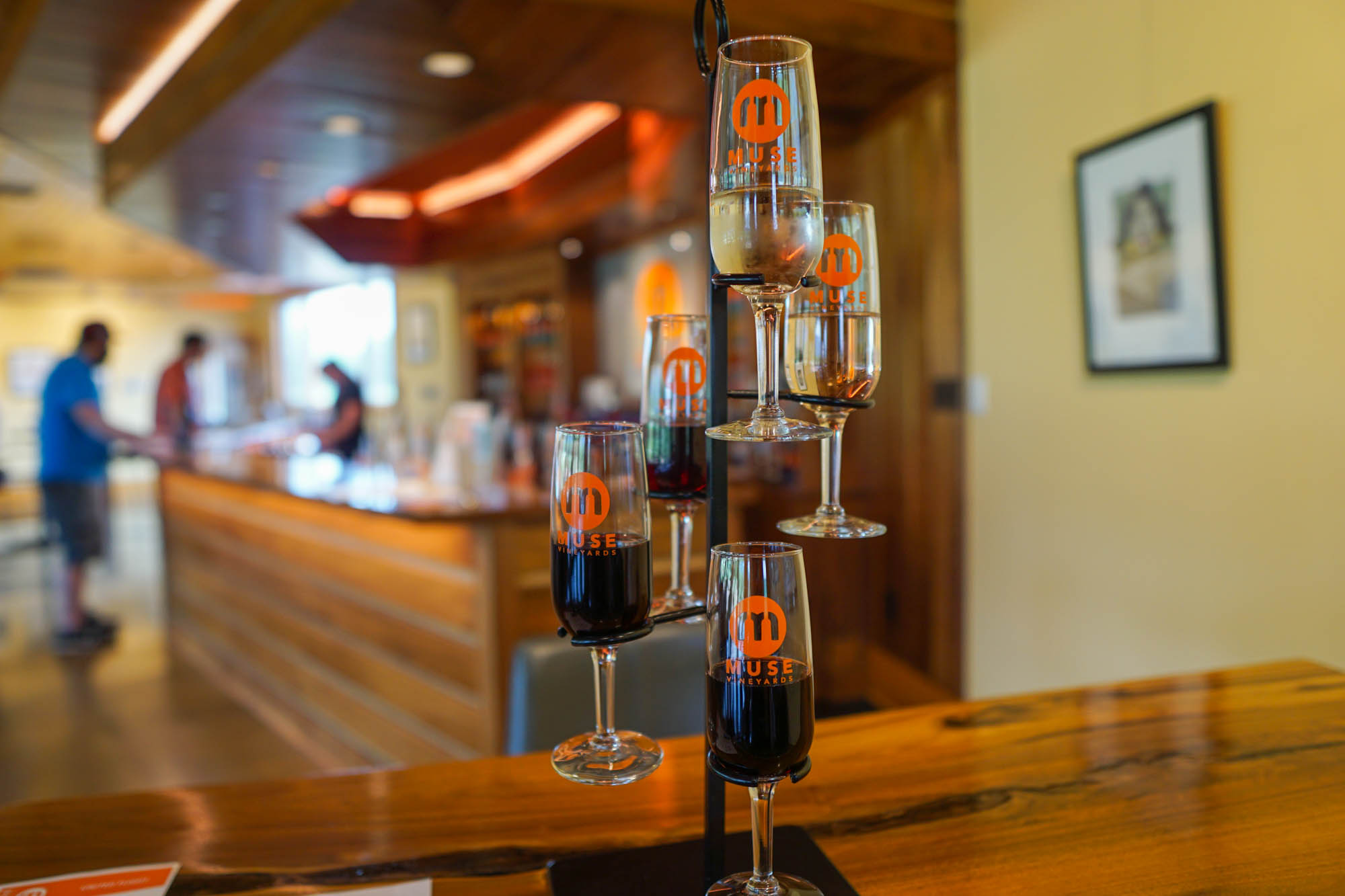 If there was an award category for "most beautiful tasting room", Muse Vineyards would certainly be in the running. This one is immensely gorgeous inside and out and offers a tasting room experience that is unlike any other I visited on this trip.
The five wines that came in the flight were pre-selected and included a white blend with Muscat Blanc, Sauvignon Blanc, and Chardonnay, a Cabernet Franc, a rose of Cabernet Franc, a red wine blend of Cabernet Franc with Petit Verdot, Cabernet Sauvignon, Malbec, and Merlot, as well as a single varietal Petit Verdot- all served in a beautiful tasting flight that is a feast for the eyes.
If you fancy yourself a Cabernet Franc lover, this is the kind of flight for you because it was rather interesting to see how this one grape expressed itself in a single varietal bottle, a blend, and as a rose. To me, these were the core three to enjoy on this one and the white blend and tannin-forward Petit Verdot were just extras to enjoy on the side!
Muse Vineyards is located at 16 Serendipity Ln in Woodstock.
North Mountain Vineyard
When you approach North Mountain Vineyard, you may do a double-take as the tasting room's architecture harkens back to something out of Europe- not northern Virginia. Then when you get to the wine list you will have that feeling even more as the winery has some pretty unique wines for the region, specifically Gruner Veltliner and a Zweigelt rose- two popular Austrian wines!
The one downside I had from my visit to North Mountain Vineyard was that the flights were separated out to red or white flights, but as I had visited other wineries before this one I realized I was gravitating towards the region's whites so that made an easy decision for me. Here, I was able to sample the two Austrian varietals mentioned above plus a Vidal Blanc, Chardonnay, and Riesling to round out the list.
Personally, while I enjoyed the sharp acidity and flavor characteristics in the more well-known whites, it was the two Austrian grapes I left thinking about the most. The Gruner Veltliner had all the hallmark characteristics you'd expect from this grape (but was perhaps a bit lighter in the minerality department- likely to its benefit for most palates). The winner above all others was the Zweigelt rose as it was quite complex with intense flavors of red fruit, citrus, and more all with a nice acidity to pull it all together. I ended up returning to buy three bottles of this one to take home- it was perhaps the best bottle I was able to sample in all of Virginia!
North Mountain Vineyard is located at 4374 Swartz Rd in Toms Brook.
Cave Ridge Vineyards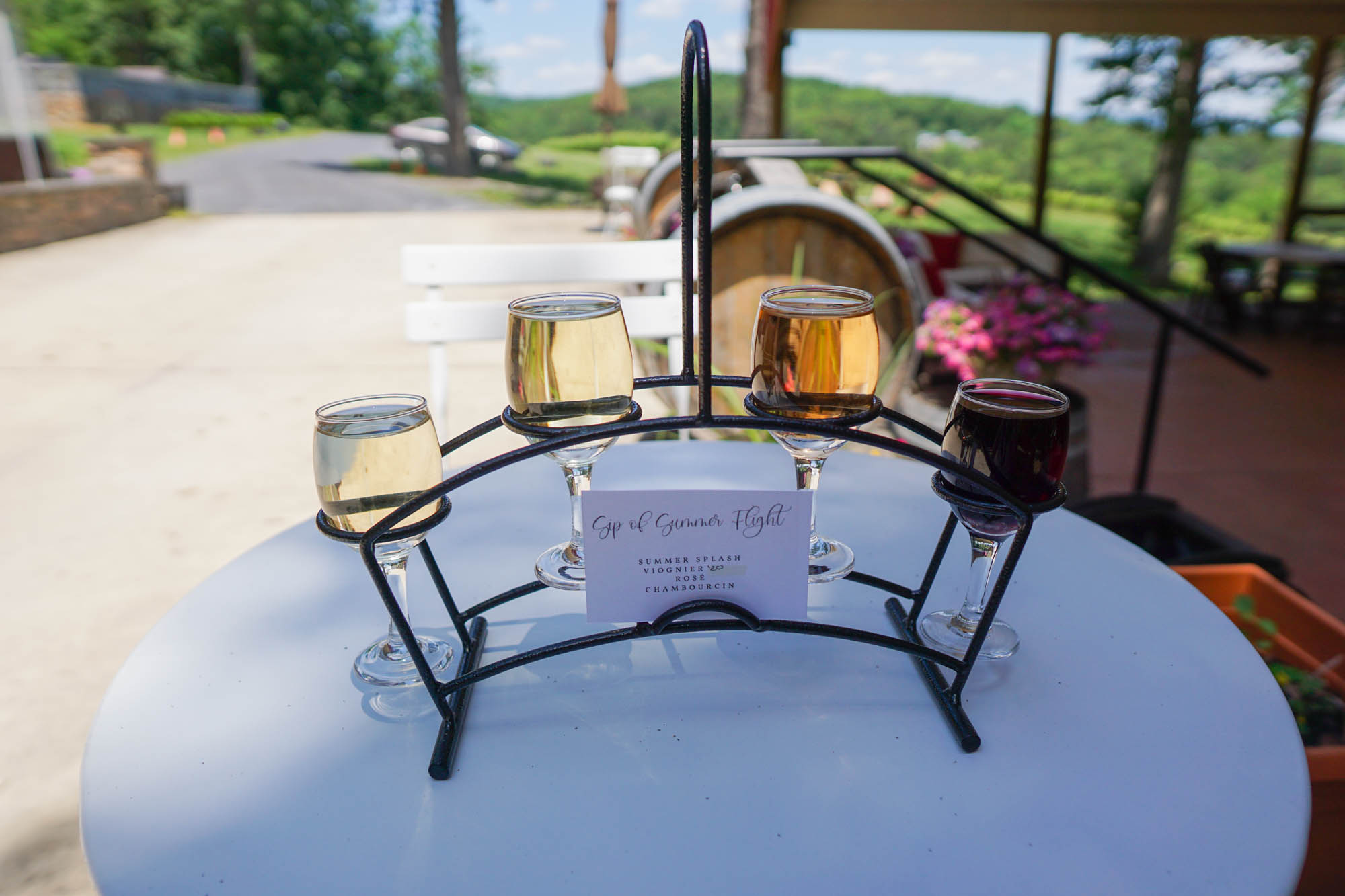 If there is one vineyard in Shenandoah that you should visit just for its views, it would be Cave Ridge Vineyards. This is the kind of spot that I was asking myself "where am I?" over and over again on my drive out as it is quite remote, but as soon as the vines come into view you'll know that this one is special.
Why is that? Well, the tasting room at Cave Ridge is situated on a hilltop, with wine-covered slopes spreading out for quite some distance. Then on the next ridge over, all in the same eyeshot, you see the gorgeous forests covering the mountains that make Shenandoah famous. I enjoyed this view so much that I stayed for a glass of their sparkling Pet Nat after my flight simply to soak it all in- it was that beautiful.
As for the wine, I went for the Sip of Summer Flight which included a Summer Splash blend (containing Traminette and Chardonnay), Viognier, Rose, and Chambourcin. Once again, the white blend and rose hit me especially well here thanks to their intense flavors, high acidity, and a not-too-noticeable amount of residual sugar to tie it all together.
But if I am to be honest, the sparkling Pet Nat was my favorite (winner of a Silver in the 2021 Virginia Governor's Cup) as it had a complex flavor profile, notes of lees aging, all while not having the traditionally wild and funky flavors you normally expect from a Pet Nat. If you like a solid sparkling white, this one is worth getting a glass of during your visit, and I left with a bottle that we drank all of about three days later.
Cave Ridge Vineyards is located at 1476 Conicville Road in Mount Jackson.
Kindred Pointe Winery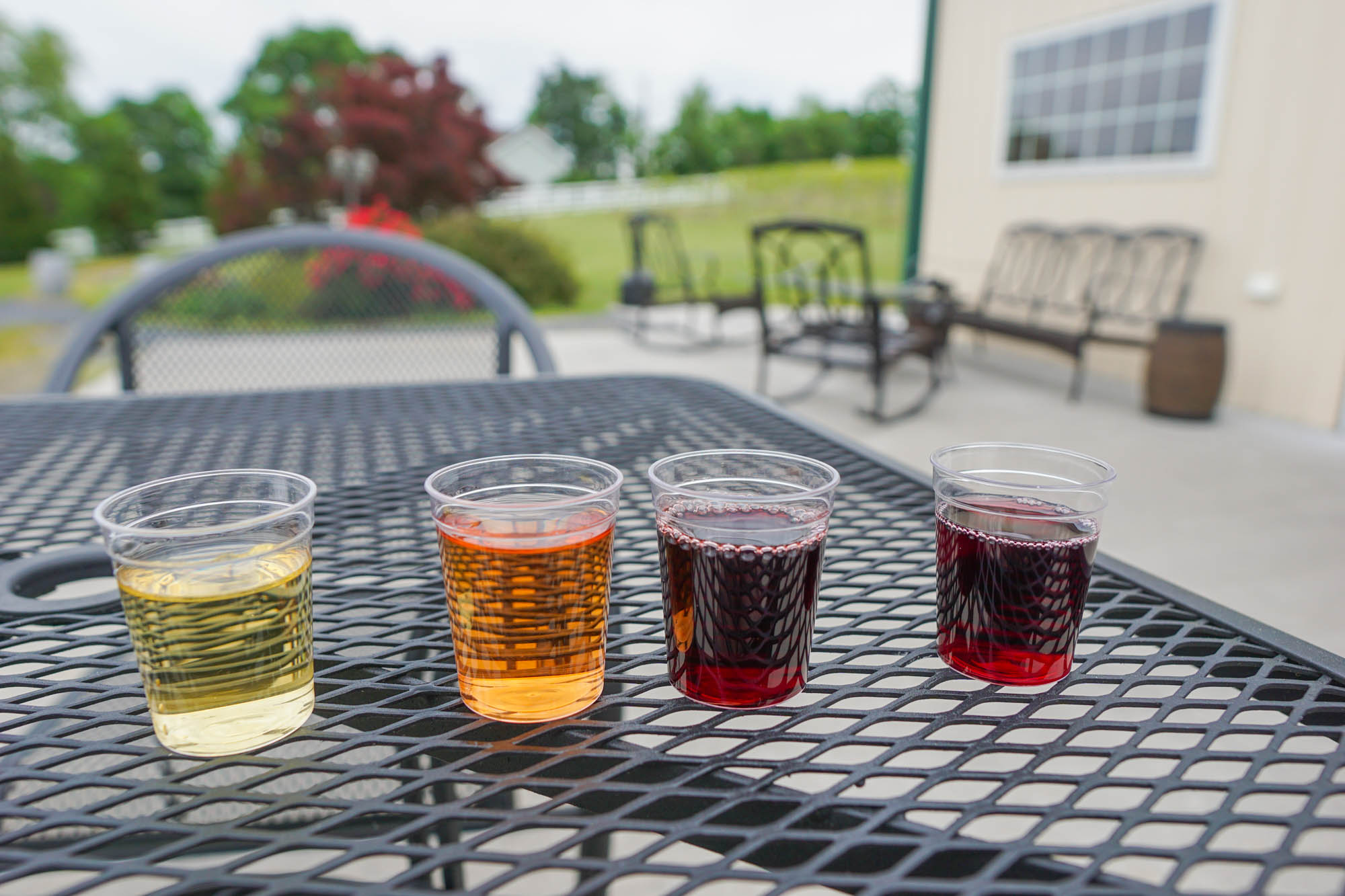 The Winery at Kindred Pointe was the last winery I visited in northern Virginia and was unique in that you could pick your own wines for your flight.
The selection here is rather robust in that one flight is not anywhere close to tasting it all. They have Chardonnay, a semi-sweet Vidal Blanc, Rose, Seyval Blanc, Petit Manseng (was not available on a flight but I bought a glass after), Chambourcin, Malbec, Merlot, Petit Verdot, and red blends- and that is just to name a few!
What I appreciated most about this one is that one of the owners was serving at the bar and helped me navigate to which wines would be best to have in my flight- something that is sorely necessary when there are so many options at the menu and you have nearly free reign in crafting your flight! But where I could talk about these more, I really need to spend the rest of the time of this section talking about the Petit Manseng.
This grape is normally once I expect to see in botrytized dessert wine, but in Virginia it can be everywhere from a blending grape in dry/off-dry whites to single varietal. This particular one packed a rather intense punch of pineapple and tropical fruit to the face that is amplified with the 0.5% residual sugar that is noticeable but not sweet. But perhaps what really brought this one altogether was that the wine itself was just over 15% ABV!
Boozy, tropical, and slightly sweet? Sign me up for a glass of that. But you really have to like pineapple and tropical fruits to go for that one. It has it in abundance.
The Winery at Kindred Pointe is located at 3575 Conicville Rd in Mt Jackson- just about five minutes away from Cave Ridge (above)!
Read More from Virginia Wineries
Looking for reviews from Virginia wineries? Check out the following we've featured on our site to date (articles load at random):
Do you have a favorite winery in Shenandoah Virginia? Comment below to share and we'll try to get there the next time we visit! Looking for Shenandoah breweries instead? Check out some of the best spots we visited on our sister travel blog!
Looking for a place to stay in the region? Consider the tiny houses just outside of Strasburg where I stayed!