Published Jeremy. Last Updated on April 20, 2021.
Disclaimers: We use demographic data, email opt-ins, display advertising, and affiliate links to operate this site. Please review our Terms and Conditions for more information. This website is intended for those of legal drinking age in your jurisdiction.
After taking my WSET Level 3 exam in Washington DC, I decided to take the long road back to Pittsburgh via a detour to Loudoun County, Virginia's wine region.
My first winery visited in the county was 868 Estate Winery which was making news for winning the 2020 Virginia Governor's Cup for their Vidal Ice Wine. While they were, rather predictably, sold out of the ice wine, I was met with a decent wine list available as well as stunning views at the vineyard.
What to Expect at 868 Estate Winery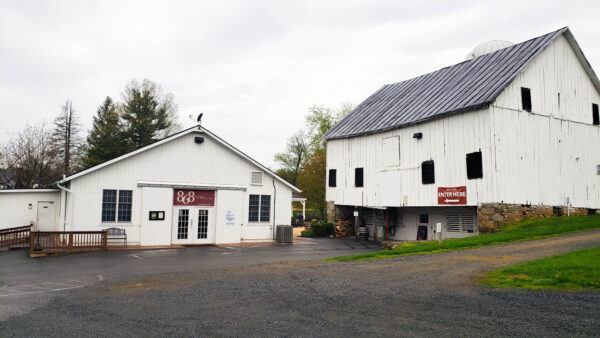 Pulling into 868 Estate Winery in Loudoun County feels almost like you're pulling up into a working farm. That isn't to say that wineries aren't farms (they are), but rather that the vines are only one focal point here.
Rather than being accented by vines, the tasting room is set next to a beautiful barn and outdoor pavilion with most of the vines only being visible on the periphery (you'll see a lot more on your drive in, don't worry there). As such, it won't take long after arriving here to jump straight into a tasting!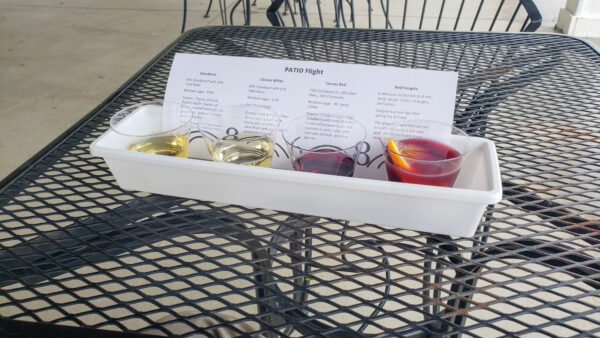 868 Estate Winery's grape offerings during my visit included Vidal, Chambourcin, Chardonel (a crossing of Chardonnay and Seyval Blanc), Chardonnay, Sauvignon Blanc, Viognier, Cabernet Franc, Merlot, Cabernet Sauvignon, Petit Verdot, and Nebbiolo to name a few. While you would normally expect many of these grapes to be fermented dry, the winery had a number of options for both dry and off-dry styles (with some even approaching medium sweet).
During my visit, you could sample their wines either by the glass, in pre-designed flights (one red, one white, and one mixed), or for bottle sales. Naturally, I had to go for a mixed flight in order to try the Chambourcin and Chardonel as they were two grape varieties I had not seen before (thus helping our quest of trying every varietal in the world).
The mixed flight included their pure Chardonel, Canvas White (blend of Chardonel and Vidal Blanc), Canvas Red (blend of Chambourcin, Chardonel, and Vidal Blanc), and a Red Sangria. After my flight, I was able to try a pure Chambourcin as well.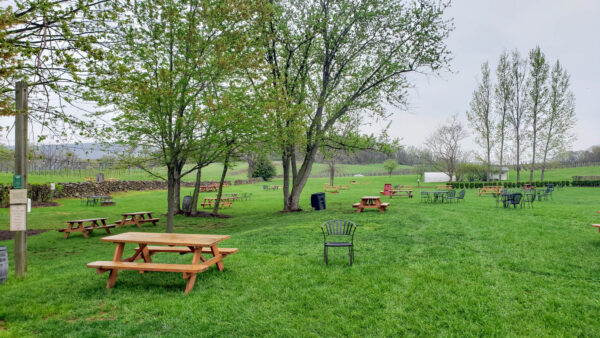 For those who like high acid wines, the dry Chardonel and Chambourcin single varietals are definitely ones to have on your radar. For the white, there were a wealth of citrus fruits and a puckering acidity (almost a bit too much for me) whereas the red had black and red cherry notes with a full herbaceous spectrum to it as well (as well as some modest tannin).
I would be the first to admit that the strong acidity and herbal notes of these two wines respectively may not be for everyone, but the Canvas White and Canvas Red blends offer a bit of sweetness that helps mellow out these notes ever-so-slightly.
The Canvas White was the winner of the day for me as it offered a nice bit of citrus and stone fruit notes as well as a modest sweetness that helped make the wine taste like the fruits were cooked in a pie. The Canvas Red is branded on their take on an unfortified Port, and while the characteristics of the fruit flavors were there like you'd expect from a Ruby, the lower alcohol content left me wanting a bit more of a punch.
All things being equal, I left with a bottle of Canvas White to enjoy at home!
868 Estate Winery is located at 14001 Harpers Ferry Rd in Purcellville, VA.