Last Updated on April 19, 2021 by Jeremy
Disclaimers: This review uses WSET Level 3 terminology and our own rating scale. Read more here. We use demographic data, email opt-ins, display advertising, and affiliate links to operate this site. Please review our Terms and Conditions for more information. This website is intended for those of legal drinking age in your jurisdiction.
Muga Rioja Reserva is an aged Tempranillo from Rioja, Spain, that has an intense and wonderfully complex aroma and flavor profile.
Unfortunately, this one was pretty strong in the vegetal and earthy department which, for me at least, was a bit too much for my palate.
Intense Vegetal and Barrel Notes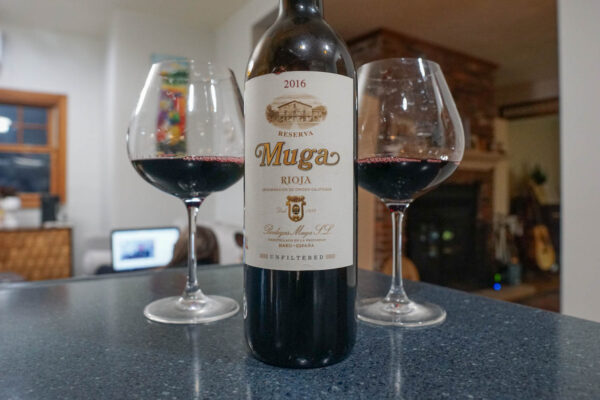 This Rioja blend was medium ruby in color with medium+ aromas of red cherry, black cherry, cranberry, vanilla, cedar, tar, allspice, clove, wet leaves, forest floor, and perhaps even dill that was developing. While a solid list of characteristics, we have to note that the green notes like wet leaves and forest floor were vastly more concentrated than any of the other notes listed- almost to a detriment (this is a personal preference, naturally).
On the palate, the blend was dry with medium+ acid and tannin, medium body and flavor intensity, and high alcohol. We had notes similar to the aroma like dried red cherry, black cherry, plum, red currant, vegetal notes, cedar, vanilla, and wet leaves with a medium+ finish. Again, much like the nose, the green vegetal notes were pretty intense.
Muga Rioja Food Pairing – Barbecue Pork Loin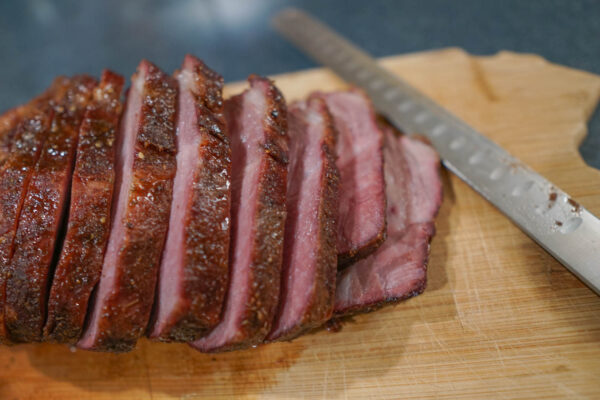 We paired this Rioja with a barbecue pork loin that was salt brined, cooked in a sous vide, and then finished in the smoker with cherry and hickory wood and a traditional barbecue rub (plus served with barbecue sauce on the side).
The fattiness and spices of the pork helped offset the acidity and the green notes in the wine a fair bit, but our side of collard greens had the opposite effect in really amplified the already intense vegetal notes that were going on. As such, stick with the meat here and perhaps shy away from greens when drinking this one.
Score: 2 / 5
We're okay on this one.
Overall, the green vegetal notes were simply far too intense for our liking on this wine. It could probably stand to age a bit more to develop some more characters as well, and despite being good for what it is the green notes were just too much for us.
Muga can be found in Rioja, Spain. We purchased this bottle on Wine.com and enjoyed it in 2021. 
Upgrade Your Home Wine Bar
Need more products for your home bar? Check out some of our favorites:
Discount on Naked Wines

Need to pick up bottles for your cellar? Check out the rather unique wine club, Naked Wines, and take $100* off your first case order on us!
*Valid for new members only. Other terms and conditions may apply. Not valid in all states. Discount code may change in value without our advance knowledge.