Last Updated on April 19, 2021 by Jeremy
Disclaimers: This review uses WSET Level 3 terminology and our own rating scale. Read more here. We use demographic data, email opt-ins, display advertising, and affiliate links to operate this site. Please review our Terms and Conditions for more information. This website is intended for those of legal drinking age in your jurisdiction.
I have a general rule that if a friend whose tastes I trust recommends a bottle of wine, I'll do what I can to find it. Agriolas Turriga 2016 was one such bottle, and my friend Strictly Sardinia recommended it as one of the most acclaimed wines from the island.
This one is a blend of Grenache (85%), Carignan, Malvasia Di Casorzo, and Bovale Sardo and can only be described as an intense wine. But even in drinking this one at five years old, for our next bottle I think I'd let this one sleep for another five if not longer!
Turriga is an Intense Grenache Wine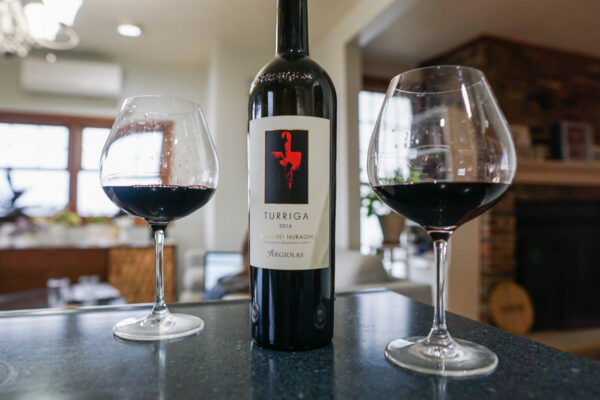 This red wine blend from Sardinia was medium garnet in color with medium+ aromas of black cherry, black plum, prune, blackberry, leather, cedar, vanilla, tar, oak, tobacco, cassis, and violet that was developing. Some may find the tar, tobacco, and leather notes to be quite strong, but we thought it was balanced rather well with the dark fruit and cassis/violet notes that came out as it opened up more.
On the palate, this wine was dry with high acidity, tannin, and alcohol, full-body, and medium+ flavor intensity similar to the nose- black cherry, blackberry, leather, cedar, vanilla, prune, cassis, and violet with a medium+ finish. Much like with the nose, the cassis and violet notes developed over time as this one opened up in our decanter. It actually became quite perfumed by the end of our meal!
Agriolas Turriga Food Pairing – Steak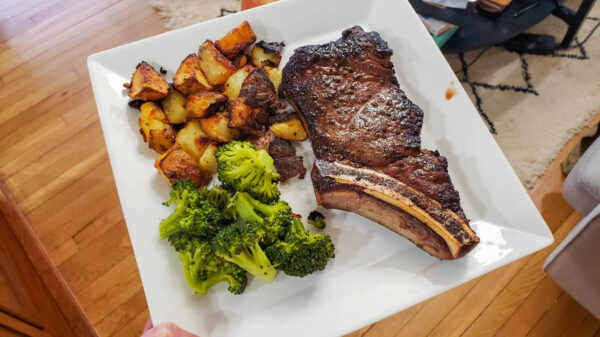 We paired this Grenache blend with one of our favorites for intense reds- steak! But not just any steak. This time we did a 48-hour faux age on our steak with shio koji and then cooked it in sous vide and finished with a sear on our cast iron.
On its own, steak is a great wine to pair with intense reds as the richness and fat do wonders to cut through the tannin and let the fruit and higher acidity shine. But with shio koji rub thrown into the mix, the steak had even more pronounced flavors of mushroom and umami which help complemented the wine well- especially before it was decanted and more perfumed notes came out.
As such, we actually think this food pairing would be fantastic if the wine was just a bit older and had even more tertiary notes to it. We'll definitely be letting our next bottle of this one rest for several more years to give it a try in the future.
Score: 4 / 5
We'd buy another bottle of this one.
Overall, while Agriolas Turriga is a rather expensive bottle of wine, we have to admit we can see why it is often acclaimed to be one of the finest bottles from Sardinia. It would not be a frequent drinker in our cellar, but if I had one (or a few) in my cellar aging I would not be upset at all.
Agriolas is located in Sardinia, Italy. We purchased this bottle from Wine.com and enjoyed it in 2021.