Last Updated on June 21, 2023 by Jeremy
Disclaimers: We use demographic data, email opt-ins, display advertising, and affiliate links to operate this site. Please review our Terms and Conditions for more information. This website is intended for those of legal drinking age in your jurisdiction.
When we booked our trip to northern Italy to go wine tasting, we knew we wanted to check out a great cross-section of wineries in Piedmont.
Naturally, our first thought went heavy into checking out Barolo wineries to find out why the region is so acclaimed for Nebbiolo. But as Piedmont is more than just Barolo, we also set our sights on trying out other grape varieties like Barbera, Dolcetto (in Dogliani, specifically), Moscato (in Asti), traditional method sparkling wine, and other styles of Nebbiolo like Barbaresco and Langhe Nebbiolo to name a few.
As such, we hit an array of styles of Piedmont wineries and wanted to share a bit about each that we personally visited in this one!
Note: Most wineries in Piedmont require advance reservation when visiting. Wineries that appeared to allow walk-in tastings are noted, but please confirm this prior to visiting as tasting rules and booking requirements change regularly. To check out our full guide to planning a wine tour in Piedmont, click the previous link!
E. Pira & Figli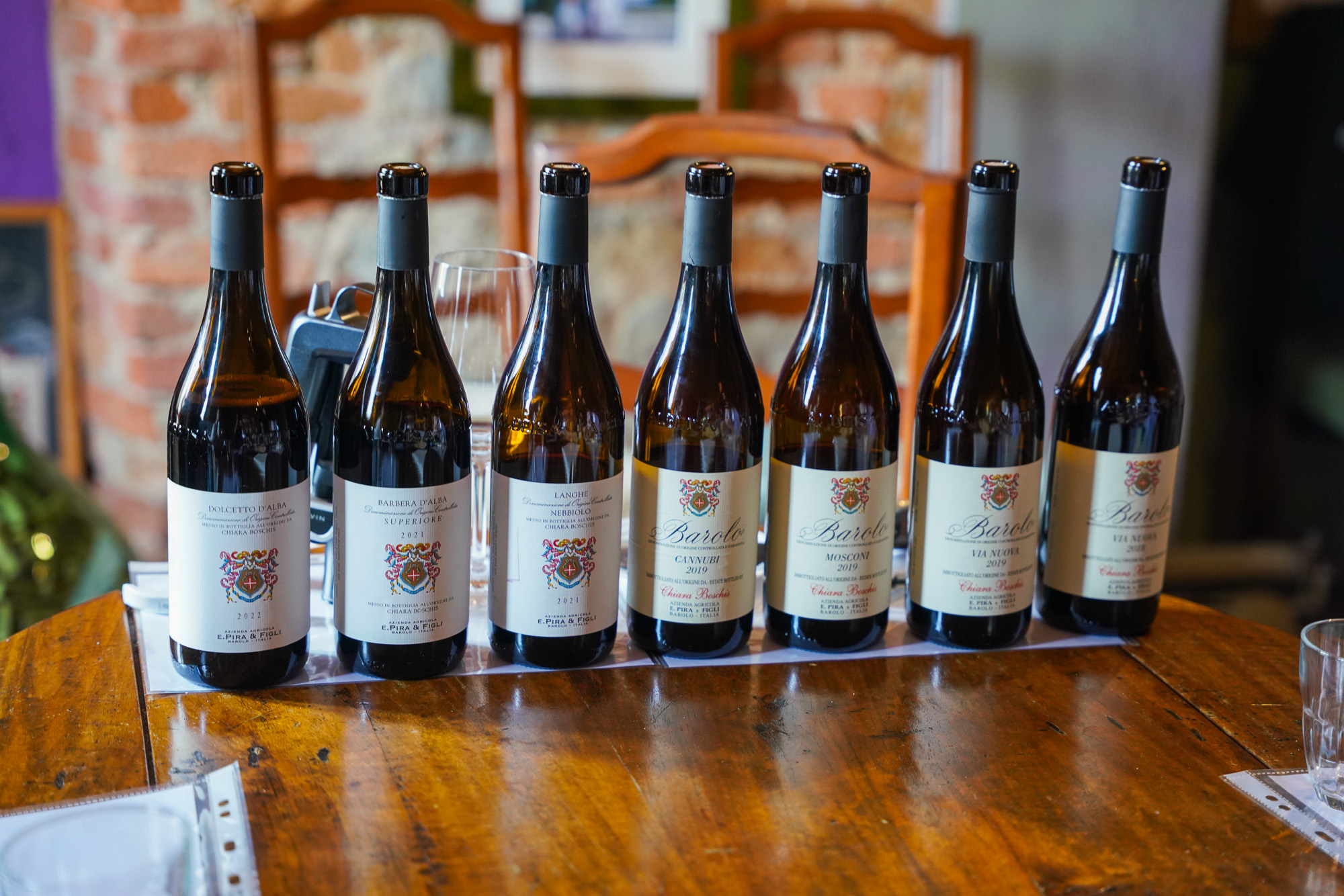 No one will argue that Barolo's present international acclaim was thanks to the Barolo Boys- a group of winemakers in Piedmont who modernized Barolo production and made the wine highly prized worldwide.
But in modern times, one producer is taking Piedmontese winemaking into the future, and that is Chiara Boschis of E Pira & Figli- the first female winemaker in Barolo.
E Pira & Figli is located right in the heart of Barolo town and offers a stunning tour of their small production space, aging cellar, and a tasting unlike no other- all with learning how Chiara's meticulous approach to winemaking has made her a well-known name by every sommelier and wine employee in Piedmont.
Much like other wineries in Barolo, E Pira & Figli has vineyard plots throughout the region for the production of Barbera, Dolcetto, blended Barolos, and single vineyard Barolos (including plots in Cannubi and Mosconi- two of the most famous in all of Barolo)!
Not only did we have a fantastic time on this tour, but we were also pretty fortunate to have part of our tasting led by Chiara herself, which made for the most memorable wine experience we had in all of Piedmont.
The only downside? During our visit, all bottles were sold to stores and distributors, so we had to go on a shopping trip to buy bottles whenever we spotted them in the wild (we bought nine).
E. Pira & Figli is located at Via Vittorio Veneto, 1, in Barolo, Italy.
Cordero di Montezemolo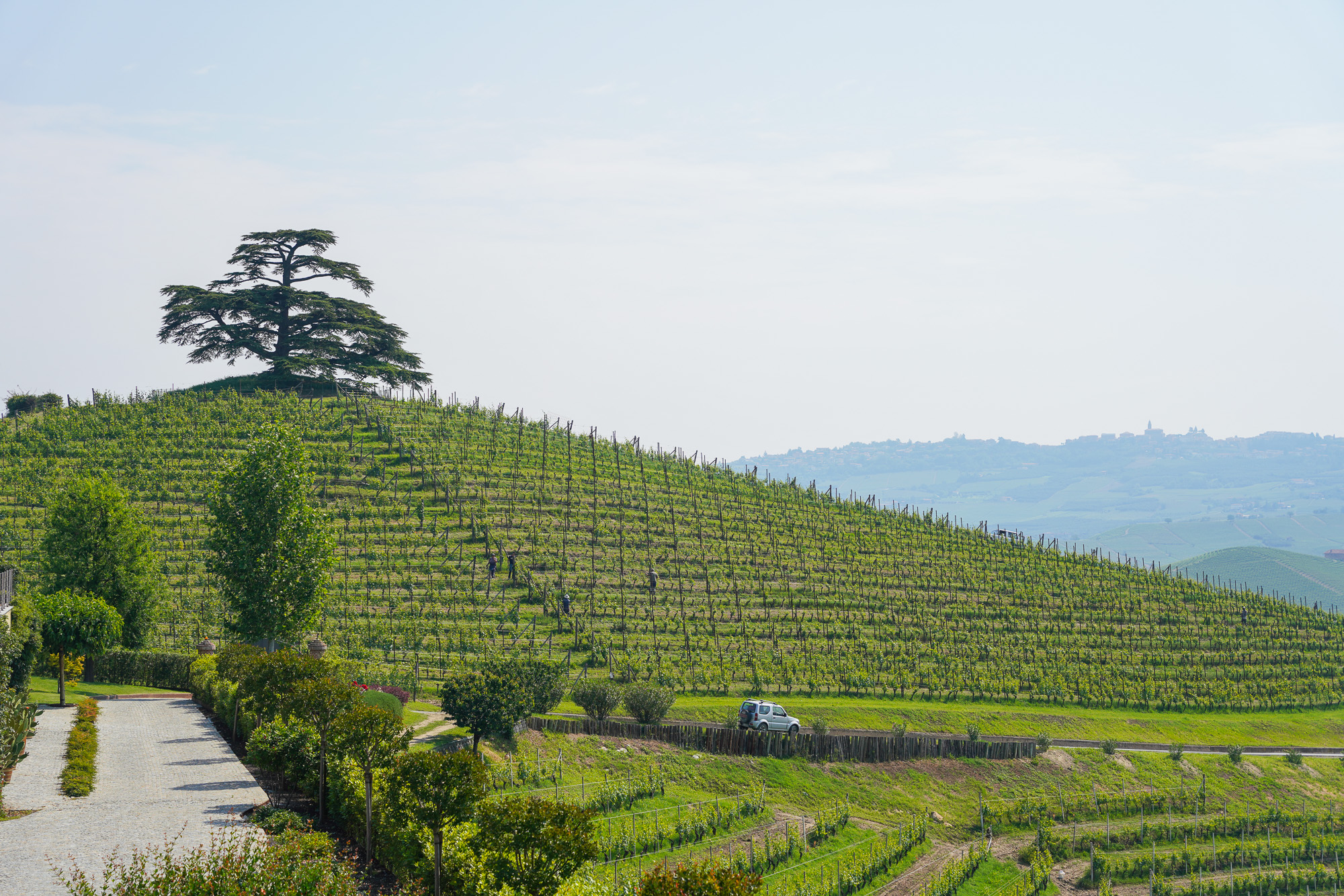 Cordero di Montezemolo is an estate on the northern end of Barolo whose vineyard is as beautiful and enjoyable to check out as it is trying the wine.
The reasons for this are many. First, they are up to the 19th generation of wine producers- making this one of the most historic wineries in the region. Second is because Montezemolo is home to a Lebanese cedar tree planted in 1856 to celebrate a family wedding, and today the monstrous tree sits alone on top of a grape-adorned hillside for an iconic scene known all over Barolo. Not only can guests enjoy this one from the tasting room at a distance, but we also got the chance to walk around the tree as part of our visit!
Beyond the vineyards at Montezemolo, the tour inside the winery showcases the capacities of a medium-to-large producer that produces wines including Barolo, Dolcetto, Barbera, Arneis, Chardonnay, Barolo Chinato, and so much more.
If you like a tour loaded with history as much as ambiance and delicious wine, this one is hard to overlook.
Cordero di Montezemolo is located at Regione Annunziata, 67, in La Morra.
Podere Rocche de Manzoni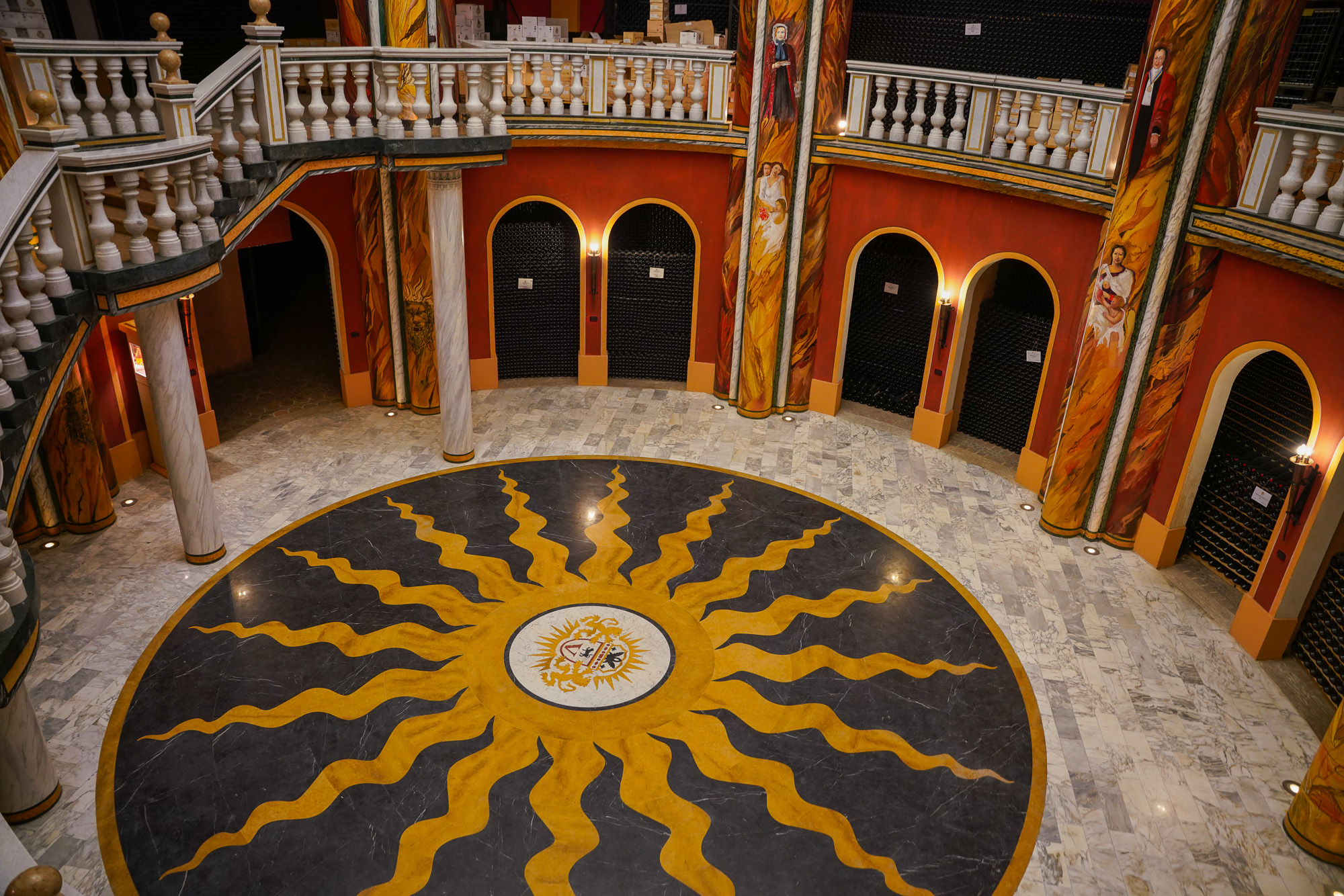 Podere Rocche de Manzoni is a family-owned winery just south of Barolo town that can only be described as opulent. The winery is located on top of the vineyard land that the family owns, their home can be found on the property (complete with a large pool overtop the cellar to provide insulation), and a multi-floor wine chapel holding over a million bottles of wine that you have to see to believe.
Yes, a wine chapel. Yes, a million bottles of wine. No, they would not let me run amock in it, sadly.
Much like with other wineries, this one has an impressive lineup of Barolo, Barbera, and others unique to Piedmont but also produces a lineup of delightful sparkling wines that helped break up the tannic-heavy Nebbiolo tastings during our week.
From a shopping side of the spectrum, another reason to enjoy Podere Rocche de Manzoni was, at the time of our visit at least, they also offered vintage bottle sales direct from the cellar for what we would call a reasonable markup. Finding aged Barolos at a wine store raises several questions (namely, is it overpriced and has it been stored properly), finding older Barolos directly from a winery at a reasonable price point was a joy. We can't wait to drink ours!
Podere Rocche de Manzoni is located at Borgo Manzoni, 3 Manzoni Soprani in Monforte d'Alba.
Produttori del Barbaresco
Produttori del Barbaresco is a co-op in the Barbaresco region north of Alba famous for its unique style of Nebbiolo. We visited their tasting room right in the heart of Barbaresco town for one of our only non-reserved appointments for a quick taste of their famed Nebbiolo and to purchase bottles.
The experience at this one was brief, quite literally pour, taste, and leave, but it is a good option for those who have a break in wine reservations and want to pop into Barbaresco town on a whim for one more taste. (Their Barbaresco is delicious, so your effort will be rewarded despite a short visit.)
Note: Towns like Barolo, Barbaresco, Alba, and others are all home to tasting rooms from wineries like Produttori di Barbaresco. However, whether they take walk-ins for tasting or require appointments may vary. This was the only in-town producer we visited as we opted for wine bars and fully winery tours for the rest.
Produttori del Barbaresco has a tasting room in Barbaresco town at Via Torino 54. 
G.D. Vajra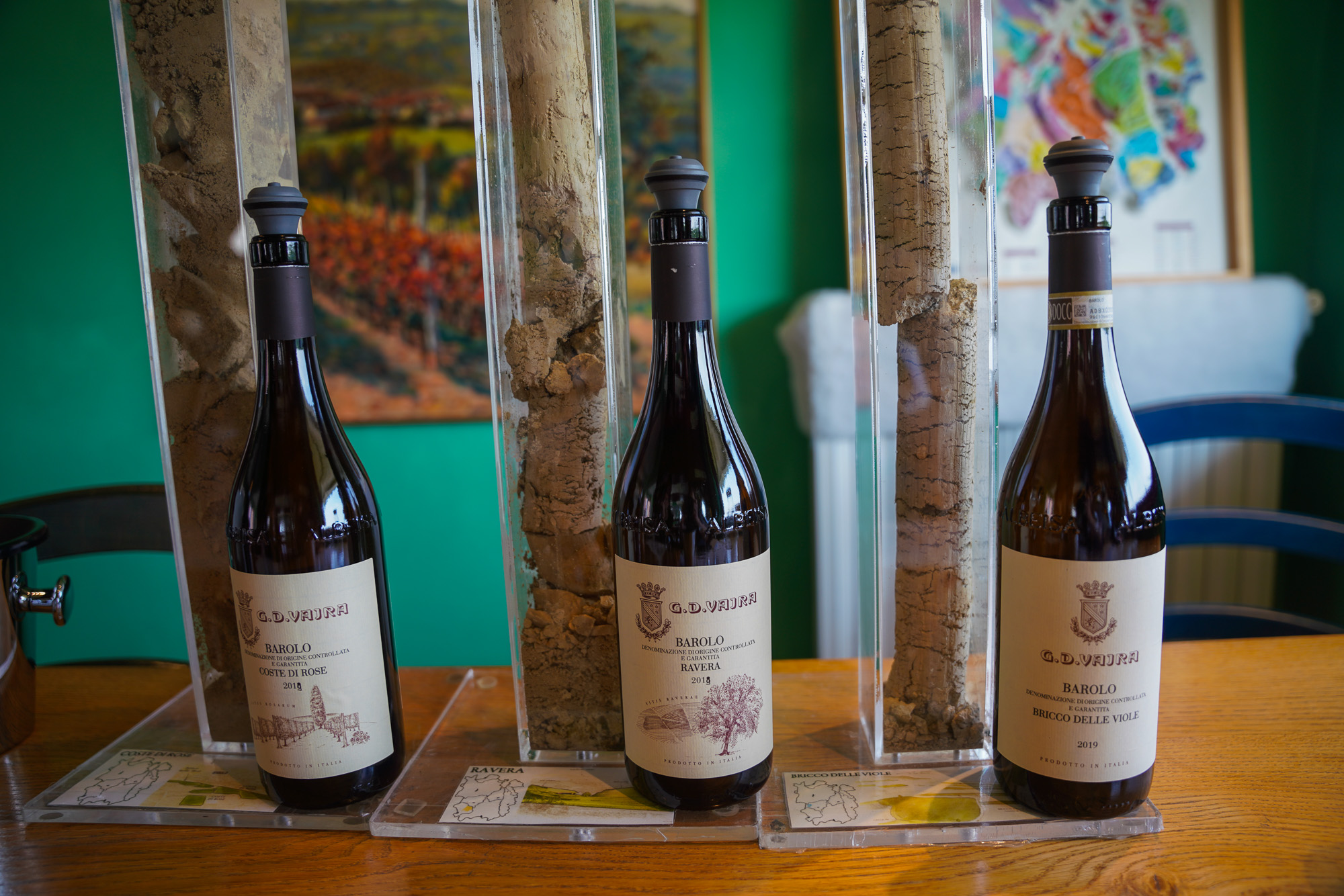 If you are experienced with Barolo outside of Italy, odds are good you may recognize the name G.D. Vajra. This producer is exported the world over and has made a reputation of itself for being an accessible, quality wine. Naturally, we knew we had to visit the winery when in Piedmont!
During a visit, we got a quick look at the massive production facility, aging warehouse, and packaging rooms on and, admittedly, brief tour before being ushered into a tasting room for an incredible tasting through their portfolio.
One of the aspects of the tasting here that we enjoyed was being able to try Barolos made from different vineyard plots and learn how the expression of the grape differs between the sandy and clay soil breakouts found within (sandy is more aromatic and approachable when young whereas clay is more powerful, intense, and ageable). As this was one of our first wineries visited, it helped us get more of an appreciation for the flavors we like in Barolo and what to seek out in later stops.
Our only regret was that the bottle prices were about the same as what we could buy in the USA, so we left this one only with our memories of a fun tour and a shopping list for when we got home!
G.D. Vajra is located at Piazza della Vite e del Vino, 1, in Barolo, Italy.
Chionetti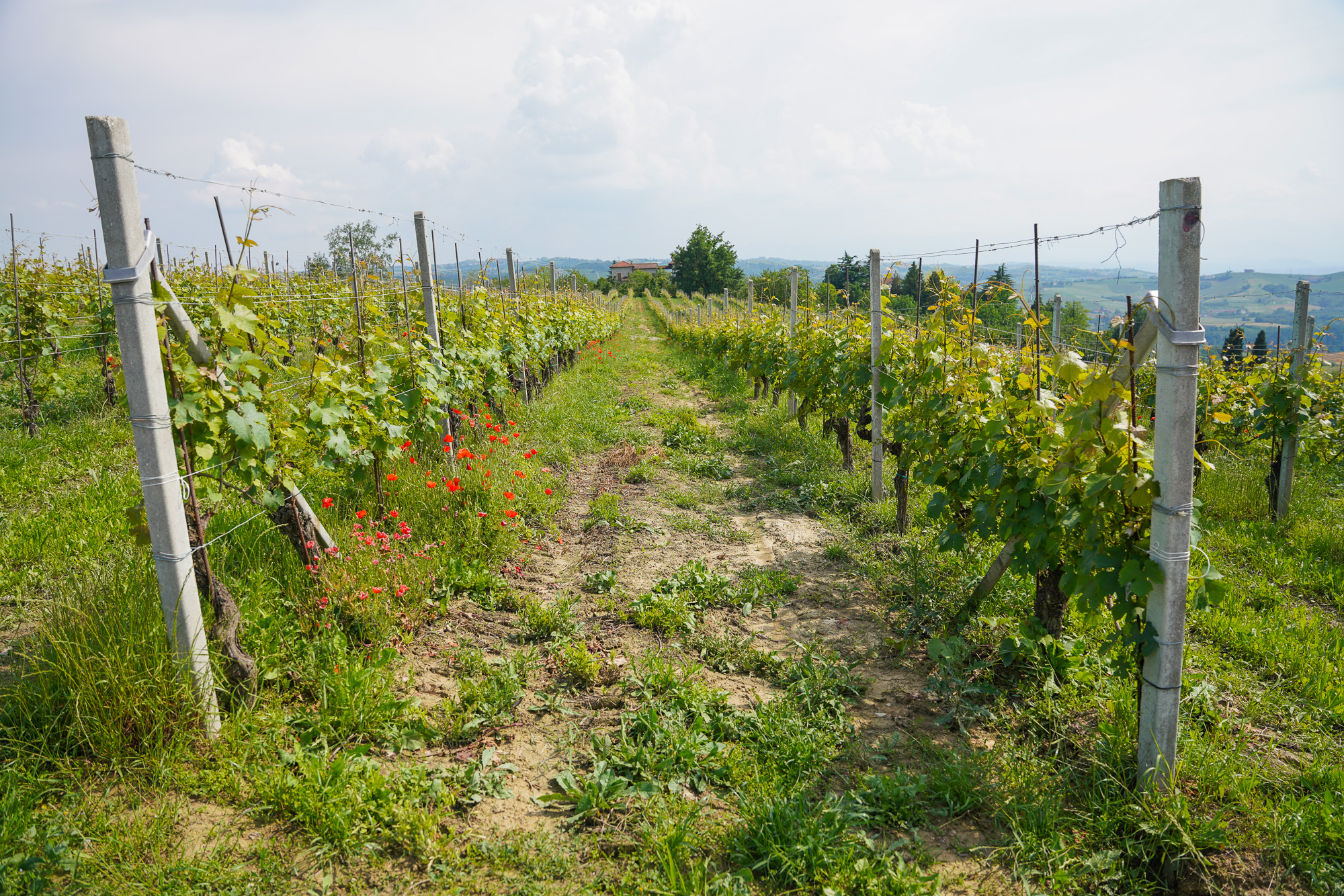 For those who want to get away from Barolo country and try something a bit different, head south to Dogliani to try some of the best Dolcetto wine on the planet (plus more Barolo and Langhe Riesling for good measure).
Chionetti is one of the top producers within Dogliani DOCG as their vineyards have a unique orientation on top of a hill that features several unique aspects, but also contains several soil types on either side and the hilltop itself!
This allows Chionetti to produce several styles of Dolcetto with rather intense flavors, marked differences from even just wines a few rows apart, and, on a sunny day at least, a view from the high point on the property that is truly hard to beat.
Chionetti is located at Borgata Valdiberti 44 in Dogliani.
Pecchenino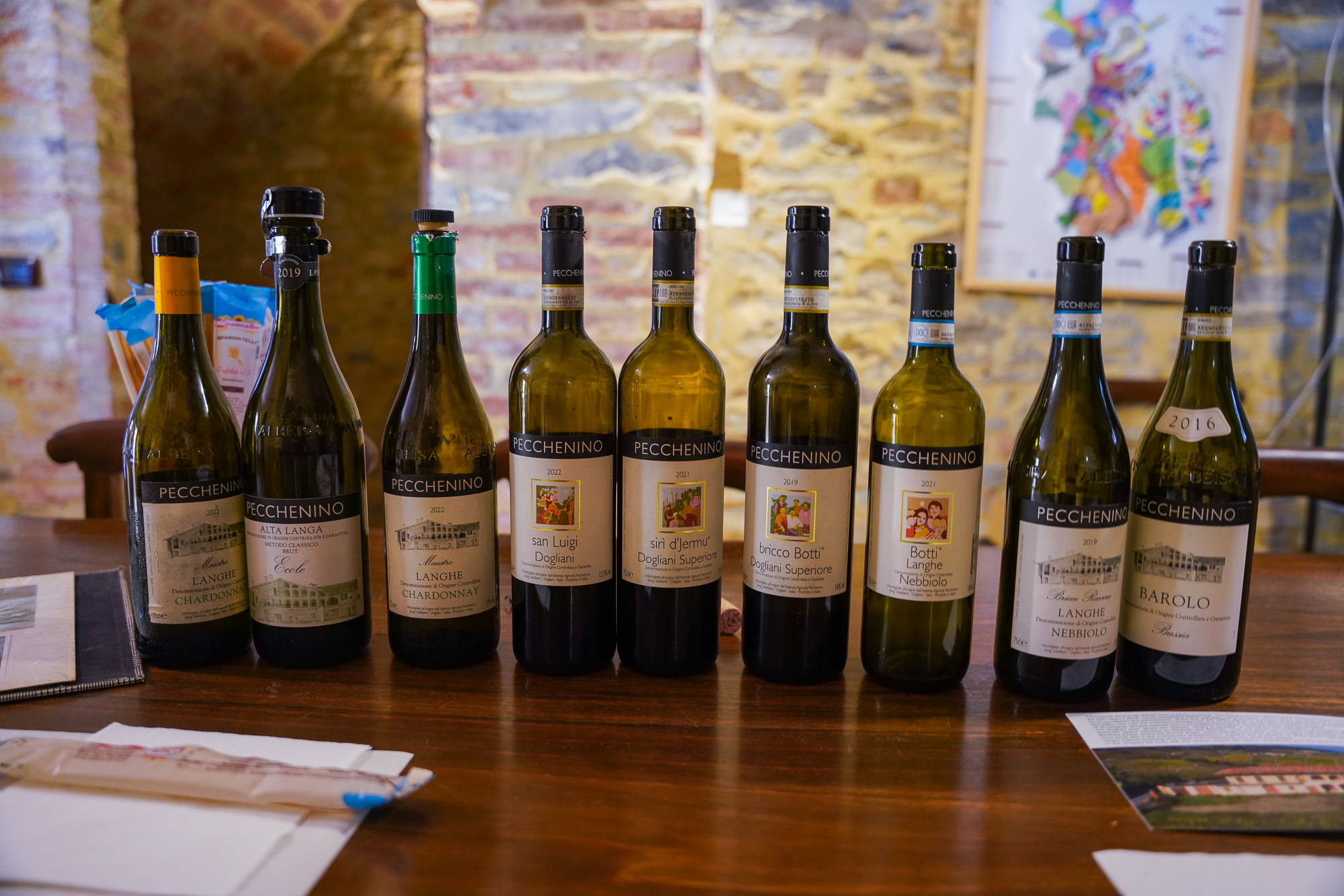 Another acclaimed Dolcetto producer in Dogliani is Pecchenino- a producer whose name makes sommelier's ears perk up when it comes to high quality Dolcetto.
Although there was no appreciable tour at our visit to this one, as the property appeared to possibly be an agritourism accommodation over proper winery, after working our way through the lineup of sparkling wine, Chardonnay, unique vineyard plots of Dolcetto (that you drive by on the way in), and Nebbiolo (of course), we can truly see what the fuss is all about.
The easiest explanation we can give here is that many in Piedmont look to Dolcetto to be a simple, almost table wine. Great flavor, but often nothing to write home about in the same breath as Barolo. But producers like Pecchenino are showing that not only can Dolcetto from Dogliani be outstanding, but also that they can age and have some development for the better part of a decade!
Naturally, we bought two of each style and look forward to our 10+ year wait to see what that one truly means.
Pecchenino is located at Borgata Valdiberti, 59, in Dogliani.
Contratto Winery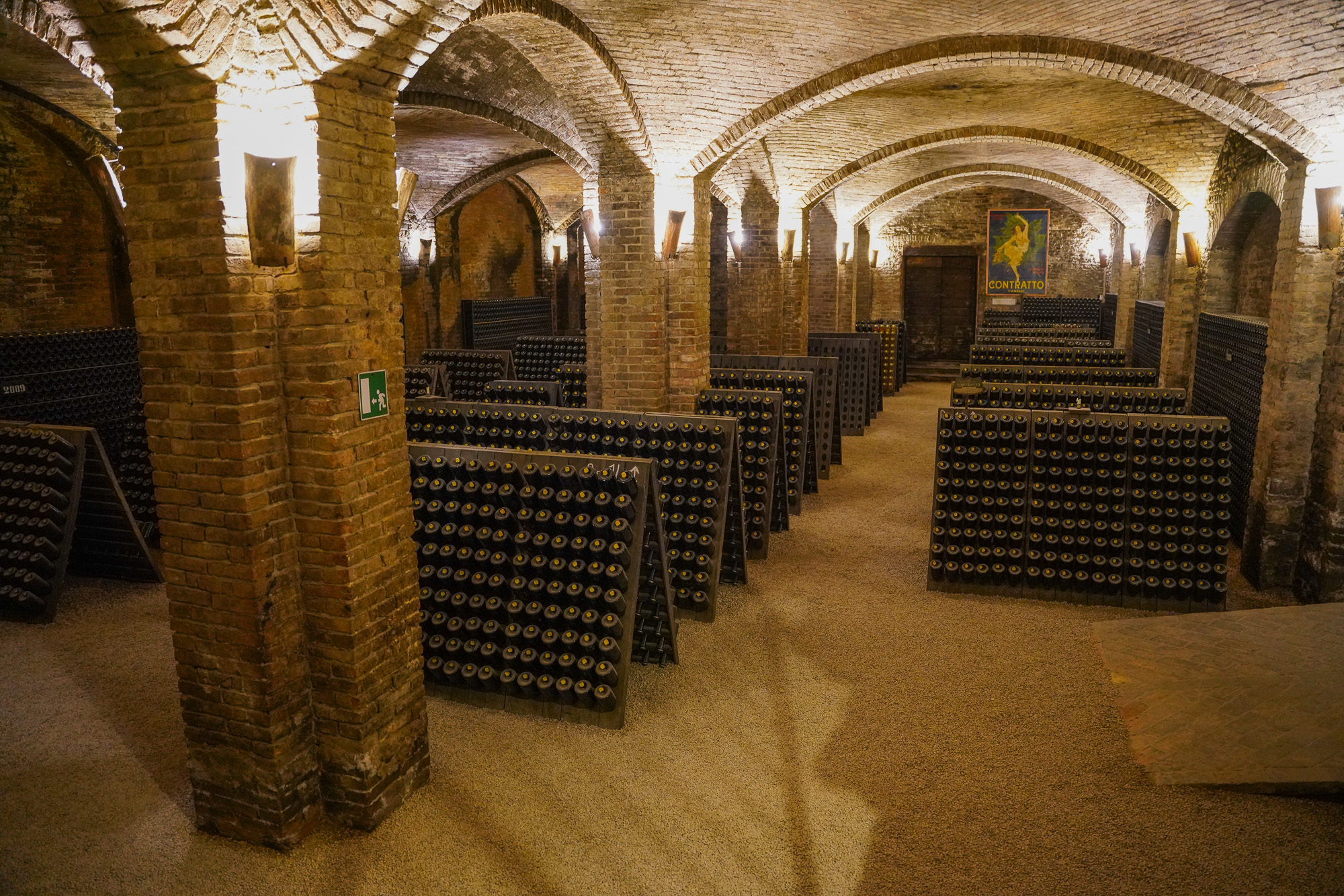 When we decided to visit a sparkling wine producer in the Asti region, we consciously decided not to book one focused on Moscato.
The first was because we don't care for Moscato too much. Second, many producers nearby make one Moscato in their portfolio, not a dozen, which still allowed us to try some without going all-in on the wine on a single visit.
Instead, we booked a tour of Contratto in Canelli- a nearly exclusive producer of sparkling wine in the traditional method (a la Champagne) with one of the most spectacular wine cellars in the region.
The tour at Contratto takes a deep look at traditional method sparkling wine production and allows for an incredible walk through of the estimated 1.5MM bottle cellar with its famed Cathedral archways (that Contratto claims are part of a UNESCO heritage site).
The tasting lineup at this one included sparkling wines with different dosage levels, a sparkling rose, a vintage sparkling wine that was released just before our visit at 10 years of age (and was simply spectacular), and white vermouth to finish.
Although this one is one of the furthest drives from Barolo and Alba (where we were staying at the time), it was most certainly worth the effort. Like other large producers, this one exports a lot of their bottles at comparable prices to the USA, but the aged vintage sparkling did not appear to be exported and had a lovely price point we couldn't pass up to add a few bottles to our collection.
Contratto Winery is located at Via Giovanni Battista Giuliani, 56, in Canelli.
La Spinetta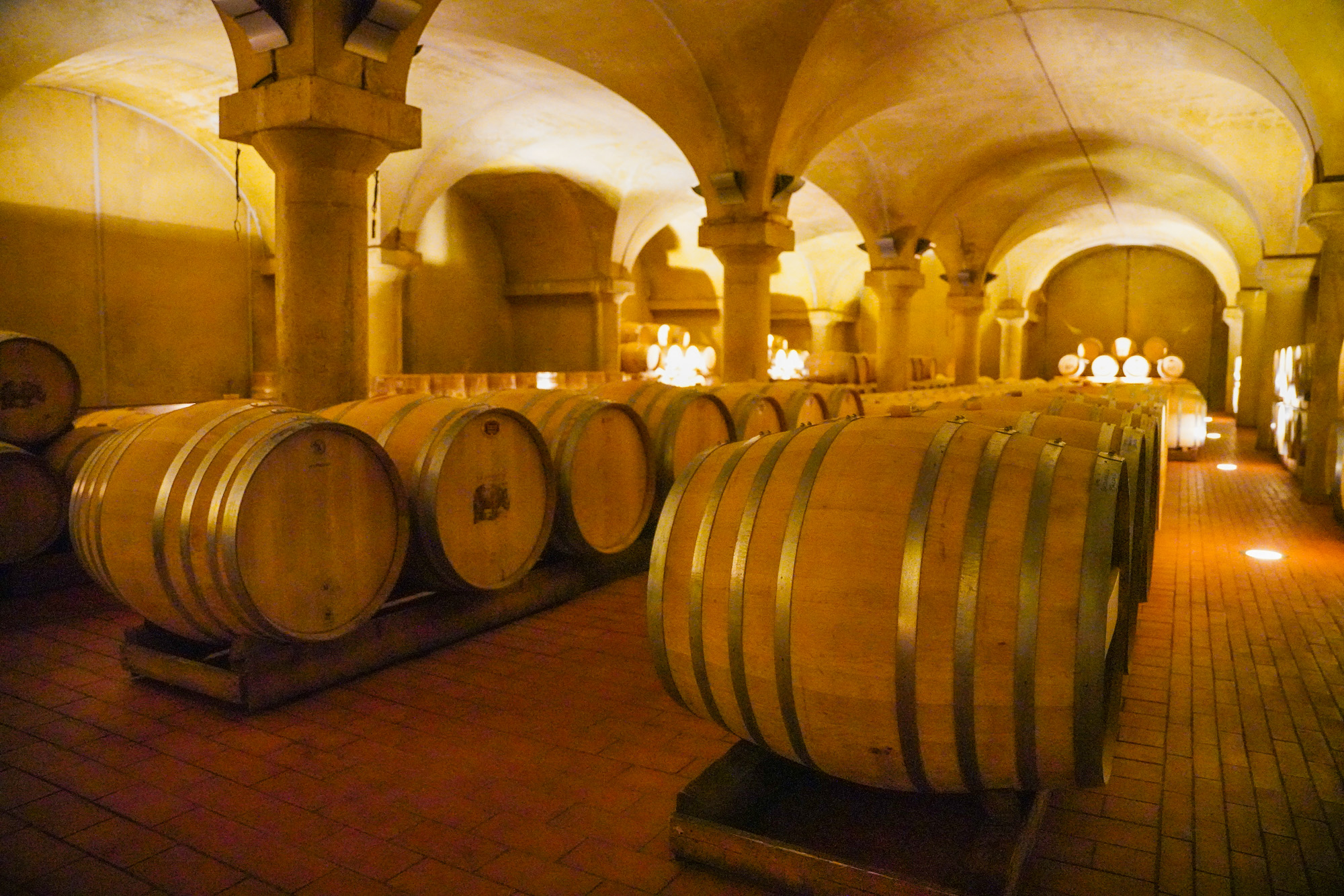 La Spinetta is another larger producer on the way to Asti with wide international distribution. This one is owned by the same folks that run Contratto and makes for an interesting one-two combination for those who want to see still wine and traditional method sparkling wine on a larger scale.
The tour at La Spinetta followed a fairly standard format of being able to see the winemaking equipment and aging cellar with limited commentary but it was admittedly on a larger scale than most other wineries on this list. But the tasting element was a treat as we were able to sample an aged Barolo, sparkling Moscato, as well as an appassimento method (dried grapes) dessert Moscato as well- a few styles of wine we were hard-pressed to try a lot of on our trip.
Much like other larger wineries, La Spinetta exports a significant number of their wines to the USA, but we left with a bottle of the dessert Moscato all the same as it was a treat we could only find available locally in Piedmont.
La Spinetta is located at Via Annunziata, 17, in Castagnole delle Lanze.
Castello di Neive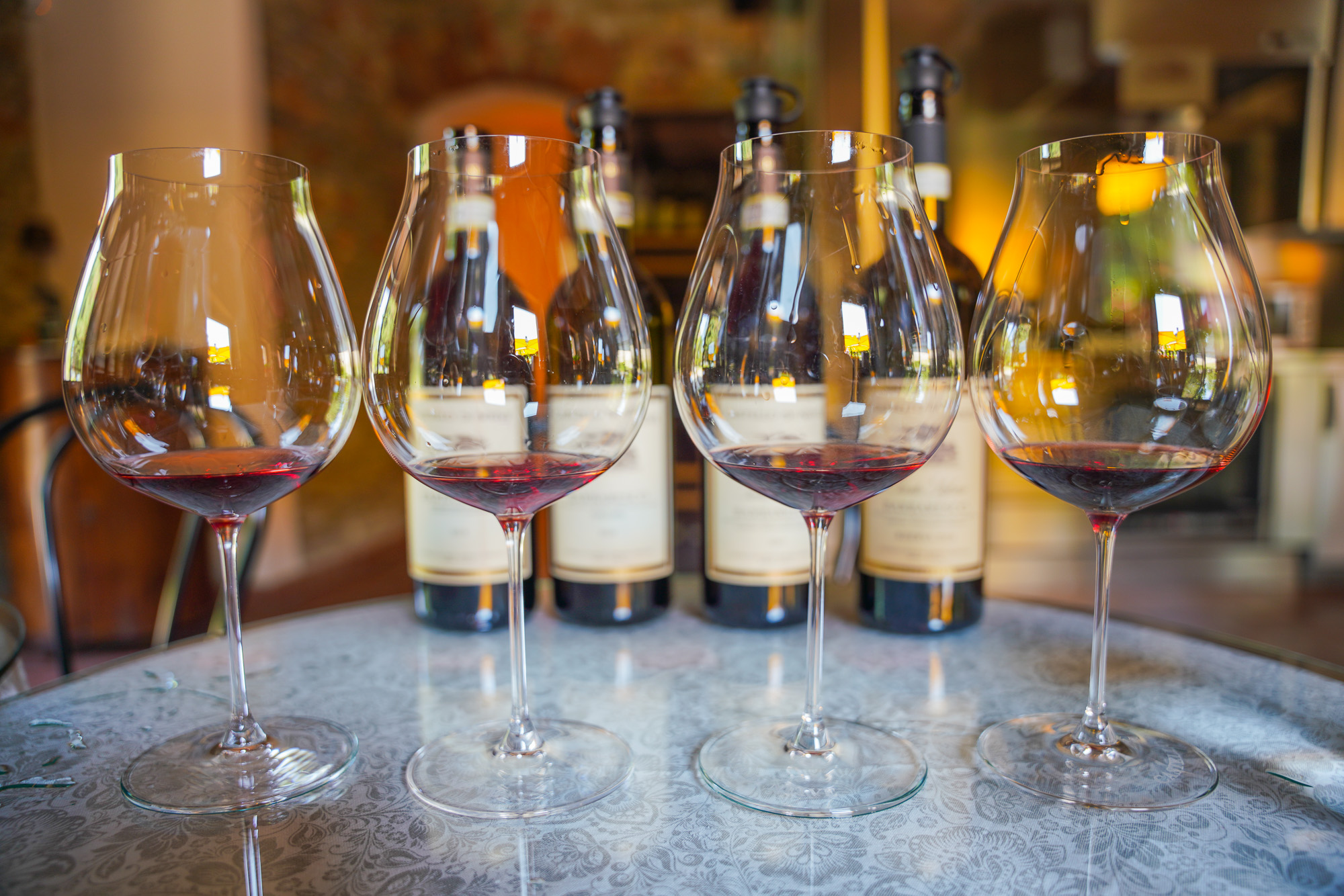 Castello di Neive offers a unique tour in the town of Neive (near Barbaresco), as the property is an 18th-century chateau that was historically described as a castle (hence Castello).
As part of the tour, you can walk the grounds of the "castle", see some of the property's vineyard plots on the hillside below, and view a selection of historical winemaking equipment like an old-fashioned scale, basket press, and of course the several hundred-year-old cellars for barrel aging and bottle storage!
One of the other elements that we enjoyed from this tour was that they offered a few flight options to try ad the end of the tour, including one Barbaresco-focused lineup to try wines made from various vineyard plots in the region. Although this one was rather expensive by most tasting standards, it was really a fun way to try the terroir of Barbaresco in a single flight!
For those who want to visit for a tasting without a tour, this one does seem like you may be able to walk in for a standalone tasting at a bit of a discount, which could be a great option for those visiting Neive and want to try some wine on a quick visit without the tour experience. But, as always, reconfirm this prior to visiting as reservation requirements can and do change over time.
Castello di Neive is located at Piazzetta Paolina, Via Demaria, 1, in Neive.
Cascina Fontana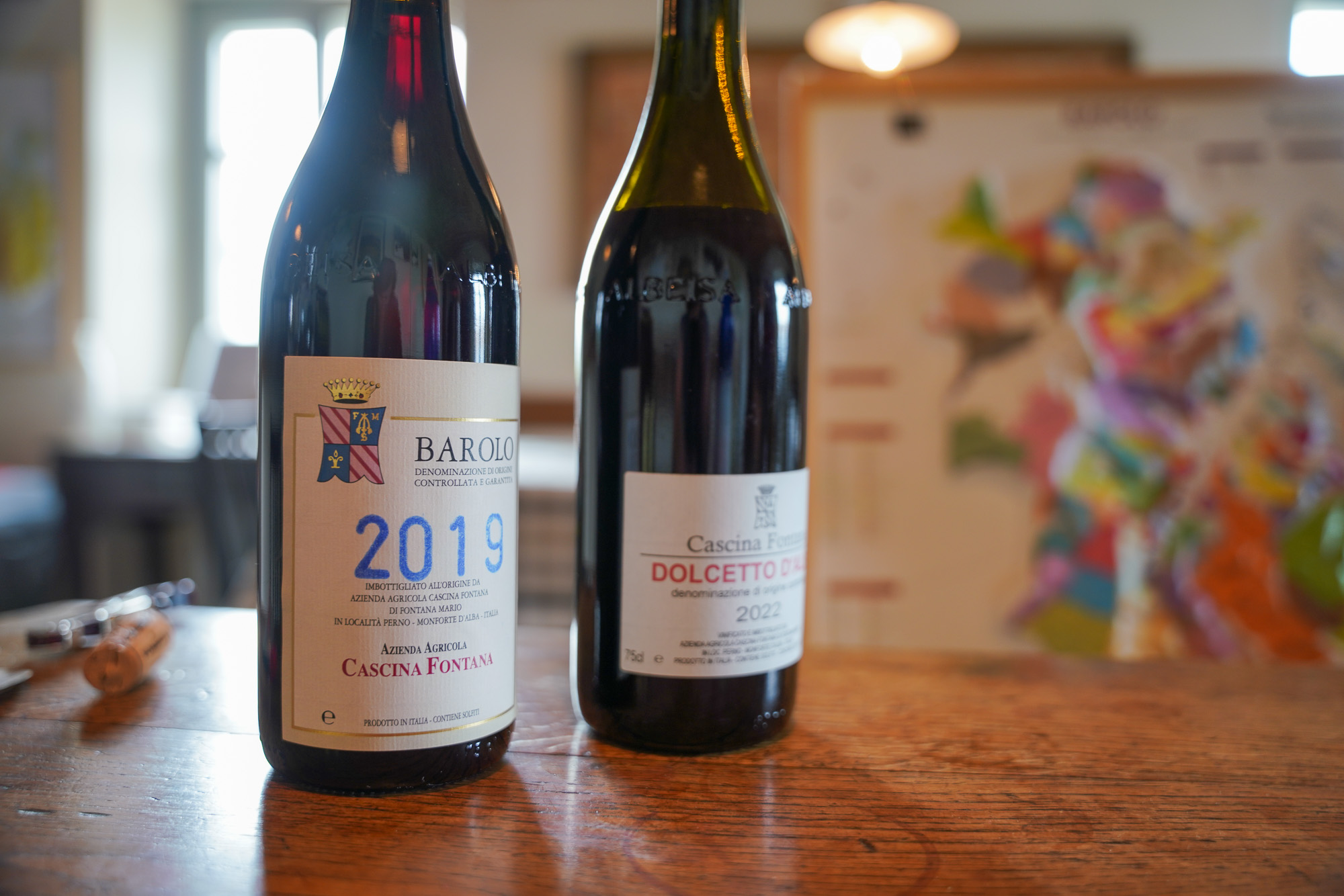 Cascina Fontana was our first winery visited in Barolo and is among the most interesting, too. This small, family-owned winery attempts to make high-quality wines with the lowest intervention possible.
This means no adjustments, natural yeasts, minimal aging steps outside of what the law requires, and more. Truly the most they typically do is adjust the temperature during fermentation and that is about it!
In being low-intervention and small production, the tour at this one was quick- just seeing a couple of small rooms with tanks and barrels where they do the winemaking. This one is truly more about visiting for learning more about the family's passion for making delicious wine and how low-intervention can still mean quality even in places like Barolo.
On the tasting front, Cascina Fontana took an interesting twist in allowing us to try a progression of Barolo from concrete, barrel, and finally aged in bottle to see how the grape improves over time during the aging process. While these were different vintages with there own unique characteristics, it was quite fun to see how wine changes before it gets released to consumers and was a tasting a bit unlike any other we had in Barolo!
Much like other wineries, the limited production at this one meant that no bottles were available to purchase during our visit. But we saw this one at many stores throughout our stay to enjoy a bottle later on.
Cascina Fontana is located in Novara.
As mentioned at the start of this article, there are many great wineries in Piedmont worth checking out. The above are simply a selection of the wineries we got to check out during our trip to get you an idea of some you may be able to visit on your own!
Do you have a favorite Piedmont winery from your trip? Comment below to share!
Looking to book a room in Piedmont for your stay? Check out some great apartment rentals in Barolo or hotels in Alba. Don't forget to book a rental car to explore the region as well!