Last Updated on August 5, 2023 by Jeremy
Disclaimers: We use demographic data, email opt-ins, display advertising, and affiliate links to operate this site. Please review our Terms and Conditions for more information. This website is intended for those of legal drinking age in your jurisdiction.
If there was one module (outside of D3) that I was not looking forward to in my WSET Diploma coursework, it would be D4: Sparkling Wines.
Part of this is because I didn't know that much about sparkling wine outright. Prior to sitting for the exam I had never been to a major sparkling wine region (e.g. Champagne), and I'd only ever been to one winery that primarily focused on sparkling wines outright- and that was just for a tasting, not a tour. Throw on the fact that the differences between sparkling wine regions are nuanced at best, and this module felt like an uphill battle to learn all the facts in its short course.
While I am not going to call D4 enjoyable by any stretch of the imagination (well, the drinking bit was nice as I do like sparkling wine), I have to admit I came out of this one learning a great deal.
Note: I took the WSET Diploma D4 exam in October 2022. Test material and structure can and does change over time. I passed D4 with merit.
What Material is Covered in WSET D4?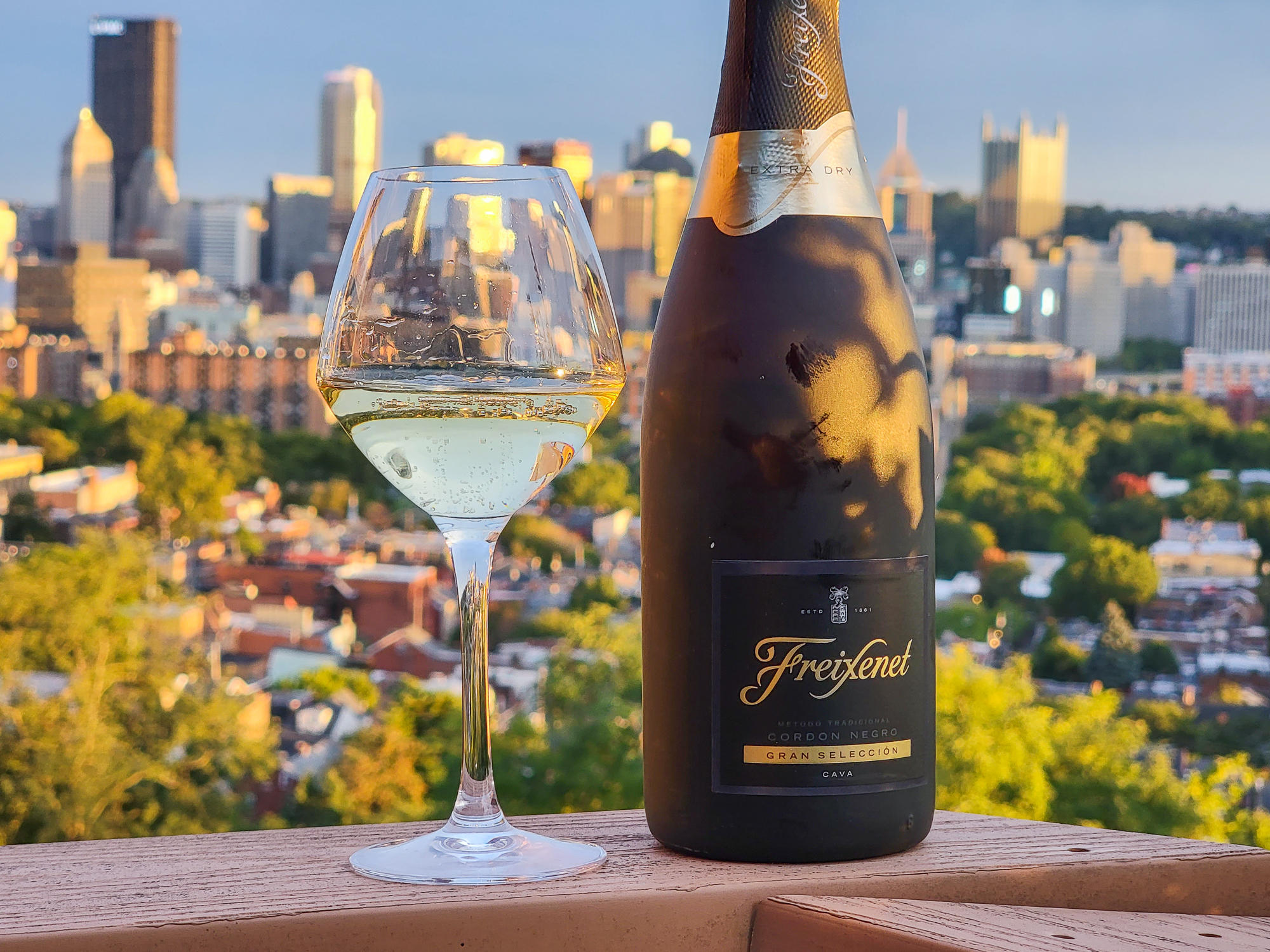 WSET D4 focuses on all things sparkling wine and covers various production styles and regions worldwide.
On the production style side, D4 covers the traditional method (methode champenoise), transfer method, tank method, the Asti method, ancestral method (popularized recently as pet nat), and brief commentary on carbonation as well.
Ultimately, these methods all highlight how CO2 makes its way into the bottle to create bubbles. In the traditional method, it is due to second fermentation taking place in the bottle (ala Champagne). In the tank method, it is via second fermentation taking place in tanks prior to bottling. In the Asti and ancestral methods, it is typically due to harnessing the CO2 created in primary fermentation either in tank (Asti) or in bottle (ancestral). Then, of course, carbonation is directly adding CO2 to still wine after primary fermentation without any assistance from yeast (where CO2 is the byproduct of fermentation).
These methods are then discussed in the context of approximately 18 regions with a look at how each region's land, climate, grapes, and laws influence how their sparkling wine is made. Some regions, like most of the old world, have strict rules on what can and cannot be made and the book takes a detailed look into these factors. Others, like most of the new world, tend to let wineries do whatever they want despite several using Champagne as a guide (for traditional method wines, at least) so the book focuses primarily on geography, soil, climate, and grape choices only.
Countries and regions that are covered in WSET D4 include the following:
France: Champagne, Loire, Burgundy, and Alsace
Italy: Franciacorta, Trentodoc, Prosecco, Asti, and Lambrusco
Other EU: Germany, Spain, England/Wales
New World: New Zealand, Australia, Argentina, Chile, USA, South Africa
While this course is quite heavy on France and Italy due to their prominence as sparkling wine producers (the book dedicates approximately 80 of 120 pages to these two countries alone), the teachings help provide a framework for applying how vineyard and winemaking choices impact the final product- many of which are universal. In this case, I felt like the latter chapters, especially for New World countries, left a lot to be desired in terms of listed facts and instead left it up to students to make required connections needed for exam-level evaluations.
I have to admit, I thought the book struggled at this a fair bit. It honestly felt like WSET purposefully left out a fair bit of detail I otherwise would've liked to see, and it took reading through the book five or six times for the connections to start becoming more obvious. This was likely intended, as these connections are what you need to make to truly learn the material, but I was still hoping for just a bit more at times.
For those who have taken the WSET D5 fortified wines module, sparkling wine felt strikingly different. In fortified, each category and style of wine felt distinctly unique, and each had its own set of facts unique to the category/style/region. In sparkling, most of the details only had nuanced differences within any given production category, and connecting these dots felt far more challenging.
As I went into WSET D4 not knowing too much about sparkling wine outside of what I picked up in WSET Level 3 (more on that below), I ultimately walked away with a firm appreciation for the category of wine and a robust understanding of all of these nuanced connections as well.
How Does D4 Compare to Level 3?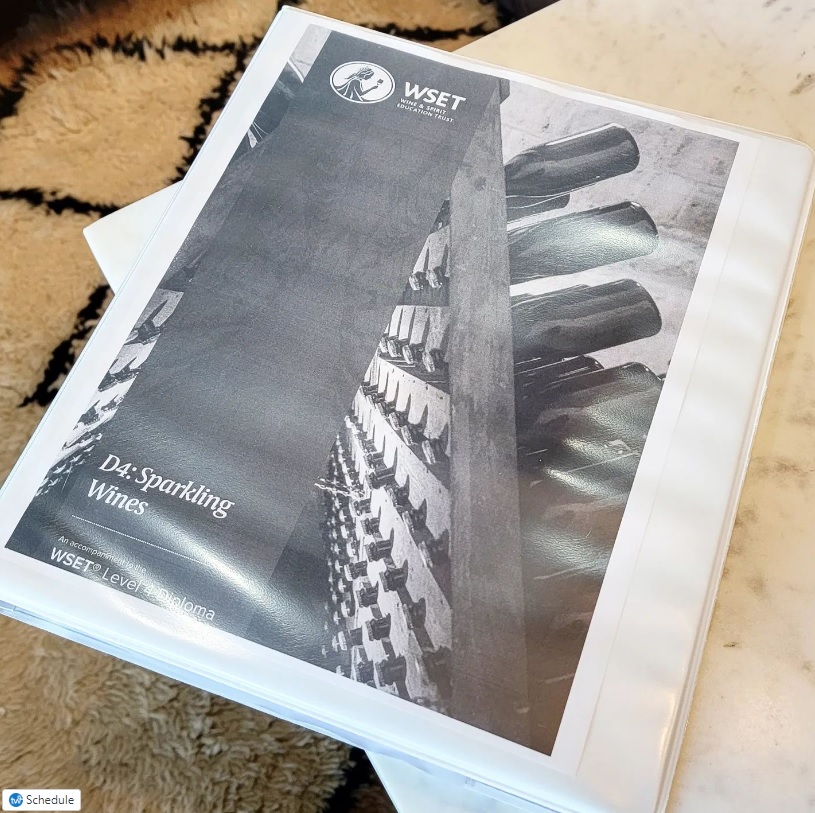 When it comes to sparkling wine in WSET Level 3, odds are good you will only focus on the topic for just one session. This session will go into a robust discussion of all things traditional method, tank method, and eight or so of the top-producing countries- all of which find their way into the Diploma module.
The discussion at this level felt like it leaned heavily into France, particularly Champagne as is often the gold standard for traditional method sparkling wine. Apart from unique variants like Prosecco or Asti (made via different methods), many other facts for wines like German Sekt, California sparkling, South African Cap de Classique, etc. felt almost like an afterthought in Level 3. You may walk away knowing these exist and perhaps one or two regions/grapes that are important, but you may not pick up much information beyond that as you will in the Diploma module.
Will you get sparkling wine on the WSET Level 3 tasting exam? As far as I am aware, this level only tests on still wines- so learning detailed tasting logic for sparkling wine is unlikely in Level 3 as well. Could you get some theory questions on the exam? Yes, but I would expect it to be somewhat limited. The specification when I took my Level 3 allowed for 20 points to be sparkling and fortified split up at their discretion. At the end of this course, how much you ultimately retain on sparkling wine will likely be limited.
In WSET Diploma D4, however, you are hit with a lot- even if some of the chapters are sparse and require you to connect the dots. You go into a much deeper discussion of all things sparkling wine, from site selection to business laws and major players, and of course, you have to taste three sparkling wines in addition to an essay portion of the exam.
Overall, I thought WSET D4 was the most daunting module in the Diploma program (apart from D3) if only because my experience with sparkling wine was quite limited and the topic is quite nuanced. But by the end, I had a rather robust understanding of sparkling wine not only in Champagne but also in a dozen or so major regions worldwide. So in that regard, I think I also learned more in this one than in just about any other module (excluding, perhaps, WSET D2 as it was inherently a new topic for Diploma level).
That being said, as the course is designed to teach you the relationships between all the factors (and at times struggles to achieve this), how much you learn and how well you do on the exam may vary based on your study habits. So don't slack off on this one!
Looking for tips on how to tackle the WSET Diploma D4 exam? Click the previous link to read some of my best tips!