Last Updated on May 3, 2021 by Jeremy
Disclaimers: This review uses WSET Level 3 terminology and our own rating scale. Read more here. We use demographic data, email opt-ins, display advertising, and affiliate links to operate this site. Please review our Terms and Conditions for more information. This website is intended for those of legal drinking age in your jurisdiction.
When we normally think of Semillon, we often think of the botrytized wine it produces in regions like Sauternes in France.
But this grape is also known to make some pretty stellar conventional dry white wines, especially from regions like Hunter Valley in Australia. Naturally, we had to pick up a bottle of Silkman's blackberry Vineyard Semillon to try just that and thought it made for a rather interesting glass!
Citrus, Stone Fruit, and Floral Notes Abound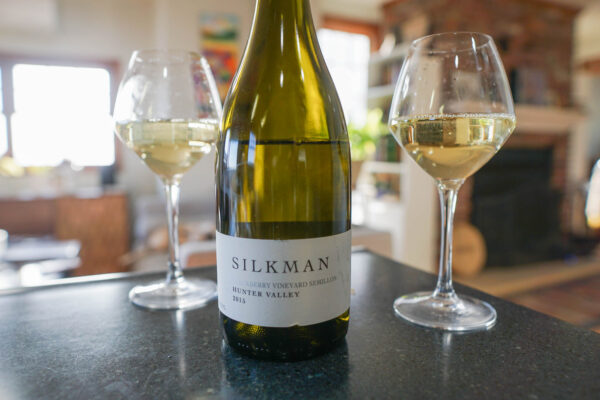 This Semillon was pale lemon-green in color with medium+ aromas of peach, lemon, lime, grapefruit, nectarine, grass, yellow apple, acacia, blossom, and pear. There was a slight petrol note on this one giving hint that the wine could be pushing into developing territory, but as it was the only note we caught on this we thought the wine was still youthful overall.
On the palate, the wine was dry with high acidity, low alcohol, medium body and flavor intensity with notes of lemon, green apple, nectarine, grass, and a medium finish. It certainly was a lot less complex than on the aroma, but still was well balanced all the same.
Semillon Food Pairing – Shakshuka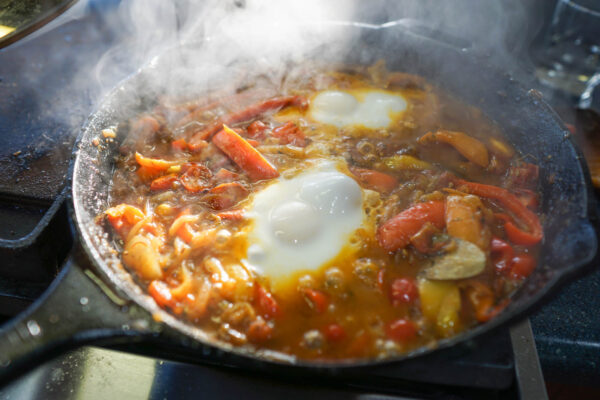 The high acidity of the tomatoes in the shakshuka paired this one really well, and the herbs and eggs within the dish brought out minerality in the wine that we did not notice on its own. A great pairing!
Score: 3 / 5
We'd buy a glass of this one.
Overall, Silkman's Blackberry Vineyard Semillion was a decent glass of wine and we'd be more than happy to have a glass in a restaurant or at a wine bar. While we wish the palate was a bit more complex like the nose, we still appreciated this one all the same.
Silkman's Blackberry Vineyard is from the Hunter Valley region of Australia. We purchased this bottle on Wine.com and enjoyed it in 2021.