Last Updated on May 7, 2021 by Jeremy
Disclaimers: This review uses WSET Level 3 terminology and our own rating scale. Read more here. We use demographic data, email opt-ins, display advertising, and affiliate links to operate this site. Please review our Terms and Conditions for more information. This website is intended for those of legal drinking age in your jurisdiction.
Bloomer Creek is one of our favorite Finger Lakes wineries and part of the reason for this, beyond their wine simply being delicious, is that they do production techniques and blends that you don't normally expect to find in the region.
The Vin d'Ete 2018 was on the more traditional side of things and is 95% Merlot and 5% Gamay. This one produced a wonderful aroma and flavor profile but also came packed with a hit of Brettanomyces that was just a bit much for us.
Still, we're glad we tried this wine all the same.
A Complex Red With a Hint of Brett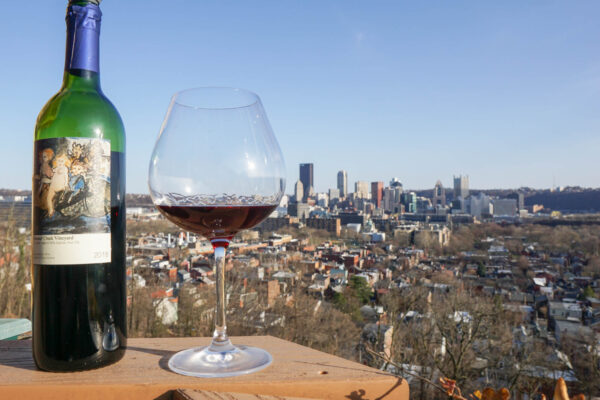 This primarily Merlot-based red was pale ruby in color with medium aromas of red cherry, black cherry, raspberry, cranberry, cinnamon, barnyard, cedar, tobacco, vanilla, allspice, bell pepper, and clove that was developing. A noticeable brett aroma was found with this wine as well (likely contributing to the barnyard descriptor).
On the palate, the wine was dry with medium+ acidity, medium tannin, alcohol, body, and flavor intensity with notes of red cherry, cranberry, raspberry, vanilla, minor amounts of clove, black pepper, green bell pepper, and a medium finish. The green bell pepper was an interesting one to jump out compared to the rest but offered a nice sipping experience all the same.
Vin d'Ete Food Pairing – Roast Tenderloin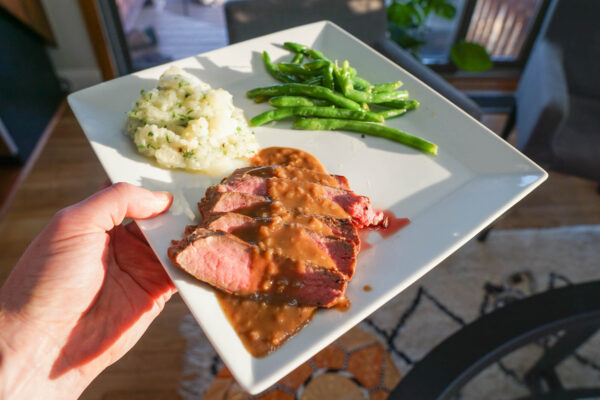 It is hard to go wrong with a higher acid red with any tender meat dishes, and our 48-hour sous vide tenderloin was no different. The fruity notes were accentuated quite well with this wine; however, some of the more green and vegetal notes from the bell pepper also were quite prominent with the pairing.
Score: 2 / 5
We're okay on this one.
Overall, this Merlot-based wine had some wonderfully complex aromas, but it was also a bit hard to get over the barnyard aroma in the nose too. As such, while we are happy we tried this one we would likely opt for another bottle from this amazing winery.
Bloomer Creek is located at 5301 NY-414 in Hector, NY, on the east side of Seneca Lake. We purchased this wine directly from the winery and enjoyed it in 2021.
Looking for more wines from Bloomer Creek? Check out our reviews of the Riesling Clone 10 Auten Vineyard, White Horse (our favorite), and their Gruner Veltliner / Chardonnay blend.