Last Updated on May 12, 2021 by Jeremy
Disclaimers: This review uses WSET Level 3 terminology and our own rating scale. Read more here. We use demographic data, email opt-ins, display advertising, and affiliate links to operate this site. Please review our Terms and Conditions for more information. This website is intended for those of legal drinking age in your jurisdiction.
I've always been fascinated by the Corvina grape as grown in the Valpolicella region of Italy.
Beyond simply making a delicious dry red wine, the winemakers do something a bit different here. They sometimes choose to dry the grapes prior to fermenting which gives raisinated and cooked/stewed flavor to wines that you may not otherwise get until the bottle is of sufficient age.
When fermented to dry or off-dry, this is known as Amarone della Valpolicella and goes wonderfully with game. But sometimes the grapes are so concentrated with sugar that fermentation stops naturally due to alcohol killing the yeast. In these instances, you get a wine that is much sweeter and can be consumed as a dessert wine much like you would a port wine (admittedly at a lower ABV and often in a 375 mL bottle).
This is Recioto della Valpolicella, and if you ever see one on the shelf for a reasonable price you'll do well to buy it.
Recioto della Valpolicella is Simply Delicious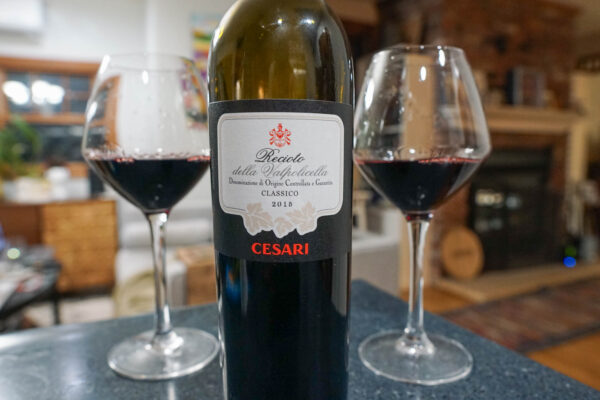 Cesari's Recioto della Valpolicella 2015 was deep ruby in color with medium+ aromas of stewed fruit including raspberry, blackberry, black raspberry, vanilla, nutmeg, cinnamon, cedar, prune, and a slight vegetal note that was developing.
On the palate the wine was medium sweet with medium+ acidity, medium tannin and alcohol, full body, and pronounced flavor intensity with notes of black cherry, black raspberry, dried cranberry, prune, vanilla, cedar, and a long finish.
While we got more of the raisinated and stewed fruits on the nose than we did on the palate, the medium sweet nature of this wine really worked well with the higher acidity and tannin and helped make this wine be, well, simply intense!
Recioto della Valpolicella Food Pairing – Ice Cream Sandwich
We went with one of our staple food pairings for dessert wines here- an ice cream sandwich made from one of our local Pittsburgh producers, Leona's.
But as this was a sweet red wine with red and dark fruits on the flavor profile, we opted to go for a chocolate-rich ice cream sandwich to play on the flavor combinations and did not look back as sweet red plus chocolate is a classic combo in every respect.
We'd do it again in a heartbeat.
Score: 4 / 5
We'd buy another bottle of this one.
Overall, Cesari's Recioto della Valpolicella ticks a lot of boxes for us in the dessert wine category. Intense flavors, sweetness that plays off of the flavors in a not-overly-aggressive fashion, and more. We want to go out and buy another bottle already (and possibly another on top of that to age).
Cesari is located in the Valpolicella region of Italy. We purchased this wine locally and enjoyed it in 2021.