Last Updated on January 1, 2021 by Jeremy
Disclaimers: This review uses WSET Level 2 terminology and our own rating scale. Read more here. We use demographic data, email opt-ins, display advertising, and affiliate links to operate this site. Please review our Terms and Conditions for more information. This website is intended for those of legal drinking age in your jurisdiction.
When we visited the Finger Lakes for a weekend getaway in late 2020, one winery, Bloomer Creek, was not open for tastings (only bottle sales). We placed an order at this one all the same at the request of a friend who wanted some bottles and decided to pick up a few for us to try at home thanks to their great reviews and that one of our favorite local wine shops carries them as well.
It very much was a case of "if it is good for them, it is good for us".
The first bottle we opened was their naturally fermented, skin contact, unfiltered Chardonnay and Gruner Veltliner blend- a more unusual grape combination than we're used to but one that we have to admit, we really enjoyed.
A Nice Complexity That Grew on Us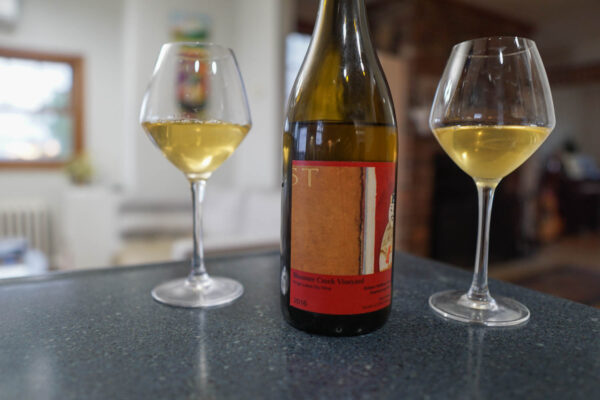 This one comes off medium lemon in appearance while being slightly hazy thanks to being unfiltered and naturally fermented skin-on. It comes off with medium intensity on the nose with characteristics of yellow apple, lime, honey, under-ripe peach, a hint of yeast, and subtle menthol notes as well that aren't too overpowering.
On the palate the wine is dry with medium acidity, low tannin, medium alcohol, and medium body. The intensity of the flavors was medium with characteristics of ripe yellow apple, lime zest, and a medium finish with mineral notes and a bready, yeasty feel that was incredibly subtle.
At first, we weren't quite sure what to make of this one. For a Chardonnay and Gruner Veltliner blend from the Finger Lakes, we appreciated it. But as we sipped more (especially so with our food pairing), this one really grew on us with its balance of fruit and mineral notes.
Bloomer Creek Food Pairing – Squash Gratin and Roasted Brussel Sprouts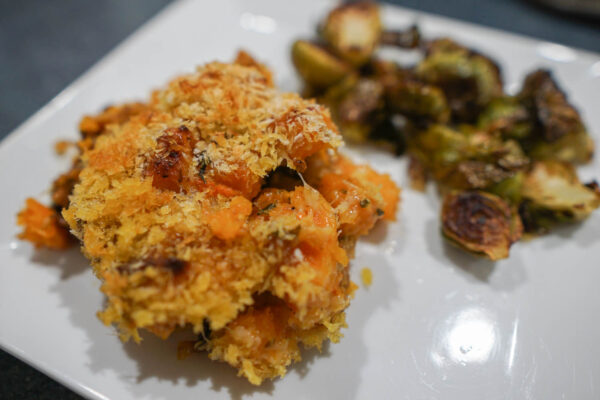 When we were selecting a wine to pair with this particular meal, we were having trouble. Squash with cheese and caramelized onions plus roasted brussel sprouts on the side is a very unusual combination on its own, and only a few wines were coming up as possible matches.
Some of the more prominent options included Chardonnay, Gruner Veltliner, and orange wine- it didn't take long for us to realize we had one that checked all those boxes. Part of this was that the acidity of the wine worked quite well with the umami of the squash and onions but also that the lingering minerality was a nice complement to the brussel sprouts- a notoriously difficult food to pair wine with. Add in just a bit of effervescence and call us pleased.
Score: 4 /5
We'd buy another bottle of this one.
When we first started drinking this bottle, we were both firmly in the 3/5 camp. The wine was good, but we weren't sure we'd buy a bottle. By the time we finished this one, we realized it was quite complex and the two grape varietals came together for an interesting blend that was pretty stellar (especially for the Giner Lakes at large). As such, we'd happily pick up another bottle of this one.
Bloomer Creek Vineyard is located at 5301 NY-414 in Hector, NY. We purchased this bottle directly from the winery and enjoyed it in 2020.