Last Updated on January 1, 2021 by Jeremy
Disclaimers: This review uses WSET Level 2 terminology and our own rating scale. Read more here. We use demographic data, email opt-ins, display advertising, and affiliate links to operate this site. Please review our Terms and Conditions for more information. This website is intended for those of legal drinking age in your jurisdiction.
One winery we missed out on visiting when we explored the Finger Lakes was Heart & Hands. We had heard about wines from this vineyard for a while and were pretty bummed we couldn't make the stop happen.
Thankfully, while exploring a wine store in Ithaca we found a bottle of the Heart & Hands Pinot Noir 2018 and picked it up without hesitation to give them a try. While we would say this was a fairly representative Pinot Noir as far as the varietal is concerned, it was quite surprising that it came from the Finger Lakes!
A Fruit Forward Pinot Noir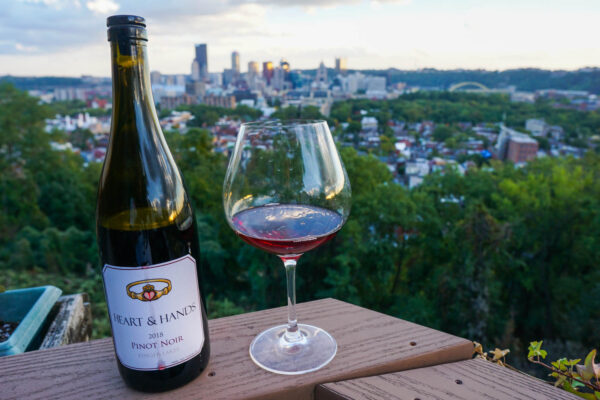 This young wine poured with a pale ruby color and had a medium aroma with prominent notes of ripe cherry, raspberry, and strawberry with faint baking spices, vanilla, and subtle herb undertones that were somewhat hard to isolate.
The wine had medium acidity, low tannins, and medium alcohol, body, and intensity of flavor. Flavor notes of tart cherry, underripe raspberry, and a little green vegetable was detected on the backend making it a fairly representative Pinot Noir for what we'd expect.
Heart & Hands Pinot Noir Food Pairing – Mushroom Ragout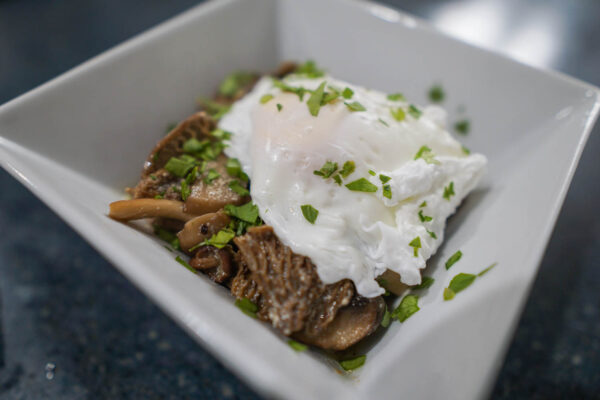 We selected this wine to pair with a mushroom ragout as umami forward mushrooms and Pinot Noir is often considered a classic pairing. The dish was made with sauteed mushrooms, a vegetable and mushroom stock, and topped with a poached egg to up the richness factor.
It was, in a word, delightful.
The rich and umami nature of the dish really cut the tart acidity significantly and muted some of the brighter red fruit notes almost entirely. We noted some extra flavors of dark fruits as well as barrel characteristics and some herbal notes as well. None of these were overt flavors compared to the red fruit we noted when tasting the wine on its own, but we were impressed by how much the rich mushroom dish altered the flavor perception on our palate.
Score: 2.5 / 5
We are good on this one but could be persuaded on a glass in the right circumstance.
Overall, Heart & Hands Pinot Noir was a fairly representative and somewhat straight-forward for its varietal type. But when you take a moment to remember that this one comes from the Finger Lakes, a wine region we do not necessarily associate with Pinot Noir, we have to appreciate this one just a bit more.
Heart & Hands Winery is located at 4162 NY-90 in Union Springs, NY. We purchased this bottle from a wine store in Ithaca and enjoyed it in 2020. Different vintages may be available on Wine.com but were out of stock at the time of publishing.