Last Updated on March 3, 2023 by Jeremy
Disclaimers: We use demographic data, email opt-ins, display advertising, and affiliate links to operate this site. Please review our Terms and Conditions for more information. This website is intended for those of legal drinking age in your jurisdiction.
During our trip to California, we made it our mission to visit a number of wineries in Sonoma and Napa Valley. Naturally, this led us to purchase many bottles (15 to be precise) and a need to figure out how to get them safely to our home on the east coast. As information for this is rather limited, we thought it would be helpful to publish a detailed guide about options for shipping wine from Napa and Sonoma for your visit!
Based on our experiences, there are five popular ways to ship wine from Sonoma and Napa wineries in order to enjoy some delicious bottles at home. But, as with all things with moving bottles of wine, there are some risks and costs involved.
As such, the following is organized from cheapest / most risky to most expensive / least risky as you proceed down. This assessment is based on our experience only.
1. Wine Shipping Boxes as Checked Luggage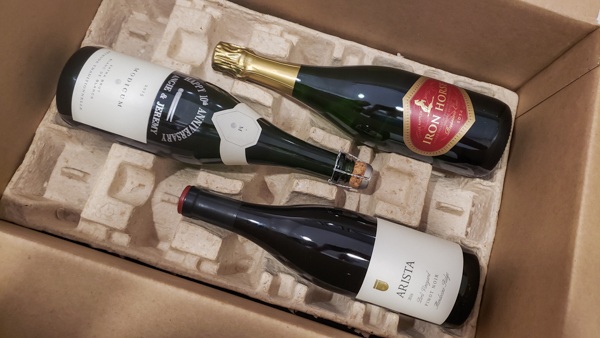 Wine shipping boxes with contoured inserts (either styrofoam or cardboard) that lock wine bottles into place to minimize movement during shipping. They're rather easy to use and are quite effective at protecting your precious liquid cargo when on the go.
The problem with wine shippers is that they can be quite difficult to find. Some shipping stores may have them available, but most are moving towards promoting dedicated wine suitcases which we'll talk more about below (we saw those all over the place in both Napa and Sonoma).
We were given a box by a friendly vineyard who had an extra one laying around with room for six bottles (us buying three bottles from them certainly made it easier to get one, too), but they also are available online for about $25-$35 depending on bottle count for those who want to purchase one in advance to take with you (here and here).
What is nice about these shipping cases is you can put them on the plane as a piece of checked luggage, so pending your baggage allowances you may be able to check this box at no additional charge. At first, we were worried about placing our bottles in the box (champagne bottles, no less), but everything turned out quite fine.
I put this on the riskier end of the spectrum for two reasons. First, there is the difficulty in finding a box in Napa/Sonoma to begin with. Second, there is the risk of shipping it as a checked box on a plane. I think the latter is a bit lower if you package your bottles correctly if only because boxes with fragile stickers get handled much nicer than luggage (no handles to grab and toss like handlers often do with suitcases).
Overall, while we had some anxiety watching our box of $500 worth of wine disappear onto the conveyor belt, they arrived at our destination without issue.
2. Wine Skins in Your Suitcase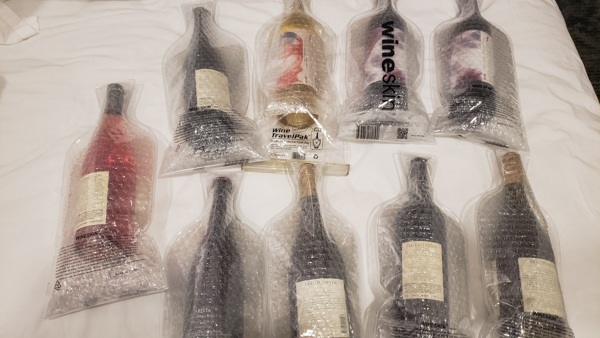 The next cheapest option is also on the riskier side of the spectrum.
Wine Skins are an interesting product as they are bubble wrap lined bags that are designed in the shape of 750 ml wine bottles. The bags are one-time use and have a double adhesive seal to protect your bottles in the event of a break, and an eight pack runs roughly $20- increasing your average bottle price by just ~$2.50 each.
We used these in our large suitcase and ended up fitting nine bottles just fine. We took precautions to pack the bottles with a layer of clothes on all sides, in between the bottles themselves, and made sure to have a nice, tight packing all around to avoid any movement in the suitcase.
There is an additional downside to this in that the max weight for checked luggage varies by airline and your status. We were fortunate enough to have higher status on United, allowing for 70lb bags for free and preferred handling, and ours checked in at just about 59 lb- meaning we could've likely fit an extra bottle or two in for good measure although were struggling for room.
We think this is on the riskier side of the spectrum as it relies on your packing abilities and how the airlines handle luggage (be sure to get a fragile sticker when checking your bag). We definitely would do this again but would be a bit more hesitant if we had connections versus the direct flight we took (more handling is more potential for damage, after all).
3. Pay for a Courier to Ship Your Bottles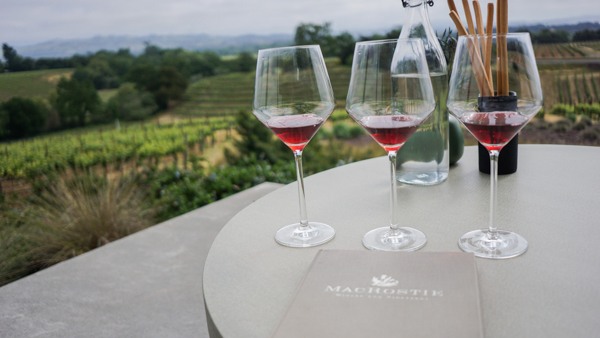 If you are risk averse and looking for a full-service shipping option, several couriers exist that will handle all of the logistics of mailing bottles to your home address.
These services will handle all of the logistics from packaging, insurance, to arranging to ship in temperature controlled vehicles from FedEx / UPS as needed, but naturally comes at a cost.
It is hard for us to say what shipping rates are as it will vary considerably based on the number of bottles, your shipping choices, destination, and insurance options. Generally, you should expect a full case to run between $50-$150 as a reasonable estimate. It is also worth noting that not all states allow mail deliveries of alcohol, so you should confirm this for your own state prior to traveling (some services have this outlined on their websites as well).
Some options for shipping include Crown Wine Shipping and Rabbit Hole Post in Santa Rosa. These would also be places we would consider checking for wine shippers if you cannot find any at a vineyard; however, availability is questionable and we recommend calling in advance to confirm availability.
4. Pay for the Vineyard to Ship Your Bottles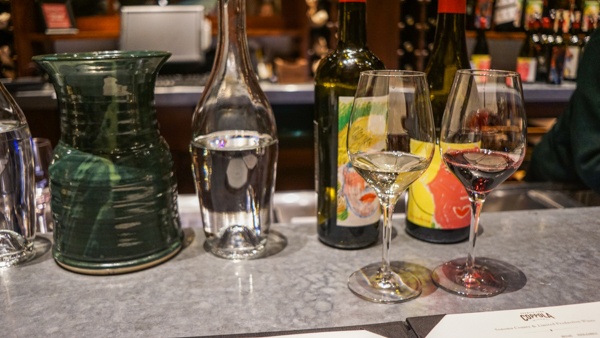 So, what about shipping from a vineyard directly? Generally speaking, all vineyards will mail cases (with similar state limitations as noted above) but are often only willing to ship their wines in the box. As such, shipping from a vineyard is best for those with full case orders or those who are participating in clubs that ship wines monthly or quarterly- not those who put together a mix-and-match case from a visit to multiple vineyards.
Prices here vary based on all of the above logistical points as couriers, but some vineyards incorporate price breaks into these due to ordering on volume. It is not unheard of to see a case of wine be offered with a flat rate as low as $20 cross-country, but at this point, you are essentially subsidizing conventional courier costs with additional bottle purchases.
Had we bought an entire case from a vineyard, we definitely would've taken advantage of on-site shipping with little hesitation. Unfortunately, during our first trip, we ended up only buying a few bottles here or there and resorted to the methods listed at the start of this article.
5. Purchase a Dedicated Wine Suitcase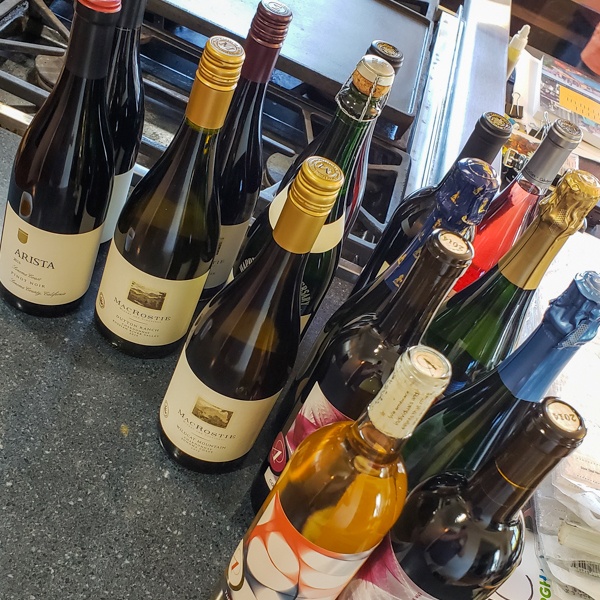 Now we get to the most expensive option out of all of your wine courier scenarios, and that is dedicated wine suitcases like the VinGarde Valise or CasePro. These are comparable in design to the wine shippers mentioned at the start of this article but are made from heavy plastic for a reinforced, multi-use case.
While we do not have first-hand experience with these cases, we can see from our experience with cheaper methods why there is interest for something so durable. The downside with these suitcases is price. Most suitcases designed for 12 bottles of wine will run north of $300 ($350 is common), meaning that you'll be adding on $25/bottle for your very first trip if you use it only once.
As such, premium wine suitcases like these are likely best left for those who buy wine regularly and can envision using them for a minimum of 10 trips over the life of the case (or, on the other end of the spectrum, are buying some extremely high-end wines). This would be roughly the tipping point where the risk/price point of some of the above options would begin to balance out with the dedicated case.
But, as with all things, a dedicated case will also require a separate checked bag which could incur additional fees based on your ticket and airline status.
Overall, whether you are looking to ship wine home on a budget with Wine Skins or to go all out with a courier or wine suitcase, there are a number of choices for wine shipping that will match your budget and risk style. So do not be afraid when going to Sonoma or Napa Valley wineries, there are options for getting your wine home safe and sound!