Last Updated on December 9, 2020 by Jeremy
Disclaimers: We use demographic data, email opt-ins, display advertising, and affiliate links to operate this site. Please review our Terms and Conditions for more information. This website is intended for those of legal drinking age in your jurisdiction.
I've been getting into learning everything I can about wine and have hit things hard between reading wine books, prepping for my WSET Level 2, trying samples at high-end wine bars (like Wine Bar George at Disney Springs- run by a Master Sommelier), and more.
But learning everything there is to know about wine is only part of the equation. Putting it into practice is a different matter entirely.
Between figuring out the best wines to order at a restaurant, finding great bottles to have with meals, and building our own cellar at home, there certainly is a lot that goes on behind the scenes.
In this one, I wanted to go more into the aspect of wine that is one of our favorites- how to find a wine to have with a meal at home. To do this, I've come up with a pretty simple three-step method that you can utilize with every meal!
Step One – Consult What to Drink With What You Eat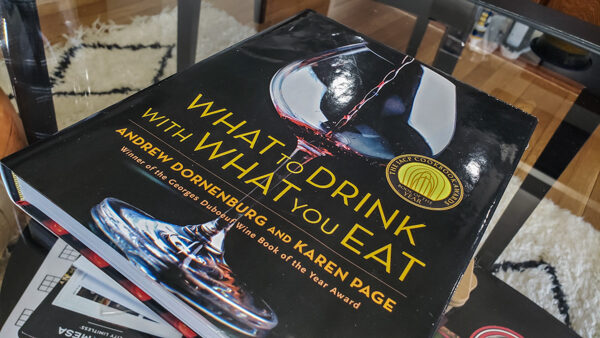 So, let's say you're planning a dinner and want to pair it with wine. Let's also say that dinner is a few days away such that you can make a trip to a liquor store or wine cellar to go shopping. Where do you start?
It takes a fair bit of knowledge and experience to be able to quickly say that you want to pair an off-dry German Riesling with a spicy Thai curry, or an Italian Chardonnay with a cream-based pasta. In fact, even with my new interest in wine I can't say that I am anywhere near this level- other than repeating past pairings, at least.
This is where What to Drink With What You Eat comes into play. This tome was put together by a James Beard award-winning team that consulted hundreds of experts to build the definitive guide for food and drink pairings. It is organized in an encyclopedia format such that all you have to do is look up your main ingredients and find the wines that are recommended to go along with it (noting any extra strong/high-affinity pairings denoted)- simple!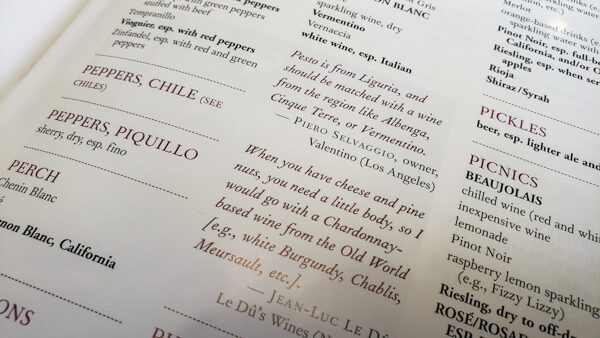 What we love about this one is that it dives down deep in terms of food items. Some main proteins are a given (steak, salmon, etc), but this one goes much further with pairings for items like crepes, spring rolls, sweetbreads, and even wasabi. Suffice it to say, if there is a focus ingredient in your dish, odds are good this one has pairing recommendations to go along with it.
That is just the first half of the book. The second half of the book does the reverse- here you can look up a wine or spirit and find out what food pairs with it as well. So if you are starting with a great bottle of wine and want to figure out the food to serve it with, this one gives great ideas for you to work with as well (although for the rest of this post we're going to assume you still need to go to the store to pick up a bottle).
The drawback to this book is that it does not go any further than a simple item recommendation. You may now have a Pinot Noir or Cabernet Sauvignon on your mind for your meal, but do you want one from the USA, France, or Australia? What are the differences between those anyway? To dive down into this, you'll need to reference one more book.
Step Two – Read More About Wines in The Wine Folly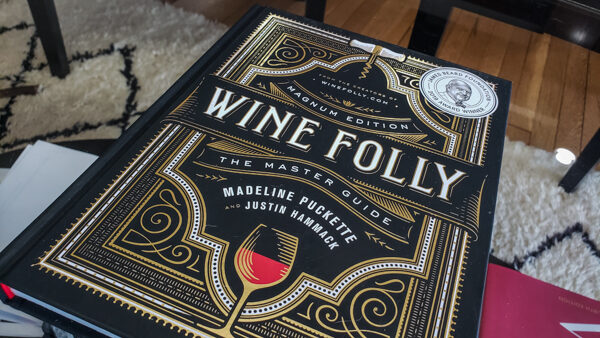 For the second step, we turn to The Wine Folly. This is a James Beard award-winning resource that is a pretty in-depth guide to wine, oriented for beginners with easily digestible paragraphs and graphics. The book is broken up into several sections including explaining how grapes are grown and wine is made, how to taste and evaluate wine, and also diving down into 100 of the top grape varietals and wine regions from around the world.
The latter section is important because it also gives tasting profiles, flavors, and breaks down what you can expect from the same grape from, say, France vs California vs another cooler climate altogether (in the case of the Pinot mentioned above). This gives a pretty robust look at the wine itself and then lets you decide if you are interested in trying it for a congruent pairing (shared flavors- say a red with mushroom undertones to go with a mushroom pasta) or contrasting pairing (differing flavors- say a sweet wine offsetting a spicy food).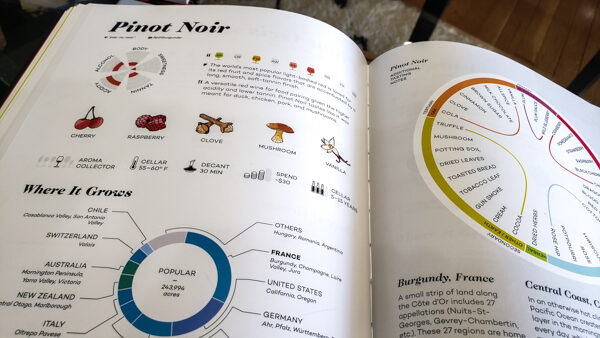 After referencing this book many times, we are getting pretty good at looking at a type of wine and saying "I would like to find one with this specific flavor profile to match my meal" and use the other data listed to get a better understanding of what the tastes could be like all before even opening a bottle.
When we don't like a particular recommendation, all we have to do is find another wine as recommended in What to Drink With What You Eat or check out a few of the comparable wines as recommended at the end of each section in The Wine Folly as well. Although here we have to admit we do this more to find out more about a wine we've never tried before than not liking a recommendation outright. We just want to try new things!
From there, you can head to the wine store and do one final step- check reviews.
Step Three – Find a Wine in Store and Review on Vivino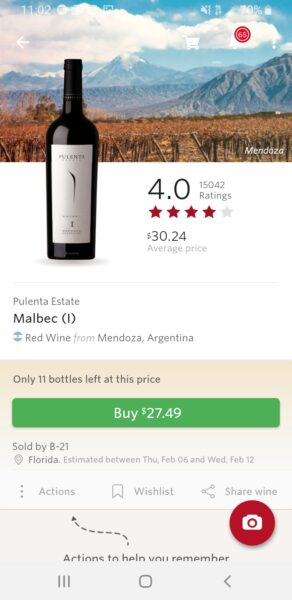 Now that you know a general style (or styles) of wine you want to purchase, you can head to your local liquor store or wine cellar and see what the options are.
This is the part where we always struggled in the past as finding a good bottle of wine can be tricky. Do you buy based on price? The label? The flavor notes listed? What do you do when there is nothing listed at all?
In a way, picking out a bottle of wine at the store is the most frustrating part as the lack of information available (in the information age no less) is truly astounding. This is where the Vivino app comes into play. This is a pretty handy app that lets you take a photo of any bottle of wine and instantly see an aggregated list of reviews, flavor profiles, and average price- all with a click!
We have had some stellar luck scanning bottles in the store and generally operate under a rule of anything over a > 4.0 aggregated rating is likely to be quite good (even high 3's like 3.8 or 3.9) and doubly so if our store has it available for less than the average price found online. We found a 4.3 Pinot Noir from Washington State for $10 less than average price online, and it was a winner with our meal.
You do have to be careful when taking photos of bottles here as the app is prone to misidentifying bottles or vintages at times, but when you do scan properly a wealth of knowledge becomes available at your fingertips. Compare this information with what you've learned in What to Drink With What You Eat and The Wine Folly, and the odds of a good pairing with your meal go up significantly!
Pro Tip: You can also use this app at restaurants to scan a menu and find highly rated glasses at reasonable prices. Sometimes a glass of wine can be a 3.0 and be the price of the entire bottle, where other times it may be a 4.3 and be appropriately priced for a single glass. Win!
Final Step – Go Home and Enjoy It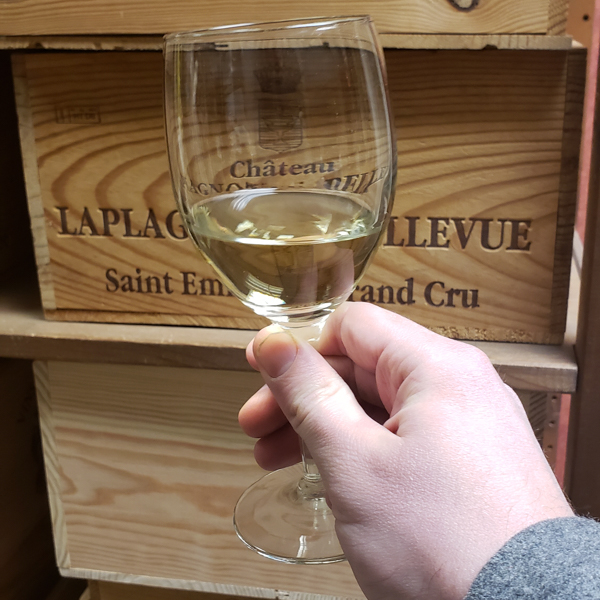 Put all of this together, and you'll have some pretty great odds of finding a wine that will pair perfectly with your meal. All you have to do is then chill (and perhaps decant) as recommended in The Wine Folly and you're ready to go in enjoying it with food!
While it may seem like a fair bit of extra work, taking five minutes to consult What to Drink With What You Eat and The Wine Folly before heading to the liquor store and five to ten minutes scanning wines with the Vivino app will make a huge difference in the final outcome of what you get.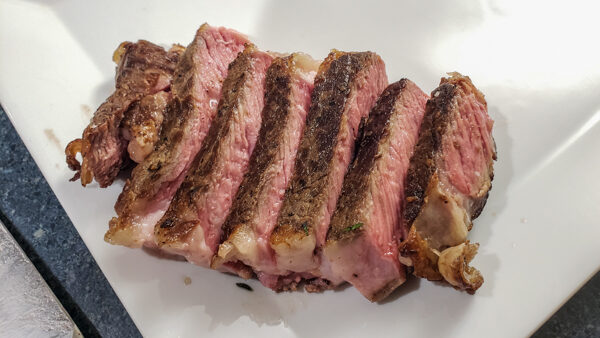 If you're already going to spend $20, $30, $40, or more for a bottle of wine, the extra steps really are worth it in the long run. We think of these steps almost as an insurance policy to hedge your bets, and with prices like that, we'll take a few extra minutes to ensure we have the very best outcome.
Wouldn't you?
Want to go even further in reading about your chosen wine? Consult The World Atlas of Wine to learn more about the region as well. We do this after cracking open a bottle to read more about the grape, terroir, and more to really get into the fine details of what is in our glass!
Are you completely new to wine and don't know what you like? Check out Wine Snobs Are Boring to learn more about your palate and get a understanding of what wines you should try out first. (Disclosure: We are friends with the author, but also really like the book!)
Do you have a process for how to find a wine to go with a meal? Comment below to share!