Published Jeremy. Last Updated on March 9, 2023.
Disclaimers: We use demographic data, email opt-ins, display advertising, and affiliate links to operate this site. Please review our Terms and Conditions for more information. This website is intended for those of legal drinking age in your jurisdiction.
Wine Bar George is a restaurant and bar located in Disney Springs that was started by Master Sommelier George Miliotes. With a variety of small plates and charcuterie boards, a large selection of wines by the glass, and exceptional service, Wine Bar George is a must-visit Disney-area spot if you're at all into wine.
Wine Bar George is a Standout at Disney Springs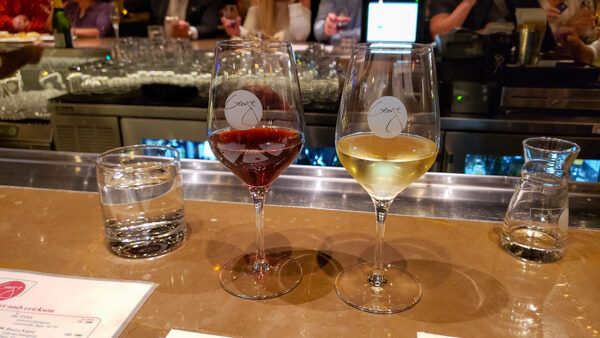 Disney Springs is a massive 120-acre complex full of hundreds of shops and restaurants. Many of the restaurants are chains (like Planet Hollywood) or are owned by big-name chefs (like Morimoto Asia and Wolfgang Puck Bar & Grill).
We don't normally gravitate to those types of restaurants, so during our recent long weekend at Disney we were looking for a restaurant with a more intimate and unique vibe. In just a few short days we ended up going to Wine Bar George twice – that's how much we loved it.
On our first visit, we dined upstairs and tried several of the small plates along with a few glasses of wine. The wine list is extensive with hundreds of wines available by the glass or bottle – but don't let that intimidate you. All of the servers we encountered were knowledgeable about the list and were able to guide us toward some great selections.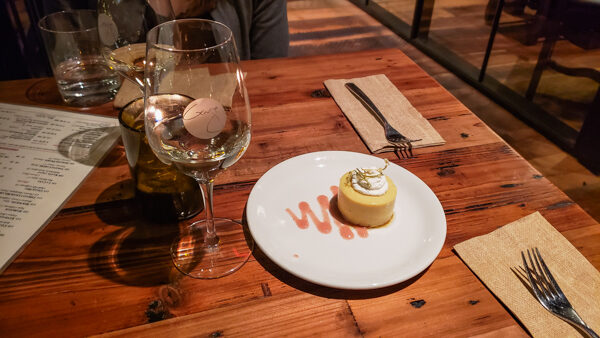 The wine menu also includes a few dozen selections in a separate section labeled "outstanding wines by the ounce." These wines you can order by the 1 oz, 3 oz, 6 oz, or the bottle. The restaurant uses a Coravin system which has a special needle that punctures the cork without removing it, thus preserving the quality of the wine over a long period of time. This means that you can try small pours of high-quality wines instead of purchasing an entire really expensive bottle.
On our first visit, we tried a very nice Cabernet Sauvignon from Vina Alicia in Mendoza as well as a French Pinot Noir and a German Riesling. But the most memorable wine of the evening was one from the "outstanding wines by the ounce" – the Domaine Weinbach 2017 Grand Cru Riesling from Alsace.
Not only was the Domaine Weinbach Riesling excellent, but the manner in which it was served to us really stood out. A sommelier came to our table and presented us with the bottle (a nice touch) and talked to us for several minutes about the history of Alsace, the vineyard, and the specific wine. We were so thrilled to learn more about the wine we were tasting and have a great conversation with the sommelier.
Don't Miss The Food at Wine Bar George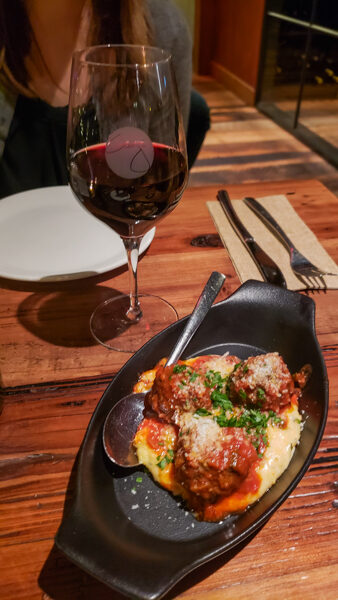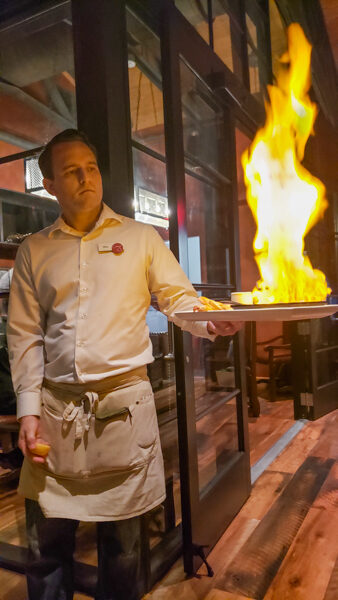 The restaurant certainly isn't phoning it in with the food, either – we tried several delicious small plates like house-made meatballs, crispy mac and cheese bites, and the Saganaki on fire. The meatballs were served over cheesy polenta and topped with a tomato sauce, while the mac and cheese bites had a thin, crispy coating that contrasted nicely with the creamy insides.
But the show-stopping dish was the Saganaki on fire – a brick of Vlahotiri cheese topped with the Greek spirit Metaxa that was set on fire tableside by our server. The cheese ended up super gooey with a nice grilled flavor, and we eagerly scooped it up with the crispy crostini served alongside it.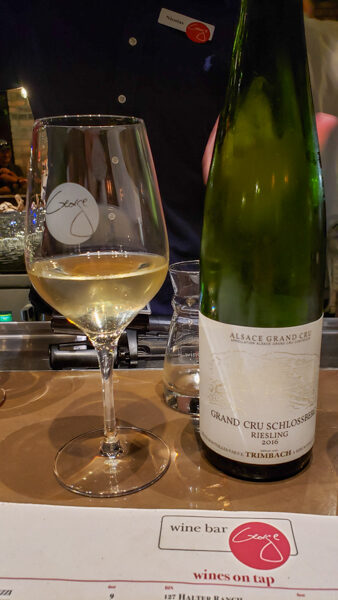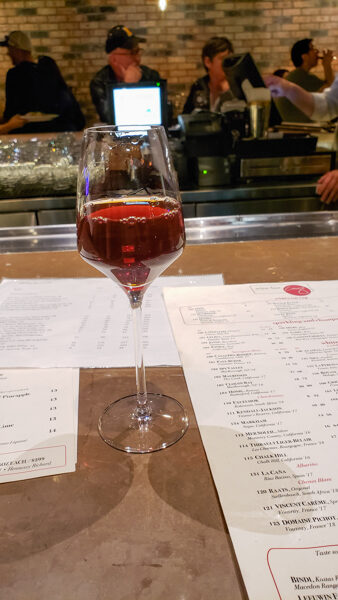 We had such a fantastic time here that we came back for some after-dinner drinks another night. We sat at the bar and had more great conversations about wine with the bartenders who were extremely knowledgeable. We tried a Trimbach Riesling which we had fun comparing to the Domaine Weinbach Riesling from our previous visit.
We also tried a 1998 Chateau Musar from Lebanon – I don't think we had ever tried such an old vintage before! We enjoyed learning from the bartenders that this particular vineyard takes a unique approach to aging their wines. They age everything themselves and then only release the bottles when they are ready to drink. Learning bits of information like this really added to the whole experience here!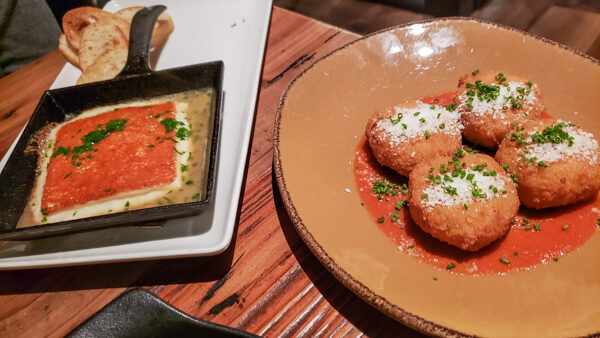 Overall, we thoroughly enjoyed both experiences at Wine Bar George. Whether you're a wine novice or professional or somewhere in between, the bar is a fantastic place to engage in conversations about wine and to try high-quality offerings by the glass that you can't really try elsewhere.
Wine Bar George is located at Disney Springs at 1610 E Buena Vista Drive in Lake Buena Vista, Florida.