Published Jeremy. Last Updated on April 7, 2021.
Disclaimers: We use demographic data, email opt-ins, display advertising, and affiliate links to operate this site. Please review our Terms and Conditions for more information. This website is intended for those of legal drinking age in your jurisdiction.
Our first sample of Lebanon's Chateau Musar came at Wine Bar George while we were on vacation at Disney. At that point in time, Angie had never tried a significantly aged wine, and the 1996 Chateau Musar caught her eye as a splurge sample.
It was, in a word, lovely.
It was there that we learned that Chateau Musar is somewhat unique as a producer in that they do not release their bottles until they are ready to drink. Sometimes these can be young, other times quite old depending on the grape, growing season, and blending choices.
Cut to a year later when we found a bottle of 2006 Chateau Musar at a local store with a three-way blend of Cabernet Sauvignon, Cinsaut, and Carignan at a rather respectable price point. Without thinking twice, we bought the store's one and only bottle.
A few months later we cracked it open with our Ah So, gently poured it into our decanter, and snuck a taste while letting it breathe. It was different, naturally, but every bit the high-quality wine we expected.
An Aged Red Worth Seeking Out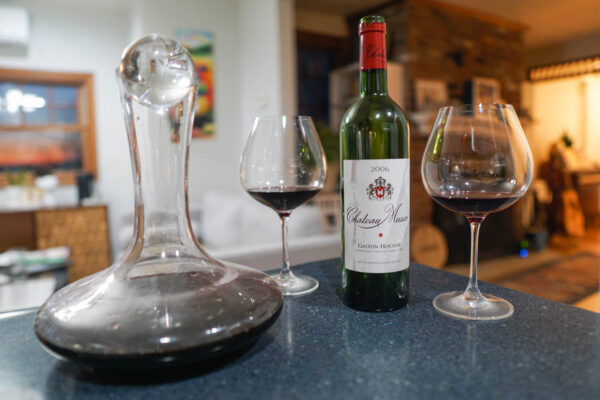 Chateau Musar's 2006 blend poured with a medium garnet color. Prior to letting it breathe, we noted a medium+ aroma of licorice, leather, vanilla, dried red and black cherries, as well as vegetal and savory notes that we'd call developed. As this one opened up, many of the tertiary notes were harder to detect with stronger red fruit aromas coming out as well as a fairly intense violet aroma we did not get immediately.
On the palate, the 15-year-old wine was dry with high acidity, medium tannin and alcohol, and medium+ body and intensity of flavor. We detected notes of dried cranberry and red cherry, and a smoky almost meaty finish that was also medium+.  While Chateau Musar likes to release their wines when they are ready to drink, this one probably could age just a bit longer too.
Chateau Musar Food Pairing – Sous Vide Steak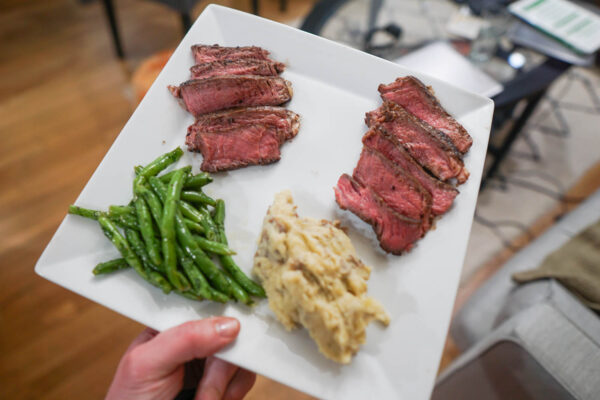 As soon as we purchased this bottle, I knew we had to pair it with a great sous vide steak. But for this particular pairing, we tried two kinds of sous vide steak- one using our conventional recipe at the previous link and one using a variant of that recipe with a shio koji rub.
For those who do not know koji, it is an inoculated rice that is used in Japan to make things like miso soup, soy sauce, and more. When used on a steak, the enzymes that are created break down the meat in a similar fashion to what happens when you dry-age meat. So beyond the typical steak flavors, you're also going to get more pronounced mushrooms, earthiness, and even nuttiness (which we did note in ours here- quite prominently, even).
The fattiness of the meat and the extra characteristics of the koji age paired some of the aged components of the wine and brought out a rather intense flavor profile of red fruit, vanilla, and cola. As the flavors of the steak wore off, the tertiary notes came back in the glass as well. Wild stuff.
Score: 4 / 5
We'd buy another bottle of this one.
Apart from our memories of enjoying Chateau Musar on vacation, this bottle held up on its own as being a great value for what we paid for it (~$70 in 2020). If we ever find it or others from this producer that are aged at a comparable price point, we won't make any hesitations about purchasing another.
Chateau Musar is located in Ghazir, Lebanon. We purchased this bottle locally and enjoyed it in 2021. Wine.com carries many Chateau Musar labels including young wines and a few aged at the time of publication.
Looking for more Chateau Musar wine reviews? Check out our review of the Chateau Musar Pere et Fils 2012 and Chateau Musar 2010!