Published Jeremy. Last Updated on February 16, 2021.
Disclaimers: This review uses WSET Level 3 terminology and our own rating scale. Read more here. We use demographic data, email opt-ins, display advertising, and affiliate links to operate this site. Please review our Terms and Conditions for more information. This website is intended for those of legal drinking age in your jurisdiction.
Partida Creus is an interesting winery in Catalunya, Spain, that is run by Italians and uses grapes acquired from old and sometimes abandoned vineyards. These are then farmed organically and produce some seriously delicious natural blends.
Vinel-lo, denoted VN, is a red field blend of six different grapes in various quantities- specifically Grenache, Mourvedre, Tempranillo, Sumoll, Trepat, and Cinsaut. As wines from Partida Creus have initials in a rather recognizable format on the label, it should be noted that they have VN bottles for red (this review), white, and even sparkling- so you may come across any of these if you are simply searching out "Partida Creus VN".
So, what is the red blend like? Well, this one had a nice complex aroma and was relatively straightforward on the palate.
A Straight-Forward Field Blend from Spain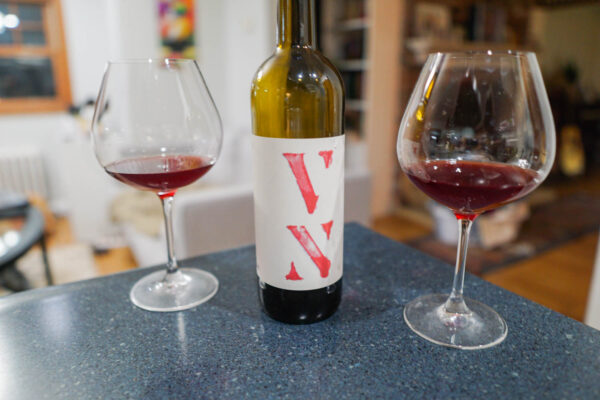 Partida Creus Vinel-lo was pale ruby in color with a medium aroma of black cherry, dominant clove, pepper, baking spices, and cola that was developing. This is the kind of aroma we love as you get some solid fruit but then richer characteristics thrown into the mix as well.
On the palate, the wine was dry with medium characteristics across the board except for perhaps a medium+ body. We detected notes of red cherry, raspberry, dried herbs, and vanilla which worked together to make this wine very easy-drinking without as much complexity as the nose. As such, drink it now if you have it.
Vinel-lo Food Pairing – Middle Eastern Kebab and Pita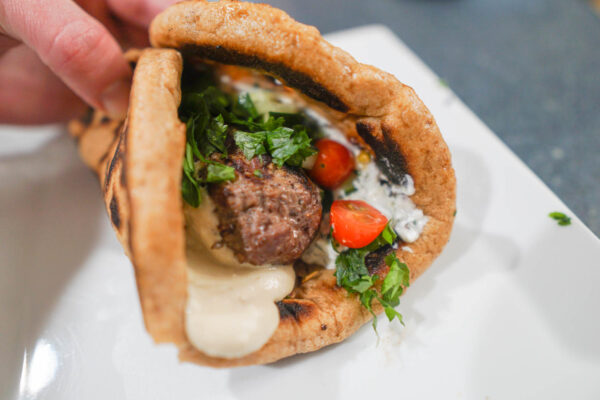 We opted to pair this red blend with a homemade pita sandwich stuffed with Middle Eastern kebab, herbs, tomato, hummus, tzatziki, and more.
The rich, fatty kebab really worked well with this pairing as it helped bring out some more dark fruit and spice notes on the tongue that we did not note when sipping this one alone. We'd perhaps not go as far as saying these notes were the same as what we got on the nose, but it was getting there and really helped elevate the wine. As such, pairing with some rich and heavily seasoned meat may be a great pairing idea for this one.
Score: 3.5 / 5
We'd buy a glass of this one and possibly another bottle in the right context..
When it comes down to it, Partida Creus Vinel-lo VN offered a relatively tasty glass that was straight-forward on its own but shined a bit brighter with our meal. We'd buy a glass of this one again, but could be persuaded on a bottle if we could find it cheaper than what we had paid locally (~$40 in 2020).
Partida Creus is located in Catalunya, Spain. We purchased this bottle from a local store and enjoyed it in 2021. Wine.com has Partida Creus listed on their site but was out of stock at the time of publishing.