Published Jeremy. Last Updated on April 7, 2021.
Disclaimers: This review uses WSET Level 3 terminology and our own rating scale. Read more here. We use demographic data, email opt-ins, display advertising, and affiliate links to operate this site. Please review our Terms and Conditions for more information. This website is intended for those of legal drinking age in your jurisdiction.
If you've read any other wine reviews on our site, you would know we have a soft spot for Chateau Musar from Lebanon. We first had an aged Musar at Wine Bar George in Disney Springs, and have been buying bottles wherever we can find them ever since.
The Chateau Musar 2010 is a blend of Cabernet Sauvignon, Carignan, and Cinsaut which hits all the things we love about this bottle. Despite enjoying this one in 2021, we think this one could age even more!
Fruit and Age All Rolled Into One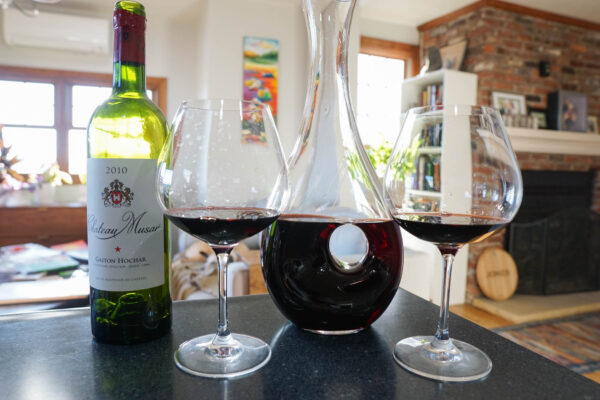 This red blend from Lebanon was pale garnet in color and had a medium+ aroma of licorice, red cherry, leather, game, cedar, vanilla, cranberry, black cherry, forest floor, allspice, and was developing.
On the palate, it was dry with medium+ characteristics across the board with flavor notes of red cherry, clove, cedar, cranberry, vanilla, tobacco, leather, cassis, smoke, and violet that came out as the wine breathed more. The finish on this one was long and quite enjoyable.
I'd probably go as far as saying this one could age for several more years, but is also lovely at 11 years old.
Chateau Musar Food Pairing – Sous Vide Steak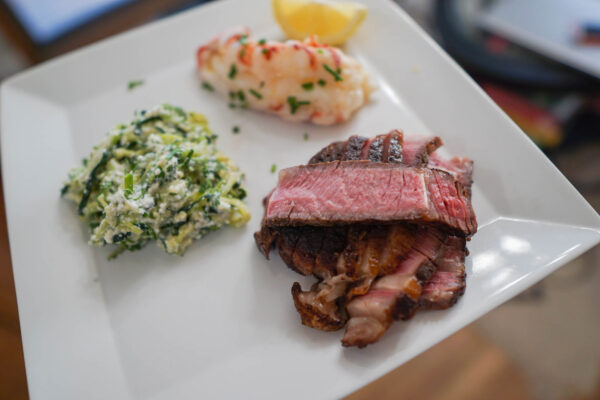 We paired this wine with one of our go-to aged wine dishes- steak. This one was a rib steak prepped in sous vide to medium rare and served with garlic herb compound butter.
The fat in the steak instantly cut through the medium+ tannin in the wine and let many of the fruit and tertiary notes shine. As we ate more steak, leather and floral notes started to become more pronounced as well and in some sips even were more prominent than the fruit.
Score: 4 / 5
We'd buy another bottle of this one.
Overall, Chateau Musar continues its streak for us in offering aged red blends worth seeking out. We'll gladly take another bottle of this one if we find it, although we do have to admit we'd let it sleep for a few more years all the same just to get a bit more age on it.
Chateau Musar is located in Ghazir, Lebanon. We purchased this bottle locally and enjoyed it in 2021. Wine.com carries many Chateau Musar labels including young wines and a few aged at the time of publication.
Looking for more Chateau Musar wine reviews? Check out our review of the Chateau Musar Pere et Fils 2012 and Chateau Musar 2006!