Published Jeremy. Last Updated on August 15, 2022.
Disclaimers: This review uses WSET Level 3 terminology and our own rating scale. Read more here. We use demographic data, email opt-ins, display advertising, and affiliate links to operate this site. Please review our Terms and Conditions for more information. This website is intended for those of legal drinking age in your jurisdiction.
Sometimes we open pet nat (pétillant naturel) wines with a bit of hesitation. As these bottles are unfiltered and finish their fermentation in the bottle, we often don't know what we're going to get. Lots of lees flavor? Maybe. Bubbles? Most likely. Funkiness? It happens especially if they are naturally fermented too.
As it turns out, Domaine de l'Envo's Bulles de Muscat from Alsace, France, hit just the right notes for all the categories. Strong flavors that were nuanced by the pet nat production style.
Pronounced Aromas and Strong Flavors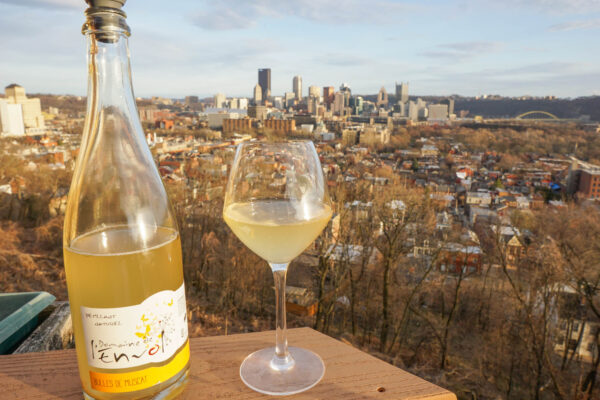 This wine was medium lemon in color and was hazy and petillant thanks to being a pet nat. On the nose it was pronounced with strong hints of peach, grapefruit, geranium, elderflower, nectarine, lime, and lemon which was youthful.
On the palate the wine was dry, with high acidity, medium alcohol, full body, and medium+ flavor intensity with notes of lime, lemon, grapefruit, nectarine, yellow apple, and peach. It had a delicate mousse for the bubbles and a long finish- surprisingly delightful!
Muscat Blanc Food Pairing – Korean Japchae and Kimchi Pajeon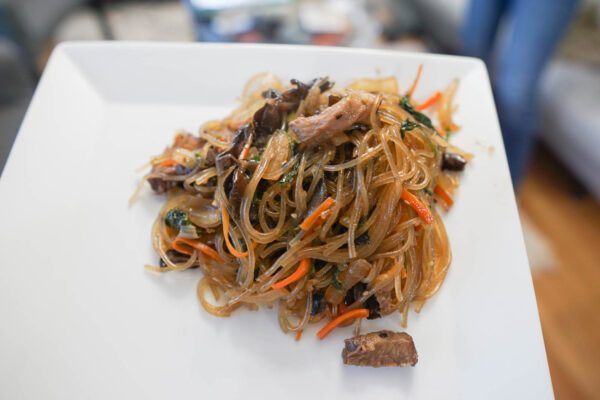 We paired this lightly sparkling pet nat with a spread of Korean fare- namely kimchi pajeon and Japchae with beef.
This pairing worked out quite well mostly because of the high acidity and bubbles were a good match for the rich and spicy Korean food (not to mention, the acid kick in the kimchi within the pajeon).
Score: 4 / 5
We'd buy another bottle of this one.
Overall, we were pleasantly surprised by this pet nat bottle. The flavors of the grape were prominent and were amplified by the pet nat nature of the bottle without going overboard. All wonderful things!
Domaine de l'Envo is located at Chemin Mattensteinweg, 68040 in Ingersheim, France. We received this bottle as part of the MYSA Wine Club and enjoyed it in 2021. To purchase a Mysa subscription, click here.