Last Updated on August 16, 2022 by Jeremy
Disclaimers: We use demographic data, email opt-ins, display advertising, and affiliate links to operate this site. Please review our Terms and Conditions for more information. This website is intended for those of legal drinking age in your jurisdiction.
In our quest to try various wine clubs, we stumbled upon Mysa Wine. As this one boasts responsibly farmed, natural wines plus obscure varietals and production styles, as well as direct imports, we were intrigued.
While this only gave us so much to go on for purchasing, we ended up quite pleased with our order for a number of reasons.
What is Mysa Wine Club All About?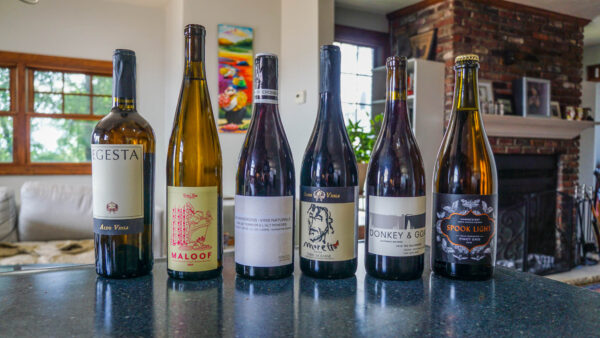 Unlike other wine clubs we've tried who publish past bottles fulfilled via their club online, Mysa plays it a bit closer to the vest. Sure, you can go check out the producers they import from and also their full inventory from their eCommerce store, but you cannot see what is shipped out month-to-month in the club.
Do they only ship bottles from their sub-$25 tier? Are they a 50/50 mix of red and white wines? How often would you get something a bit more obscure? Answers to these were somewhat hard to come by without doing a bit of digging.
All that being said, we liked Mysa's focus on natural wines, the fact that they import wine themselves and cut out a middleman, as well as a push for more unconventional grapes and production styles (including orange wine and pet-nat). We think our goal at The Grape Pursuit aligned with many of these points and since there is no minimum monthly commitment for orders, we placed one right away to see what we'd get.
Pricing and Quality Analysis of Mysa Wines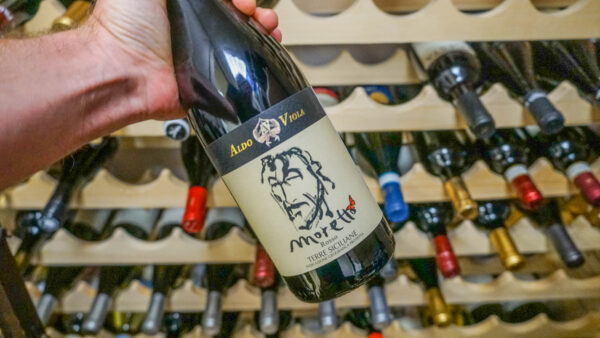 As with all wine clubs, we like to do a rough analysis of past wines shipped to get an idea of what value we could potentially receive. Unfortunately, since Mysa does not share what wines were shipped in past clubs (as mentioned above), we couldn't do as thorough of an analysis as we would've liked in this instance
To approximate, we looked at what wines Mysa sells as one-off bottles through their store in the sub-$25 category as a proxy. As the price of their six-wine club averages out to $23 per bottle all-in (based on our August 2020 purchase), we thought these could be pretty close for analysis purposes.
We found 24 bottles that had user-submitted reviews on Vivino and they had an average score of 3.8- typical of a generally "good" bottle of wine. 17 of the 24 were within 0.2 points overall suggesting a pretty consistent range on that end. Pricing here was a bit harder to determine as only 12 bottles had average user-submitted prices and ranged from $10-$32 per bottle with an average being $18.78. The low number of reported prices (and near-zero bottles found on Wine.com) implies that most of the bottles on Mysa are not easy to come by in the USA.
As Mysa includes tax and shipping in their club prices, we back-calculated a per-bottle price to put them on par if you acquired the bottles elsewhere (as we often think on a pre-tax, pre-shipment basis when buying locally). We generally assume $25 to ship an order and 10% sales tax, which would take the $23 bottles down to $17.12- a slight improvement over the Vivino average for the bottles we found in this tier. Likewise, we had a 25% off coupon for our first month's purchase, which brought the equivalent bottle average to just about $13- a great deal for the first month!
Six Bottles of Mixed Wines Delivered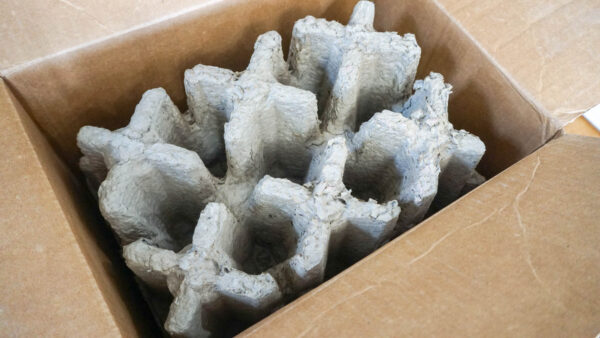 Before discussing the bottles themselves, it is worth noting that we ordered our wine in the summer. With that comes the concern of shipping wine when it is too hot outside.
We reached out to Mysa to ask about refrigerated shipping options and were told that they do not offer refrigerated shipping as standard. However, they do offer an opportunity to hold the wine until the weather is better and typically ship on Mondays to provide delivery within the week. They also mentioned upgrading to include an ice pack and overnight shipping as an option, but this was not available at checkout when we purchased.
Our order came from Chicago and was at our doorstep in Pittsburgh within about 48 hours (note we did not verify if all shipments come from Chicago or just ours). While the bottles came with the more basic cardboard inserts as opposed to the more robust styrofoam packaging which likely does better in the summer months, they were still quite cool to the touch. I attribute this to the short shipping distance as well as a nice break in the weather when we ordered. When inspecting the bottles, we saw no visible sign of heat damage- however, we will update this review if we note anything when tasting our bottles.
The wines we received in this shipment were the following (as we drink these, we'll update to link to our full reviews):
Aldo Viola Moretto (comprised of Nerello Mascalese, Perricone, and Syrah), Donkey & Goat The Gallivanter (comprised of Syrah and Grenache Gris), Supernatural Wine Co. Spook Light (comprised of Pinot Gris), Maloof Nemarniki Vineyard Riesling 2019, Aldo Viola Egesta (comprised of Grillo), and Els Vinyerons Saltamarti 2018 (comprised of Tempranillo and Grenache)
For those who are not familiar with all of the producers and grapes, this amounted to a 50/50 split between red and white varietals with two of the latter being processed skin-on to be an orange variant (so three red, two orange, and one traditional white).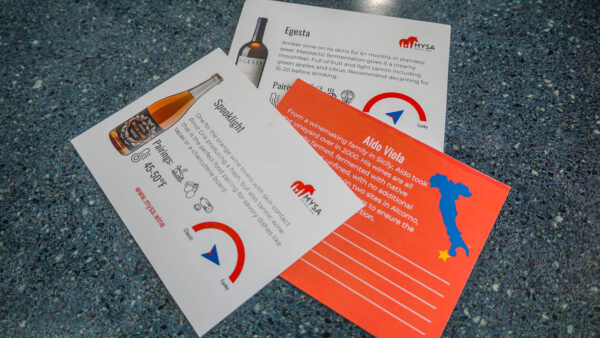 Along with the bottles we received cards with tasting notes (each with a compass of whether the wine is more classic or funky), general food pairing recommendations, as well as opportunities to write down our own thoughts for future use. While we thought the food pairing recommendations could be a bit more robust, we really like this subtle detail that came with the wine!
We repeated our above analysis for the six bottles we received with our club and found they had an average score of 3.8 on Vivino with an average user reported price of just north of $25. When looking at these bottles directly on Mysa, they ranged in price from $24-$35 each, with the average price being about $29. This means most of the bottles were not in their sub-$25 tier we analyzed above. When looking at these bottles directly, we saw a nice price break of about 20% for buying the club over buying individually on Mysa.
While we're still waiting on our second month's shipment to see if this average price holds, it does showcase decent savings potential when purchasing a club from Mysa (at least in the six-bottle tier- Mysa also sells clubs with 3 and 12-bottles respectively).
Overall, apart from the minor note about cardboard shipping inserts in the summer months, Mysa's wine club exceeded our expectations. Between getting a well-rounded wine delivery, a value-added shipment, and wines we would not be able to acquire anywhere else, we're quite pleased with what we received and look forward to ordering more from this one in the future.
To purchase a Mysa wine club subscription, click here.