Published Jeremy. Last Updated on August 15, 2022.
Disclaimers: We use demographic data, email opt-ins, display advertising, and affiliate links to operate this site. Please review our Terms and Conditions for more information. This website is intended for those of legal drinking age in your jurisdiction.
We always love getting interesting wines in wine clubs, and the Maloof Wines Riesling from Oregon was one such wine if only because we're not quite sure if we've ever had a Riesling from the Pacific Northwest.
We popped the bottle, took one sniff, and realized this one was interesting.
Riesling? Or Sauvignon Blanc? Why Not Both?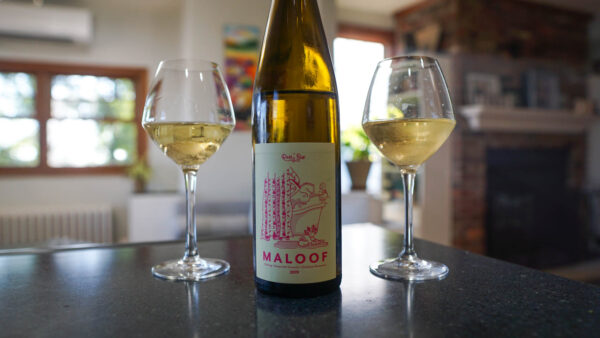 Is pale gold the best color for a Riesling? I'm not sure there is an answer for that one, but when this wine came out of the bottle we were instantly in love thanks to its hue.
When taking in the aroma we got strong notes of apple, peach, and jasmine and have to admit this one smelled more like a conventional cider than wine. It had a delicate sweetness and was overall quite the appealing aroma.
When sipping, you'll quickly notice that this one is intense and very acidic. It is off-dry with flavors of candied apple, passion fruit, star fruit, lemon and lime, and a bit of honey. The flavors evolve over a sip and turn into slight apple notes on the finish as well to remind you that you are in fact drinking a Riesling (before this the wine carries a lot like a Sauvignon Blanc).
Call us fans.
Maloof Wines Riesling Food Pairing – Shrimp Stuffed Poblano Peppers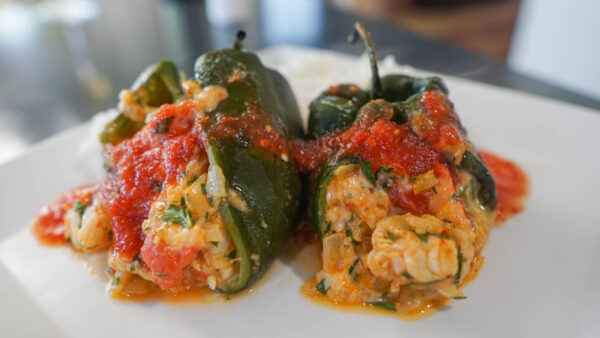 We paired this dish with one of our favorite recipes we picked up when traveling Mexico- shrimp stuffed poblano peppers.
This recipe is delicious on its own thanks to the combination of ample cheese, shrimp, and lime juice mixed together and then shoved inside monster peppers and covered with a light tomato sauce. And with a Riesling, it is even better.
Part of this was because of the acidity of the tomato sauce working well with the high acid wine. But another part was a slight sweetness in the wine playing off the spice of the peppers as well. Beyond some more intense fruit flavors popping out the wine didn't express much different when eating with this meal, but we enjoyed this pairing all the same.
Score: 4 / 5
We'd buy another bottle of this one again.
This was a fascinating bottle because it had an aroma of a dry cider and hits you upfront with tropical fruit flavors that are more reminiscent of a Sauvignon Blanc. It was only after sipping for a while that more apple notes like you'd expect of a Riesling to come out, which helped make this wine end up being quite complex. Delightful!
Maloof Wines is located at 6200 NW Gales Creek Road in Forest Grove, Oregon. We received this wine in the Mysa Wine Club and enjoyed it in 2020. To purchase a Mysa subscription, click here.