Published Jeremy. Last Updated on August 15, 2022.
Disclaimers: We use demographic data, email opt-ins, display advertising, and affiliate links to operate this site. Please review our Terms and Conditions for more information. This website is intended for those of legal drinking age in your jurisdiction.
We've been getting into naturally made wines more and more recently, thanks to joining clubs like Mysa Wine Club that specialize in this production style. As part of that, we've been receiving bottles that are a bit unconventional, and the Supernatural Wine Co Spook Light Pinot Gris 2019 was certainly that.
Why? Well, this one was fermented with the skins on to produce an orange wine!
Takes a Long Time to Develop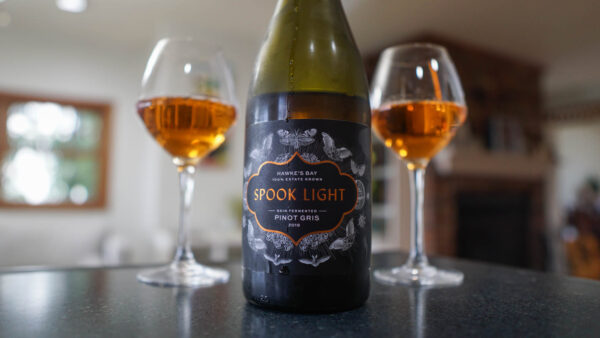 In being an orange wine, the first thing you'll notice here is the color. This one had one of the most beautiful hues we've seen for an orange wine and was a medium copper with a hint of salmon in the mix. Suffice it to say, you know you're dealing with something a bit different when you see this one appear in the glass.
From there, we have to admit we were fairly let down. The aroma of this one was mild, and only had very minimal notes of peach and orange, even fainter notes of herbs and rose, and perhaps a bit of funkiness like you'd get from a wild beer. The keyword here is mild, as none of the aromas really too any prominent note like you'd expect.
The flavor profile followed this trend. The wine displayed a fairly low acidity with earthy and herbal notes that were much in line with the aroma- not terribly intense. We got subtle orange and nectarine notes and a relatively silky mouthfeel (this was actually quite nice), but overall the wine was very delicate.
We had read other reports that this wine opened up more after decanting, and we definitely got a stronger flavor profile after letting this one sit in the decanter for about an hour. I wouldn't say that any new flavors came out, but more the notes we discussed above appeared a bit more vibrant both on our tongue and on the nose.
Supernatural Spook Light Food Pairing – Mushroom Crepes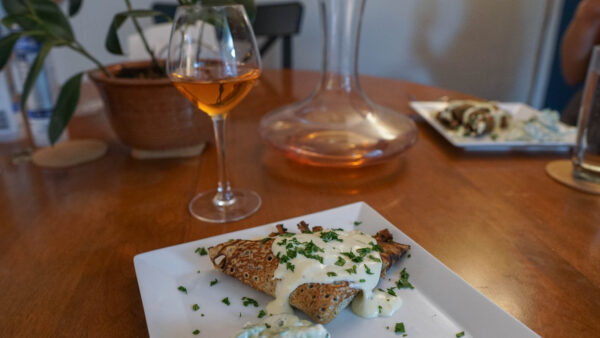 We decided to pair this one with homemade crepes stuffed with mushrooms and topped with a cream sauce, as we thought the skin-on natural wine may have some flavor notes that could pair well with the rich and mushroomy entree.
While we would admit that the fattiness of the cream sauce with the crepe helped accentuate the acidity and fruit notes, it really was the mushroom pairing that sealed the deal here. This one really highlighted the flavor profile of the wine, and when taking a sip highlighted a rich, nuttiness in our mouthes that we did not get as much when eating the mushrooms alone.
As such, pairing this one with sauteed mushrooms as a prominent ingredient could be a really nice option.
Score: 2 / 5
We are glad we tried this one but do not need anymore.
Overall, we have a really hard time wanting to recommend this bottle if only because it took decanting and pairing with mushrooms for us to get some flavor notes out of this one that we quite enjoyed. We appreciate when these things make a wine better, naturally, but to need it to get the wine to start opening up at all is a bit of a stretch.
Supernatural Wine Co is located in Hawkes Bay, New Zealand. We received this bottle as part of the Mysa Wine Club. To purchase a Mysa subscription, click here.