Published Jeremy. Last Updated on January 1, 2021.
Disclaimers: We use demographic data, email opt-ins, display advertising, and affiliate links to operate this site. Please review our Terms and Conditions for more information. This website is intended for those of legal drinking age in your jurisdiction.
We always love trying new grape varietals for this project, and the Portuguese grape Avesso was one such varietal for us.
While A&D Wines Monologo Avesso may be our first for this grape, it most certainly will not be the last. It was a surprising wine in all respects!
A Gorgeous Hue and Flavors to Match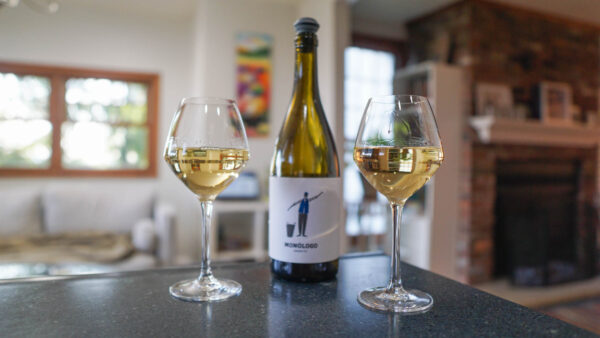 One of the first things you'll notice here is the beautiful hue on this wine. It is a pale-to-medium gold and has a slight effervescence to it as well. If all wine could pour this color, we would not be disappointed.
The aroma of this one included fairly intense grapefruit, peach, melon, and lime for fruit as well as a slight salinity and minerality on the finish and a touch of honey. As far as the bouquet is concerned, this wine had a simply sublime combination of scents.
On the tongue, this wine was highly acidic, fairly dry, and had a wealth of tropical fruits with notable passion fruit that coincided with the tartness. As the fruits went away we noticed a balance of honey and salinity as well. Neither of which were terribly intense but were prominent.
A&D Wines Avesso Food Pairing – Mujadara Stuffed Tomatoes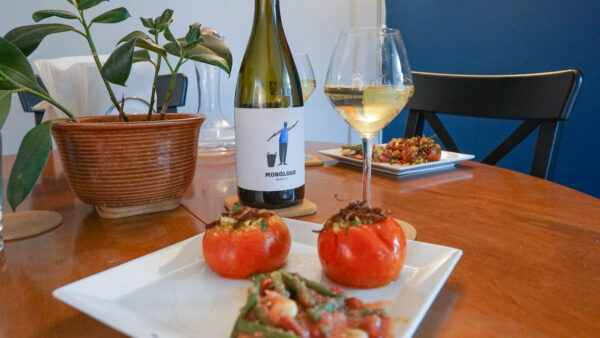 Mujadara is an Indian dish comprised of lentils, rice, and fried onions, and to really make this one pop we stuffed them inside tomatoes and baked them. The tomatoes really helped pair the acidity of this wine and allowed for some of the salinity to come out more.
This pairing was one of those gems where the flavor of the wine blended perfectly with the food to extend one synced flavor profile out in perfect harmony. Partly due to the acidity of the tomatoes, but also due to the richness of the fried onions. We'd gladly pair these two together again!
Score: 4.5 / 5
We would be happy to have several bottles of this one on hand.
Our main goal at The Grape Pursuit is to try new grape varietals to really begin to understand the world of wine. Avesso was a new varietal for us in starting this project, and we were pretty blown away by this bottle and varietal overall (especially for its reported price point as reported on Vivino). As such, this is the kind of wine we'd say if you see it available, grab it!
A&D Wines is from Quinta de Santa Teresa, Portugal. We received this as part of a Plonk Wine Club subscription and enjoyed it in 2020.