Published Jeremy. Last Updated on April 7, 2021.
Disclaimers: This review uses WSET Level 3 terminology and our own rating scale. Read more here. We use demographic data, email opt-ins, display advertising, and affiliate links to operate this site. Please review our Terms and Conditions for more information. This website is intended for those of legal drinking age in your jurisdiction.
Chateau Musar is one of those wineries that we have to buy a bottle of every time we find them in a liquor store- especially the aged bottles which the winery does not release until they are ready to drink (making them somewhat hard to come by).
Our first experience with this winery was enjoying a lovely '98 at Wine Bar George at Disney Springs, and ever since then we've been on the hunt for bottles. We found a great Chateau Musar 2006 at a store locally and struck gold when visiting family in Ohio where we found half case of Chateau Musar 2010 and the Pere et Fils 2012 as well.
We bought one of each, went back to my mom's house, cracked open the 2012, and knew we had to go back to the store the next day to buy more- this Carignan, Grenach, Cinsaut, and Cabernet Sauvignon blend offered everything we love about the winery in an attractive price point as well!
Another Lovely Red from Chateau Musar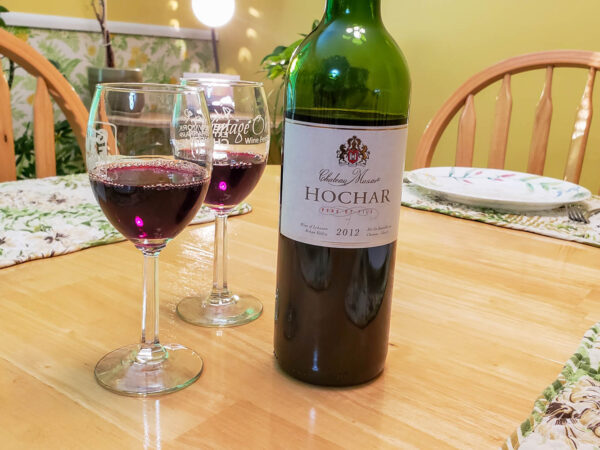 This medium garnet wine had a medum+ aroma of blueberry, blackberry, fig, raisin, leather, cedar, cassis, and dried herbs that was developing. The fruit was still prominent, but there was a nice balance with secondary and tertiary notes that we appreciated.
On the palate, the wine was dry with high acid and alcohol, medium+ tannin and flavor intensity, and full body. We detected notes a lot like the nose with the addition of red plum, red and black cherries, and some green vegetal undertones. The wine also had a medium+ finish. To call this one smooth is an understatement as all the flavors worked out really well together and were quite well balanced for all that was going on in it.
Chateau Musar Food Pairing – Lamb Tagine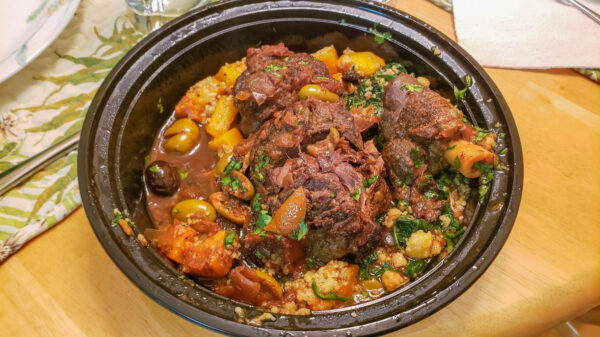 We ordered a lamb tagine takeaway from a local restaurant that was heavily spiced in the traditional Moroccan style. We thought this would be a great pairing for the Middle Eastern winery and were not let down.
The fattiness of the pork helped pair the acidity and bring out more fruit flavors, and the strong herbs and spices played off the relatively minor green undertones well as well. As such, we can see why the red blends from this Lebanese winery does so well with Middle Eastern flavors- we'd do this pairing again and again.
Score: 4.5 / 5
We'd buy several bottles of this one.
Overall, there is a reason why aged bottles from Chateau Musar are so prized- they develop nicely over time and are immensely well balanced. The 2012 Pere et Fils red was no different, and when you consider its $30 price point was half what we paid for the 2010 red blend (a bit more robust signature), you can quickly understand why we went back to the store the very next day to buy two more bottles. Here's hoping that particular store carries the wine in the future for when we need more!
Chateau Musar is located in Ghazir, Lebanon. We purchased this bottle locally and enjoyed it in 2021. Wine.com carries many Chateau Musar labels including young wines and a few aged at the time of publication.