Last Updated on March 2, 2021 by Jeremy
Disclaimers: We use demographic data, email opt-ins, display advertising, and affiliate links to operate this site. Please review our Terms and Conditions for more information. This website is intended for those of legal drinking age in your jurisdiction.
It is always a good day when you can crack open a port, and it is an exceptionally good day when that port is worth every penny you paid for it.
Warre's LBV 2002 was just that.
This one is a blend of many grapes including Tinta Cao, Tinta Francisca, Touriga Nacional, Tinta Roriz (Tempranillo), and Tinta Barroca and offered a delightful balance of fruit and tertiary flavors all at a rather respectable price point considering its age.
A Well Balanced Dessert Wine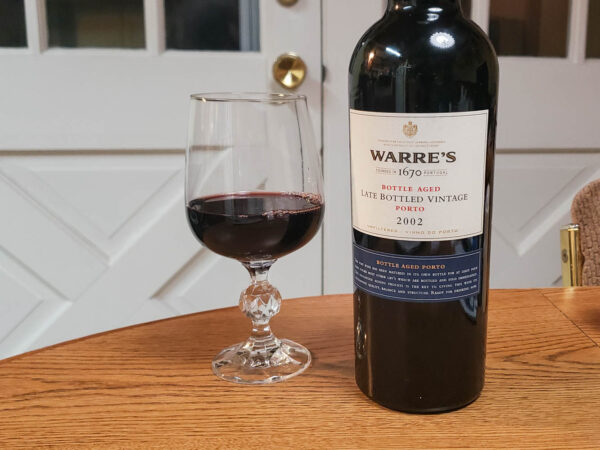 This port was deep garnet in color with a pronounced aroma of raisin, chocolate, figs, dates, caramel, vanilla, a fruity bramble, and was developing.
On the palate it was sweet with medium+ acid, low tannin, high alcohol, full-body, and pronounced flavor intensity. We had similar notes to the nose with fig, date, and bramble jumping out first and other characteristics like chocolate, caramel, and vanilla being a bit more muted as well as a medium finish.
What we really liked about this particular port was how well-balanced the fruit and tertiary flavors were. Sometimes you get a port that is exceptionally bright in the red or black fruit department. Sometimes maybe not so much. This one had a wonderful balance between all the notes and was a pleasure to drink. Just be sure to decant this one as it has a significant amount of sediment!
Warre's LBV Port Food Pairing – Chocolate Brownies and Cherry Pie
We paired this one over two evenings first with a chocolate brownie and second with cherry pie (both of which I was so excited to eat I forgot to take a photo of either). As expected, the rich chocolate of the brownie helped mask some of the caramel and chocolate notes and accentuated more of the fruit flavors. On the flip side, the higher acidity in the tart cherry pie helped accentuate both the fruit and the chocolate and caramel across the board.
Truly great pairings for both of these- you can't go wrong with decadent chocolate or a tart red fruit dessert with this one.
Score: 4 / 5
We'd buy another bottle of this one.
We really enjoyed the depth of this particular port and that it had good fruit and tertiary characteristics which played off a number of desserts. Our only regret is this one had a regular cork as opposed to a mushroom cork, which helped encourage us to drink it faster using that conventional rule (although at 20% ABV, may have been fine in the refrigerator all the same). What a horrible problem to have said no one who has had this wine.
Warre's is located in Portugal and has several vineyard sites to choose from. We purchased this bottle locally and enjoyed it in 2021. Wine.com appears to carry other vintages from this producer at the time of publishing.