Published Jeremy. Last Updated on March 5, 2021.
Disclaimers: This review uses WSET Level 2 terminology and our own rating scale. Read more here. We use demographic data, email opt-ins, display advertising, and affiliate links to operate this site. Please review our Terms and Conditions for more information. This website is intended for those of legal drinking age in your jurisdiction.
Tintilla de Rota is found in the Jerez region of Spain, and El Triangulo's bottle checks a lot of boxes for us- a nice medium intensity, well-balanced flavor profile, and more.
An easy drinker all around!
A Well Balanced Red from Jerez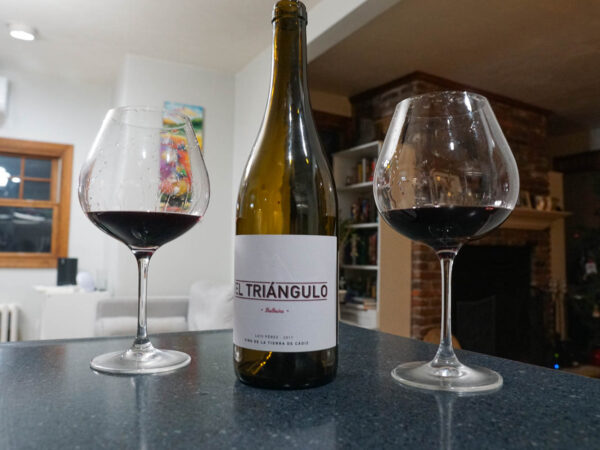 El Triangulo's Tintilla de Rota was deep ruby in color with a medium+ aroma of cooking herbs (like sage and thyme), black cherry and dark plum, and vanilla. Generally, when we detect these notes, we also get cola (which we did here) and generally think it's the combination of all the flavors combined to hit that specific note (herbs + cherry + vanilla).
On the palate, the wine was dry with medium characteristics across the board. We detected both red and black cherries in this one with many non-fruit flavors like pepper, cedar, and dried green herbs with a medium- finish. Perhaps this one was a bit more complex on the nose than on the palate but otherwise was a solid bottle all the same despite a shorter finish.
Tintilla de Rota Food Pairing – Black Bean Soup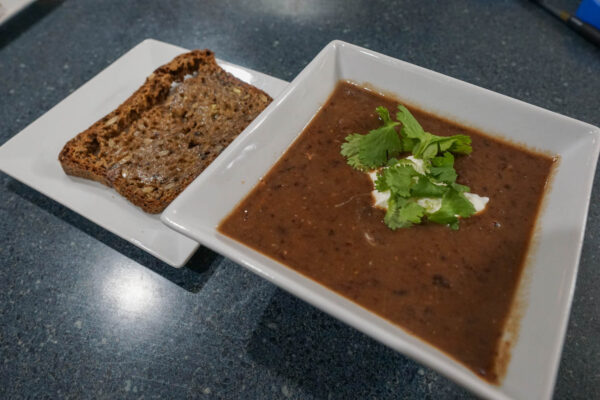 I always like pairing wines with soups because, for our soups at least, we can make them rather complex. Think homemade stock, vegetables (and in this case beans), cream, maybe even a bit of wine. They're really a blank slate that can be built around complimenting or diverging from the wine you wish to pair it with.
Our black bean soup had an array of spices that helped match the dried herbs we got on the finish of the wine and a hit of lime in the soup was a subtle match for the acidity in the glass- more fruit jumped out at us (albeit not as strong as more robustly acidic dishes). Overall, hard to say no!
Score: 3 / 5
We'd buy a glass of this one.
Overall, we quite liked the flavor profile of this bottle. The flavor spectrum was rather vast and had a nice medium intensity across the board. Well balanced and easy drinking? Sign us up for a glass.
El Triangulo is located in Jerez, Spain. We can't quite remember where we bought this one but enjoyed it in 2021.