Published Jeremy. Last Updated on March 2, 2021.
Disclaimers: This review uses WSET Level 2 terminology and our own rating scale. Read more here. We use demographic data, email opt-ins, display advertising, and affiliate links to operate this site. Please review our Terms and Conditions for more information. This website is intended for those of legal drinking age in your jurisdiction.
Generally when we think of wine from the Finger Lakes, our mind goes to an array of white grapes that we absolutely love from the region. While we've had some delicious reds, including several bottles of Cabernet Franc and Saperavi from various producers, we haven't quite had a red blend like Bloomer Creek's White Horse.
This one contains the regional favorite Cabernet Franc with a mix of Merlot for good measure, making for an especially powerful wine.
At five years old this one still had an impressive tannin level and evolved considerably as we drank it. To be quite honest, we'd even love to age this wine a few more years for good measure!
An Interesting Cabernet Franc and Merlot Blend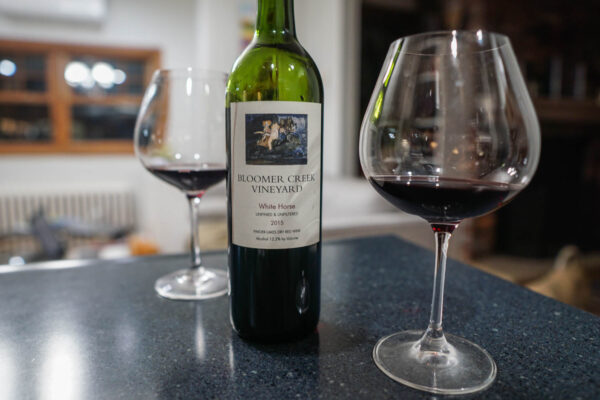 When pouring this one we noted a medium ruby color with a medium aroma of cranberry, baked raspberries, vanilla, clove, and a fresh herbaceousness on the end.
The acidity, alcohol, and flavor intensity of this wine was also medium but the tannins were so grippy we would consider them high (something we don't say all too often for Finger Lakes reds). Upfront we got a wealth of flavors including tart red cherry, dried raspberry, red plum, black pepper, and dried herbs. As we let this one decant to help mellow out the tannins we also noted an array of dark fruits after about 60-90 minutes which took this wine to a new level altogether.
In fact, I'd say that not only was decanting this one necessary, but it could also stand to age even longer thanks to its high tannin content.
Bloomer Creek White Horse Food Pairing – Pork Chops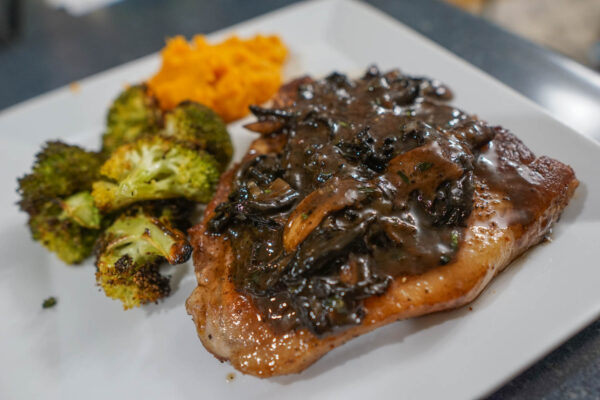 We paired this delightful red with one of our go-to wine meals- sous vide pork chops finished on the cast iron. The chops were topped with a mushroom sauce that used a bit of the wine in a deglaze as well to give it a richness all around.
The fattiness in the chops worked with some of the tannins and really helped some of the fruit flavors shine, although decanting did more wonders here than the food did if we had to be honest. But as the wine evolved it held up to the chops throughout the entire meal.
Score: 4 / 5
We'd buy another bottle of this one.
Overall we were quite impressed with the tannin content in this wine and how the flavor profile evolved in our glass over time. While we'd definitely love to have a bottle on hand to age a few more years, if you open this one up sooner rather than later definitely allow for some time to decant as the flavors opened up a fair bit for us.
Bloomer Creek is located at 5301 NY-414 in Hector, NY, on the east side of Seneca Lake. We purchased this wine directly from the winery and enjoyed it in 2020.
Looking for more Bloomer Creek wines? We also tried their Gruner Veltliner and Chardonnay blend and really enjoyed it!