Published Jeremy. Last Updated on February 19, 2021.
Disclaimers: This review uses WSET Level 2 terminology and our own rating scale. Read more here. We use demographic data, email opt-ins, display advertising, and affiliate links to operate this site. Please review our Terms and Conditions for more information. This website is intended for those of legal drinking age in your jurisdiction.
We've had many glasses of Cava in the past- some average, some good. But we had never had one that was absolutely stellar, that is until we had the Pares Balta Blanca Cusine 2011.
This is some stellar Cava, and for its price point (sub $40 per bottle at our local distributor) we absolutely couldn't ask for anything more. In being 78% Xarel-lo (with the rest being Chardonnay and Pinot Noir), we also were able to get a fonder appreciation for the grape in this one.
A Delightfully Complex Cava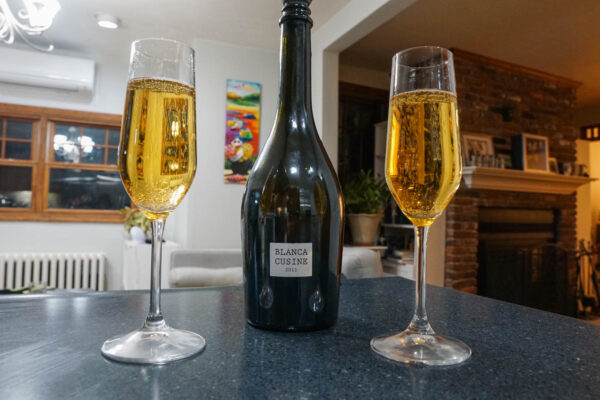 From the moment we poured the first glass of Pares Balta Cava Blanca Cusine we knew it was special. This wine had a deep gold color, possibly trending a bit into the amber range, and a medium aroma of yellow apple, lime, biscuit, and raisins.
On the palate, it was dry with medium acidity and alcohol but a full body with pronounced flavors. We picked up an immediate hit of dried apricot and honey which then evolved into more almond, yeasty bread, and a bit of cream on the finish (which had a nice medium lingering).
We spent a great deal of time discussing this one as some of these flavor notes jumped out with expressions like "woah did you just get the cream?" or "that honey really hit us" and so on. Calling it complex is really an understatement and makes this the kind of Cava we'd be happy simply sipping on over the course of an evening- which is exactly what we did!
While we did not pair this one with any food, we definitely could see how it would work with some amuse bouche, pintxos, or a lighter meal such that the star of the show is the Cava itself. As we will be buying more of this one quite soon, we'll report back on what it is like with our first pairing!
Score: 5 / 5
We want an entire case of this one.
This is our new benchmark for an exceptional Cava, and quite frankly we recognize that we're setting that bar quite high. Pares Balta's Blanca Cusine is simply delicious, and we want to have many, many bottles in our cellar for the future.
Pares Balta is located in Penedes, Spain. We purchased this bottle from a local distributor and enjoyed it in 2020. A different vintage appears on Wine.com but was out of stock at the time of publishing.
Looking for something a bit less intense? Check out Pares Balta Cava Brut NV!