Last Updated on February 5, 2021 by Jeremy
Disclaimers: This review uses WSET Level 2 terminology and our own rating scale. Read more here. We use demographic data, email opt-ins, display advertising, and affiliate links to operate this site. Please review our Terms and Conditions for more information. This website is intended for those of legal drinking age in your jurisdiction.
One of our local wine distributors always hails the glory of Pares Balta Cava, and after enjoying their Cava Blanca Cusine 2011 we didn't need that big of a push to open a bottle of their lower-tier non-vintage Brut Cava to compare.
The differences were striking.
If you want an easy-drinking cava with some fairly straight forward flavors, the non-vintage cava is for you. But if you want something complex and thought-provoking, the Blanca Cusine should be what you go for (even when accounting for the price increase).
But in this one, we want to discuss the non-vintage Cava from Pares Balta, and if you opt for it we do have to admit you're still going to have a delicious glass all the same.
An Easy Drinking, Dry Cava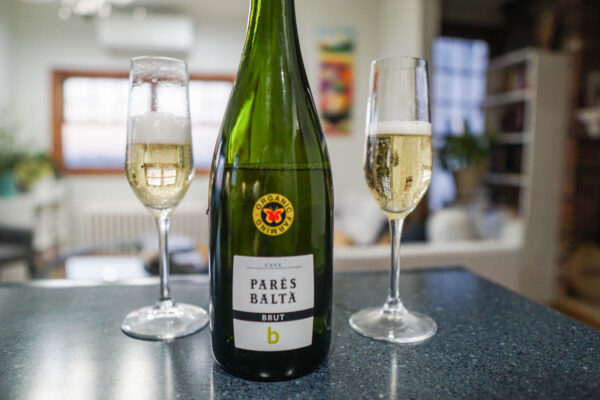 This Pares Balta Cava was pale lemon in color with medium aromas of green apple, peach, and honey. We did not detect any hints of age or any lees aging on this, which made us suspect it would be a bit more reserved in its flavor profile.
When sipping, we noted this one was dry, with high acidity, and medium alcohol, body, and flavor intensity. We primarily got notes of peach, green apple, and lemon rind in this one which made it a clean cava that wasn't too complex.
Pares Balta Cava Pairing – Korean Fried Chicken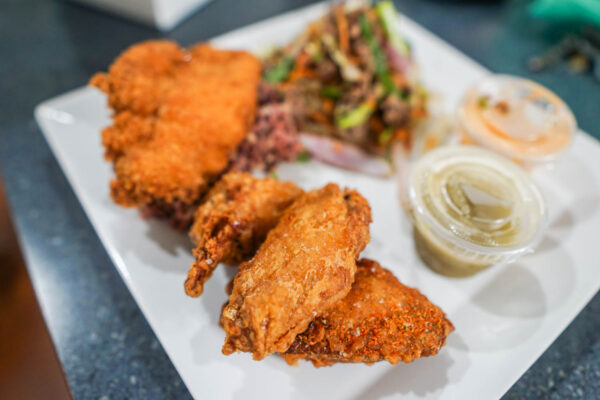 There is a reason why sparkling wine is always a recommended pairing with fried chicken, and it is something about the high acidity and effervescence that goes remarkably well with greasy, fried food.
You take a bite of the rich fried chicken, switch to the sparkling, and the brightness of the acidity and bubbles will cause a veritable explosion of flavor in your mouth. While I wouldn't say that the flavor profile changed much on this one, it was really the alternating extremes between fat and acidity that made this one such a lovely combo.
Score: 3 / 5
We'd buy a glass of this one.
Overall, Pares Balta's NV Cava is an easy-drinking sparkling wine that will pair with many, many dishes. If you want something more complex, definitely pay a bit more for their Blanca Cusine vintaged Cava. But if you want something straight forward, you won't be let down here. As such, if we saw this on the menu we'd easily order a glass.
Pares Balta is located in Penedes, Spain. We purchased this bottle from a local distributor and enjoyed it in 2021. Wine.com has Pares Balta in their inventory but was out of stock as of the time of publishing.