Last Updated on February 9, 2021 by Jeremy
Disclaimers: This review uses WSET Level 3 terminology and our own rating scale. Read more here. We use demographic data, email opt-ins, display advertising, and affiliate links to operate this site. Please review our Terms and Conditions for more information. This website is intended for those of legal drinking age in your jurisdiction.
While many tend to think that an Auslese Riesling is sweeter than other styles, this is not always the case. Auslese directly translates to 'selected harvest' which is often done late in the season when the grapes have a high concentration of sugars in them (in fact, the sugar content of the grape is how the categorization works outright).
But sugar in the grapes does not necessarily translate to sugar in the glass. Some producers may ferment the sugar out while others (in our experience, the vast majority of others) may stop fermentation early to leave some residual sugar in place for you to enjoy in your glass.
Dr. H. Thanisch's Bernkasteler Lay Riesling Auslese is in the latter category and offers up both a sweet and complex German Riesling that we cannot get enough of.
A Lot Going on in This Auslese Riesling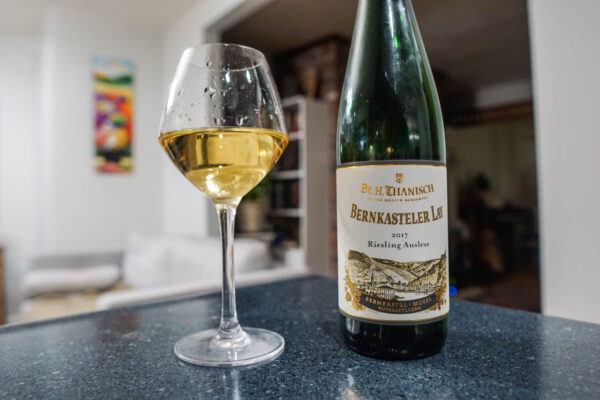 This Auslese Riesling was deep lemon in color with a medium aroma of petrol, lime, peach, pineapple, blossom, and dried apricot which we would say is developing.
On the palate, it was medium sweet with medium+ acid and body, low alcohol (~8%), and a pronounced flavor profile which included notes of candied orange, peach, lime, honey, blossom, possibly even chamomile, grapefruit, mango, and a long finish. Could this one age a while? Most definitely, but we also enjoyed having it now all the same.
The reason for this is because the sweetness of this one worked perfectly with its acidity and flavor profile. You'll get a hit of the sugars, but it isn't too sweet that it trends into dessert wine territory. Suffice it to say, if you like a sweeter Riesling, this one should check a lot of boxes.
Auslese Riesling Food Pairing – Mujadara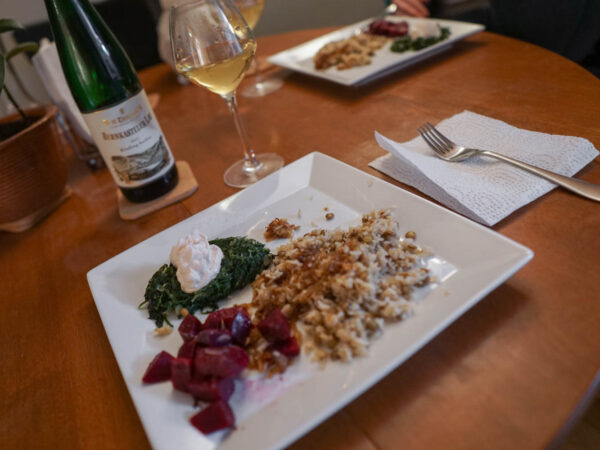 We paired this one with mujadara a south Asian dish with rice, lentils, and fried onions.
While this meal wasn't spicy in the slightest (a great pairing for a sweeter Riesling), we picked the wine purely because of the fried onion component here as they were borderline caramelized and slightly sweet. This helped bring out even more honey, stone fruits, and a mineral component that we did not notice prior.
Would this wine do even better with a dish that had a bit of heat? Certainly, but we enjoyed this pairing all the same.
Score: 4.5 / 5
We'd buy another bottle of this one and possibly a few to age.
While we'd admit that Dr. H. Thanisch's Bernkasteler Lay Riesling Auslese is more expensive than we normally pay for a bottle of Riesling, this one was worth it and we'd consider buying it time and time again. The flavors here were, in a word, delightful. Now to try some of the other styles like their Kabinett and Spatlese!
Dr. H Thanisch is located at Junkerland 14, 54470 Bernkastel-Kues in Mosel, Germany. We purchased this bottle from a local store and enjoyed it in 2021. Wine.com has a large portfolio of Dr. H. Thanisch wines but were out of stock at the time of publishing.