Published Jeremy. Last Updated on October 27, 2023.
Disclaimers: This review uses WSET Level 3 terminology and our own rating scale. Read more here. We use demographic data, email opt-ins, display advertising, and affiliate links to operate this site. Please review our Terms and Conditions for more information. This website is intended for those of legal drinking age in your jurisdiction.
We first heard about the wine classification trockenbeerenauslese in our WSET Level 2 class. We knew bottles of this dessert wine tend to be somewhat rare, so we were fairly surprised to find a bottle in a liquor store near us just a few weeks later.
So, what is it, exactly?
Trockenbeerenauslese in German translates to "dry berry selection" and is made from individually picked grapes that have been dried on the vine due to noble rot. In most cases having a fungus grow on your grapes is not a good thing, but proper growth of botrytis cinerea causes grapes to dry out which concentrates the sugars and allows for the production of some supremely wonderful, and sweet, dessert wines.
Hopler's Trockenbeerenauselese was just that.
A Delightfully Aromatic Dessert Wine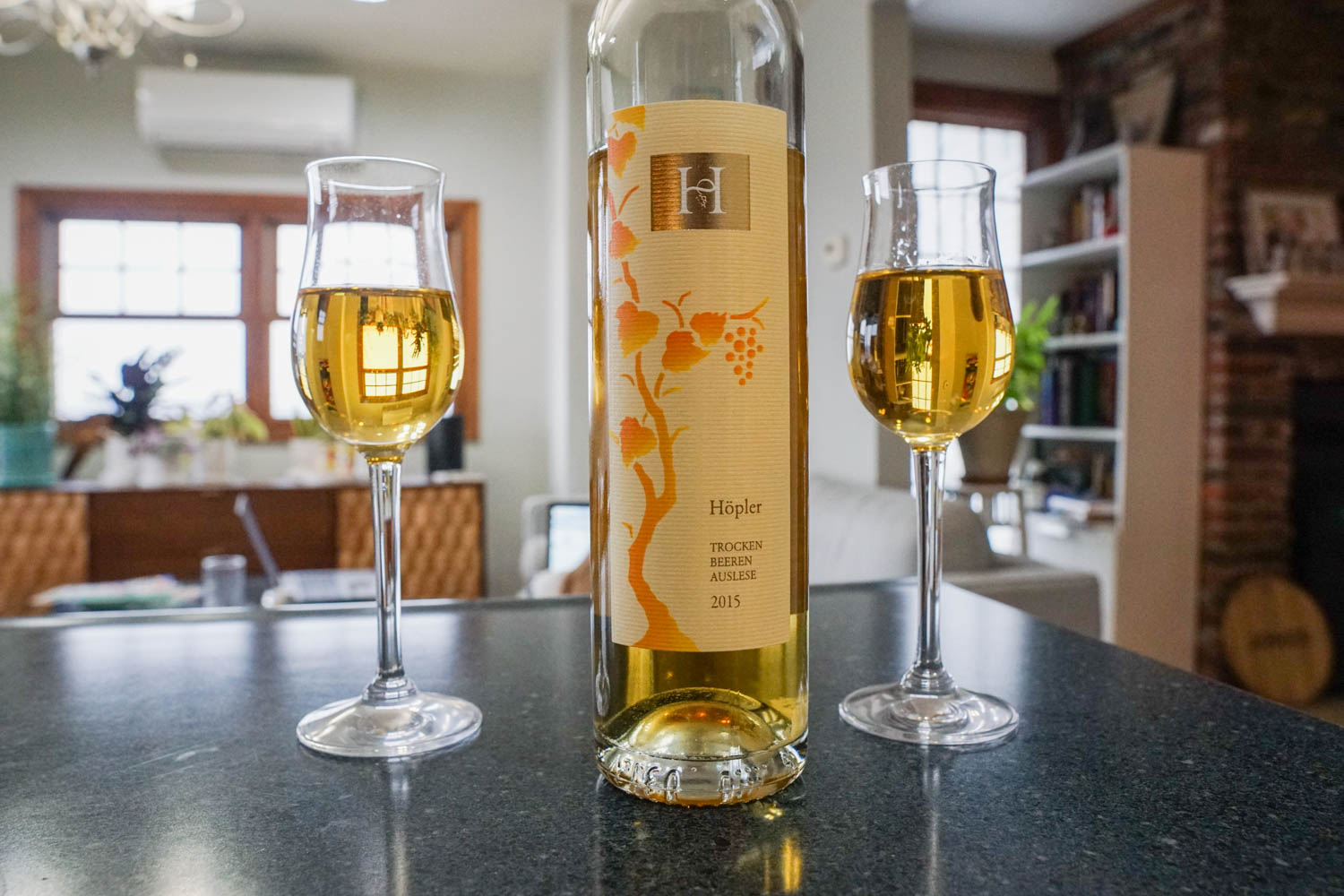 Hopler's Trockenbeerenauslese was deep gold in color and was noted to have viscous legs thanks to the wine's high sugar content.
If your nose gets anywhere near this one you'll instantly recognize that its aroma is pronounced. We noted many aromas including honey, ripe pear, ripe apricot, honeysuckle, elderflower, raisin (likely golden), and prune. The aroma would be classified as developing thanks to the balance of fruit and tertiary notes.
The sweetness of this one was quite high such that we could only define it as luscious. But beyond the sugar it was balanced quite well with high acid, body, and flavor intensity but still had a relatively low alcohol all the same (~10%).
On the palate, we detected notes of orange peel, honey, apricot, raisin, rose, and a slight nuttiness that was almost masked by the sweetness. It was hard to pinpoint, but perhaps marzipan would be the closest we could get. Naturally, the finish on this one was long as well.
Finally, you can likely enjoy this one now but could also consider aging it longer to help bring out some more tertiary notes in this one.
Hopler Trockenbeerenauslese Food Pairing – Cake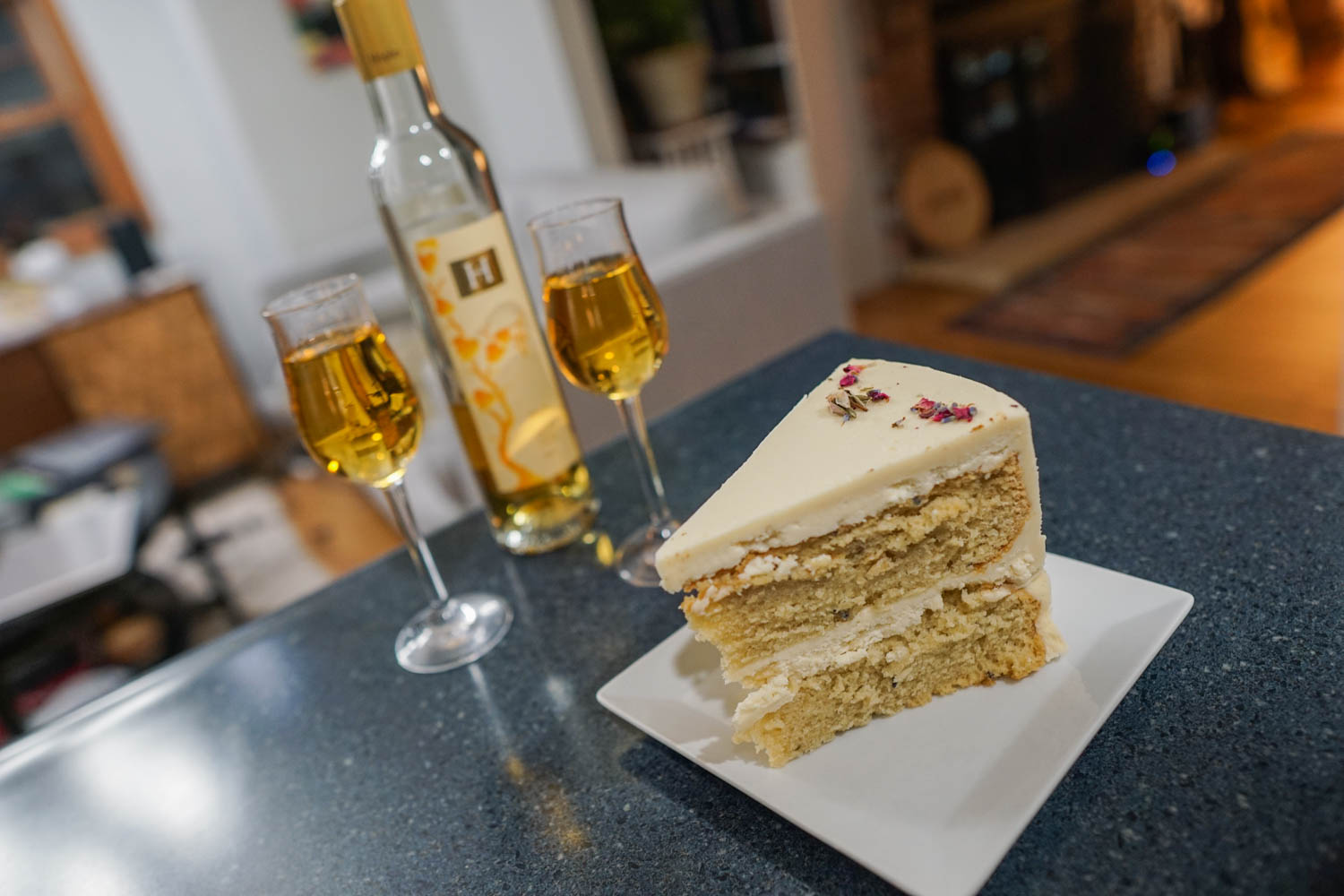 For a wine this sweet, it is hard to go wrong in pairing it with dessert and we opted to pick up a huge piece of cake from one of our favorite local bakeries to pair with this one.
The cake itself was lavender and rose flavored with a thick layer of honey buttercream for good measure. The icing here worked wonderfully with the honey-forward wine and the sweetness of the cake most certainly helped accentuate the acidic fruits noted in the flavor profile above.
Did the lavender and rose pair well here? Not particularly. That isn't to say that they hurt the pairing, but just that they didn't help bring out any extra floral notes in the wine (or, inversely, mask them). As such, if we were to pair this wine with a dessert again we'd go with something a bit more tart and with a citrus note as the accentuating component here.
Score: 4.5 / 5
We'd buy another bottle of this one and perhaps several on hand to age.
While you have to be a fan of intensely sweet wines to enjoy Hopler's Trockenbeerenauslese, this one checks a number of boxes for us on what a delicious dessert wine should be. We're already planning a return trip to our liquor store to pick up another bottle (or two) to have on hand.
Hopler is located at Heideweg 1, 7091 Breitenbrunn in Austria. We purchased this bottle from a local liquor store and enjoyed it in 2021. Wine.com had several vintages of this one listed on their site but were out of stock at the time of review.